Recording webinars offers many advantages. First, it means that you don't have to be at your computer, staring at your screen for the entire webinar. Interruptions happen, especially if you're working from home! Second, it allows you to revisit the content you want to see most. Often, you will want to go back and review content long after the webinar itself. Are you wondering how to record a webinar free of charge on any device? Try out some of these suggestions for how to record a webinar on Windows 10, how to record a webinar on PC, and how to record a webinar on a Mac, all while using free webinar recording software that will make it easy for you to capture and store webcasts for later viewing. Do you want to know about the best way to record a webinar? Consider these options.
How to Record a Webinar on Windows 10, 8, and 7
Movavi Screen Recorder is a highly effective screen recording software. You can use it to capture video as an attendee when you view a webinar or to capture your responses to the information presented in the webinar. Are you wondering how to record a webinar for free? Start with great free webinar recording software like Movavi Screen Recorder.
Movavi Screen Recorder is specifically designed to make it easy to record a webinar on PC or Mac. It has flexible settings, excellent capture quality, and all the tools you need to capture live video, including webinar content, directly on your computer.
Start by downloading Movavi Screen Recorder. Follow the installation instructions to ensure that your software is installed correctly and ready to start recording. Then, follow these simple steps.
Step 1. Select the Recording Option
Click Screen recording to start the preparation.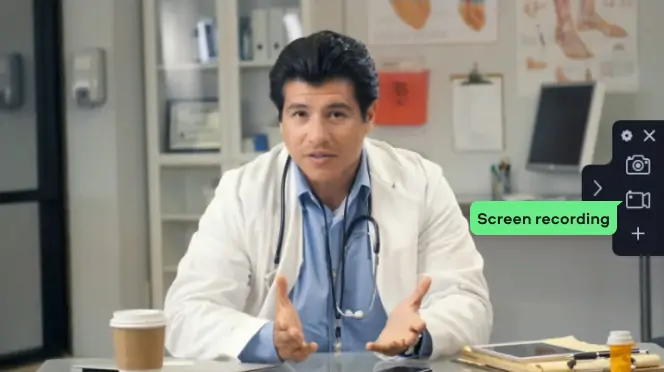 Step 2. Select the Area You Want to Capture
You can adjust the recording frame to capture specific areas of the screen. For example, you may want the webinar's main content to scroll by without including any side commentary. Likewise, if you have the webinar taking up only a small portion of your screen while working on other tasks, you may only want the screen recording to capture a specific area.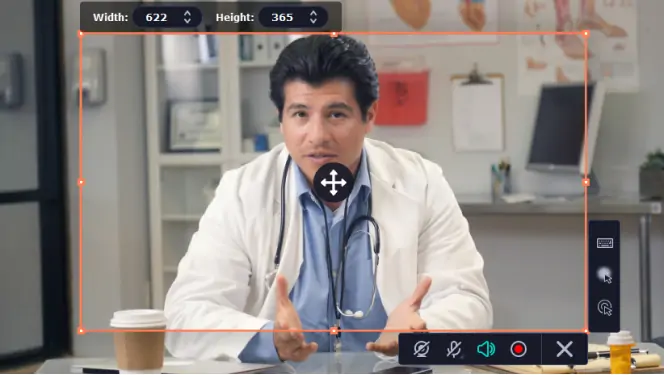 Since you're recording a webinar, you probably want to capture just the output from the speakers. During the webinar, you do not wish your recording to capture external noise coming over your microphone. Check your System Audio icon and make sure that it's highlighted in green. This way, it will pick up audio input from the webinar. Then, make sure the Microphone icon is not highlighted in green, indicating that the screen recorder is not capturing any input from what's going on in your room.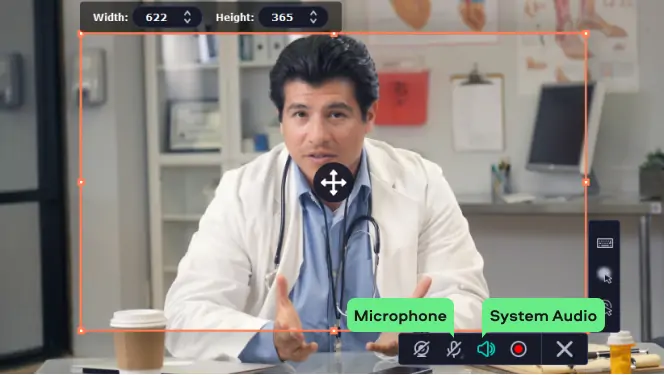 Step 4. Click the "REC" Button When You're Ready to Start Recording
Keep in mind that you do not want to swap to a different window or tab while the screen recorder is running. Your screen recorder will capture what goes on across your screen, not necessarily just the webinar. If you obscure the recording window with another app or program, the screen recorder will record what's actually on the screen.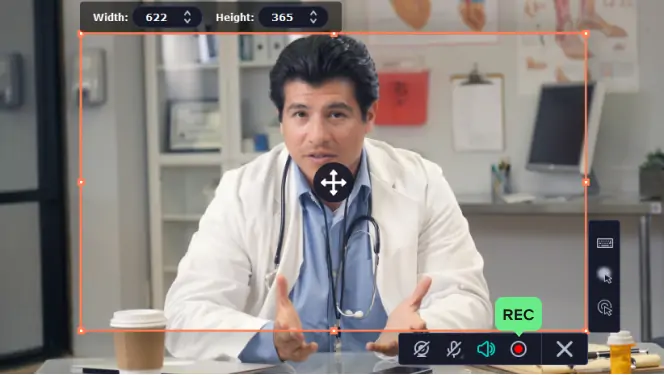 Step 5. Hit "Stop" When You're Done
Once the webinar comes to a close, you can stop it. You also have the ability to pause recording during the webinar: for example, if the main speaker goes on a break or you have another reason to want to shut down your recording temporarily.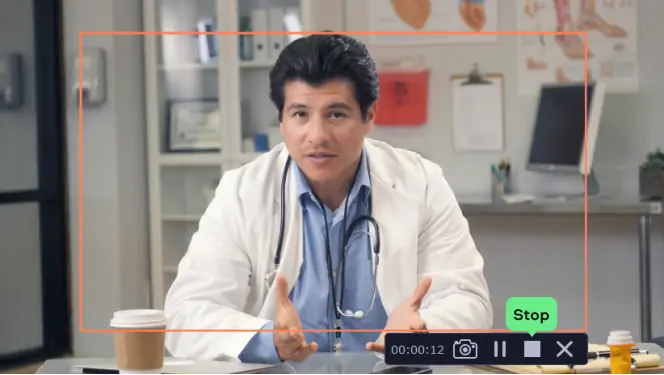 Step 6. Do Any Needed Video Editing
You don't have to edit your webinar at all. If, however, you want to make specific changes, including cutting unneeded sections from the video, you can use the editing feature to make the most of your video. Save your video to your desired location.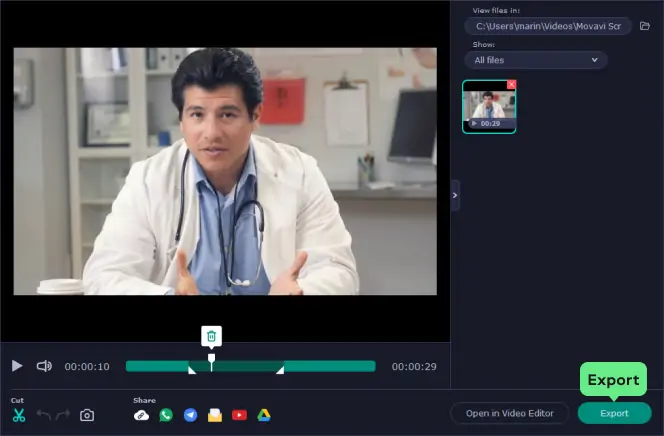 Want to learn more about Movavi Screen Recorder? Check out reviews from other users below.
How to Record a Webinar on a Mac
Suppose you're looking for free webinar recording software that will allow you to record a live presentation on your Mac for later viewing, including a free screen recorder that will enable you to capture video with sound. In that case, Movavi Screen Recorder is an ideal solution for your needs. Do you want to learn how to record a webinar on a Mac with audio and video using Movavi Screen Recorder? Follow these key steps.
Step 1. Download Movavi Screen Recorder
You can download Movavi Screen Recorder for Mac. Follow all instructions according to the prompts offered by the download manager to ensure that your software is fully downloaded and ready to go.
Step 2. Use the Shift-CMD-5 Shortcut on Your Keyboard to Access Screen Recording Controls
These controls will allow you to select valuable options: whether to record the entire screen, what portion of the screen you want to record if you need to cut it for some reason and if you wish to capture a still image of the screen instead of a recording.
Select the portion of the screen that you want to record. If you're going to record the entire screen, you can start recording by clicking anywhere on the screen.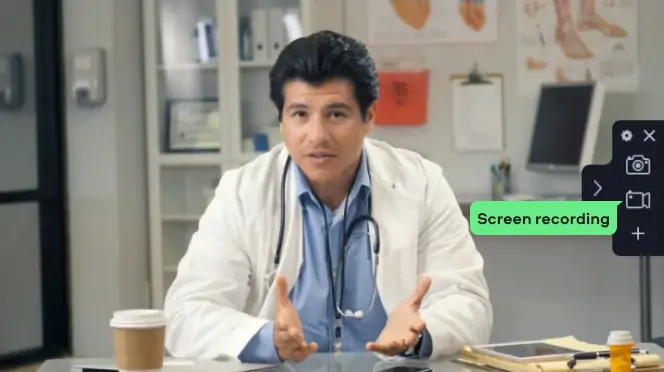 Step 3. Select the Capturing Parameters
Choose whether you want to record your external mic, which will take input from what's happening in the room, or if you wish to capture audio from the webinar. Unless you're providing commentary throughout the webinar, you'll probably want to capture internal audio throughout the webinar.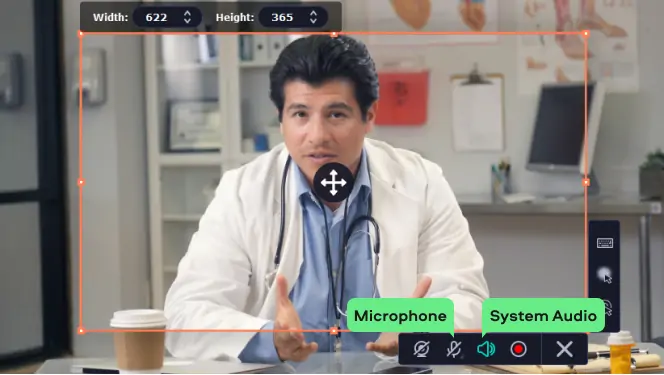 Once you've chosen the area where you want to record, you can quickly start recording the webinar segment you've chosen. Click the button and record until you reach the end of the webinar. You can quickly start and stop recording as needed: for example, if there's a specific segment you don't want to record because you don't need information from a particular part or speaker, you can stop recording through that segment.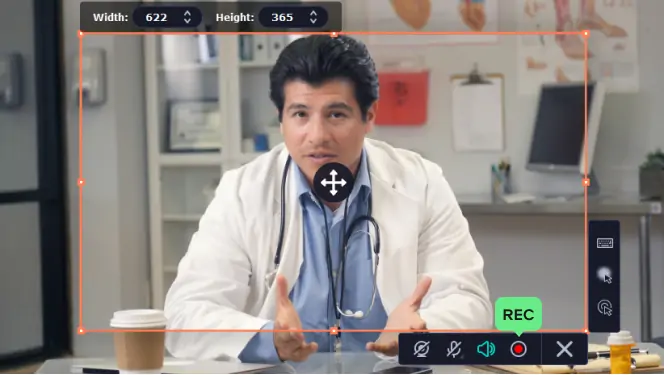 Step 5. End the Recording When You're Done
Press the Stop button when you're done with your webinar.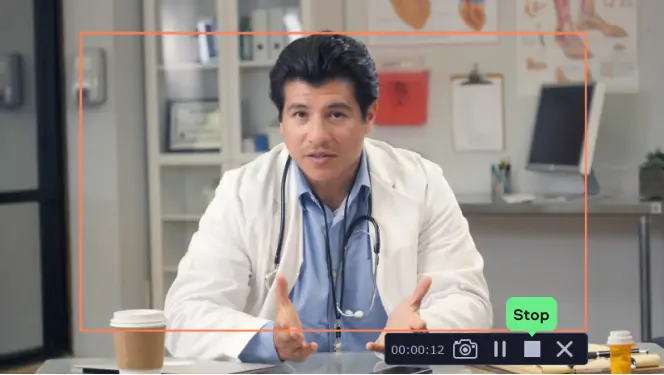 Step 6. Do Any Necessary Editing
For example, you may want to cut out segments of dead air to make it easier to streamline viewing of your webinar when you go back to watch it a second time. Likewise, you may choose to cut out commentary from other attendees or to erase portions of the webinar that you won't need later. You do not need to edit the file before you can save it; instead, you can come back and finish it at any point, as required.
Save your file when you're done with any editing that you wanted to do.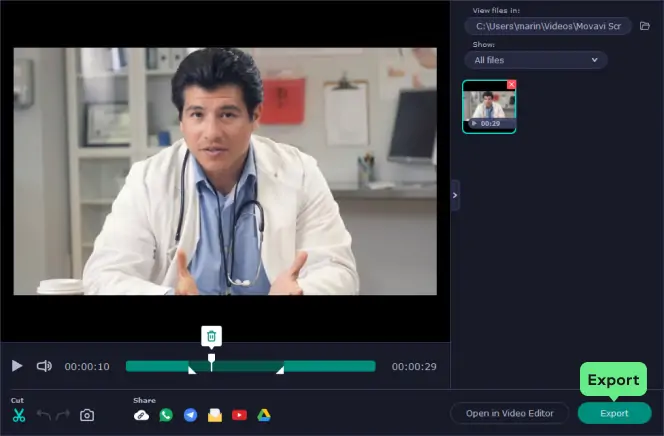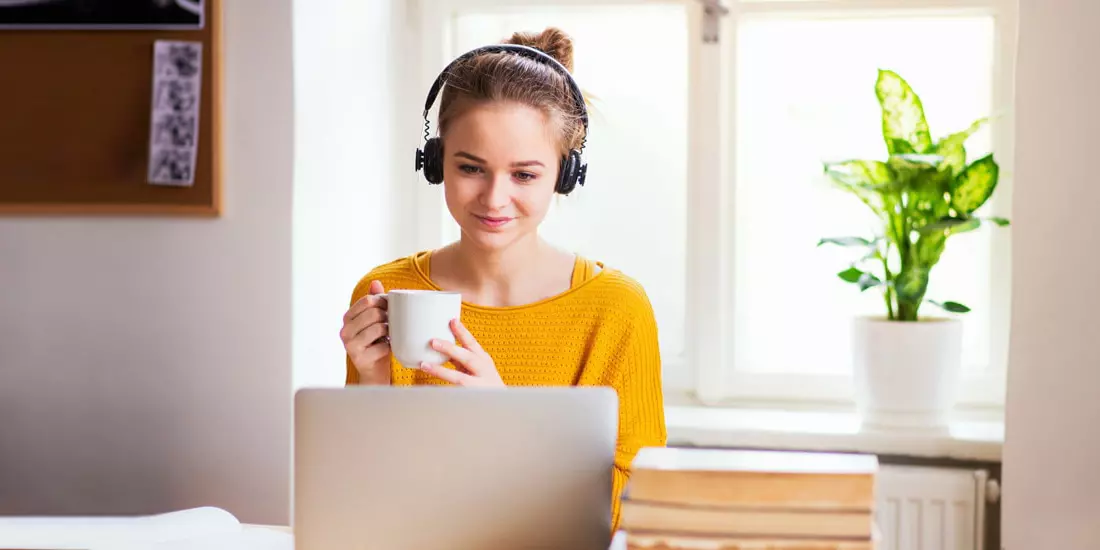 Movavi Screen Recorder
The perfect way to record from your screen
Disclaimer: Please be aware that Movavi Screen Recorder does not allow capture of copy-protected video and audio streams. Learn more
How to Use Online Free Webinar Recording Software
If the webinar you want to attend is on an online webinar hosting platform, you may not need a screen recorder. Many online webinar software options already include a recording tool to save the recording. If you're looking for a nice webinar tool, check out the article linked below:
In some cases, you may want to record your webinar using free screen recording solutions online. Online screen recorders offer some reasonable options, especially if you don't want to download software directly to your machine. They can often streamline the recording process, especially if you do not usually need to record webinars for future viewing. However, online screen recording software does offer some disadvantages. It can cause your machine to lag. Some recording options may not have as much recording space or allow for as much editing as a downloaded recorder.
If you want to use a free online webinar recording solution, ApowerSoft Online Recorder could help meet your needs. With a single click, you can allow the platform to start recording everything that happens on your screen.
Start by visiting the link below to visit the ApowerSoft Online Recorder website.
Step 1. Click the "Start Recording" Button to Activate the Online Recorder
Click Start Recording. It does not start the recording process but does activate the recorder and get it ready to start capturing your webinar.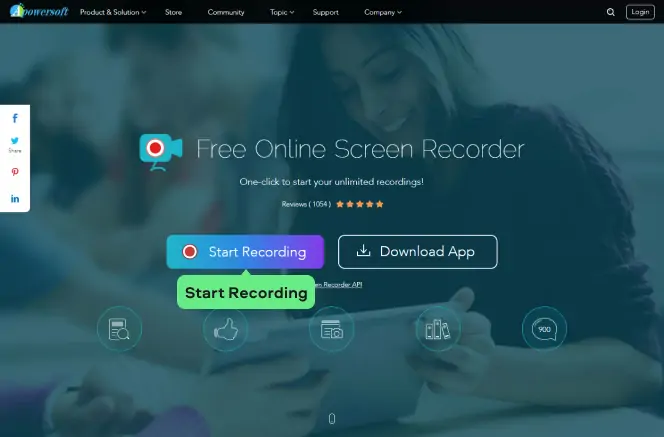 Step 2. Customize Any Information About Your Recording
For example, if you're only recording a specific portion of your screen, you should select the part of the screen covering the webinar. You may also choose to customize information like whether you want to capture video and audio simultaneously or whether you want to include input from your microphone. ApowerSoft Online also allows you to insert webcam input while recording.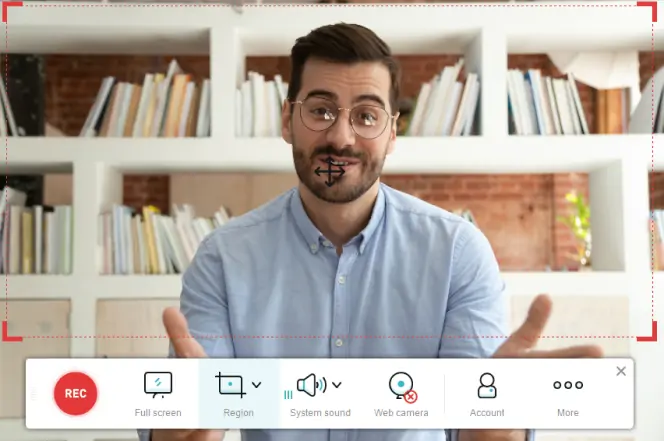 Step 3. Stop Recording and Save Your File When You're Done
Unlike downloadable platforms like Movavi Screen Recorder, ApowerSoft Online Recorder does not allow you to edit directly on the platform. You can, however, export the file for editing using another platform or solution.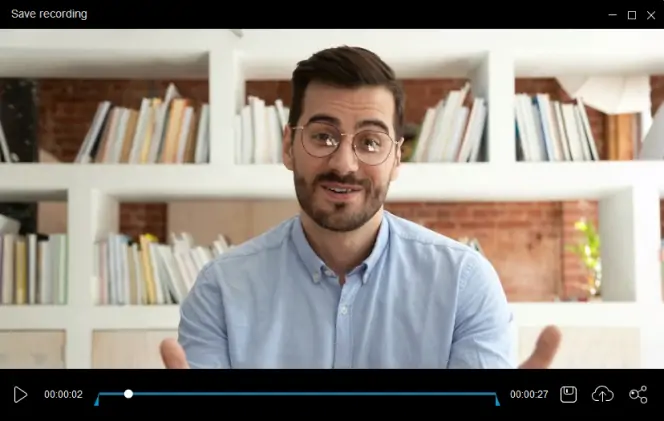 Want to check out a review for ApowerSoft Online Recorder? Visit the link below to learn more about what other users think about the platform.
If ApowerSoft Online Screen Recorder doesn't work for you, you can try Screencapture.com as an alternative. This program does not require the user to install anything to use the recorder, and it can easily record webcam footage. However, the software does add a small watermark to every video recorded without purchasing a Premium account, which could prove prohibitive for some users.
Want to try out Screencapture.com? Try the link below.
How to Record a Webinar on a PC with a Google Chrome Extension
For PCs with a Google Chrome extension, Loom offers an excellent way to record webinars and capture other valuable information directly from your screen. Loom is an easy video messaging platform that will allow you to easily record your screen, voice, and face as needed. It is designed to help reduce a great deal of the back-and-forth typing that often goes into getting a message across but can also be used to help record webinars and allow you, as an attendee, to go back over that footage in the future.
According to the Chrome Web Store, Loom has five stars and more than four million users, making it an incredibly valuable tool.
Step 1. Install the Desktop App and Open the Recorder
You'll need to create an account to get started using Loom; however, it offers simple, intuitive account creation that will allow you to get started quickly.
Step 2. Choose What You Want to Capture
Do you want to record what's happening on your screen? Or do you need to save all the information? Select the settings that fit your recording needs.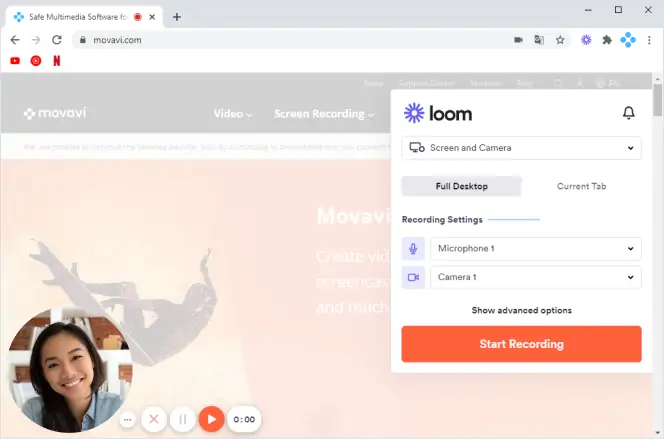 Step 3. Start the Recording
Make sure you don't forget to start your recording, lest you miss that valuable footage from your webinar. You can pause or restart easily from the control menu as needed.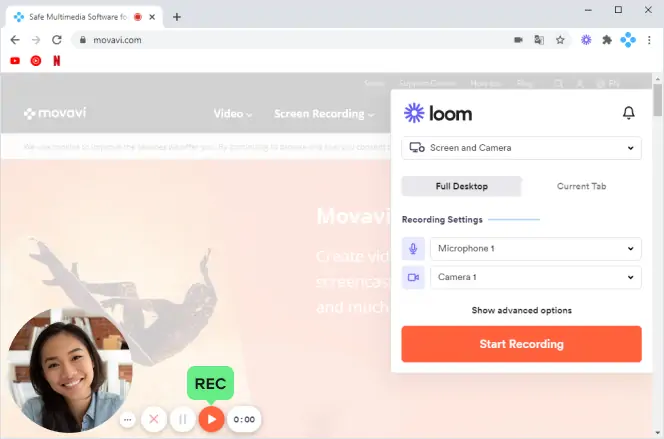 Step 4. Stop the Recording Once You're Done
Once you have finished the recording, you can stop the recording. It will automatically get uploaded to Loom.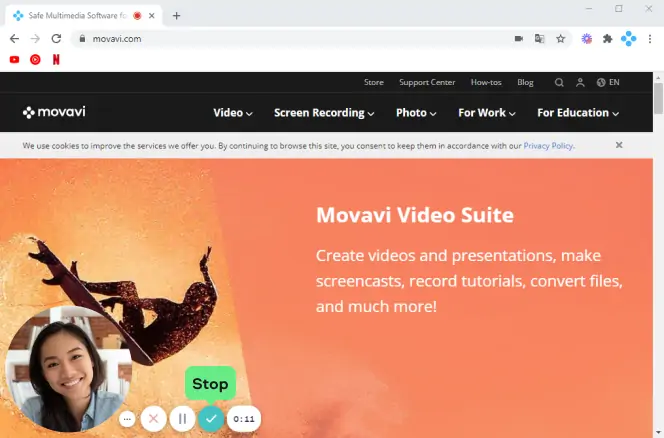 Step 5. Share the Recording Directly from the Platform
Loom's recording software makes it easy to share recordings later if needed.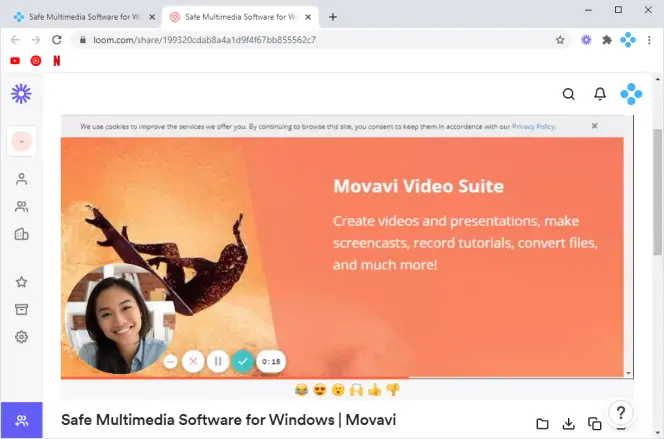 How to Record Your Webinar with a Built-In iOS Tool
A built-in iOS tool makes it easy to handle screen recording, including recording a webinar. The built-in tool is designed to make screen recording simple. To use it, you should:
Go to Settings
Click on the Control Center
Click on Customize Controls
Tap on the Screen Recording option
Swipe up from the bottom edge of any screen
Press the record button
Tap Start Recording
Tap the red status bar of the screen and tap Stop to stop recording
This simple set of instructions can take you effectively through the screen recording process. However, it does not offer the same editing features you may find in some apps. If you need additional editing features, consider an app like Record it!
Want to check out Record it! and its advantages? Check out the link below.
How to Record Your Screen During a Webinar Using a Built-In Android Tool
Your Android device also offers easy screen recording options. Simply:
Pull down the notification shade from the top of the screen to view your quick settings.
When you find the screen recorder icon, tap on it.
Confirm your desire to record the screen, then start recording.
Tap stop when finished.
Save the video to your phone gallery, where you can view it when you're done.
Like other built-in screen recorders, the Android screen recorder does not allow for immediate editing, which means you will need to export your captured video to another format to use it. Want something with more editing options and features? Check out Mobizen, which is currently Editor's Choice on Google Play, by clicking the link below.
Frequently Asked Questions
Is It Possible to Record a Webinar?
Yes, it's possible to record a webinar. You can use several pieces of software to accomplish that goal, including:
Movavi Screen Recorder
ApowerSoft Online Recorder
Screencapture.com
Loom
Built-in iOS and Android tools
Record it!
Mobizen
Which platform you use will depend on your specific recording needs, including what device you're working from.
How Can I Record a Webinar for Free?
As an attendee, you want to go back and review the content from the webinar you attended any time you like. Using Movavi Screen Recorder, you can easily record webinar content. Click the Camera icon, set the recording frame, enable the system sound recording, and click REC to get started!
How Do I Record a Webcast on My Computer?
You can use desktop programs, online recorders, or a Google Chrome extension to record a webcast on your computer. A desktop program runs directly from your computer, making it easy for you to store and revisit those platforms later. While an online recorder can prove clunkier and cause more problems with system resources, it can also prevent you from having to download a program to your computer. It's also available immediately, which can be an ideal choice if you need to make a last-minute webinar recording. Finally, a Google Chrome extension can be the perfect webinar recording tool for Chromebook users or others who want a recording experience tailored to their preferred browser. From how to record a webinar on Windows 10 to how to record a webinar on a Mac, these platforms will quickly walk you through the steps to recording, storing, and later replaying your webinar.
Sign up for news and special offers