Best Gaming Keyboards for 2022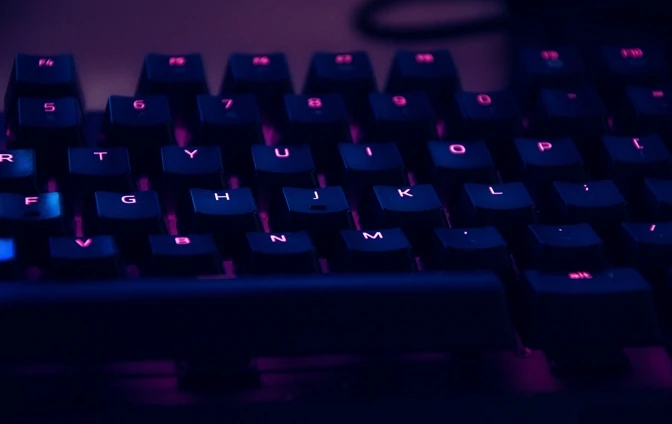 Keyboard technology has come a long way towards making keyboards more than just a set of buttons that perform simple tasks and adapting them to the needs of different types of users, including gamers. The gaming process involves complex sets of key combinations, and the effectiveness of your gaming is highly dependent on how responsive your keyboard is to your actions and how comfortable the layout is.
Today, a powerful PC is no longer enough if you want to optimize your gaming. Skills need the right tools, and a keyboard and mouse combo is the first thing you need to think about after choosing a good gaming computer. We have already written about our top picks for gaming mice:
In this article, we'll be choosing the best gaming keyboard.
Disclaimer: We use affiliate links to the products mentioned on this page. When you click an affiliate link and make a purchase, we receive commissions. If you want to support our portal, you can use the links. Otherwise, you can find the recommended products using a search engine.
If you're looking for a simple app to capture your gameplay, try using Gecata by Movavi. Follow the link below to learn more.
How to Choose the Best Keyboard for Gaming
Many factors come into play when you buy a gaming keyboard. There are so many brands and models… Membrane and mechanical, with RGB lighting and different kinds of switches... You'll want to choose one that is affordable, but also quiet and ergonomic. It's a challenging task if you don't know what to look for and that's why, before publishing our list of top-rated gaming keyboards, we'll discuss some of the key criteria to keep in mind when choosing a keyboard if you don't want to waste your money.
Go Mechanical
This is the simplest decision. With a few rare exceptions, it is better to not even consider membrane keyboards if you're looking for the best keyboard for gaming. While mechanical keyboards have individual switches for each key, membrane keyboards have their keycaps mounted on a membrane sheath that translates the signal to a PCB below. Without going into details, let's just say that membrane keyboards have won some people over with low prices, but they are simply less reliable. Considering that the average keyboard user performs something like 16 million keystrokes a year, it makes sense to spend a little extra money to get yourself a keyboard that will last.
RGB Lighting
This is entirely up to you, as RGB lighting has no practical value; it's entirely an aesthetic decision related to combining the color of your gaming devices. But you can save yourself quite a few bucks if you go for a keyboard with a simple single-color backlight instead of putting on a light show with your keyboard.
Keyboard Types
The majority of gaming keyboards are all-purpose models, which means that they have a standard set of buttons with a few extra keys and, maybe, some complex backlighting. The important thing here is the responsiveness of the switches that underlie those keys and the software that goes with the device and lets you tweak a variety of gaming-friendly settings.
There are MMO keyboards that are significantly bigger than the standard ones, mostly because they contain one or more rows of macro keys, the number of which can be up to 18. These extra keys are designed to help you manage all aspects of the character skills and buffs, or all the control options in the various strategies. These keyboards can get very expensive and often include complex RGB lighting.
At the other end of the spectrum, there are the so-called tenkeyless models, which lack the numpad – these ten numbered keys at the right of standard keyboards. Tenkeyless models are cheaper and usually quite light; some even support wireless connections. These keyboards, often paired with a multi-buttoned mouse, are a good option if you often go to tournaments or lack desk space.
Pick a Switch
The switch is a component of the mechanical keyboard located under the keycaps and determines the keys' actuation point (the height to which the key needs to be pressed before it sends a signal to the device), and the kind of feedback provided when pressed.
Keyboards use different types of switches. As in the case of RGB lighting, the choice depends on your personal preference, although here it does have a practical side – you need to choose the type that is most comfortable for you, because the comfort of gaming has an impact on your performance, while the lighting does not (if you don't play at night with your lights off).
There are three basic types of switch: clicky, linear, and tactile. A clicky switch delivers an audible click with every press. A linear switch moves smoothly up and down, normally without any noise or tactile feedback. A tactile switch provides feedback in the form of a "bump". No one type is better than any other, and there are switches that combine multiple feedback types, so you really have to try them out to decide which suits you best.
To give you an example and help you understand the keyboard descriptions below, here are the most popular switch models from Cherry MX:
Cherry MX Red is a linear switch with fast actuation and very little tactile feedback.
Cherry MX Black is also a linear switch, but a bit more resistant.
Cherry MX Silver, also known as Cherry MX Speed, is a linear switch with a lower actuation height and resistance than the Cherry MX Red.
Cherry MX Brown is a switch that actuates with a tactile bump.
Cherry MX Blue combines an audible click with even greater tactile feedback than the Cherry MX Brown.
In general, regardless of the type of switch, the quality controls the responsiveness of the keyboard, which is extremely important in gaming. So switch models are really worth paying attention to and investing your money in wisely.
Price
Tenkeyless mechanical gaming keyboards start at around $80, while the full-size models with rows of macro buttons, special gaming software and full RGB lighting can cost up to $180. The golden mean that translates into a full-size mechanical keyboard backlit with a single color falls somewhere between $100 and $120.
Bottom Line
While it is easier to choose a good gaming keyboard than a good gaming mouse, there are things to consider to ensure you spend your money wisely. Opt for a mechanical model, think hard about the number of extra keys you need, and don't bother with a huge MMO keyboard if you're an FPS gamer. Finally, choose a switch that you are used to and that feels comfortable, and check your wallet to see if there's some extra money for fancy RGB lighting.
Best Gaming Keyboards: Top 10 Picks
#CommissionsEarned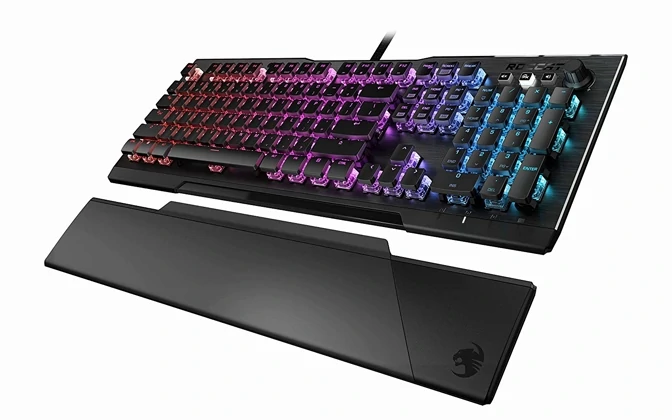 This is one of the most futuristic-looking gaming keyboards out there, and a regular leader on the keyboard design charts. It looks really mesmerizing and unique in the way its switches are on the desk instead of under it, but the $160 price tag means that Roccat has to offer a lot more than spaceship-like shapes and pretty lighting to compete with the likes of Logitech, Razer, and Corsair.
First of all, the plastic case of the Vulcan's predecessor, the Horde AIMO, has been replaced by a stunning aluminum top-plate with a dark metallic look. Although the body is slim and streamlined, the Vulcan is not as lightweight as it looks, and it doesn't slide around on the desk in the heat of the game.
Roccat has stopped using the Cherry MX switches and designed its own, following the lead of Razer and Logitech. Roccat's Titan switches are not too clicky but retain a tactile feel close to that of the Cherry MX Brown. The response is quick, the feedback is substantial, and the actuation distance is 1.8mm. Roccat seems to have found a happy medium between Cherry MX's Speed and Red models.
There's no need to state that the Vulcan is literally bathed in light that is completely customizable, offering rhythmic patterns like wave, snake, heartbeat, or breathing, and even per-key customization. The Roccat Swarm software is very straightforward, even letting you assign sound effects to keystrokes (what?!). Setting up macros is fairly easy, so the lack of a separate macros panel is not a big problem. Key spacing is good, the layout is comfortable, the buttons have a soft touch to them.
As for drawbacks, the strangest thing is that the Vulcan doesn't have a USB passthrough, and the wrist rest, though slim and easily attached with magnets, is made of hard plastic and not very comfortable for long-term use.
#CommissionsEarned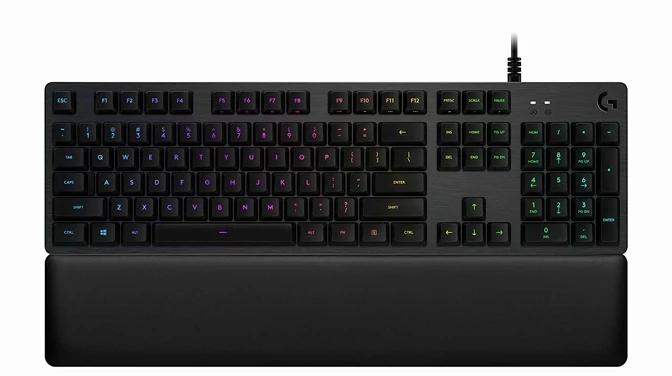 The earlier Logitech G413 was many gamers' favorite budget keyboard, and the G513, by raising the price to $110, means that this model has to compete in an altogether different weight category.
The keyboard is pretty small, with a plastic frame and a top-plate made of aircraft-grade 5052 aluminum. The large wrist rest padded with memory foam, is a really pleasant addition. Floating keycaps make cleaning the keyboard with compressed air a lot easier. The lighting, customizable on a per-key level, is vibrant, and the LightSync app will help you synchronize the lighting setup with all your Logitech devices.
Romer-G Linear switches are a real highlight of the G513. Firm, but not too resistant, they fall back into place in almost complete silence. According to Logitech, these new switches offer a 25% faster keystroke than their competitors. The silent, even actuation of each keypress distinguishes them in comparison with their closest rival, Cherry MX Red, and makes this keyboard a great choice not only for gaming but for typing, too.
It is a little disappointing that the G513 has no dedicated media buttons and the USB port is still a 2.0 type, even though USB 3.0 is now widely adopted among mid-range gaming keyboards, but the Romer-G switches really make up for it.
#CommissionsEarned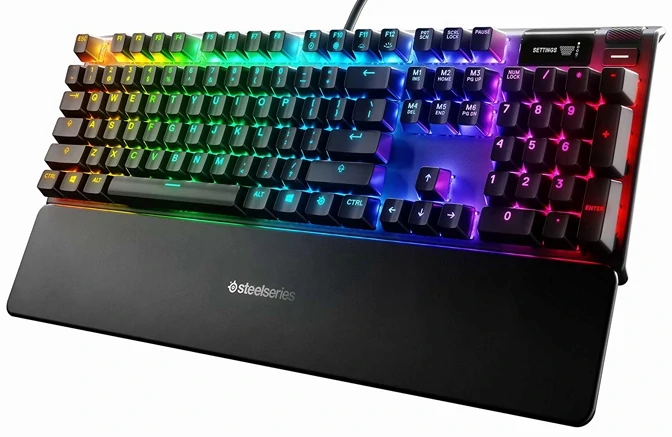 Let's skip the preliminaries and go straight to the feature SteelSeries Apex Pro is known for and that has, in many ways, revolutionized the way we look at keyboard actuation heights. The Apex Pro offers OmniPoint Adjustable Switches that let you change the actuation distance on the fly, from 0.4mm to 3.5mm. This idea is actually taking the main advantage of the mechanical keyboards – per-key switches – and pushing it to its limits. As a result, you have a versatile keyboard that adapts to your gaming, to your typing, and just to you.
But even without this extra-modern feature, the Apex Pro has all the bells and whistles that make it an advanced keyboard. A USB passthrough, a textured volume roller, a rubberized, detachable magnetic wrist rest, even an OLED screen at the top-right of the board that shows the settings when you change them; you can even place a logo or a gif on it, adding a unique twist to your set-up. LED lighting shines brightly through large lettering on the keycaps. The device is quite compact for a full-size keyboard, but there is also a tenkeyless version – the Apex Pro TKL.
As for the feeling, the switches are based on SteelSeries red switches, so the keys are light and springy to the touch – it is almost as if there is a magnetic force pushing the key back after you press it. All in all, using the keyboard is a unique and positive experience.
The SteelSeries' Engine 3 software is where you change the actuation settings at the per-key level – yes, you heard me right. It also provides storage for up to five profiles and, of course, the complex lighting customization that has become a must-have in all such programs. It is true, though, that the Engine 3 has added some unique lighting patterns and reactions, such as the Pac-Man-inspired "Chasing Ghosts."
#CommissionsEarned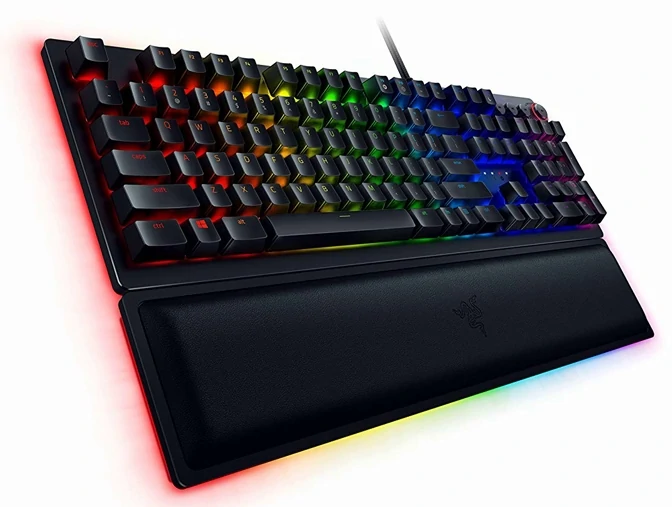 Here's another contender for the craziest switcher technology innovation award. The Huntsman Elite is the first model to use the new kind of switches called "opto-mechanical". What this really means is that these switches use laser beams instead of metal parts to detect keypresses. In theory, this should boost the response time and the durability of the switches. They require less actuation force and provide a clicky feedback. The interesting thing about these switches is that you don't need to wait for mechanical components to come back to the default position to be ready for the next keypress. The click is laser-triggered, making the key reset distance minimal and allowing for super quick presses.
The $200 price makes this the most expensive Razer keyboard, but keep in mind that a less "fancy" version without side lights and wrist rest will save you $50.
The keyboard is rather compact with a matte aluminium finish that is "fingerprint-proof" and also adds some weight, preventing it from sliding around the desk. Two flip-out legs under the board offer two positions, a good addition, and the wrist rest with memory foam is incredibly comfortable. The keys and the board itself (including the wrist rest) are lit from below. One small downside is that, while the keyboard itself has no USB ports, it requires two of them – one for the board and one to light up your wrist rest.
One of the best features of this device is a knurled metal dial at the top-right of the desk. While it is not compatible with the Windows Dial functionality, it is programmable. The default behaviour is sound control, but you can use it to swap between applications or even between weapons in games. Also, the dial is clickable. To the left of the dial, you'll find three dedicated media controls.
#CommissionsEarned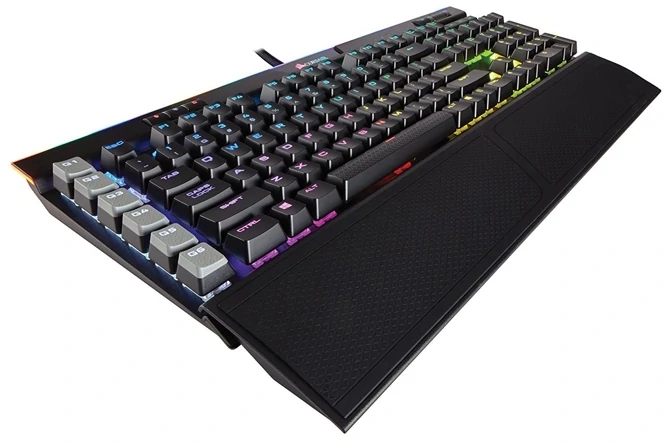 It seems that, at some point, every gaming brand takes the best of its creative ideas, tech inventions, and keyboard software, channels it all into one keyboard… then hangs a $200 price tag on it. Here's another monster among gaming keyboards, this time from Corsair. On the web, we've seen it called the Ferrari or even the Rolls Royce of keyboards. Let's see if this luxurious model is not just another marketing ploy.
The deck is made from aircraft-grade aluminium with a full-size keyboard complete with six programmable macro buttons and a wrist rest; it feels heavy but also substantial. This model, just like an expensive car, impresses with the sheer grandeur of its exterior. A super-vibrant array of LED lights reflects off the dark aluminum, suffusing the keyboard with light. A light bar with 19 programmable RGB zones runs along the top bezel of the device. To cut a long story short, the lighting quality is incredible and the customization possibilities are jaw-dropping: you can even produce circular lighting waves that start from the button you hit.
The keyboard is equipped with Cherry MX Speed switches with a 1.2mm actuation height, providing quick response that makes the K95 RGB Platinum perfectly suited for FPS. There are three extra buttons on the top-left of the deck: one to select user profiles, one to adjust brightness and one to lock the Windows key. On the right you'll find a mute button, a metal roll-bar to control volume and a set of standard media keys. There is also a USB 2.0 passthrough and a rubberized wrist rest which you can flip to choose between smooth and textured grips. Unfortunately, the wrist rest is also terribly dust-friendly, attracting every small particle floating in the air.
The Corsair Utility Engine (CUE) software is some of the most intuitive you'll find. It is also stylish and straightforward – everything is where you'd expect it to be, and the most complex lighting customization seems like a game. It is equally easy to record long-string macros, and even attach custom sounds to them.
Finally, swappable textured WASD keycaps are a big bonus for FPS gamers. Coupled with the Cherry MX Speed switches, they make the Corsair K95 RGB Platinum a near-perfect choice for Overwatch and CS:GO enthusiasts.
#CommissionsEarned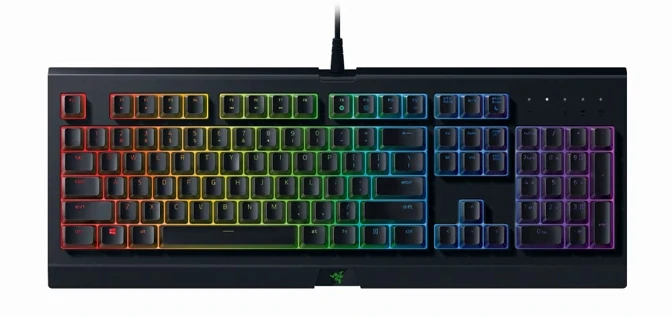 We've finally climbed down from the dizzy heights of the $200 monsters, and now urn to a more affordable $60 keyboard that, despite its price, has made it to our list of best gaming keyboards.
Cynosa Chroma carries an impressive weight for its price category. The keycaps have a comfortable concave shape, are soft to the touch, and don't feel cheap. The deck is "splash-resistant", according to Razer, but that is a common feature for non-mechanical keyboards.
Yes, Cynosa is a membrane keyboard. "But you've told us to forget about membrane keyboards!" While that is true, it is also true that Cynosa is the perfect example of an exception that proves the rule. As a membrane keyboard, Cynosa provides softer and more silent key presses. The actuation height is greater than average, so the keys actually seem a bit too loose compared to similarly-priced competitors such as the Corsair K55. There is no wrist rest, nor any special media keys or macro buttons, which is a bit disappointing. Still, there is an on-the-fly macro recording key that gets the job done pretty well without you having to delve into specialized software.
Cynosa has a good RGB lighting system which is controllable at the per-key level, which is very rare among membrane keyboards in this price range. You can also pay another $20 and get a Pro version with underglow. As for the Razor's Synapse 3 software, it is clean, if not as easy-to-navigate as some, and there are ready-made presets for those who don't want to spend time figuring out all the configurations.
Finally, Cynosa offers a Hypershift functionality that basically allows you to double the number of customizable keys by swapping between two sets of macros with a single key press.
#CommissionsEarned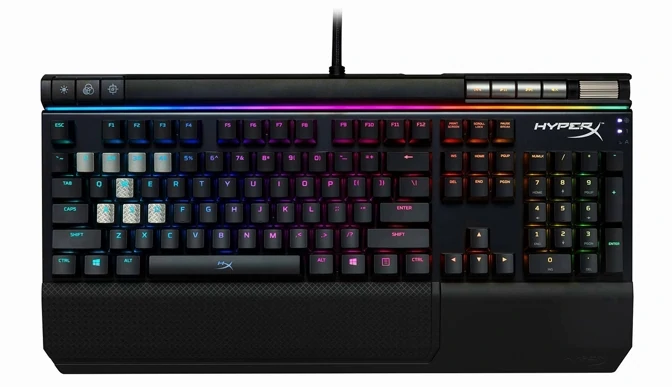 As with other expensive gaming keyboards, the Alloy Elite RGB carries a substantial weight, yet is not overly cumbersome. Also, the wrist rest is detachable, allowing you to free up even more space if necessary. The keys have a soft finish and are slightly concave, and you'll also find a set of textured silver replacement caps for the WASD keys, as well as silver caps the 1, 2, 3, 4 keys. At the top, there are dedicated media buttons and a scroll-bar to control volume. There arу also special buttons to adjust brightness, toggle "game mode" and switch lighting profiles.
The HyperX has stayed with the famous Cherry MX switches, and you can choose between Brown, Red and Blue types for your set. All in all, they consistently, so this keyboard is a good choice for those who are already used to these switches on other keyboards.
The device offers per-key RGB lighting, which looks great partly due to the floating keycaps design. You'll find a USB 2.0 passthrough on the back of the keyboard, but, unfortunately, there are no macro keys.
We have to admit that the HyperX's software is its weakest point. The design is rather uninviting, and the interface is quite messy.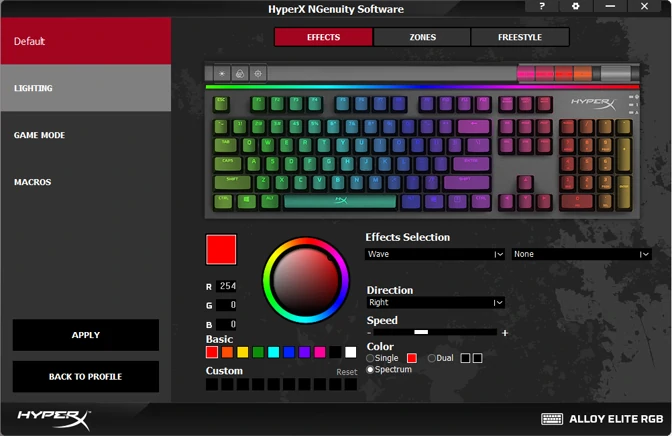 Considering that it will take you a while to figure out the basic lighting settings, it is somewhat ironic that the name of the software is Ngenuity. It offers the usual presets and lighting customization options, as well as some game-specific lighting presets.
#CommissionsEarned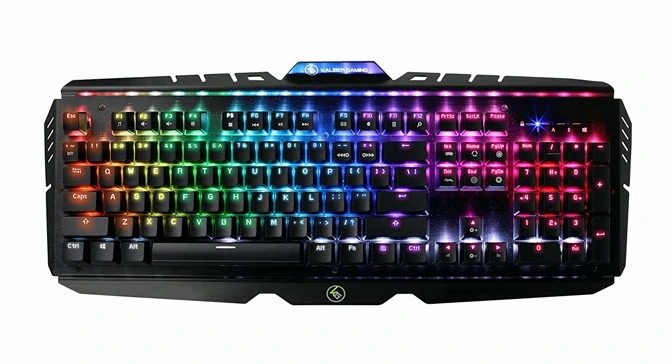 After the Razer Cynosa Chroma, this is our second contender for the best budget gaming keyboard. Most models in this price category cost a bit more or lack features like mechanical switches or RGB lighting, so that's why HVER Pro RGB has drawn our attention.
First, we are impressed by the solid aluminum desk that isn't easily bent and adds weight to the device.There are also four rubber grips that prevent the keyboard from sliding around the desk. You can choose from either tactile Brown or linear Red switches, but the strange thing is that we haven't been able to find the actual switch manufacturer, nor the precise specs of the two types.
Seeing per-key RGB lighting with 18 lighting patterns on a keyboard at this price is surprising in a good way. As for the software, it is a bit tricky and instructions are lacking, so you'll need to spend a bit of time figuring it out, but after that, you'll see that it offers all the main options: setting up macro buttons and lighting, delay and polling rate adjustment, and so on.
As for the actual gaming experience, this keyboard withstands the most rigorous testing. The clicks are responsive and the greater resistance past the actuation point keeps you from unnecessary movements and saves your hands from getting tired. This is a very responsive keyboard – keypresses are registered almost instantly – and the device effectively prevents false or missed inputs.
#CommissionsEarned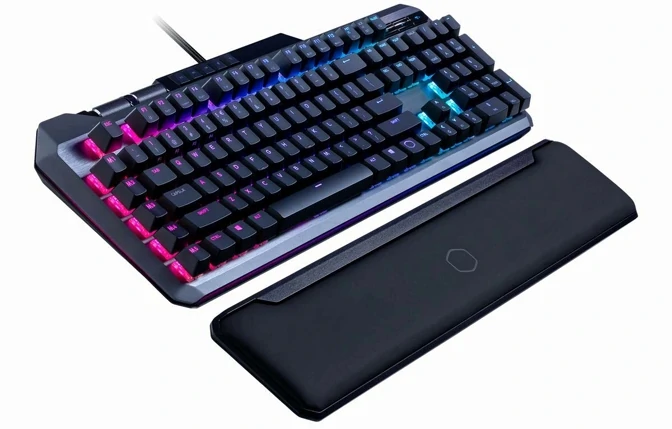 The Cooler Master flagship gaming model MK850 looks impressive, with its dark chassis made of anodized brushed aluminum and black keys bathed in the underlying light. The keyboard uses "floating" keys, leaving the switches a little exposed. There are also light bars on the sides of the deck that accentuate the angular form of the device. On the rear of the board, you'll find two USB 3.0 ports. The faux-leather magnetic wrist rest is really comfortable.
The main feature of the keyboard is in the eight analog Aimpad-type keys (QWERASDF). In contrast with other keyboards using the same technique, like Wooting One, the Aimpad functionality is added to the mechanical switches and doesn't require optical switches.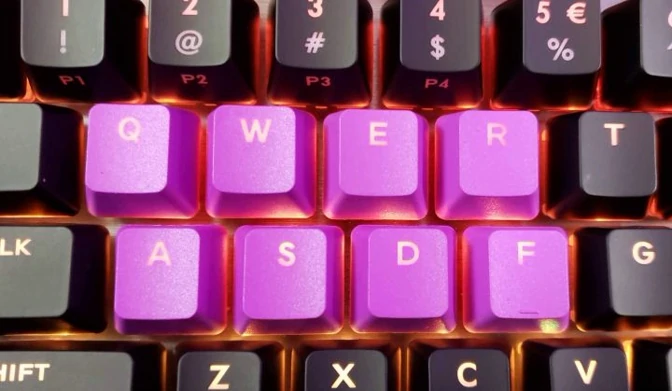 Also, the travel distance is 4mm, which is twice as great as the Wooting model. Each Aimpad key includes an IR sensor with adjustable sensitivity that measures the force applied to each key. In short, you have a keyboard and a gamepad in one device. The keyboard does a great job of tricking games into thinking you're using an actual gamepad whenever one of those eight buttons is pressed. You can smoothly accelerate and steer in racing games, and better creep behind your enemies in third-person action games.
The software that comes with the keyboard is one of the best there is, although the main benefit of the MK850 is actually the ease with which you can customize all kinds of settings on-the-fly, without even using this software.
Finally, the all-time classic Cherry MX Red switches do their job perfectly combined with the overall solid build of the keyboard.
#CommissionsEarned

We decided to finish our list with a real titan among keyboards, the best wireless keyboard we could get our hands on, the incredibly built – and incredibly high-priced – Logitech G915.
The keyboard looks stunning: it has the unassuming chic of the real treasure among heaps of glittering trash. The matte gunmetal top-deck, black keys with subtly illuminated lettering and almost no light "overspilling" from under the keycaps, stylish volume roller breaking the straight rectangular form... The keyboard is unbelievably thin but not light. The low-profile keycaps give it an unusual look for a gaming keyboard, but also save the G915 from cumbersome extra plastic.
Logitech partnered with Kailh to design the new GL switches: despite their reduced height, they offer an amazing 2.7mm of travel. They are triggered as quickly as the Cherry MX "speed switches" without the ultra-sensitivity of the latter that has annoyed many gamers. This makes the keyboard very responsive, which is, obviously, a great benefit in gaming. You can choose one of three switches: tactile, clicky or linear.
The wireless connection is impeccable, and you can also connect the G915 over Bluetooth. Logitech promises an astounding 135 days of use between charges if you turn off the RGB lighting.
A significant addition to the G HUB software is the possibility of creating animations. You have at your disposal a timeline, transitions and the ability to paint the lighting in as many as 70 frames. The key programming is simple, though only five macro keys are reprogrammable. Considering there are three profiles, in total you have 15 programmable buttons.
The bottom line is – Logitech G915 is the best wireless keyboard we've tested. Maybe you would want to have more programmable buttons and a wrist rest for your $250, but even as it stands, we think the keyboard is worth its price.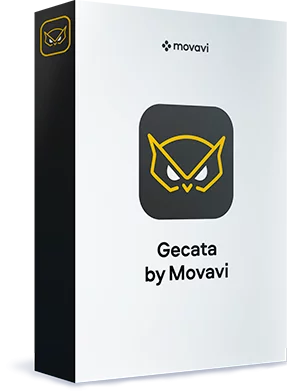 Gecata by Movavi
The best way to preserve your gaming achievements.
Record HD game videos at up to 120 FPS

Grab sound from microphone and speakers

Add webcam video to the game footage

Save video in MP4 for easy uploading to YouTube