Best Gaming Laptops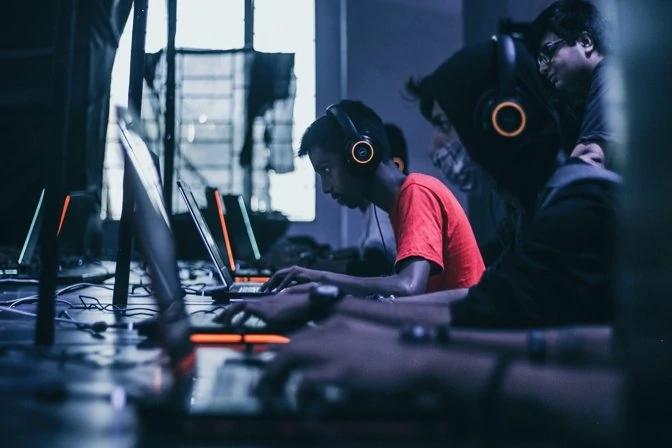 Lots of questions arise when choosing a gaming laptop. You probably want to buy an affordable, reliable model that will satisfy most or all of your gaming needs. It shouldn't use up all your money, but it shouldn't be a cheap piece of plastic either. You'll want it to be as thin as a powerful gaming machine can be so that you can take it everywhere with you (after all, a laptop is meant to be portable!). Also, special deals appear on the market every day, so choosing among the best gaming laptops for your budget can be tricky if you don't know what is most important for you in terms of value for money.
Disclaimer: We use affiliate links to the products mentioned on this page. When you click an affiliate link and make a purchase, we receive commissions. If you want to support our portal, you can use the links. Otherwise, you can find the recommended products using a search engine.
Looking for a game recorder? We recommend you try Gecata by Movavi – a powerful app for recording gameplay. Follow the link below to learn more.
How to Choose the Best Laptop for Gaming
The main thing is to understand what kind of gamer you are and to filter offerings carefully in order to not get lost. A screen with 4K resolution is not remotely a must-have for even professional FPS gaming, and you don't need too many cores in your processor to play most games. And no… you definitely don't need a MacBook. So, before diving into our top 10 best gaming laptops, let's briefly review what you need to consider.
Make sure the keyboard feels good. Naturally, you'll use an external mouse for gaming on your laptop. But adding a separate keyboard on top of the on-board one might be cumbersome. So, to make sure the laptop's keyboard feels comfortable and is clicky enough for your gaming needs, it's better to try it out in the store. As for the mouse, check out our article about the best gaming mice out there:
Avoid low-res displays. Don't go for anything less than 1920×1080, otherwise you'll end up with muddy graphics in most modern games. As for QHD (2560 × 1440) or 4K (3840 × 2160), as we've already noted, it is of course a good thing to have incredibly sharp details and vibrant colors, but keep in mind that it is not absolutely necessary for most types of games and that these screens can really eat into your budget. Also, high-resolution screens tend to have slower refresh rates which is actually a big deal if you're into FPS gaming, so it's better stay with a 1080p screen if you don't want to go below 144Hz.
Not all games need a gaming laptop. Don't let names trick you into wasting your money: if you're a World of Warcraft diehard, you're a gamer, but you still don't need a gaming laptop, as this game, as well as many other low-end titles, can easily be played on standard laptops with integrated graphics cards.
Buy an SSD. Investing in solid state storage can significantly improve load times and game installs, so it can be a good addition to your laptop.
Forget mobile chips. After Nvidia released its 10-series graphics cards, mobile chips have gone the way of other outdated technology.
Go for a 17- or 18-inch laptop if you need power on a budget. Except for some really expensive exceptions, size actually means power, simply because bigger laptops are able to include more components. Also, they normally have better cooling systems, which is important for long gaming sessions. They are less portable than 13-, 14- or 15-inchers, but, well, you'll have to make sacrifices. Still, there are decent gaming 13-inch and 14-inch laptops that are perfectly fine if you're not into high-end or VR gaming. And it is true that most top-notch models are 15-inch models, but they come at a much higher price.
Avoid touch screens. If you're a Candy Crush type of gamer, better stay away from touch screens, as they add to the price, make the display too glossy, drain the battery, AND are practically useless in gaming.
Invest in a GPU. Take the money you saved on the touch screen and buy a good GPU, as it is a crucial gaming component in your computer. Nvidia GeForce GTX 1070 and RTX 2060 are good mainstream gaming GPUs that will also allow for VR gaming on an Oculus Rift or HTC Vive. Go for a 2070 or 2080 model to be able to play almost everything on high settings. RAM and CPU. If you can, go for 16GB RAM, as the standard 8GB can be insufficient for some games. As for the CPU, most games benefit more from a graphics card than from a powerful processor, so that's a question of balancing your budget. Don't overestimate CPUs: most games don't need more than 4 cores and will perform well on a Core i7 or even an i5 model of the 8th generation.
Our Top 10 Picks
Now that the rationale for selection is clearer, let's take a look at some of the great choices the gaming laptop market has to offer today.
#CommissionsEarned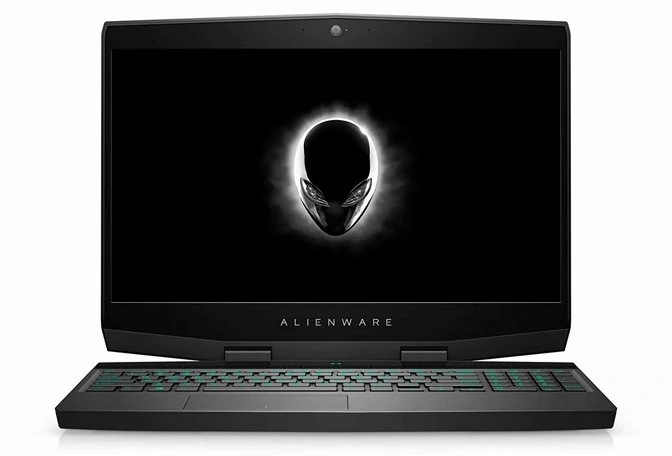 Display: 15.6" FHD (1920 x 1080) 240Hz IPS | CPU: Intel Core i7-9750H | GPU: Nvidia GTX 1070 / RTX 2060 / 2070 | RAM: 16GB DDR4 | Storage: 512GB NVMe SSD
The M15 is a mid-range option in the Alienware line of gaming laptops, between the M13 and the M17. Available configurations range from $1300 to $4300 and offer pretty much the complete scale of options you may need for gaming. It is available in two colors – Nebula Red and Epic Silver – although this is actually the color of the lid, as the rest of the body is black. The keyboard has individually lit RGB keys. The coolest feature is that you can attach a 4K 60Hz OLED display to this laptop, paying as little as $150 for the upgrade. And believe us, that makes a difference: the chances are, it'll completely change your attitude towards LCD displays. The M15 is the thinnest laptop produced by Alienware, which is very exciting, considering its gaming power. On an i7 model with Nvidia RTX 2070, you'll be able to max out all the settings on Apex Legends and still get 120-130 FPS, providied you tune your resolution down to 1080p. Gaming in 4K on this model will drop performance settings to about 50%. Alse, be aware that the M15 tends to get hot quickly, and the keyboard is neither the most comfortable nor the most responsive. Apart from this, gaming on the M15 feels like a dream.
#CommissionsEarned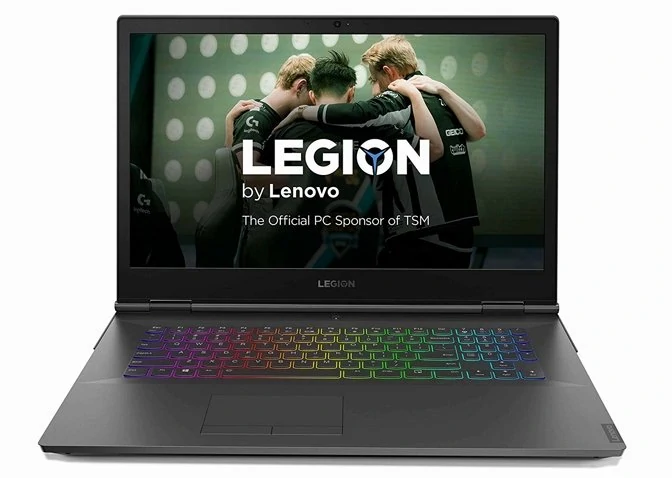 Display: 15.6" FHD (1920 x 1080) 144 Hz G-Sync IPS | CPU: Intel Core i7-9750H | GPU: Nvidia GeForce RTX 2060/2070 | RAM: 16/32GB | Storage: 256GB SSD / 256GB SSD + 1TB HDD
This high-end gaming laptop, coming in at $1700–$2000 depending on configuration, is equipped with great RTX graphics cards, 6-core i7 processor, 16 or 32 RAM, and a 144Hz refresh rate on the Full HD display. There's also a 720p webcam over the display, Nvidia G-sync integrated into the screen and a Dolby Vision HDR. Most of the ports are on the rear, making the laptop look cleaner without cables sticking out everywhere. The RGB keyboard comes with an extra row of buttons on the left to manage the Lenovo Vantage software, which is rather a bummer, as you'll repeatedly find yourself pressing the Vantage launcher key instead of Escape.
McAfee LiveSafe is preinstalled on the laptop and is irritating as ever, but other than that, there is no unnecessary bloatware. As for performance, here's where it becomes one of the best and earns its place on our list. With the same RTX 2070 on, the Legion Y740 performed almost identically to Alienware M15 while costing almost $1000 less! You'll easily play Fortnite at Epic settings without dropping the framerate below 120–130 FPS. The only big drawback of the Y740 is battery rundown time, which is incredibly short.
#CommissionsEarned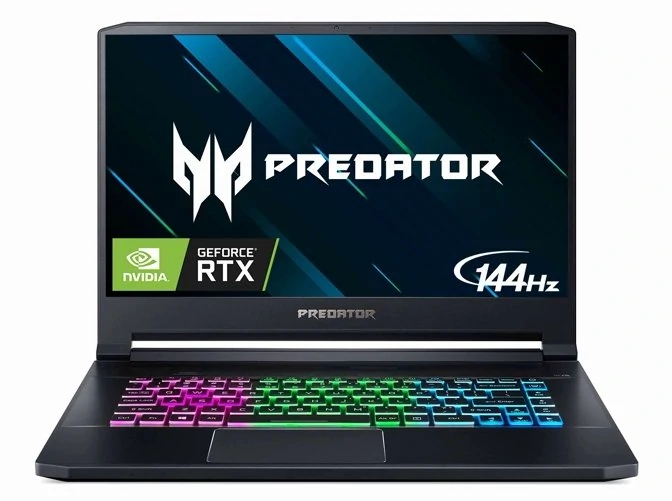 Display: 15.6" FHD (1920 x 1080) 144Hz 3ms IPS | CPU: Intel Core i7-9750H | GPU: Nvidia GeForce RTX 2060/2070/2080 | RAM: 16/32 GB DDR4 2666MHz | Storage: 512GB / 1TB PCIe NVMe SSD
Here's another model that features Nvidia RTX GPUs. Depending on the GPU model, as well as the storage and RAM configuration, the price can range from $1800 to $2500. This laptop is ultra-thin, coming close to MacBook Pro in this regard, and is also small, weighing only 4.63 pounds. It has a 720p webcam on board and a typical gaming FHD display with integrated G-Sync and 144Hz refresh rate. The RGB keyboard is lit in a curious way, having three separate lighting zones: the arrow keys, the WASD keys, and the Predator Sense key have a semi-transparent blue border. That said, you cannot change the color on a per-key level. Unfortunately, you won't find the Triton 700's mechanical keyboard on this one, but it would be an unjustified demand for such a thin keyboard. Following the bad example set by Legion Y740 which made us complain about McAfee, Acer includes Norton Security to keep you grounded. Performance-wise, Triton 500 is quite impressive and outperforms even more expensive competitors such as the MSI GS75 Stealth.
#CommissionsEarned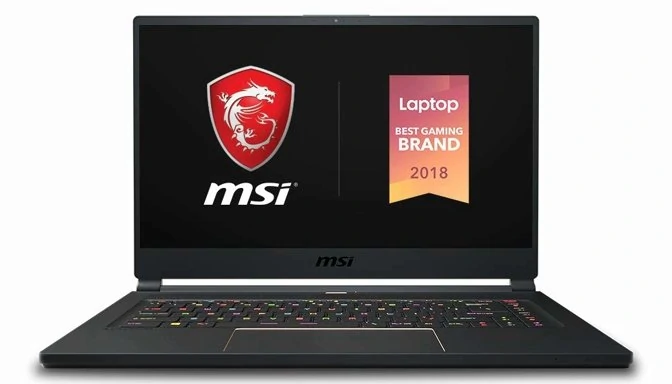 Display: 15.6" FHD (1920 x 1080) 240Hz G-Sync IPS | CPU: Intel Core i7-9750H | GPU: Nvidia GeForce RTX 2080 | RAM: 32GB DDR4 2666MHz | Storage: 1TB NVMe SSD
If, as we've said, the MSI GS75 Stealth doesn't persuade us in terms of performance compared to the much cheaper Predator Triton 500, its younger brother GS65 might, due partly to the fact that it has a smaller 15.6-inch screen and is the first compact and powerful gaming laptop to come with a stunning 240Hz refresh rate. Indeed, promoted as a "thinner-than-a-dime" laptop, it is even thinner than the Predator Titan 500, and weighs a little less, too (4.19 pounds). Also, the keys on the keyboard are very evenly spaced, and the sound system is great, allowing you to clearly hear all the subtle environmental noises without headphones. Finally, the highlight of this model is the battery life, which is pretty long for such a powerful machine. Aside from the fact that this model is arguably overpriced, there are really no serious flaws to it, and the range of configuration choices on Amazon is large, so you can always go for a downgraded RTX 2070 version that'll cost you around the same as the Acer Triton 500 while keeping the ultra-sleek design and breathtaking 240Hz speed.
#CommissionsEarned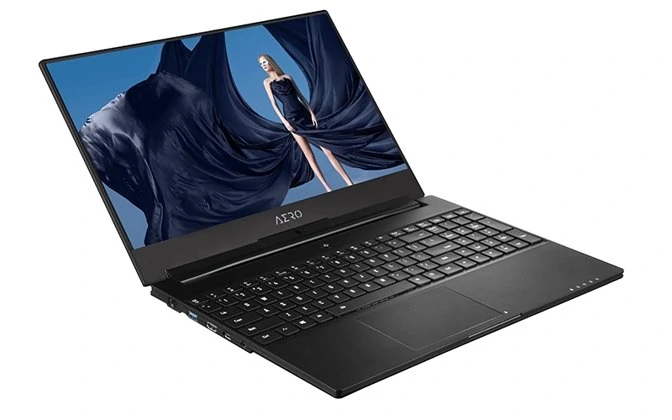 Display: 15.6" FHD (1920 x 1080) 144Hz IPS | CPU: Intel Core i7 8750H | GPU: Nvidia GeForce GTX 1070 | RAM: 16 GB DDR4 2666MHz | Storage: 512GB PCIe SSD
The name speaks for itself: here we have another lightweight monster, a little heavier at 4.5 pounds than the MSI GS65 Stealth, but still very thin and beautifully designed. It also keeps pace with its rivals in terms of a battery life that is very impressive. The design of the laptop is extremely neat, and the keyboard is one of the best low-profile laptop keyboards we've tested. The keys are slightly concave, they have a short travel distance and solid rebound. Also, the RGB lighting is customizable on a per-key level. The Aero 15X has a lot of ports on offer: three USB 3.1 ports, an HDMI 2.2, an SD card slot, mini-DP, a Thunderbolt, and even an RJ-45 ethernet port. You'll also find two M.2 PCEe slots for adding storage. The strange thing is that the 720p webcam is mounted on the hinge, which makes the angle not the most flattering. The 1080p IPS screen with 144Hz speed is near-perfect, lacking only the G-Sync technology you would expect on a gaming laptop. With all of that, the performance is also top-notch, letting you play at 120 FPS on the highest settings in most games.
#CommissionsEarned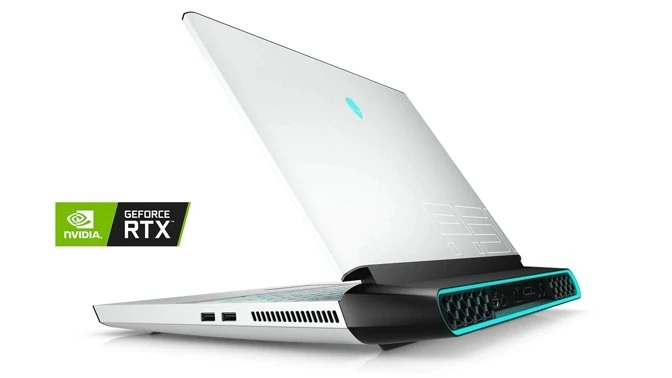 Display: 17.3" FHD (1920 x 1080) 144Hz G-Sync IPS | CPU: Intel Core i9 9900k | GPU: Nvidia GeForce RTX 2080 | RAM: 32 GB DDR4 2400MHz | Storage: 1TB NVMe SSD / 1TB SSHD
This machine is more of a portable desktop than a laptop. So, if you need as lightweight a solution as those those listed above, move along. If not, get ready to be awed by this incredible Alienware machine. This is the first laptop with a socketed desktop CPU and a swappable graphics card. This laptop is so customizable it could be called future-proof. Just about everything in the Area-51m is the most high-end you can find today. A Core i9 9900k CPU, an RTX 2080 GPU, lots of memory and storage, crowned by a big, 17.3-inch Full HD 144Hz IPS display packed with anti-glare technology and an ultra-modern Tobii eye tracking system that turns the display on and off or dims it, depending on whether you're looking at the screen or not. Such a configuration will cost you about $4500. Yes, that's a whole lot. But the key feature of this model is that it is so customizable – you can set it up so that it costs about $2000 with a i7 8700 CPU and an RTX 2060 graphics on a 60Hz display. Once again, the "laptop" itself will probably hurt your lap if used that way, and is not very portable – and that's without mentioning its two additional external power supplies, both needed for gaming… Is it necessary to say that the Area 51-m has all the usual bells and whistles, such as a comfortable keyboard with RGB lighting where every key is customizable? Let's move right on to gaming – that's what really matters when we're talking $4500. Well, Area-51m is one of the most powerful laptops in existence, if not the most powerful. But what has really blown our minds is that it outperforms in many regards some of its more expensive competitors, such as MSI GT83VR Titan SLI, for example, that'll cost you around $5400. Remember we said you can play Fortnite at maximum settings with 120–130 FPS on Lenovo Legion Y740? Well, on Area-51m you'll get between 170 and 180 FPS. And even with games supporting ray tracing technology, such as Battlefield V, you'll get 130 to 140 FPS. Nothing more to say.
#CommissionsEarned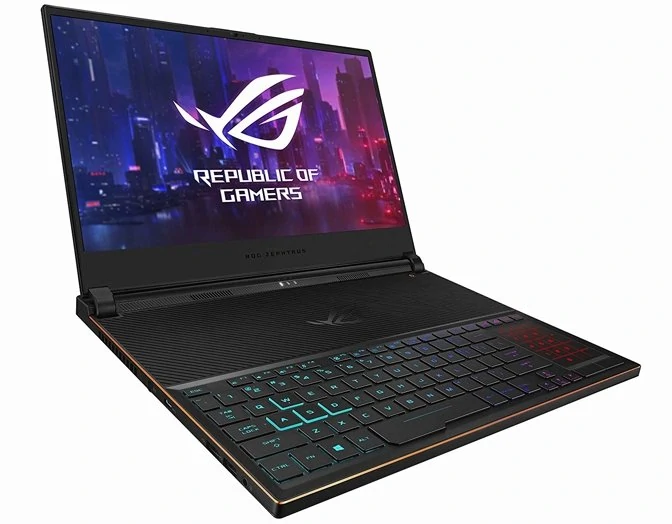 Display: 15.6" FHD (1920 x 1080) 144Hz 3ms IPS | CPU: Intel Core i7 8750H | GPU: Nvidia GeForce GTX 1070 / RTX 2080 | RAM: 16 GB DDR4 2666MHz | Storage: 512GB NVMe SSD
Here's a bit of a step-down, performance-wise but also price-wise. For $1000 less than the Area-51, you won't get such mind-blowing performance, but it'll still be more than enough for any kind of serious gaming, leaving even such strong machines as Alienware M15 way behind. And… it's 0.62 inches thin. It's so crazy thin that it seems laughing at MSI's "thinner-than-a-dime" boast. The cooling system is integrated into the display, and the laptop comes with the Asus ROG Active Aerodynamic System, creating space between your lap or table and the bottom of the laptop whenever the lid is opened, so that the fans move more air around. The ROG logo and the keys are RGB-lit, and the lighting can be controlled individually. The rolling bar on the top left of the keyboard is really handy for controlling volume. As for performance, we've said it before: the Zephyrus S fulfills all its promises and gives just as much of a performance boost compared with its competitors to justify its price, but don't expect the FPS count go higher than 110–120 FPS on maximum settings.
#CommissionsEarned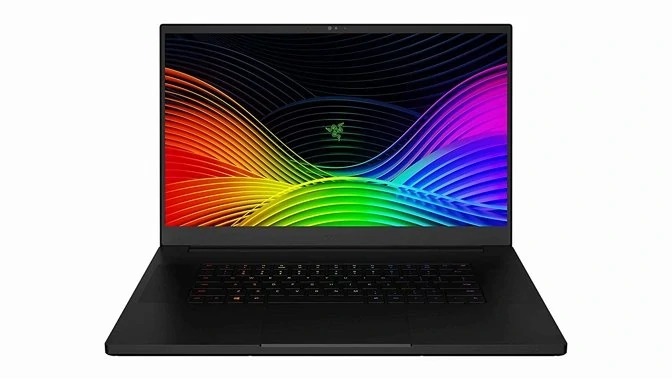 Display: 17.3" FHD (1920 x 1080) 144Hz IPS | CPU: Intel Core i7 9750H | GPU: Nvidia GeForce RTX 2060/2070/2080 | RAM: 16 GB DDR4 2666MHz | Storage: 512GB NVMe SSD
There's no doubt this is one of the best thin 17-inch gaming laptops. Its price ranges from $2500 to $3200 depending on the GPU. As for the case, take the 15-inch aluminum-magnesium chassis of the Blade 15 and make it 17.3-inches – that's what the Razer Blade Pro 17 looks like. The chassis is rigid, the lid is stiff, although the surfaces are still fingerprint-friendly – that also comes with the Blade 15 heritage. Nevertheless, the build quality is robust without making the laptop too heavy: it weighs a little under 3 pounds. We have to say that the keyboard is not our favorite, with a rather shallow travel depth and light feedback, but, again, that depends on the gamer, and you may find it completely OK. Anyway, we'd advise you to give it a try before buying this laptop. There are no 4K options for the Blade Pro 17 but, if you don't need one, you'll probably be quite happy with its matte 144Hz IPS screen. As for the gaming performance, you'll be able to play almost any game on maximum settings without dropping below 60 FPS, and you'll be able to play undemanding games like Fortnite or Overwatch at a steady 144Hz. The overall performance is only about 10 percent slower than a desktop computer with an RTX 2070. All in all, the 2019 Blade Pro 17 version seems to be the best of the company's gaming line.
#CommissionsEarned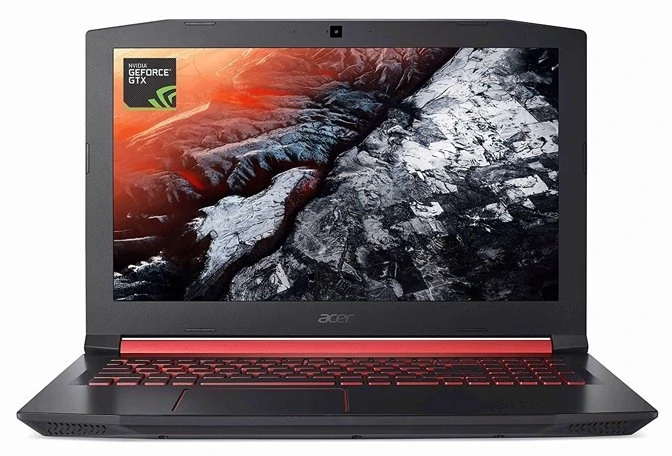 Display: 15.6" FHD (1920 x 1080) 144Hz IPS | CPU: Intel Core i5 7300HQ | GPU: Nvidia GeForce GTX 1050 Ti | RAM: 8 GB DDR4 | Storage: 256GB SSD
We've decided to dedicate the last two spots on our list to the best budget gaming laptops. The first comes from Acer, which is pretty famous in the gaming world for its high-end Predator series of laptops, one of which we talked about earlier. So, the $900 Nitro 5 is a surprising alternative that combines the security of the gaming brand with an affordable price. But don't expect more than this price can offer. The Nitro 5 doesn't look like much as a gaming laptop, to start with. Apart from the red highlights around the keys and a red border around the WASD keys, it looks like a standard model. The laptop comes with a decent number of ports,including a USB 3.1 port, a USB-C 3.1 port, an Ethernet port, an HDMI port, and an SD card reader. The cooling system is located on the rear, and you don't notice it much while playing. The viewing angles of the IPS panel are excellent, and 144Hz is more than enough for solid gaming. Don't be too bothered about the Core i5 7300HQ processor; as we've already mentioned, four cores are enough for most games. The overall performance is just what you'd expect from this kind of hardware, although a bit lower than that of other budget laptops with GTX 1060. Still, you'll be able to push 50–60 FPS in PUBG on high settings, which is not bad.
#CommissionsEarned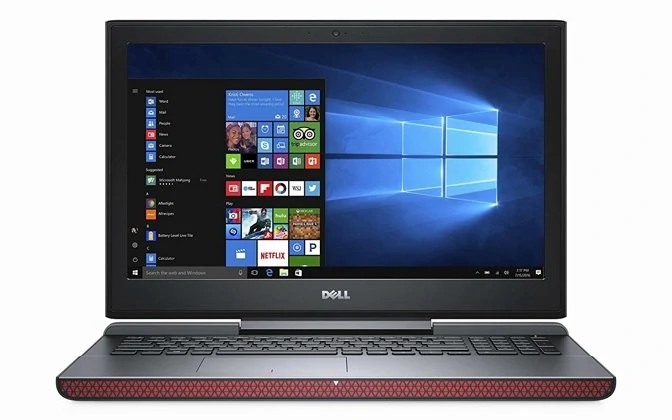 Display: 15.6" FHD (1920 x 1080) TN | CPU: Intel Core i5 7300HQ | GPU: Nvidia GeForce GTX 1060 Max-Q | RAM: 8 GB DDR4 2400MHz | Storage: 256GB SSD
The Dell Inspiron line is quite well-known for providing a decent budget gaming experience. Since Dell also owns Alienware, it is safe to say it has as much experience in building gaming laptops as Acer. The biggest improvement in the new Inspiron 15 7000 is the GPU upgrade, from the GTX 1950 Ti to the GTX 1060, which makes a difference: coming at the same price as Acer Nitro 5, Inspiron 15 7577 actually rates a little better on most performance tests and significantly better on some. As for the design, a combination of red backlighting and lettering on the keyboard looks cool, and the touchpad is also bordered in red. That said, the laptop is rather hefty, weighing almost 6 pounds, though it is still portable. As we've already mentioned, Inspiron 15 7677 outperforms competitors of the same price range, but what is actually more surprising is that in terms of benchmark scores it is only a little behind such laptops as Razer Blade and Alienware 13 that cost twice as much!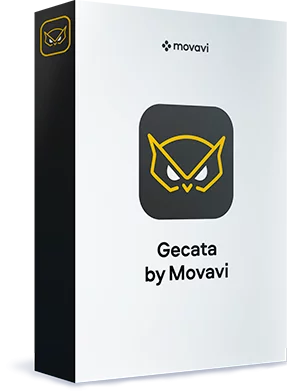 Gecata by Movavi
The best way to preserve your gaming achievements.
Record HD game videos at up to 120 FPS

Grab sound from microphone and speakers

Add webcam video to the game footage

Save video in MP4 for easy uploading to YouTube