Best Gaming Mouse of 2022: Top 10 Picks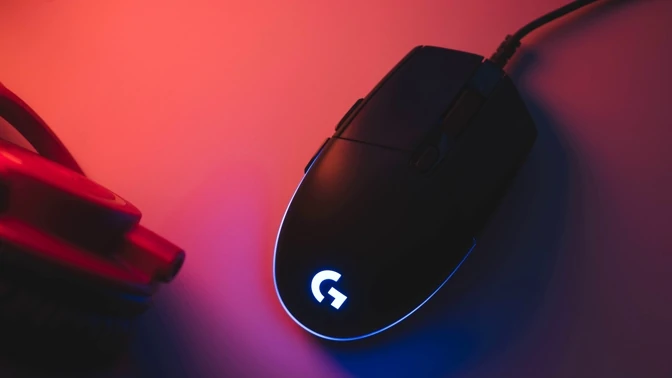 Have you seen these cool mice that look like transformers, all separate angular parts with cracks and fissures in between? That's what a top gaming mouse looks like in 2021. In this article, we'll look at different brands and models to help you choose the best gaming mouse for your needs, whether you need a cheap device or a premium model, wired or wireless, an ergonomic model that'll put less pressure on your hand, or just a good FPS gaming mouse. The choice here is very personal, and we'll try to be as objective as possible so that you can weigh all the pros and cons and buy the one that is most comfortable for you.
Disclaimer: We use affiliate links to the products mentioned on this page. When you click an affiliate link and make a purchase, we receive commissions. If you want to support our portal, you can use the links. Otherwise, you can find the recommended products using a search engine.
Looking for a game recorder? We recommend you try Gecata by Movavi – a powerful app for recording gameplay. Follow the link below to learn more.
How to Choose a Gaming Mouse
If you've already spent a considerable amount of money on a good gaming PC, it only makes sense to invest a bit more in a decent mouse that is critical for all types of games, whether it's aiming and shooting in first-person shooters or having all your spells and buffs "at hand" in a MMORPG. Any gamer will tell you that the computer is just half of the story and that gaming mouse pads, keyboards, and speakers are as important.
But before showing you the list of mice we've selected, there are important questions to consider: what it is that you should look for in a gaming mouse? What makes it different? What should you pay attention to? So let's start with a brief review of the parameters you should consider before making your pick.
Grip
There are different types of mouse grips, and this is a very individual choice, so it is always better to put your hand on a device before buying it.
Palm Grip. Hand rests entirely on the mouse.
Claw grip. The index and middle fingers are arched, making a perpendicular angle with the left and right mouse buttons.
Fingertip Grip. Only two fingers and a thumb touch the mouse, while the hand is suspended in midair.
Sensitivity
The sensitivity of the mouse is measured in DPI (dots per inch) or CPI (characters per inch), depending on the model, and can vary between a few hundred to 18,000. The higher the number, the wider the range through which you can toggle the sensitivity of the mouse. Note that here, a higher number doesn't mean a better mouse; also, it is widely used as a marketing ploy. It is quite likely that you'll find the sensitivity of a 16,000 DPI mouse rather uncomfortable, as the mouse will be overly responsive to your every movement, like using power steering in a very lightweight car. It is something to look out for if you're a professional FPS gamer, where precise movements are crucial for aiming.
Polling Rate
The polling rate is measured in hertz and controls the response times of your mouse, or the frequency of interactions between your mouse and computer. A polling rate of 500Hz means that your mouse reports its position to your computer 500 times per second.
Acceleration
The acceleration of the mouse is the ratio of the pointer speed to the speed of the movement of the hand. It is measured in G force, where one G stands for 9.8 meters per second. This is an important measurement if you play on a low sensitivity surface and thus move your hand around a lot.
Weight
This is also very individual, but we'd say the general trend is that e-sports FPS mice tend to be lighter, as more fast movements are involved in the gaming process. Today, many mice have begun to adopt modular weights that allow you to adjust the weight of the mouse to your liking, which is a nice feature to have.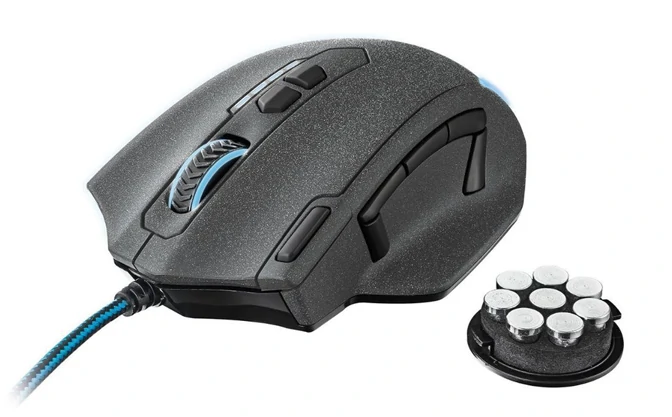 Lift-Off Distance
This measurement indicates how high the mouse can be lifted off the surface before it stops tracking your movements. When you drag your mouse to the edge of the pad while gaming, you'll need to lift it up and move it back towards the center. The trick here is to do this as quickly as possible, and therefore lift your mouse as little as possible, so as not to lose control of the gaming process. You wouldn't want the sensor to continue to track its movements during the time your mouse is "traveling" in the air, as it will mess up the initial in-game position. So the general rule for games is the lower the LOD, the better.
Programmable Buttons
The need for this attribute depends entirely on your type of gaming. The number of programmable buttons can go up to 16 but they add extra weight to the mouse, and also "inflate" its shape, occupying the space you would otherwise use to rest your thumb. If so many buttons can be useful in MMO gaming, for shooters you usually don't need more than two extra programmable buttons plus the ones that control the DPI level.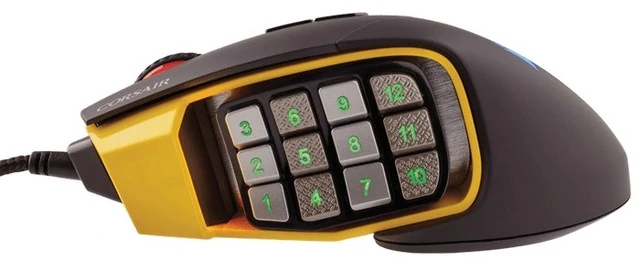 Angle Snapping
This function, also known as mouse correction or prediction, basically messes with your actual movement, straightening it out, or "snapping" it to a grid of straight lines.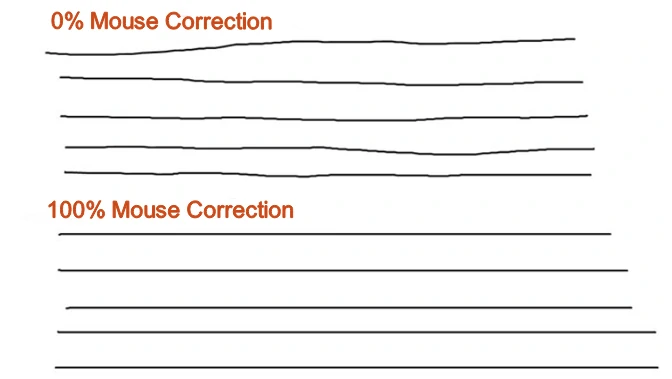 While it can be useful in the office, this can be a big-time nuisance for a gamer. So pay attention to this when choosing a mouse, as there are still some devices that have no correction at all, with a so-called "flawless sensor". If you're into FPS gaming, where a little movement can be crucial, better opt for this type of mouse.
Best Mice For Comfortable Gaming
So here's our list of best gaming mice on the market in 2021.
#CommissionsEarned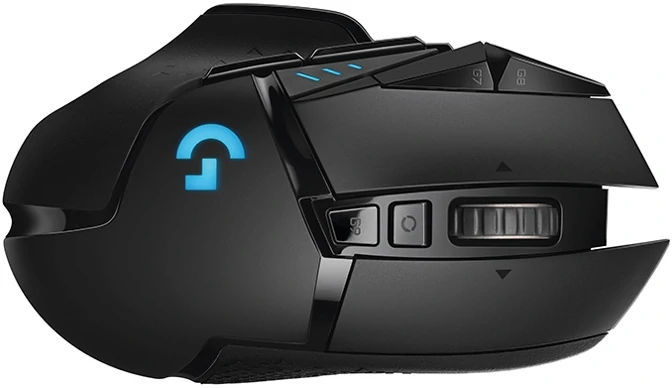 CPI: 16.000
Interface: USB / 2.4GHz Wireless
Buttons: 11
This model is an improvement on the extremely popular original G502 model, time-tested and known for its accuracy and steady pointers. The Lightspeed goes wireless without holding anything back. Actually, it improves on almost every single feature in its predecessor. It has a sleek design with 11 buttons, the shell is solid, and its weight is 7 grams less than the original model. It includes a reliable 16.000 HERO sensor and a perfect 2.4 GHz connection.
The battery life is long, but even that is not important if you add the PowerPlay charging mouse pad that keeps it charged while you play. Modular weights can be put in and taken out of the device, making weight control simple, and the scroll wheel has two modes – step-by-step or free spinning.
If you ask us whether at $150 + $100 for the PowerPlay mousepad it is worth the money, we would say that it is. It is expensive, but you get value in spades.
#CommissionsEarned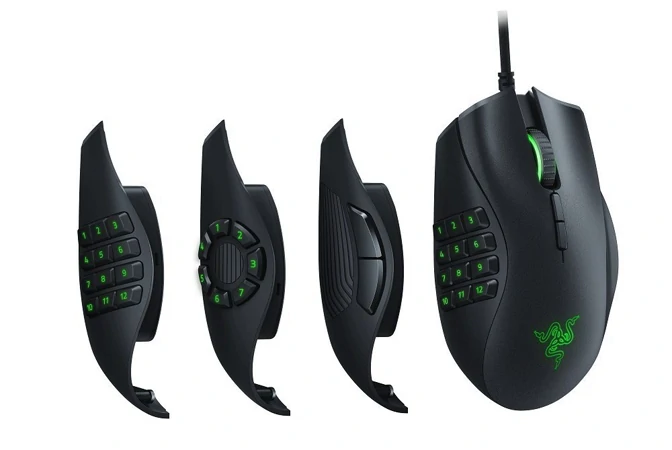 CPI: 16.000
Interface: USB
Buttons: 10, 14, or 9
This is the latest upgrade of Razer's Naga, and it has already firmly established itself as a great choice for MMO gamers. It is compact and has three thumb grips with button arrays designed for MOBAs, MMOs or everyday use. That's a bit like having three gaming mice for just $100. While the buttons are removable, they're still firm and clicky. The panels are attached using magnets and they don't jiggle back and forth when you're in the heat of the action. The ergonomic shape includes a pinky rest, but can be less comfortable if you have large hands. The mouse is extremely customizable, has RGB lighting, and offers an amazing 16.000 DPI sensor.
#CommissionsEarned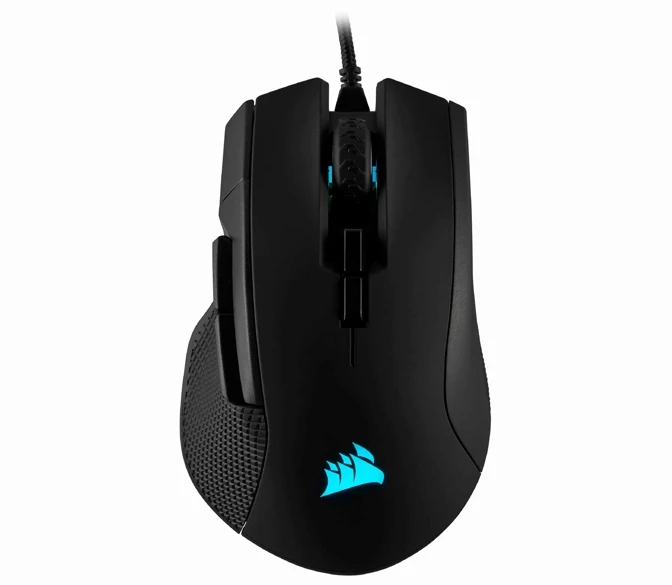 CPI: 18.000
Interface: USB
Buttons: 7
The biggest benefit of this model is the perfect balance between form and weight: it is neither too light, nor too heavy, and it is one of the best choices for gamers with large hands. It also has a very robust construction that won't break easily. Aside from a middle mouse button that needs a bit of extra pressure to use, it is really difficult to find serious flaws with this device, especially considering its extremely affordable price. The device is fully customizable through iCue software, including the possibility of adapting the mouse to the exact surface it's being used on.
#CommissionsEarned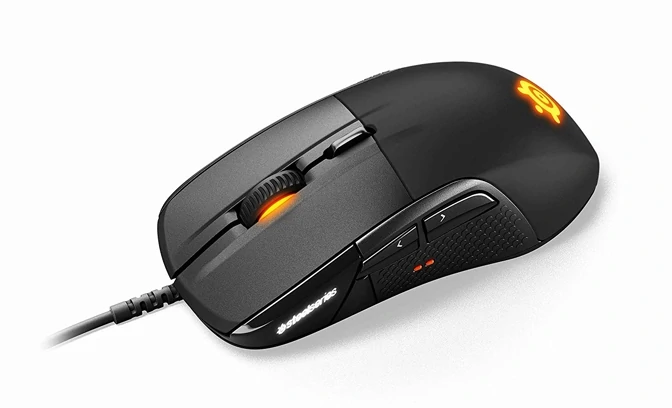 CPI: 12.000
Interface: USB
Buttons: 8
The SteelSeries Rival 710 offers such an incredible combination of unlimited customization and high-end performance that even its high price doesn't matter. The device is large and very comfortable in the hand. Instead of plastic, the Rival 710 is almost entirely covered with soft-touch material. There are only eight buttons with three programmable ones on the side and a CPI switch behind the wheel. This is the mouse that you'll rather lose than wear out. Almost every piece of the mouse is replaceable – sensor, cable, cover – and the reinforced split-trigger switches allow for 60 million clicks. The fact that all the parts are swappable also means that if, for example, a stronger sensor appears on the market, you can change it for your current one without buying a whole new device.
There is a customizable OLED display on the left side of the mouse that lets you change sensitivity settings, access Discord notifications, button mapping, in-game stats, and even GIFs! A haptic engine is integrated into the back of the mouse: program it to vibrate on the timer or after a certain button press and customize the intensity and vibration patterns.
Although the sensor is limited to 12.000 CPI, it is equipped with TrueMove3 technology that makes it amazingly precise and allows 1:1 tracking. The mouse is as smooth as it can get, even with high-res displays.
There's no doubt that the SteelSeries Rival 710 is one of the best mice on the market, and it is worth its price, although it is true that you have to be the kind of gamer that can profit from all the specific functions it offers, otherwise you'll want to opt for a simpler solution.
#CommissionsEarned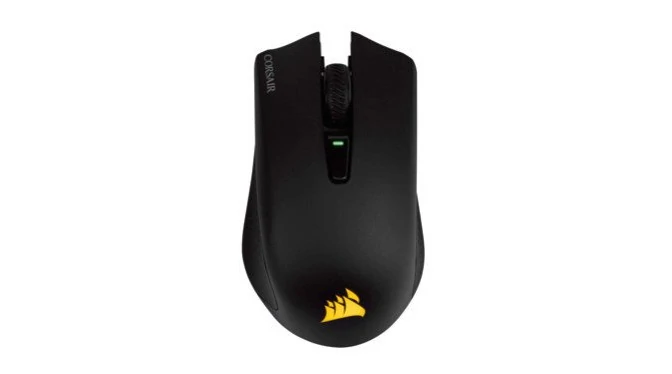 DPI: 10.000
Interface: Wireless
Buttons: 6
This model from Corsair offers a wireless mouse with solid performance for as little as $50, less than many wired models. And although the device has only two extra buttons and the shape is fairly traditional, its great performance, intuitive software and perfect wireless connection make it one of the best values around. And to cap it all, it even has nice RGB lighting.
Grips for the thumb and the two outer fingers, as well as the scroll and extra buttons, are textured. As for the wireless feature, you can switch between USB and Bluetooth modes which is rather surprising, considering that even more expensive models usually stick to USB setups.
All but one of the buttons are programmable and, using the CUE software, you can create profiles, control the lighting, change DPI levels, and monitor processor and GPU temperatures and fan speeds. The battery is powerful enough to last for a week of regular play. And thanks to the long USB cord, you can recharge your mouse while you're playing.
#CommissionsEarned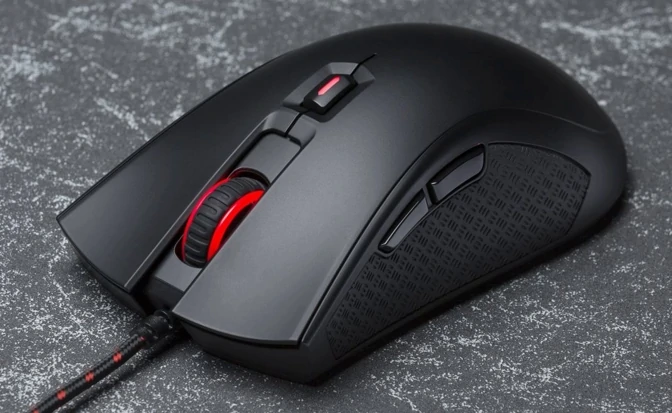 DPI: 16.000
Interface: USB
Buttons: 6
This mouse is extremely lightweight (only 95g without the cable). It uses the popular PixArt PMW 3389 sensor, which you'll also find in other well-known models such as Razer Deathadder Elite, and offers 16.000 max CPI, and a tracking ability that will surprise you at this price, despite its lower IPS and acceleration ratings. Also, the Premium Omron switches on the mouse make it very "clickable", which is a key attribute when it comes to gaming. The price, which can be as low as $40, is unbelievable for the features provided by the device. The ergonomics are rigorous, and work well for palm as well as claw grip. The RGB lighting is not flashy but is just enough to support the aesthetics of the device, with its textured grips and scroll wheel.
The mouse is programmable via HyperX Ngenuity software: you can customize the lighting, tweak DPI levels and program buttons, and set different profiles for different games. Although the program interface is not too intuitive, it has all the customization options supported by all modern gaming mice. While this mouse is called "FPS" it seems to be more of an all-purpose model that will serve equally well in MMO or strategies. So if you're not ready to invest in a more advanced mouse but still need a solid device for gaming, here's our top pick.
#CommissionsEarned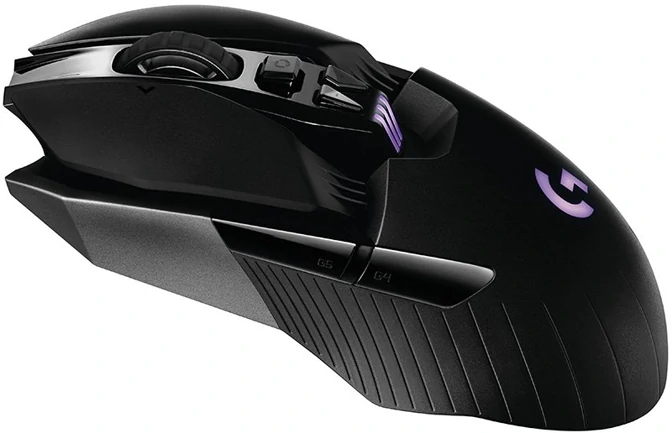 DPI: 12.000
Interface: Wireless
Buttons: 5–9
The Logitech G900 design is not based on any previous Logitech designs and is a work of art in itself: slim body, nuanced indentations, and two decorative "fins" on the bottom of the two main buttons.
The mouse is symmetrical and ambidextrous, allowing you to adapt it for your right or left hand by moving and adjusting the thumb buttons so that the final count can be between 5 and 9; you can have them on both sides of the mouse or remove them altogether. The scroll wheel clicks three ways, and there are two DPI sensitivity buttons in the center, a button to change the resistance of the scroll wheel and one on the bottom that lets you change profiles. All the buttons are programmable, so you can easily choose just the functions you need.
The G900's wireless performance is almost without equal and is comparable to the highest-end e-sports wired mice. The G900 offers three connection methods: one wired and two wireless modes. Two hours of charging will provide you with enough power to play wirelessly for 24–32 hours.
Logitech Gaming Software is one of the best of its kind. When you plug in the mouse, the program will scan your PC for installed games and automatically set up profiles for them.
The bottom line is – Logitech G900 is as good as it gets: versatile, customizable, ambidextrous, wireless and high-performance. It has a cool and comfortable design. If you are ready to spend more than $100 for a professional gaming device – this is a great pick.
#CommissionsEarned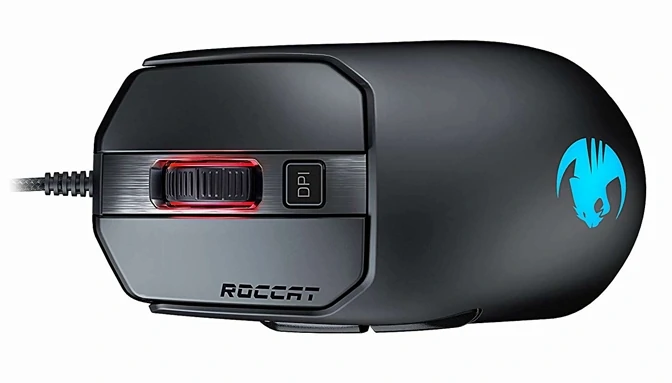 DPI: 16.000
Interface: USB
Buttons: 6
The Roccat Kain 120 AIMO is for anyone looking for a solid mid-range gaming mouse. With this model, Roccat has significantly simplified the design in comparison with other models like Roccat Kova Aimo or Roccan Kone Aimo. The new design is more discreet, it has a comfortable feel in the hand, and is well-suited to people with small hands. While the mouse is pretty symmetrical, it is not ambidextrous, as the two thumb buttons are situated on the left side of the body. There are no textured elements in the mouse, so some might find it a bit slippery, but this smoothness makes the mouse very pleasant to the touch. It weighs only 89g, and is a happy medium, neither too light nor too heavy. The Roccat logo and the scroll wheel are subtly lit with RGB lighting.
The gig innovation in this mouse is its Titan Click – a special switch under the main buttons that is supposed to provide increased click precision and responsiveness. The device uses the Roccat Owl-Eye sensor, capable of 16.000 DPI. You can change the DPI level with a special button located just above the scroll wheel.
#CommissionsEarned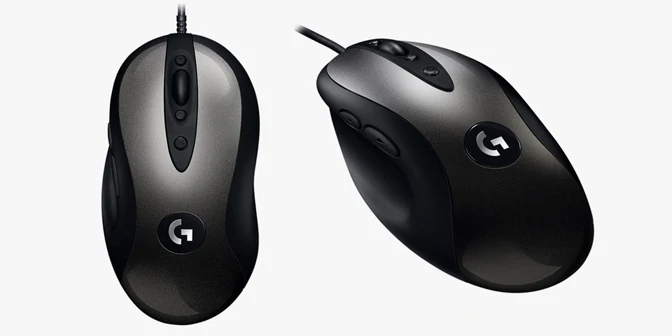 CPI: 16.000
Interface: USB
Buttons: 8
They call it a "legend reborn" in the ads because the original MX518 model is, indeed, one of the best-known gaming mice. But since its release in 2005, mouse technology has improved considerably, and the recent MX518 update incorporates some of the most important advances.
The original 1.800 CPI sensor has been replaced by the top 16.000 CPI HERO sensor, which seems to be one of the most accurate ones on the market today. The shape is practically the same as the original model, tested over time and by thousands of gamers' hands, while the original metallic look has been replaced by a slick Nightfall finish. The ARM 32-bit microprocessor that works in tandem with the sensor is designed to provide a 1ms response rate. The MX518's onboard memory lets you save up to five profiles with special Logitech Gaming Software. The buttons above and below the wheel make it easy to navigate between DPI levels. All 8 buttons are fully programmable.
With the new model, Logitech remains faithful to the image of a gaming device that doesn't consider the superficial fluff of its competitors, and knows what really matters in gaming. We can totally recommend it.
#CommissionsEarned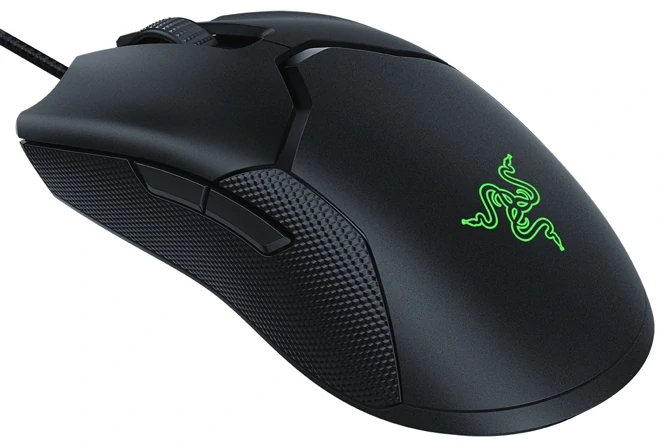 CPI: 16.000
Interface: USB
Buttons: 8
This mouse is known as the lightest e-sports mouse on the market and also one of the best in terms of pure performance. It is incredibly popular among gamers who play CS:GO or Overwatch – shooters that demand high speed and accuracy. The Razer Viper weighs only 69g and uses upgraded mechanical switches that register button presses at an amazing speed. Another feature that works in the same way is Viper's Drag-Free Cord that creates a wireless-like effect that is crucial in the case of a mouse that's almost as light as the cable itself. This mouse is ambidextrous.
The textured rubber sides help you keep firm control of this lightweight monster. And, sure enough, for an e-sports mouse, you need a fast sensor, so the Razor Viper is equipped with 16.000 DPI.
If you're an aspiring e-sports enthusiast, this is definitely the mouse for you. It is totally worth the price and is agile, precise, and powerful.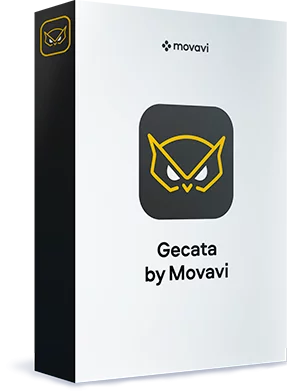 Gecata by Movavi
The best way to preserve your gaming achievements.
Record HD game videos at up to 120 FPS

Grab sound from microphone and speakers

Add webcam video to the game footage

Save video in MP4 for easy uploading to YouTube