Best 11 Free Online MP3 Cutters
Listening to music is relaxing, fun, and enjoying. It's no wonder why many people get addicted to different songs. Sometimes, you'd come to the point where you store thousands of MP3 files in your hard drive, and insufficient space can be a headache.
Some people would delete files. Others consider the use of an online MP3 cutter. There's no need to install a third-party program. All you have to do is to look for an MP3 trimmer online. Worry no more! Your search is over!
Offline Alternative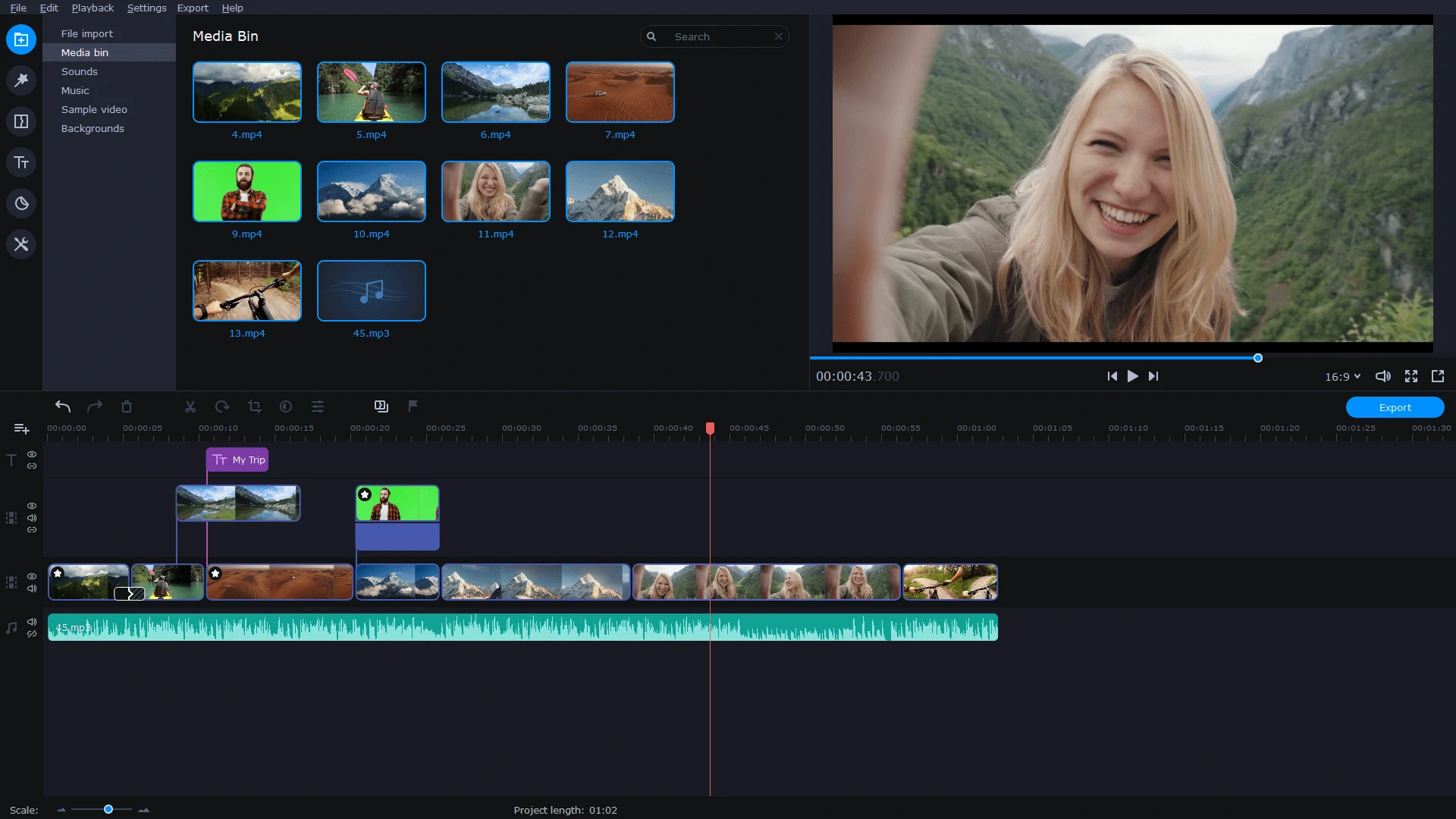 Online MP3 trimmers have only one function. If you are looking for something more universal and powerful, try Movavi Video Editor Plus. This user-friendly program allows you to cut audio and video files and make more advanced edits as well. Download the trial version of Movavi Video Editor Plus and explore its possibilities.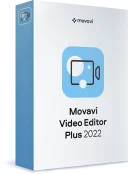 Movavi Video Editor Plus
Your next step in video-making
Edit video clips, images, and audio on a timeline

Add transitions, filters, titles, and stickers

Animate objects using keyframes, use more built-in media

Export videos in any popular format
Best Tools to Cut MP3 Online

Trimming audio files do not need to be difficult. With the availability of Audio Trimmer, things have changed. Deleting your favorite music to free up space will no longer be a dilemma. Audio Trimmer is easy to use at a free price. It does not matter whether you don't have prior knowledge or experience. By selecting the part you want to cut out, you can click Crop. That's it! Everything is set. A trimmed audio file will be ready within a second or two.
Yes, some require installation. But this MP3 trimmer online is far different. As long as you have a solid or stable internet connection, you can free up your hard drive space whenever you want. Audio Trimmer is also mobile-friendly. Specially designed to work on tablets, mobile phones, and other modern devices, you can avoid compatibility issues because it's mobile-responsive. You don't have to hire a third-party specialist and pay for an expensive service. You can do it yourself with the peace of mind.
Maximum file size: 100 MB
Pros
Works on mobile devices
Completely free to use
Cons
File size is limited to 100 MB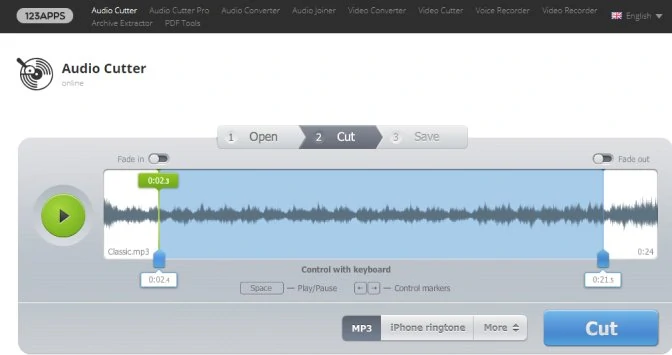 Another free online MP3 cutter is Audio Cutter. Just like the other highly rated tools, this solution can be used to cut audio tracks in your browser. Whether you're utilizing Safari, Firefox or Google Chrome, it's functionally compatible.
Audio Cutter has been experts recommended because of easy audio trimming. There are no special skills required. It's simple to use. Upload the file, select a fragment with sliders, and cut. That's it! It also supports all formats. Plus, you can extract sound from a video with clarity.
Maximum file size: 1 GB
Pros
Adds fade-in and fade-out effects
Can create a ringtone for iPhone
Cons
Only five output audio formats are available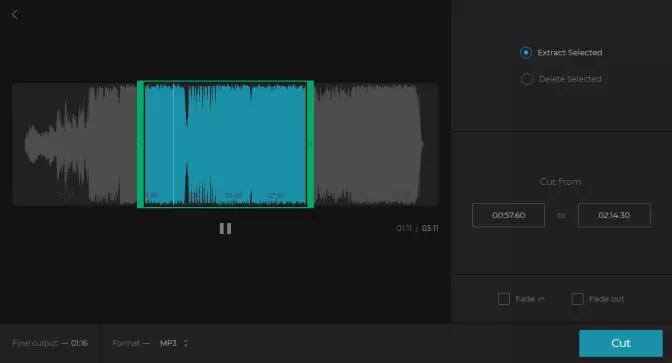 Another online tool to take advantage of is Clideo's Audio Cutter Online. The cutter is pretty easy to use thanks to its intuitive interface. You can cut your MP3 in two ways: select the length of audio using the markers or enter the time in seconds. With this cutter, you can not only change the length of your audio file but also add fade in and fade out effects. In case you need to join multiple audio files after trimming, Clideo also offers its Audio Joiner.
Maximum file size: 500 MB
Pros
A simple interface that is very easy to navigate
Can convert a song into a ringtone
Cons
Doesn't have advanced editing tools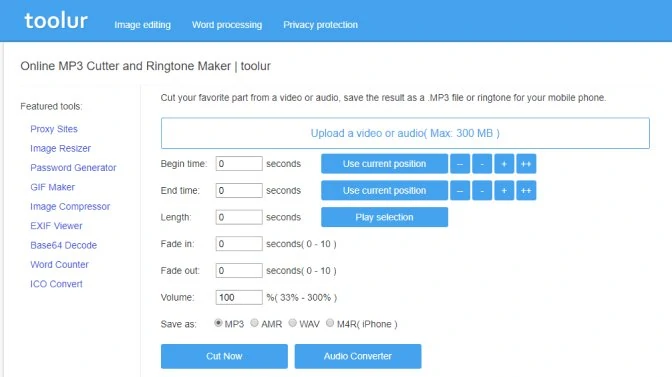 Highly rated as an online MP3 cutter, Toolur MP3 Cutter is tailored to cut a portion from your song or voice recordings. While you can free up the space of your drive, you can convert a video to MP3 format and save it as a ringtone for your cell phone. Whether you use Apple iPhone 8S Plus or Samsung Galaxy S8, this free online MP3 cutter is perfect for you.
Maximum file size: 300 MB
Pros
Can fade in and fade out audio
Allows to change the volume of an audio file
Cons
It may be difficult to use since you need to set an accurate beginning and ending time in milliseconds.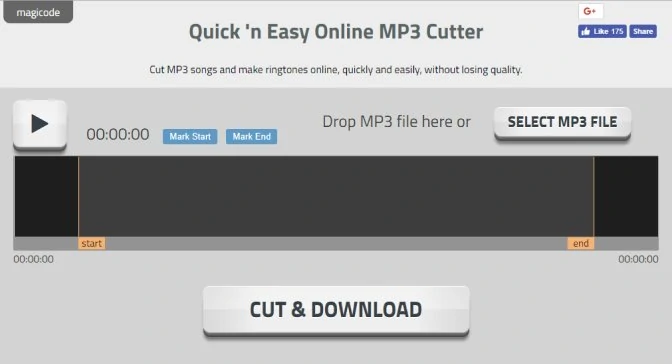 Looking for a tool that can cut MP3 online? Magicode.me is one of your best options. Perfect for making ringtones, it is effortless and fast. There's no size limit and can load a large MP3 file. Other users love its lossless processing. You can cut MP3 files online without the need to re-encode them. The quality remains clear.
Maximum file size: unlimited
Pros
Doesn't have any file size limitations
Provides a lossless processing
Cons
Works with MP3 files only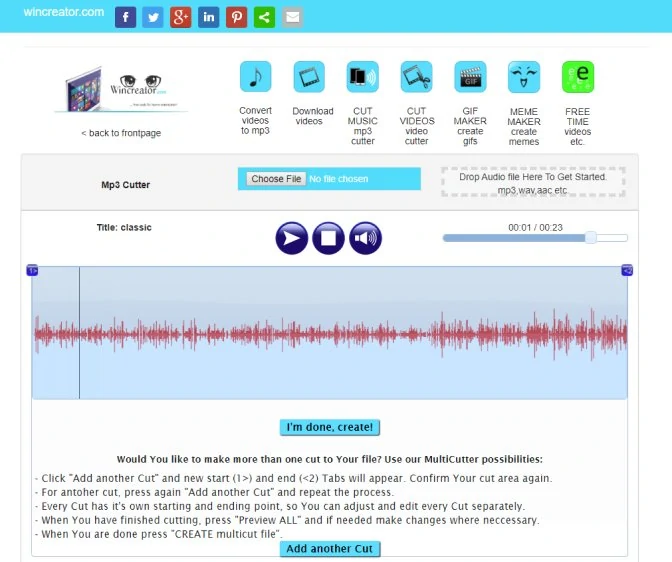 Another feature-packed MP3 splitter online is Wincreator. It does not only allow you to convert videos to MP3, but it also enables you to download videos and cut music MP3. Known for local processing, your files are not uploaded to the service, ensuring optimal privacy. It is also extremely fast and packed with cutting-edge technology.
Maximum file size: 50 MB
Pros
Can make more than one cut to a track
Has a preview option
Cons
Saves edited audio in MP3 format only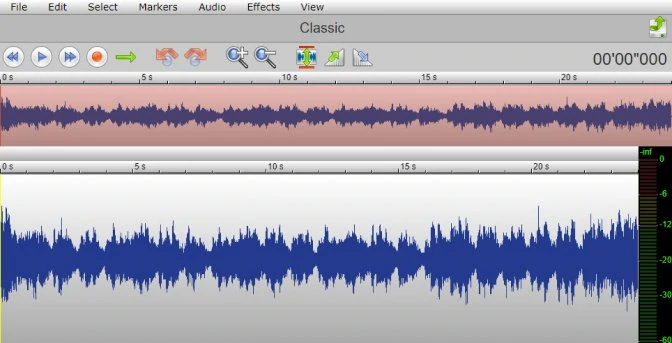 A browser-based audio editor, TwistedWave Online is another tool to cut MP3 file online. Say bye to the hassles of getting an app installed in your PC or smartphone. You need a browser to have full access. Not only can you use it to record an audio file, but you can also edit it. All the audio is stored or processed on the server. While avoiding the need to download anything, saving a file is not necessary. As you close Google, Safari, Firefox and other browsers, you keep your work automatically. When using a free account, you can clip MP3 online for up to 5 minutes. This can be a limited time, so purchase a subscription for more opportunities.
Maximum audio length: 5 minutes
Pros
Provides different audio effects
User-friendly interface
Cons
Without the paid subscription, you can only edit mono files up to 5 minutes.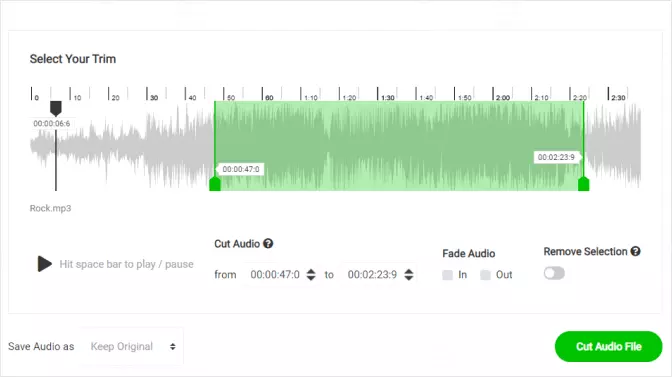 MP3 Cutter is a free online tool to edit audio files. Besides trimming, the online service also offers the audio remover option, which you can use to remove the selected parts of the track. Plus, you can enjoy secure audio editing. Your audio files are deleted from the server a few hours after editing.
Maximum file size: 1 GB
Pros
Has fade in and fade out options
Can convert audio files
Cons
May lag or run slowly while working with large files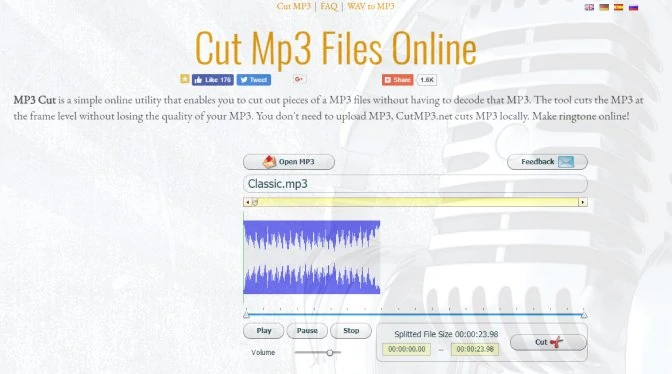 Commonly reputed as a simple utility, CutMP3.Net enables you to cut MP3 files online without downloading any additional software. It crops your music without losing its high-quality sound. It would remain clear and accurate, giving you the chance to enjoy every music streaming experience. This tool also enables you to cut music and create unique ringtones. Split your MP3 online to have a special call ringtone. When someone calls, listening to the ringtone of your creation is fulfilling.
Maximum file size: unlimited
Pros
Can create ringtones
Cuts audio tracks without losing quality
Cons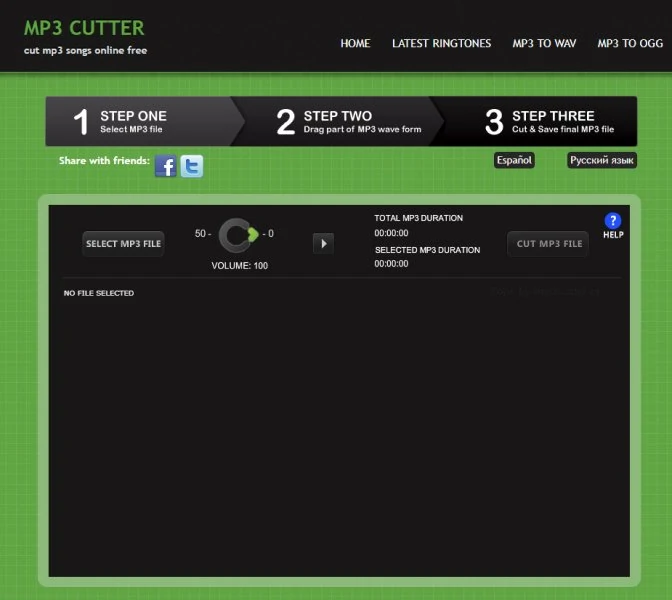 Have you ever cropped music and disappointed with the result? Then, you can have a different experience with MP3Cutter.in. While freeing up the space of your hard drive, you have the assurance of a clear and best quality result. This online MP3 cutter allows you can cut audio files without uploading it on the server of your choice. This means you can avoid downloading the ringtone or audio after editing.
Maximum file size: 200 MB
Pros
Cuts audio without uploading files to the server
Edits files without losing quality
Cons
An interface may be confusing to navigate at first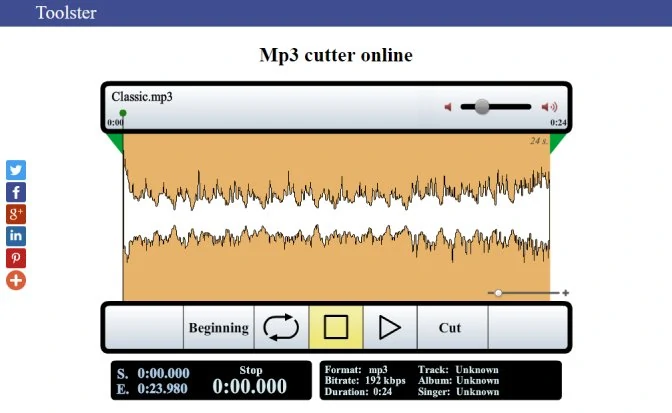 Invented to design unique ringtone, Toolster MP3 Cutter Online help you cut a part of audio books, interview, and other types. It enables you to set a song as your ringtone on your mobile device. You can also cut the fragment of the melody easily. Plus, it is easy to use. Just upload the track into the app, select the desired part, and crop. Don't forget to choose the format of your option and download the trimmed file. It only takes a minute or two, so don't worry about anything. For further details, please feel free to visit the official website.
Maximum file size: unlimited
Pros
Easy to use
Cuts any fragment of the audio track
Cons
Doesn't have any extra features
Frequently Asked Questions
To cut an MP3 file, you can use a desktop app or an online tool. Follow the link below to learn how to cut music in a few different ways.
How Can I Edit MP3 Songs?
You can edit MP3 files using the audio-editing programs. Many apps provide basic editing features: you can cut and trim your tracks, add different effects. Check out the guide on how to crop MP3 files on your PC, iPhone, or Android by following the link below.
These are the best 11 online MP3 cutters. Whatever your choice, you probably enjoy a sizeable hard drive space and love listening to music. You can also have a perfect ringtone for your phone. When you're on the lookout for a one-stop option to cut music files, music videos, or slideshows, Movavi Video Editor Plus has got you covered. Developed to provide full-fledged services, you can avoid unnecessary expenses and other hassles.
So, what are you waiting for such a paramount tool to split or edit your favorite songs? Take action today and be amazed at the result at the end of the day.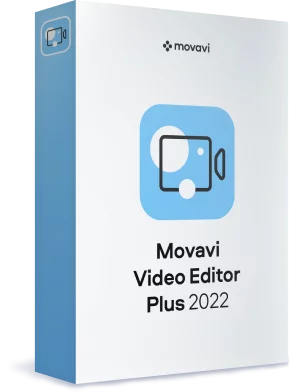 Movavi Video Editor Plus
Your next step in video-making
Edit video clips, images, and audio on a timeline

Add transitions, filters, titles, and stickers

Animate objects using keyframes, use more built-in media

Export videos in any popular format
* The free version of Movavi Video Editor Plus has the following restrictions: 7-day trial period, watermark on the output videos, and, if you're saving a project as an audio file, an ability to save only half the audio length. Learn more
Read Other Useful Articles