Free Video Cutter Software in 2021
Whether you're making videos for social sharing or just making home movies, free video cutter software can be really useful. With a free video cutter and joiner, you can remove mistakes, make your video punchier or combine multiple clips into one. Free video cutter software can also be a creative tool: you can make fast-cutting music videos or make talking heads more dramatic by cutting from camera to camera or clip to clip.
In this guide, we've looked at the best free video cutter software for PCs and Macs.
| Software | Supported Formats | OS |
| --- | --- | --- |
| Movavi Video Editor Plus | 3GPP, ASF, AVI, VOB, FLV, MP4, M2TS, WMV, MPG, MOV, MKV, M2T, MPG, MP4, MOV, WTV, WebM, VP8 | Windows, Mac |
| Gihosoft Free Video Cutter | AVI, MP4, MOV, M4V, WMV, MKV, MPEG, MPG, FLV, ASF, WebM | Windows, Mac |
| Weeny Free Video Cutter | 3GP, ASF, AVI, FLV, MP4, MPG, RM, RMVB, VOB, WMV | Windows |
| Online Video Cutter | Almost every video format | Web browser |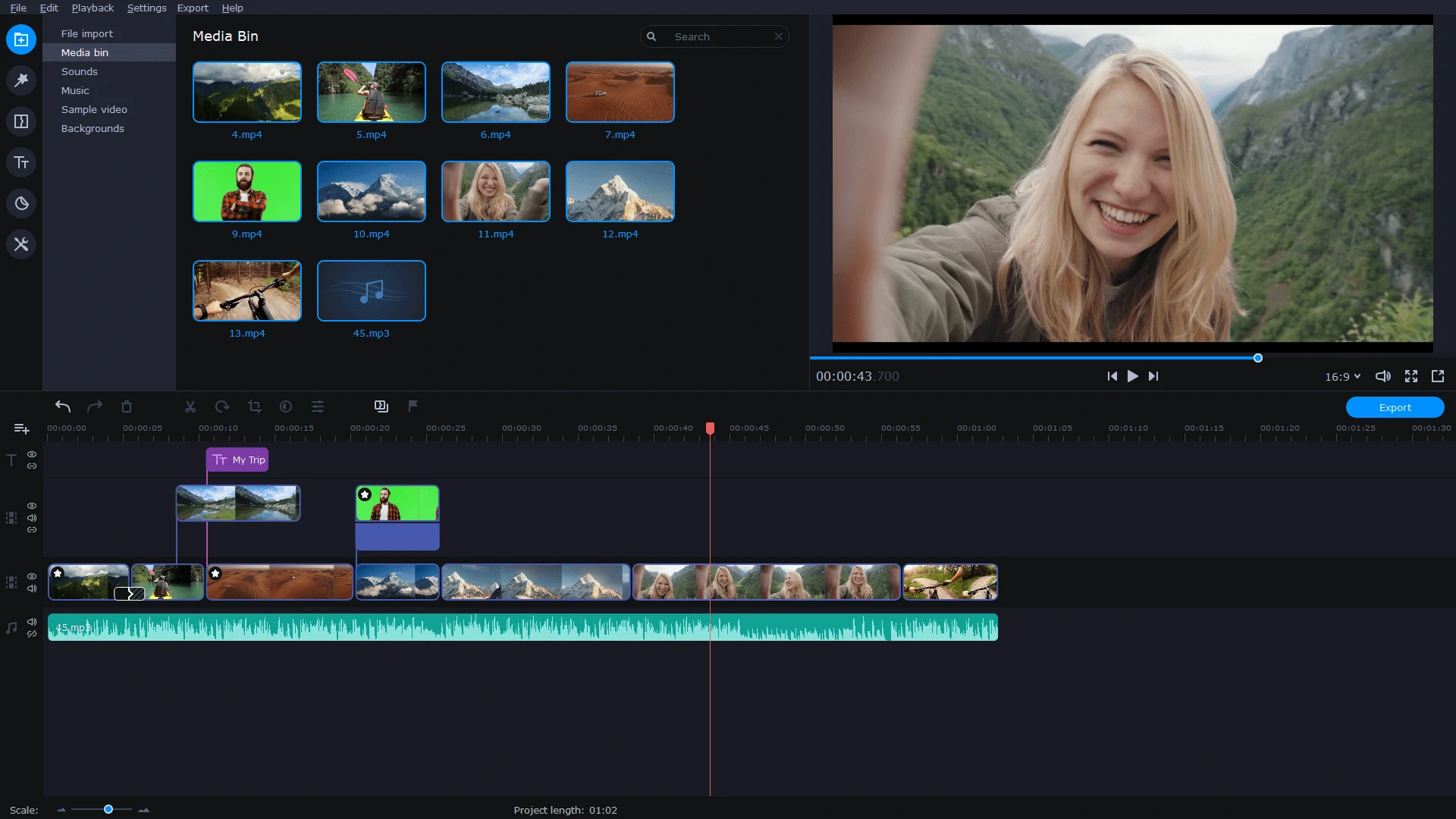 12 Free Video Cutters and Joiners for Windows and Mac
Desktop Apps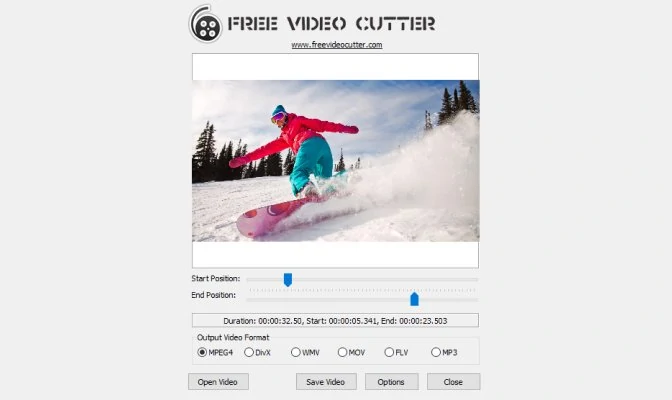 Free Video Cutter supports key video formats including MPEG1/2, MPEG4, DivX, Xvid, AVI, WMV, MOV and more. Open the video you want to cut, tell Free Video Cutter where you'd like it to start and finish the cut, and then select the output format. You can also use Free Video Cutter to extract audio from a video file and output to MP3. It's very straightforward and very effective, and if you dig into the settings you can change the defaults to make more precise cuts or disable its thumbnail feature, which can slow things down with really big video files.
Pros
It's very easy to use.
It's very good for straightforward cutting.
Cons
It doesn't have any other editing features.
You may need to turn its thumbnails off.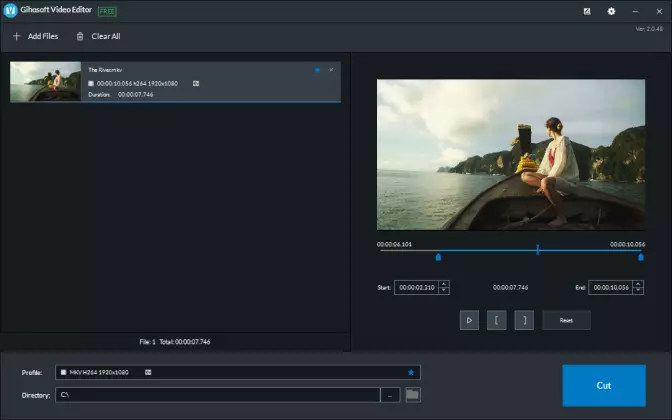 Gihosoft claims that this is the easiest two-in-one free video trimmer and joiner software, but this app only does cutting: if you want to join videos you'll need its free sibling, Gihosoft Free Video Joiner. You can download this video cutter software for Windows or Mac.
One of the key attractions here is that Gihosoft Free Video Cutter is lossless: if you're not converting from one format to another it doesn't need to re-render the video after you've made your cut(s).
This video trimmer is easy to use. Open the file you want to trim, set the desired start and end times, and then click on OK to make the cut. And that's it.
Pros
Support for all the key video and audio formats.
No need to re-render the video when you're done.
Cons
Video joining isn't in this app; that's a separate download.
Cutting is this app's sole function.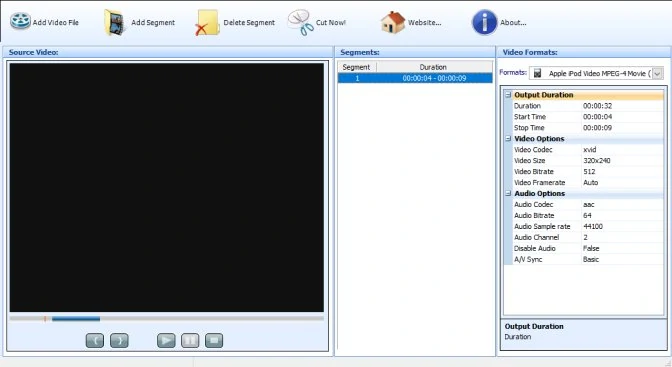 As with other free video cutters Weeny Free Video Cutter covers essentials such as MP4 and WMV, but it also includes older formats that aren't so widely supported such as 3GP and RM. The app is for Windows 7 or later.
Weeny can cut videos into segments and then re-order them, which is useful if you're dealing with really big original files and want to make subsequent editing easier. It's also handy if you want to cut massive files into more manageable chunks.
It's very straightforward and works well enough, but you might find that the scroll bar is a little fiddly: it can be tricky getting it to the perfect position.
Pros
You can change the order of your clips.
The app supports many older file formats.
Cons
The video scroll bar can be a bit fiddly.
It's quite basic.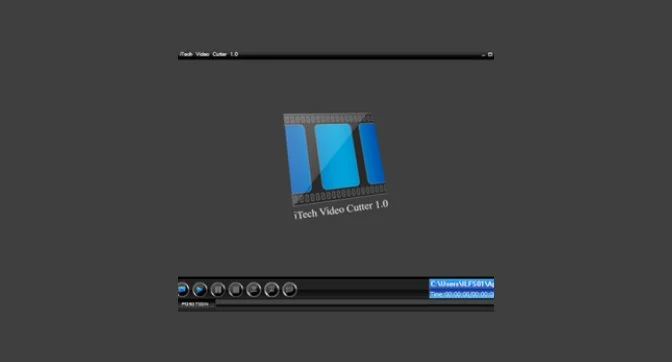 iTech Video Cutter has been around for years and it's still in version 1.0, so don't expect regular updates. The interface looks much like a video player and that's essentially what it is: the interface is a large video window with a few buttons at the bottom. Like other free video cutter apps iTech Video Cutter keeps it simple: set the start and end points for your clip, hit the button and it'll do the rest. The app will save in the same format as the original file: there are no conversion options here.
Pros
There's a wide range of supported formats including audio.
It's very simple to use.
Cons
There are no video conversion options.
It hasn't been updated for a long time.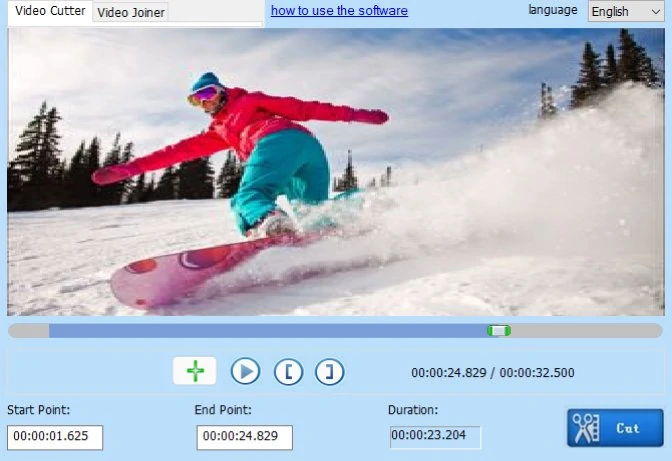 Free Video Cutter Joiner is a Windows app that enables you to join your clipped clips and save the result as a single file. It works on PCs running any version of Windows since Windows XP, and while there's a Mac version available for download that one is very old and has been replaced by another app, Video Scissors for Mac.
Free Video Cutter Joiner offers a tabbed interface: one for cutting and one for joining. It supports AVI, MP4 and MOV as well as some older file formats, and we love the developer's lack of hype: on their website they say that cutting video is "quite fast".
Pros
It can join clips together as well as cut them.
It works on pretty much any PC.
Cons
The Mac version is obsolete, replaced by Video Scissors.
Cutting is quick but re-encoding can be slow.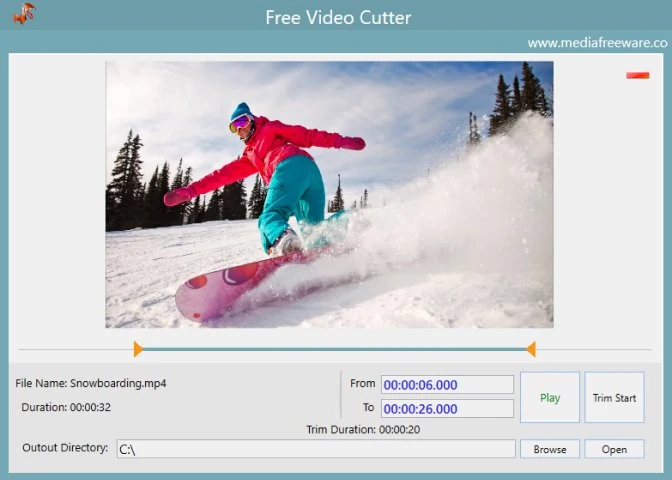 MediaFreeware Free Video Cutter includes a preview so you can make sure everything is just-so before saving it.
The interface is a simple one-window affair with timing, output options and playback controls below the video preview. You can drag and drop files into it, and it supports the key AVI, MPG and MP4 formats. There are no joining features or other video editing features here: preview aside this is a stripped-down, no-frills tool that's designed to do one thing with the minimum of fuss.
Pros
You can preview the video without saving it.
It's very simple and straightforward to use.
Cons
It's purely a cutter: it doesn't join or otherwise edit video.
It doesn't support as many file formats as other apps.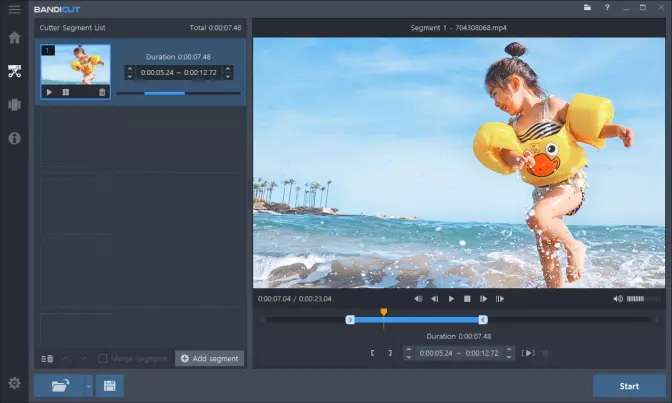 Bandicut is a video cutting and joining app for Windows. The free version limits the supported files to AVI, MP4 and MOV and watermarks the results; unfortunately some of the best features of the paid-for version, such as video joining, fast cutting and high speed encoding, aren't available to free users.
Pros
The video cutter is nice and friendly.
It runs on any version of Windows from Vista to Windows 10.
Cons
The free version is very limited.
Free users' videos are watermarked.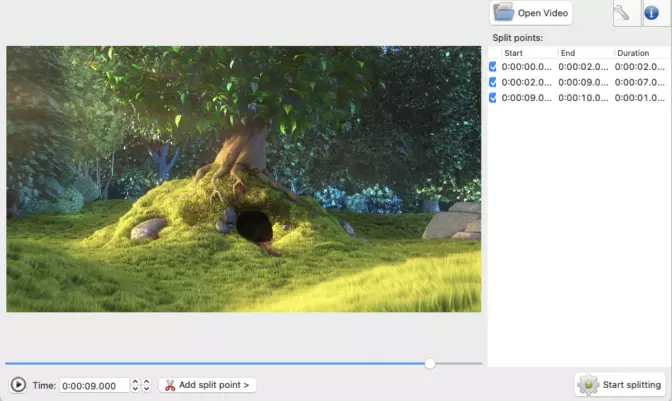 MP4Tools is two apps: a video joiner app, MP4Joiner, and a free MP4 cutter, MP4Splitter. MP4Splitter makes it easy to split a video file into multiple ones, and MP4Joiner makes it easy to join clips into a single file without quality loss or re-encoding.
Although MP4Tools is available for the Mac, you're likely to encounter issues: you'll need to override your Mac's security to install it, and while exporting is quick the app's interface is very slow even on a powerful Mac.
Pros
Simple and effective MP4 file splitting and joining.
You can choose whether or not to re-encode video.
Cons
It's only for MP4 files.
The interface is very slow on a Mac.
Online Tools
Online Video Cutter makes it easy to cut, trim, crop and rotate videos, and you can also change the playback speed. It should work in any browser – we tested it in Safari on the Mac, which isn't always supported by online apps, and it worked just fine – and the only limit is that your file size can't exceed 500MB. The app enables you to export in MP4, MKV or MOV format and you can choose a fast no-encode option if your source and destination formats are the same.
Pros
It's really straightforward to use.
It works in any web browser.
Cons
It only exports in a few file formats.
You can't use files bigger than 500MB.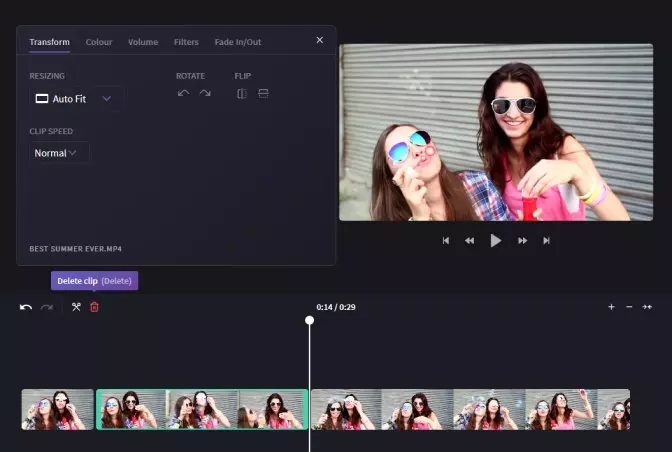 Clipchamp is a freemium service: it offers a free tier, but the best stuff is reserved for paying customers. If you don't subscribe the free video trimmer is easy to use and includes some useful editing features, but your video output is limited to standard definition at 480p resolution. If you're on a Mac you'll need to use the Chrome or Edge browser: Safari isn't supported.
Pros
It's great for social media sharing.
You can add video and audio from its stock library.
Cons
The free version is limited to 480p standard definition.
It doesn't work on Apple's Safari.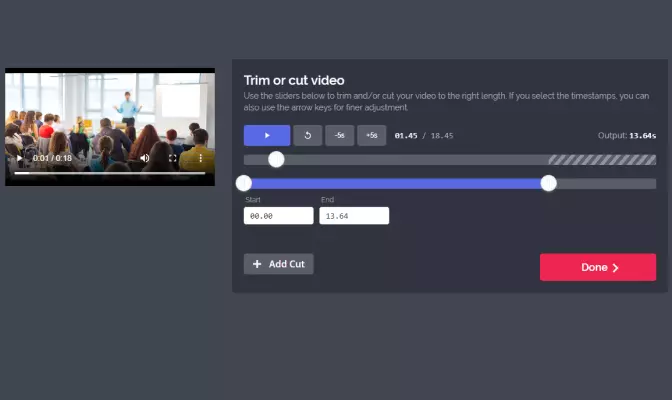 Kapwing is a simple video cutter. It shows a preview of your video at the left of the screen, and you can then use the sliders or timestamps to select the start and end times for your cut. It then previews the results before you save your video clip. Kapwing is freemium: free users are limited to files of 250MB and exports are limited to 7 minutes long.
Pros
It's simple and effective.
It previews your clip before you export it.
Cons
Free users are limited to 250MB files and seven minutes of exported video per clip.
Free users can only publish 3 hours of video per month.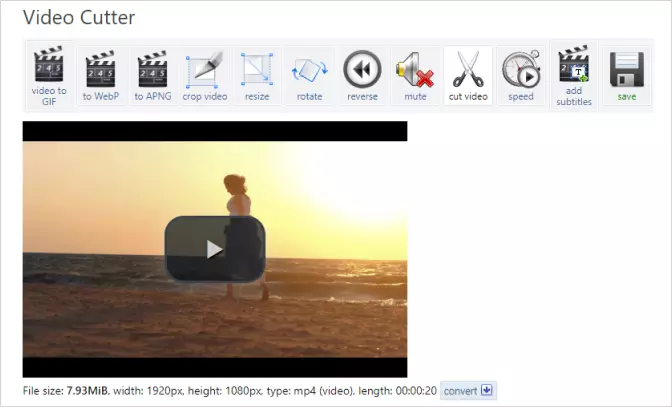 Ezgif.com offers a collection of animation and video tools on its website, and like those tools this is a simple video cutter for people who don't need tons of options. Simply upload your file or paste its URL into the form, set the cutting points and Ezgif Video Cutter will then cut and export the file. It supports MP4, WebM, AVI, FLV, MOV and others, but uploads are limited to 100MB. If you need to resize or crop videos, there are tools here for that too.
Pros
Video cutting doesn't get much simpler than this.
You can paste URLs as well as upload video files.
Cons
Your upload file size is limited to 100MB.
Cutting video can take some time.
How to Choose a Video Cutter and Joiner
Desktop or Online. If you want to cut a short video and don't need other features, choose an online video cutter.
Supported formats. Make sure the app supports the video format(s) you're using.
Editing features. Some video editors can join clips or add filters, transitions, text and titles. Think about the features you might want to use in your video.
Frequently Asked Questions
Which Is the Best Free Video Editor for PC?
Shotcut
OpenShot
VSDC Video Editor
VideoPad Video Editor
AVS Video Editor
To check the full list of the best video editors, click the link below.
How Can I Cut a Video on My Computer?
You can cut a video using a video editor or an online tool. We recommend you using a video editor, for example Movavi Video Editor Plus, since online tools usually have limited file size and functionality. To learn how to cut a video with Movavi Video Editor Plus, check the guide below.
Can You Trim Videos with VLC Media Player?
Yes, you can trim videos using VLC media player. Read the step-by-step guide to learn how to trim videos with VLC: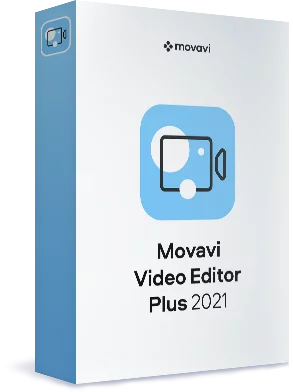 Movavi Video Editor Plus
Your next step in video-making
Edit video clips, images, and audio on a timeline

Add transitions, filters, titles, and stickers

Animate objects using keyframes, use more built-in media

Export videos in any popular format
* The free version of Movavi Video Editor Plus has the following restrictions: 7-day trial period, watermark on the output videos, and, if you're saving a project as an audio file, an ability to save only half the audio length. Learn more
Read Other Useful Articles