The Best Video Resume Software
Using videos is a great way to inject the much-needed spark into your CV. However, you need the best video resume builder software to help you create spectacular videos to reflect your career achievements. You will find many video apps out there which can get the job done, and you may be at a loss as to which of them best suits your needs.
Choosing the best video resume maker does not necessarily need to be rocket science. Such a video maker app should provide the tools to make and edit videos on popular platforms, whether on the Mac or Windows. The program should also avail a variety of templates to choose from when creating your resume for review.
Top 3 Video Resume Builder Software
An extensive review of various video editing resumes reveals three of the best resume software for making videos for your CV. You no longer have to worry about selecting the right program with all the requisite tools. You are free to put your time to create a video resume that is professional and engaging.
Here is an in-depth review of the top three resume builder software.
Compatibility: Windows, macOS
If you want to create exciting movies to share with your friends and family or your CV, Movavi Video Editor Plus should be your next stop. Compatible with both Mac and Windows, this video editing software has all the features a professional video creator requires. They include stunning effects, transitions, titles, and support for most popular media formats. To check some of the features out, watch the video below.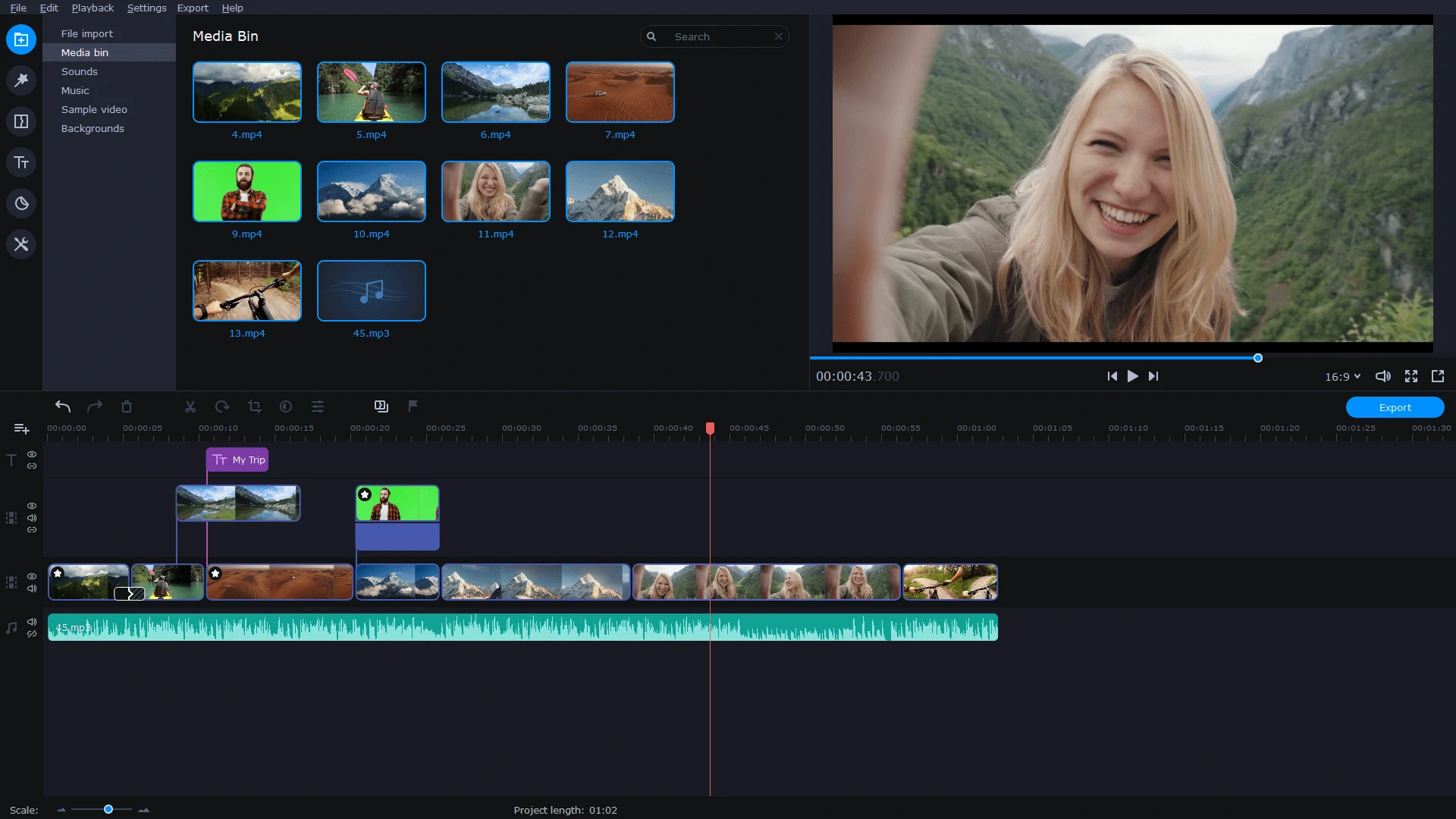 Boasting of a short learning curve, this video editor is suitable for both professionals and novices who just want to impress their friends with necessary filmmaking skills. Nevertheless, here is a list of things you can accomplish with Movavi:
Cutting, moving and ordering video clips
Adding and customizing texts to your video
Create slideshows with music and video effects
Recording audio clips to be added to your video
Easily converting sound, videos, and images to the desired formats
This app from Movavi comes in two versions: free trial version, and the paid premium version. The free trial version has all the essential features, but you are limited to 7 days of use. It is best for those sampling it out to see if it has the capabilities that suit their video editing needs. To enjoy all the premium features, and make a video resume, invest in the premium version.
Pros
Short learning curve
Attractive but simple user interface
Provides easy-to-follow guides and additional support online
Ability to export finished videos to popular formats and share directly to YouTube
Vastly improved timeline
A wide variety of transitions, filters, titles and other effects to apply to your movie
Support for 4K videos
Cons
Free version limited to only seven days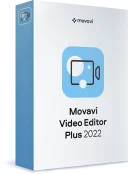 Movavi Video Editor Plus
Your next step in video-making
Edit video clips, images, and audio on a timeline

Add transitions, filters, titles, and stickers

Animate objects using keyframes, use more built-in media

Export videos in any popular format
Compatibility: web-based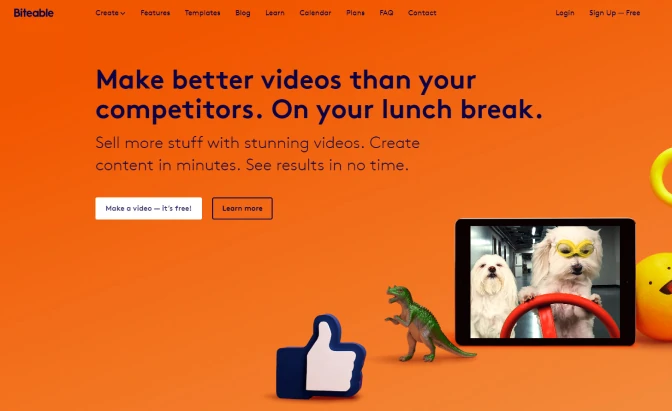 This is a web-based video editing platform, meaning you have to create an account to use this resume builder. Nevertheless, it is the best option if you already have an edited video resume but wish to add some enhancements such as opening titles, text overlays, and music.
This app is easy to use since all you need is to open an account, choose a suitable template and upload your video resume onto it. You can then apply various customization before uploading the resume to your website or sending it to your friends and family.
Though it's subscription-based, a free version is available if you wish to have a taste of the platform without making any commitment. However, any video you export using the free version will have the annoying watermark, so you have to upgrade to the premium version if you don't wish to see a watermark on your video resume.
Pros
A variety of predesigned templates that works for every video clip you wish to customize
Easy to use: drag and drop videos and music clips to the timeline
A rich library with hundreds of photos, scenes in action and animated styles
A high-quality music library to help you create a soundtrack for your video resume
Professional animations and video effects
Web-based hence no download required
Cons
Free version splashes watermarks on your finished projects.
Compatibility: web-based
For building a compelling narrative for your video resume, Animaker would be one of the best options for you. This video editing app allows you to add objects and characters to your video clip depending on your needs. Check out the export option, and you will learn to plan future scenes for your content.
Here is how it works:
Select a resume template, or you can choose to start from a scratch
Add your outstanding skills and any other relevant information for your CV
Select from the thousands of animations to make your video resume exciting
Upload images and objects if you want
Add your music to the video, or choose a soundtrack from the music library
Export the finished video directly to YouTube or Facebook, or download it to your local storage
Just like Biteable, Animaker comes in both the free and premium versions. This cloud-based software enables you to create fascinating video resumes by uploading your videos, images, and to any of the many templates it avails to its users. However, if you choose the free edition, your video project will be no longer than 2 minutes. Invest in the premium version to enjoy all the great features of this software.
Pros
Thousands of templates to help you create great videos
Cloud-based hence does not eat up space in your device
Option to add own music to your resume video, or choose from the music library
Ability to export directly to YouTube and Facebook, hence, great for sharing with friends and family
Free version available for those who wish to try it out before going premium
Cons
The free version allows only up to 2-minute-long videos
Subscriptions may become expensive in the long run
Now, when you know what's the best software for creating a video resume, let's think of how to make one.
How to Make a Video Resume?
If the job you are prospecting for requires knowledge of video production or visual content, you may need to create a professional video resume to speak for you. A poorly crafted video will create the impression of an unprofessional job seeker; hence, limit your chances of landing the job. It is important; therefore, that you learn how to make a video resume for Mac or Windows.
These tips should help you create a video resume for your prospective employer, and your friends as well:
Be professional: Dress in formal attire, as you would for an interview, and maintain a professional demeanor throughout the video. Also, be sure to have a tidy background, preferably without any distractions.
Prepare a script: Rehearsal is important here even though you should sound as natural as you can. Know exactly what you want to say, and which phrases to use. It wouldn't be a good idea to read directly from the script, so you will need to do some practicing. The script should focus on what you will do for the company, your major skills, and your past accomplishments.
Let the video speak for you: Use video footage to illustrate your knowledge and skills, rather than narrating them monotonously.
Make it brief: A video resume shouldn't take too long. Assemble your video clips, and use a good video resume software to join them and add the necessary transitions and effects.
What Should Be Included in a Video Resume?
If you're not sure what to mention in your video resume, here's a checklist for you:
Your name: It doesn't matter how great your resume is if no-one remembers your name. A video resume is designed to stand out, and you want the employer to remember that you are the creative one.
Education background: Don't forget to touch on your degrees and diplomas if you have them. Even if they're not particularly relevant to the job, having a degree speaks volumes about your ability to gain knowledge, resist stress, and think critically. And if the degree is not relevant to the job, make it sound like it is: find some aspects of your education that would help you do this job and present them in a flattering way.
Work experience: Tell about the experience you've had, but keep it relevant to the job you're applying for. There's no reason to tell about your college part-time job as a waiter if you're applying for a school teacher.
Relevant skills: Think of what skills may be useful for the job you want to get and which of them you actually have. This will show both your understanding of what the employer is looking for and that you match these expectations.
Job intentions: Why have you chosen this job and this company? This is something you can turn into your big advantage. But keep it honest: no-one likes those who lie to get a job.
Conclusion: Summarize why the employer should choose you over other candidates, thank the viewers, and say that you're looking forward to an invitation to a job interview.
You will find many examples of great video resumes out there, but you can easily create yours with the help of a reliable and efficient app such as Movavi Video Editor Plus. Making and uploading your edited video resumes should not be a big deal if you have the right tools.
How to Make a Video Resume with Movavi Video Editor Plus?
Install and launch Movavi Video Editor Plus.
Click Add Files to upload the raw footage to the program.
Drag the footage onto the timeline in the order you want it to go.
Add transitions, background music, and titles.
Click Export, choose the desired file format, and click Start.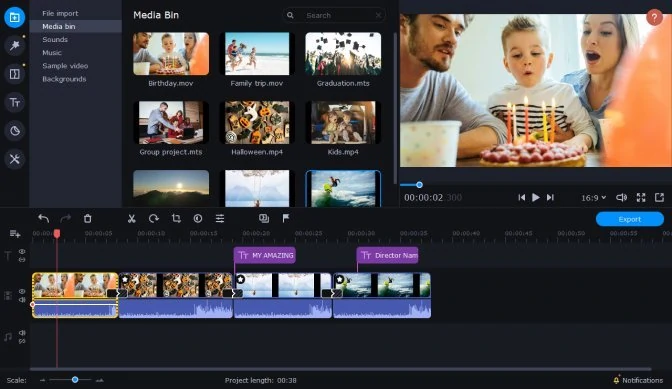 Frequently Asked Questions
📹 What Is Meant by "Video Resume"?
Video resume is a video explaining why you are fit for a particular job. Kind of a video version of your CV, but designed to stand out and to show your creativity and performing talent.
To learn more about video resumes and how to make one, follow the link below:
💻 What Is the Best Resume Builder?
Here are the video editors we consider the best for creating a video resume:
Movavi Video Editor Plus
Biteable
Animaker
There's more info on this software in our guide on resume makers.
🗣 What Should I Say in a Video Resume?
Say things that will show the employer that you're the best candidate for the job. Tell about your educational background, previous job experience and relevant skills. Also, don't forget to mention why you want to get this exact position in this exact company.
For more advice on what to say in your video resume, read the article linked below: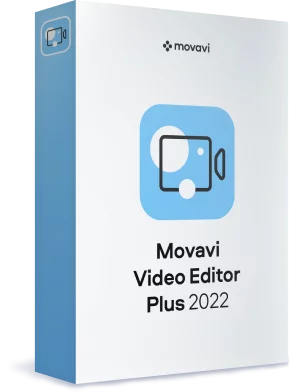 Movavi Video Editor Plus
Your next step in video-making
Edit video clips, images, and audio on a timeline

Add transitions, filters, titles, and stickers

Animate objects using keyframes, use more built-in media

Export videos in any popular format
* The free version of Movavi Video Editor Plus has the following restrictions: 7-day trial period, watermark on the output videos, and, if you're saving a project as an audio file, an ability to save only half the audio length. Learn more
See other useful how-to guides