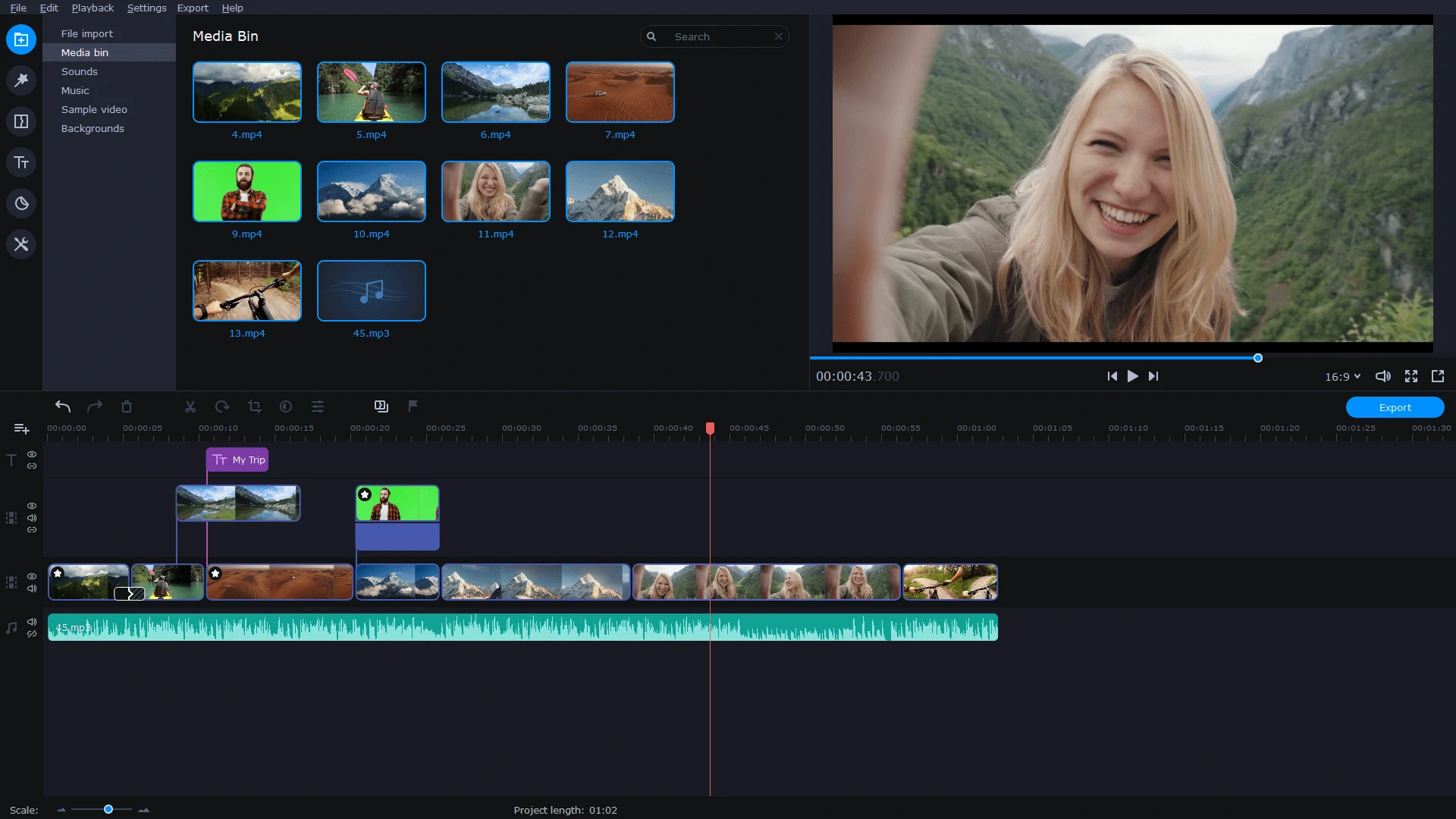 Top 7 Free Online Video Editors
Have you ever heard about any online video editor? No? Not everyone has the powerful machine required to run the majority of the nowadays video editing software or the time to download and install it. For that reason, we give you a list with the best video editor online, so you can begin editing your own movie, music videos or any video content of your preference.
Offline Alternative
Online video editors are good for quick editing of a small video. If you ever need powerful software for advanced video editing that doesn't require an internet connection, try Movavi Video Editor Plus. With this program, you can crop, rotate, and resize videos as well as add filters, transitions, and titles to them. Download this movie editor and try it for free.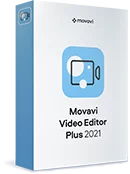 Movavi Video Editor Plus
Your next step in video-making
Edit video clips, images, and audio on a timeline

Add transitions, filters, titles, and stickers

Animate objects using keyframes, use more built-in media

Export videos in any popular format
Best Online Video Editors
Each website from this list has been created to give users a quick way to edit your videos from anywhere without installing a single software. This list isn't ranked by popularity or rating, each online video editor has its own features and advantages.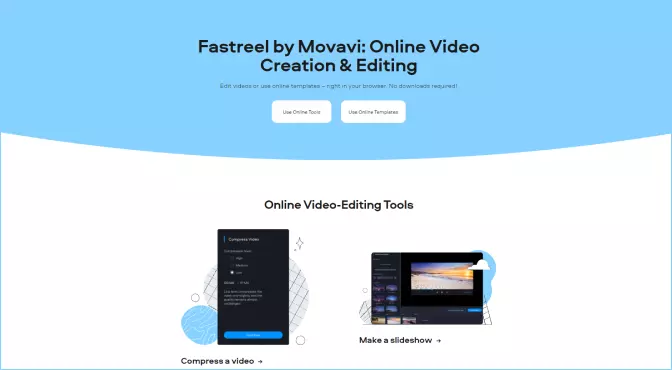 With Fastreel, you'll be able to get things done very fast. Just choose one of the templates and follow the editor's instructions. This tool is easy-to-master even if you never tried to edit your videos online. The tool will help you to make your video a masterpiece. Fastreel allows to:
Use built-in templates
Add text and change its parameters
Add music
Export the result in low or high quality.
Pros:
Useful templates
Previews are useful when choosing a template
Cons:
The free version functionality is limited
Price plans:
Single Premium:

$

5.95 /video
Monthly Unlimited Premium:

$

19.95 /per month
Yearly Unlimited Premium:

$

9.95 /per month (

$

119.40 billed annually)
WeVideo: Optimized for the Cloud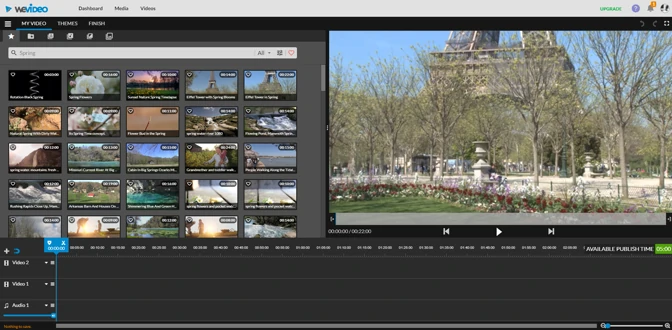 WeVideo is an online video creator which is really easy to use. Its simple interface makes things easier for beginners, so you don't need to have years of experience with video editing software to start using it.
This video editor offers you many options to edit your media, cloud storage for your videos, 4K Ultra HD resolution, green screen, slow motion and a lot of other benefits that are available in the most advanced software, all in a website! Let's talk about some of the features WeVideo includes:
Cloud-based video editor: You can upload your videos to Dropbox or Google Drive and transfer it to WeVideo easily.
Team effort: you and your friends can upload video to the same project, making it easy for teams, business, and schools.
Resolution: free accounts can export videos at 480p, but the premium one supports even 4K Ultra HD resolution.
Music library: WeVideo has a rich music library that you can use as a soundtrack for your videos.
WeVideo is an easy-to-use online video editor with the capabilities of a professional one. If you want to edit videos for YouTube, you can upload it from the video editor website, skipping the download and upload process.
Pros:
Cloud-based service is good for teamwork
Supports voiceover
Cons:
Free version lacks functionality
Price plans (for individuals and businesses):
Monthly plans: from $9.99 to $59.99/per month
Yearly plans: from $4.99 to $29.99/per month (from $59.88 to $359.88 billed annually)
If you're interested in an educational plan, check it out on the WeVideo website:
WeVideo educational pricing plans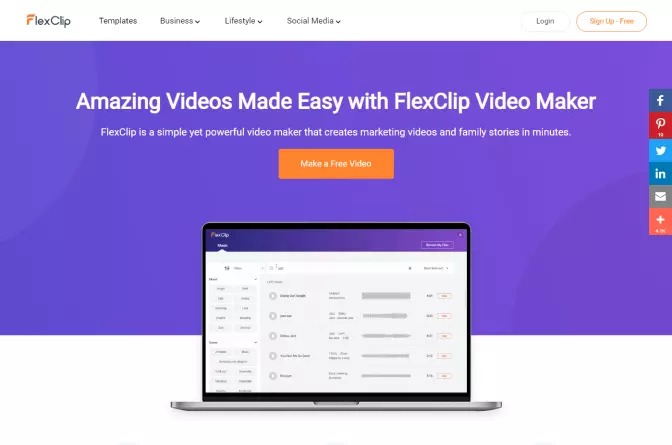 FlexClip is an easy-to-use online video maker that helps create high-quality videos for any topic and occasion with minimal time and effort.
FlexClip offers a vast media library of stock photos, royalty-free footages, and music for your video production. You can trim video and music, adjust filters, add widgets & voiceover, record screen, etc.
Here are some of FlexClip's highlighted features:
An intuitive and straightforward interface.
Dozens of professionally designed templates covering topics like business, real estate, education, birthday & wedding, etc.
Diverse text styles, overlays, widgets, logos, and other animated elements.
Output video length up to 30 minutes, with flexible video quality: 480p, 720p, or 1080p.
Pros:
One click to share videos to YouTube or Dropbox
Easy and flexible customization options
Cons:
Download videos only in the MP4 format
Price plans:
Monthly plans: from $8.99 to $29.99/per month
Yearly plans: from $4.99 to $19.99/per month (from $59.88 to $239.88 billed annually)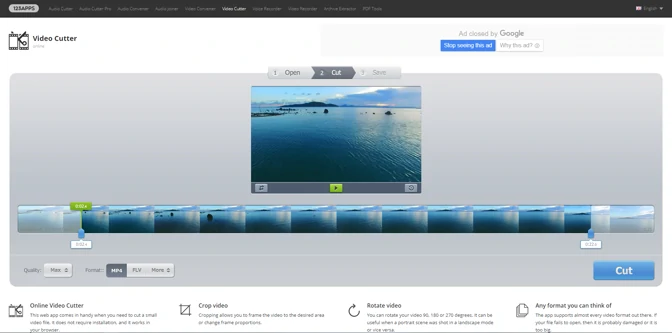 Online Video Cutter is an online video editor that does what its name says: cut videos online. This website is one of the simplest ways to cut, rotate and crop any video quickly and easily. If you are in a hurry and want to cut a video for a class, or you just want to rotate it and don't want to install any software in your computer, this video editor website is for you.
Some of the features of this website are:
Cut: As simple as it sounds. You can cut and export any video in a few clicks.
Crop: You can change the video proportions by cropping it. Again, this website is one of the best websites when it comes to simplicity.
Rotate: Online Video Cutter allows you to rotate your video 90, 180 or 270 degrees. If you record a video with your smartphone in portrait or landscape and want it the other way, you can do it with this video editor.
Any format: These websites support almost any video format. You can upload any file up to 500 Mb and the website will handle it smoothly.
Free: One of the best things is that every feature is free. Online Video Cutter is in all-of-all a nice free online video editor.
You can upload your files from your computer, your smartphone or from Google Drive. As easy as it sounds.
Pros:
Works very fast
Totally free
Cons:
Only basic editing functions
Price plans:
The website doesn't have any pricing plans, it's completely free.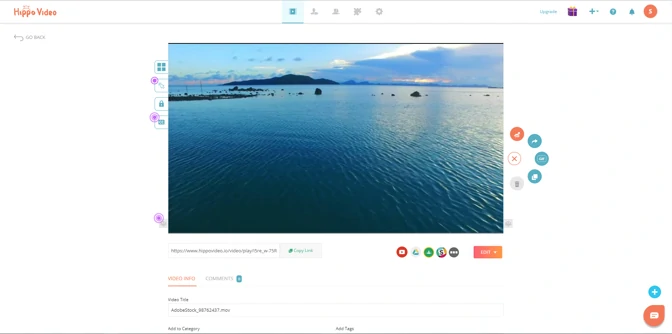 Hippo Video Editor isn't only an online video editor, but a complete platform that compiles video edition, hosting, video and voice recording, screen recording, share options and even data analytics, everything in the same website. This makes it the best video editor online for business and video marketing. Hippo Video Editor offers:
Recording: You can record your videos directly from the website. It allows you to record your screen or to capture the video using your webcam.
Editing: once you have your video recorded or if you upload any video from your pc, you can edit it. With Hippo Video Editor you can crop, rotate, add text and all the basic functions of a video editing software, plus some advanced features like background soundtrack, narration and many more.
Export: You can export your video to your social media, YouTube, Google Drive or Vimeo. It also gives you the option to embed videos on your website.
Analytics: With Hippo Video Editor you can view the number of people who have watched your video, the engagement and some other graphs that can be helpful if you are using this online video editor as part of your digital marketing strategy.
Hippo Video Editor is recommended for a business that needs the boost that a video marketing can offer.
Pros:
All-in-one video processing platform
Easy customized
Cons:
Only basic editing functions
Price plans:
Monthly plans: from $19 to $59/per month
Quarterly plans: from $17 to $54/per month (from $51 to $162 billed quarterly)
Yearly plans: from $15 to $49/per month (from $180 to $588 billed annually)
Clipchamp: An Easy Way to Convert Your Videos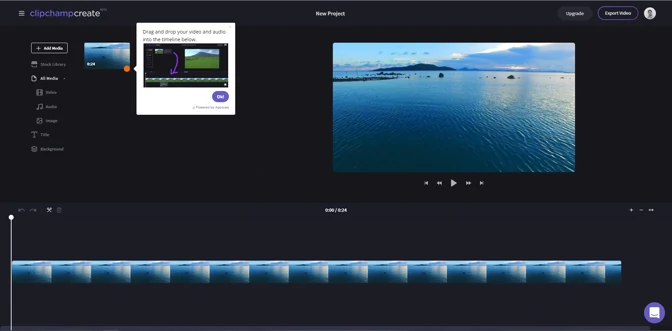 Clipchamp is a website that allows you to edit and convert your videos. The editing part in this website is basic, but the compress and convert utilities are powerful compared to others converters. The best part about Clipchamp is that their utilities are fully online, so you don't need to download and install any software on your computer.
Clipchamp features are limited but powerful. It allows to:
Upload almost any format of video, including the most popular ones: MOV, AVI, MP4, DIVX, ASF, VOB, FLV, WebM, 3GP.
Compress your videos: the biggest utility that Clipchamp websites have to offer. You can upload a file of any size, even a 20 GB file, and the website will compress it without a problem.
Export to almost any existing resolution: from 240p to 4K.
The best part is that the compressing power works in both free and premium accounts, so you can test it for free before purchasing the Business plan.
Pros:
All you need to work with video at once: compressor, converter, recorder, and editor
No watermark
Cons:
Some users complain about its reliability
Price plans:
Monthly plans: from $9 to $39/per month
Yearly plans: from $6 to $27/per month (from $72 to $324 billed annually)
Animoto: The Best for Social Media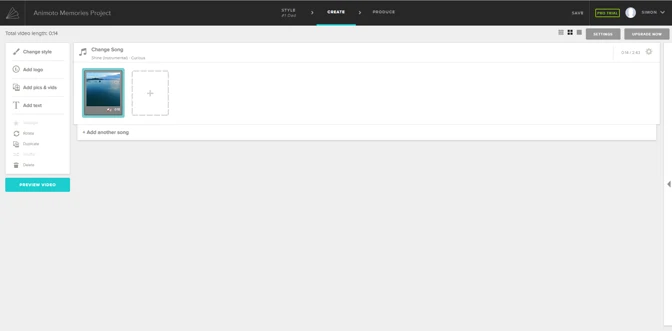 Animoto is an online video and slideshow editor capable of creating wonderful videos from files or photos. It's designed to work with business, photographers, and families, with a category for each one. With just one click you can share your videos and slideshows in your social media, making it the best one for people who use those networks for their digital marketing strategies, or home users that want their videos in their family feeds.
Animoto comes in free and premium accounts. Some of its features are:
Free accounts include 720p video resolution, +350 music tracks and some fonts and colors.
Customizable text. You can change the size, font, color and placement of your text in the videos or slideshows.
Photographers can create beautiful slideshows from their photos with Animoto, making it the perfect tool to make videos for marketing or just to show your work to the world.
Once your video or slideshow is finished, you can download it or share it in your main social media with a few clicks. As easy as it sounds.
Animoto is one of the best video editors due to its simplicity and customization. You can make a beautiful video with no beforehand experience, making it a good tool for people that are starting in the video edition world. The slideshow is a really cool feature that you can use for every occasion.
Pros:
Very simple to use
Able to record voice
Cons:
Videos and photos might require some additional editing before uploading
Price plans:
Monthly plans: from $65 to $94/per month
Yearly plans: from $33 to $49/per month (from $396 to $588 billed annually)
---
And that's it. This list includes some of the best online video editors, each one with great particular features. Of course, you can always try and download a powerful video editor for your computer, like the Movavi Video Editor Plus, but if you are in a hurry or just need one quick way to edit a video, these websites will serve you well. Remember, you can test some of the features of each website for free, so you can be sure which one fits more according to your needs.
Frequently Asked Questions
Where Can I Edit Videos for Free?
There are many video editors that you can use without any payments. Consider checking this top of free applications capable of editing your videos.
What Program Do YouTubers Use to Edit Videos?
Before YouTubers upload their videos, they edit them: cut off the unnecessary parts, add titles or intros, etc. Want to make your video even more amazing as bloggers do? The guide below might be useful.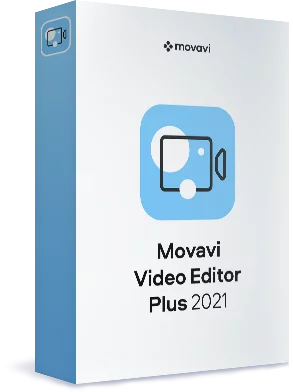 Movavi Video Editor Plus
Your next step in video-making
Edit video clips, images, and audio on a timeline

Add transitions, filters, titles, and stickers

Animate objects using keyframes, use more built-in media

Export videos in any popular format
* The free version of Movavi Video Editor Plus has the following restrictions: 7-day trial period, watermark on the output videos, and, if you're saving a project as an audio file, an ability to save only half the audio length. Learn more
Read Other Useful Articles