How to Use Our Screen Recorder for Mac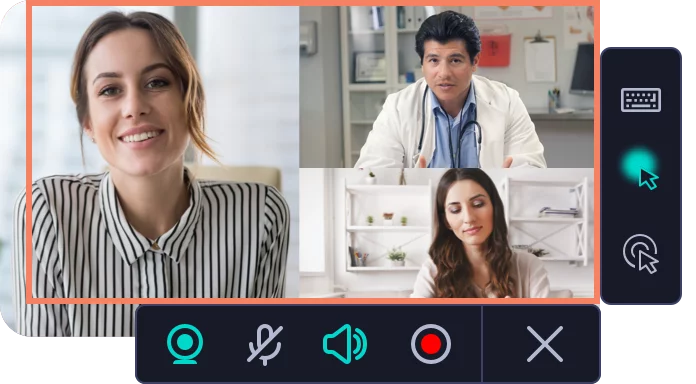 Set Up the Recording Parameters
Choose the capture area and adjust the recording settings.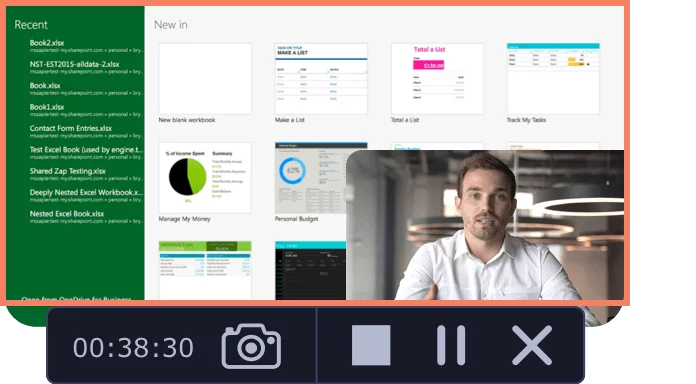 Capture Video and Audio
Start your video capture on Mac by hitting the REC button.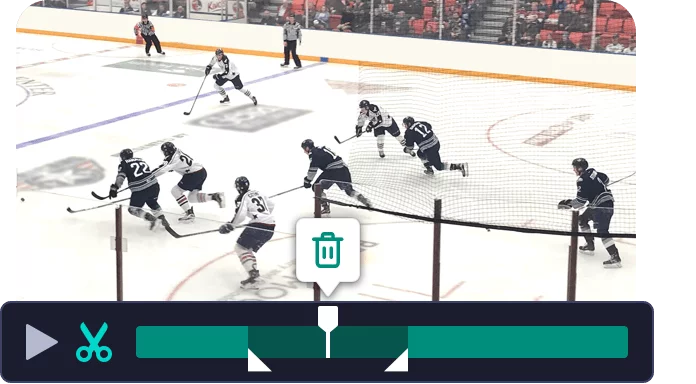 Edit the Record and Save the File
Use the simple editing tools to make your recording perfect. Save the file in HD on your MacBook or other Mac computer.
What Can You Do with Our App for Video and Screen Capture on Mac?
Create Screencasts
Use the recording program as screencast software. Grab your voice with mic, capture face with webcam, and record internal sounds with the system audio.
Record Only Audio
Record sounds from computer or microphone separately from the screen recording.
Capture Your Webcam
Capture your webcam output without recording the screen. Take a photo via the webcam.
Schedule Recording
Choose the date and time for the recording to start. Set the time limit for capturing.
Grab Separate Streams
Capture separate streams. Record screen and audio simultaneously or separately.
Draw on Videos
Draw on the video during the recording process. Add important drawings to your tutorials and make videos more engaging.
Share In a Second
Upload records to YouTube or Google Drive and send download links to your colleagues and friends. Screenshots can be shared via social networks.
Show Keystrokes and Mouse
Show your keyboard to viewers and set up the mouse display in the recording.
Convert with SuperSpeed
Convert the video with the SuperSpeed tool and export it in high quality.
Need to make a video screen capture on Mac in few minutes but still don't have a macOS X screen recorder installed? Movavi Screen Recorder for Mac will solve your problem. The program is so easy and intuitive that you don't spend any time learning how to use it.
Movavi's video recording software for Mac is compatible with OS X 10.10 or higher, as well as with any MacBook model, including Air and Pro. You can record anything you want – live webinars, hangouts, tutorials, online calls, and even movies.
Download a free trial version of the screen capture software for Mac and start recording a screen on Mac today.
What Do Users Think About Movavi Screen Recorder?
MacUpdate
I didn't need to read any instructions, the app is self explanatory, especially if you have used an app of this type in the past. I am thrilled with my purchase.
dwp-1
CNET
Good tool for screencast recording on a Mac that saves video in MP4 which is playable on any platform.
VIDEOMAKINGGUY
MacUpdate
Really easy to use. The interface is very simple which I like. I use it mainly for screenshotting but screen recording works just as great.
samaustin
Frequently Asked Questions
Can I record from webcam?
Yes, you can. It's possible to capture both webcam and computer screen output simultaneously or separately.
Can I record system sounds?
Yes, you can record system sounds in the paid version. Screen Recorder also captures sound from your microphone.
Does the program work offline?
Yes, Screen Recorder works offline. You don't need an internet connection to record your screen and save the video.
What are the limitations of the free version?
There're no system sound recording and no screenshot editing in the free version. Output video will have a watermark. You cannot add a description or tags to your video before sharing it on YouTube.
Is it safe to install Screen Recorder on my computer?
Yes, Screen Recorder is completely safe to use. You won't have malware or hacking problems.
Movavi develops software to make your life easier and to expand creative opportunities for users all over the world. That's why it's so important for us that the use of Screen Recorder is safe and beneficial for you.
Can I record two streams simultaneously?
How often do you update Screen Recorder?
We are constantly improving the program, so minor updates are released every 3 months.
More about updates
How can I remove the watermark?
To remove the watermark and other trial limitations, you need to buy Movavi Screen Recorder. After activating your purchased license, you'll have a fully functional recorder.
How do I buy Screen Recorder?
Go to the Buy Now page and purchase the program. We'll ask you to give us your email address. When the purchase is completed, we'll email you an activation key. Open the program and enter or paste your activation key in the corresponding field in the Activation dialog box.
More about activation
Do you have customer support?
Yes, of course. If you have any questions, you can contact our Support team any time. You can also explore our detailed instructions on how to use Screen Recorder.
Capture screen in one click
Support Center and Money Back Guarantee
If you experience technical problems, you can contact our Support Center. If we are unable to resolve the problem, you can get a complete refund of your purchase price within 30 days.
Built-In Tips on Using the Screencast Software
We've added helpful tips on how to use Screen Recorder. These appear when you hover the cursor over a particular button. Tips can be enabled or disabled in the Settings menu.
Free Minor Updates
We are constantly improving the recording app, adding new features and making the program more user-friendly. You get all these minor updates for free.
Knowledge Base
We provide you with user manuals, video guides and how-to's. These articles help you to hone your skills in screen recording.
Supported formats
Check out the full list of formats supported by Movavi Screen Recorder
Output
MP4, AVI, MOV, MKV, GIF, MP3, PNG, BMP, JPG
Tech Specs
System Requirements
Processor
64-bit Intel® processor
Display
1280 × 768 screen resolution, 32-bit color
Hard drive space
200 MB available hard disk space for installation, 2 GB for ongoing operations
System permissions
Administrator permissions are required for installation
Disclaimer: Please be aware that Movavi Screen Recorder for Mac does not allow capture of copy-protected video and audio streams.
* The free version of Movavi Screen Recorder has the following restrictions: watermark on the output videos, and you cannot add a description or tags to your video before sharing it on YouTube. Learn More