Boost Your Popularity as a Movavi Affiliate!
Movavi offers the latest multimedia processing software for people of all ages and skill levels. Join our affiliate program and start earning today.
Become a Movavi Affiliate Because We:
Offer commissions starting at 30% per sale. As our affiliate, your commissions will increase as your sales increase – plus you'll get discounts and exclusive bonuses.
Have been offering our software for 14 years. Quality is our top priority, that's why our users recommend us to their relatives, friends, and clients from 9–99 years old.
Provide an extensive marketing kit to help you easily understand our programs. Our programs are described in detail, so take a look and use them in your resources.
Provide customer support, offer new products and upgrades. There are about 4 million happy Movavi customers in 150 countries.
Have our own affiliate platform with a direct offer and a dedicated affiliate manager ready to help you with any questions.
Monitor traffic and sales in real time and support cookie lifetime of 120 days, when all your data is saved. You will receive your commission during this period regardless of program changes – so convenient!
The Movavi Affiliate program uses a revenue-sharing payment model. Join now, and you will be able to promote any product – all with the highest cookie life of 120 days. You'll get a commission even if another Movavi product is bought instead of the one you are promoting.
Register for the Movavi Affiliate program and confirm your email address. Then add information about your traffic and request access to the offer.

After you are approved, get your tracking link from the default list. You can also create your own link with the Deeplink feature or add your postback URL.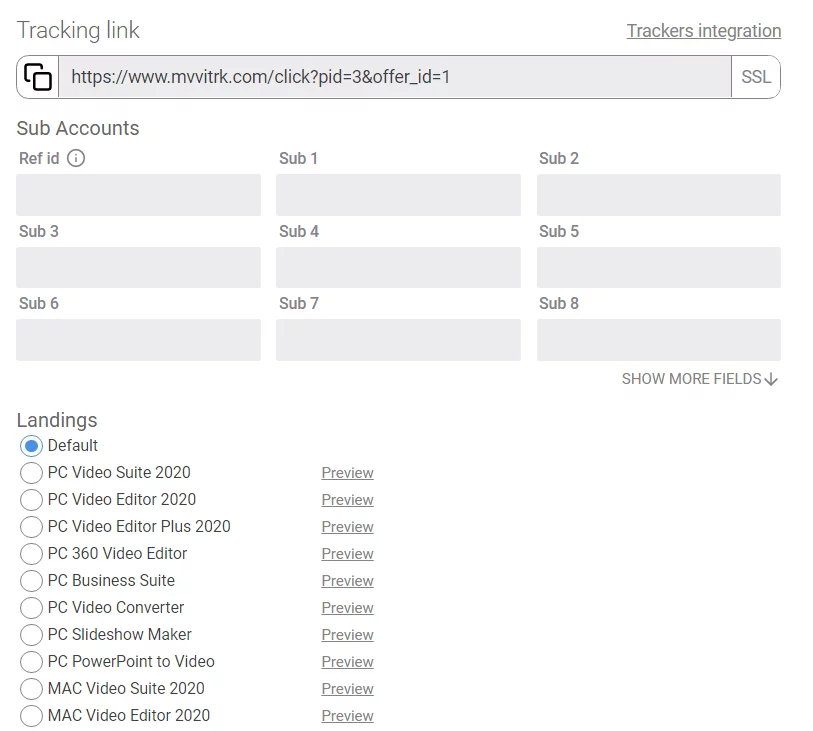 Add the link to your blog, site, or YouTube channel and start earning.
Frequently Asked Questions
What is an affiliate?
An affiliate is someone who participates in one of our affiliate programs. Affiliates place a link for the vendor (Movavi) in their resources and receive commissions from sales of the vendor's products if people use the link for their purchases.
Who can participate in the affiliate programs?
Anyone who has a website, a social media page, a blog, a YouTube channel, or any other resource on the internet which can be used to promote Movavi can participate in the Movavi affiliate programs. For more details, visit our Affiliate Policy page.
What does it cost to join?
There is no charge for registration or participation. It's free to become an affiliate partner.
Will I be an official Movavi partner?
Yes, registration in our programs makes you an official partner.
What are the participation terms?
You must be aged 18 or older, have full legal capacity under the laws of your country, be able to receive electronic payments, and have your own web resource where you can post links and information. You will learn more during registration.
I didn't get a reply to my application. What should I do?
Where can I find marketing materials?
You can use the information from the offer you have applied for. If you can't find what you need, please contact us. Custom promotion materials also available.
How do I get the links?
Log in to your account, open the offer, and get your tracking link. By default, you will be bringing traffic to the main page of the Movavi website. You can create your own link to a particular site page or pick any landing page for a specific product. The tracking link will be generated automatically – all you need to do is copy and add it to your web resource. Contact us for more information if you experience any problems.
What are commissions paid for? When do I receive payment?
You receive a commission for every purchase made by a user through your resource. Your commission payment is 30% of the revenue share. If you want to discuss an individual commission plan, please contact your affiliate manager.
Why didn't I receive my commission?
If a person returned the product, the cookie validity period timed out, or the Affiliate Policy terms were breached, we reserve the right to reverse commission.
How can I cancel my participation in this program?
You can leave the program at any time. Movavi also has the right to exclude you from the affiliate program. If this happens to you, please contact us for more information.
Useful Information for Potential Affiliates
Affiliate Policy
Learn the terms of our Affiliate Policy and be sure you agree with it before you join the Movavi Affiliate Program.
Sign Up for News and Special Offers