How to Convert 4K to 1080p
Digital technologies are constantly evolving and can be hard to keep up with. Screen and display resolutions are growing all the time, making the image much more detailed; the Full HD video that was so popular just a short while ago is now being replaced with the 4K video standard. The horizontal resolution of approximately 4000 pixels provides a new level of image quality and is now widely used not only in cinemas, but also in home multimedia, so that you can enjoy stunning-looking films right from your sofa. Instead of old-fashioned DVDs, 4K movies are usually stored on Blu-ray disсs which can handle video files of up to 50 GB. To be able to make the most of viewing a video in 4K, you need to have a TV or monitor that supports this resolution, as well as the hardware that can play it – a Blu-ray media player or a powerful computer.
Creating 4K video is no longer a problem either, as most of the latest smartphones can easily shoot and natively play videos of this resolution. However, high-end mobile devices sometimes work faster than low-end computers or mid-range laptops, making it impossible to smoothly watch or properly edit a 4K video on such devices even with the latest codecs installed. And if you want to burn a 4K video onto a CD or DVD, you simply will not have enough space, as these files are way too large.
The best solution to this problem would be to lower the video resolution to 1080p (Full HD) or even 720p (HD), which would still look decent, play properly and help you save precious disk space. Read this guide to learn how to do this using the Movavi converter. If you want to jump directly to the resolution comparison table, click the appropriate link.
How to Convert 4K to 1080p and Vice Versa with Movavi
Movavi Video Converter is powerful and user-friendly software that handles video in 2K, 4K, 5K, and even 8K, and supports more than 180 different media formats, including AVI, MKV, MOV, MP4; AAC, MP3, OGG; GIF, JPG, PNG, and more. Easily convert your 4K video to 1080p or lower and enjoy it however you wish. Simply download the PC or Mac version of the program and follow our step-by-step guide.
Install the Movavi 4K Video Converter
Launch the downloaded file and follow the on-screen instructions to install the software.
Add the Video You Want to Convert
Open Movavi Video Converter. Click the Add Media button and then Add Video in the upper left corner of the program interface. Choose the video files you want to convert and click Open.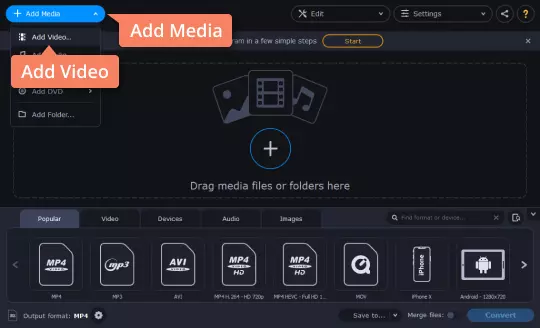 Choose the Output Format and Resolution
4K files may have different file extensions, depending on where you obtain them. Blu-ray videos are usually stored in M2TS format, while smartphone-recorded videos are saved in MP4. Still, no matter what the input format of your video is, the Movavi 4K converter will have no problems opening it.
You can choose any output format, but for better compatibility and image quality, MP4 is one of the best options. So, in the lower part of the interface, go to the Video tab and choose MP4, then select the desired preset depending on the screen resolution you need.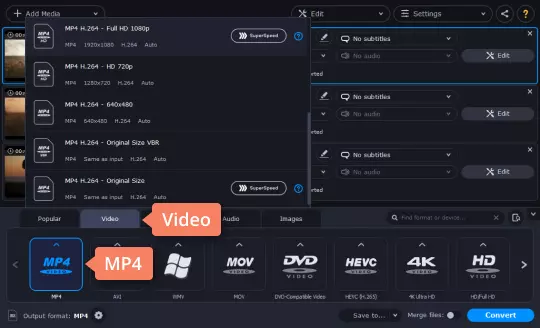 If you want to convert your 4K movie for watching on your mobile device, go to the Devices tab, find the brand name of your device and choose the model.
With Movavi Video Converter, you can also scale an HD or Full HD video up to 4K. However, while this may sound good in theory, from a practical perspective, you will get the same video quality stretched to a higher resolution, which will generate a way bigger file than the original.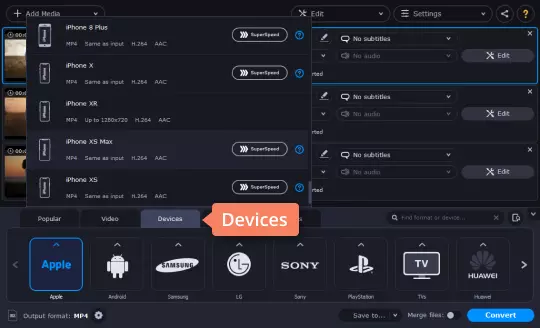 Convert 4K to HD Using the Movavi 4K Converter
Click the Save to button to specify where your converted files should be saved. Hit Convert in the bottom right corner to start the conversion process. When the file is ready, the folder with the output file will open automatically.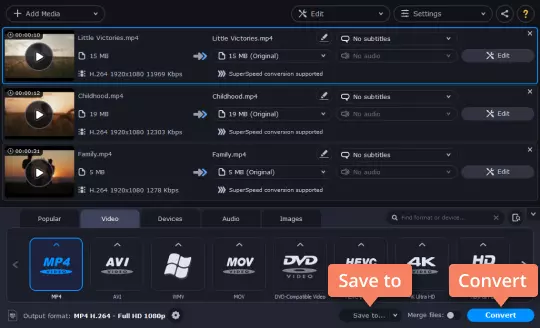 Now you know how to downscale videos using the 4K to 1080p converter from Movavi!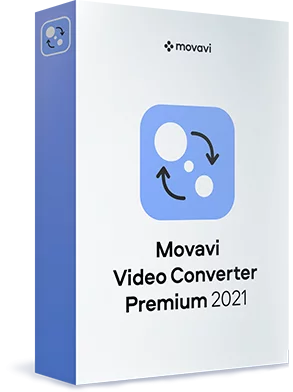 Movavi Video Converter
The ideal way to get your media in the format you need!
Convert video, audio, DVDs, and image files

Enjoy lightning-fast conversion without quality loss

Improve quality, adjust sound, trim and join files before converting

Save video and audio clips for easy mobile access
4K vs. 1080p – Comparison Table
What's the difference between these two formats? Find out in this 1080p vs. 4K comparison.
| Comparison parameter | 4K | 1080p |
| --- | --- | --- |
| Horizontal × Vertical pixels | 3,840 × 2,160 | 1,920 × 1,080 |
| Aspect ratio | 16∶9 | 16:9 |
| Other names | 4k, Ultra HD, Ultra-High Definition | Full HD, FHD, Full High Definition |
See Other Useful How-to Guides