How to Use the M2TS Converters
What is M2TS? It is the file extension used by the MPEG-2 Transport Stream container format on Blu-ray and AVCHD (Sony HD format). MPEG-2 TS files are rarely readable on mobile devices or even on PC, nor is the format compatible with YouTube or other video hosting sites. To be able to play your videos on your smartphone or portable media player, it is best to convert M2TS to MP4 or another popular format.
Here are some problems that M2TS-to-MP4 conversion might resolve:
Your device or media player doesn't support M2TS.
Many mobile devices and media players do not natively support this format. Converting M2TS to MP4 or any other widely used format might be easier than installing a new media player or downloading a special codec.
M2TS files are too large.
In most cases, M2TS files are larger than MP4. If you want to save disc space, you can transfer M2TS to MP4 with an appropriate video converter.
You can't upload an M2TS video to YouTube or share it on social media.
Neither YouTube nor social networks support M2TS. The only way to share an M2TS video with your friends on Facebook is to convert it to a more universal format, for example MP4.
In the guide below, we cover three options for converting video files, as well as the differences between M2TS and MP4. Additionally, we will answer the most frequently asked questions about the M2TS format.
How to Convert M2TS to MP4 with Zero Quality Loss
One option to convert videos is to use a file conversion program – for example, try Movavi Video Converter. This fast and easy-to-use encoder works with all popular video and audio formats: AVI, DVD, MKV, MOV, WMV, VOB, MTS, M2TS, WAV, MP3 and more. In Movavi Video Converter, you can edit video before conversion: crop, rotate, enhance, etc. You can also use it as a cutter or splitter to cut out and join together different parts of your video, as well as merge multiple video files together. The software enables you to use smart presets as well as to make manual adjustments: choose between lossy or lossless codec types and video formats and set your desired quality level. What's more, this powerful converter will let you mute audio and combine your videos with .srt subtitles!
It's easier than you think. Just download Movavi Video Converter and see for yourself! Choose the Windows or Mac version and follow the steps below.
Install the Software on Your Computer
First, download Movavi's M2TS Converter. When the file is downloaded, run the installation program and follow the instructions.
Add Your M2TS Video for Conversion
Now add your video files. Click the Add Media button in the top left corner and then Add Video. Choose one or multiple files to convert from M2TS to MP4 or any other format.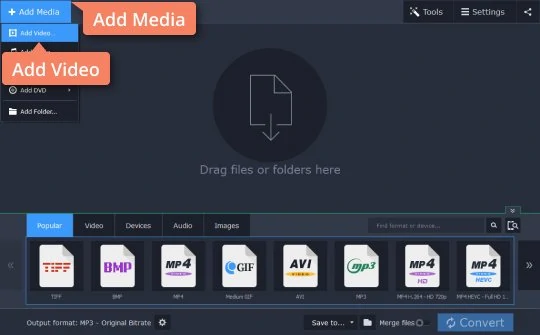 Choose the Desired Format for the Video
Open the Video tab. Select MP4, or any other format, and then choose one of the available presets. If you want to convert video for a specific device, click on the Devices tab and find the model you need. If you're having trouble finding the right one, simply connect your device to your system and hit the Cell Phone icon on the right – the program will suggest the right preset for you.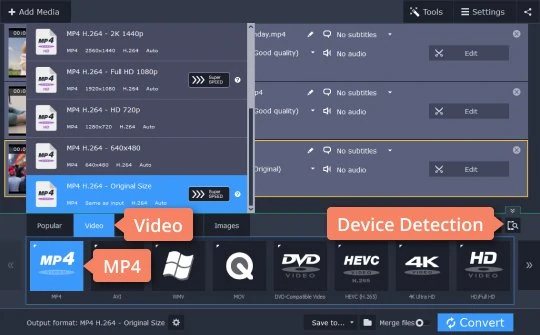 Convert M2TS to MP4
Click Folder and choose where you want your converted videos to be saved, otherwise the files will be saved to the Movavi Library folder. Click the Convert button to start converting M2TS to MP4. After the conversion is complete, the folder containing the converted files will open automatically.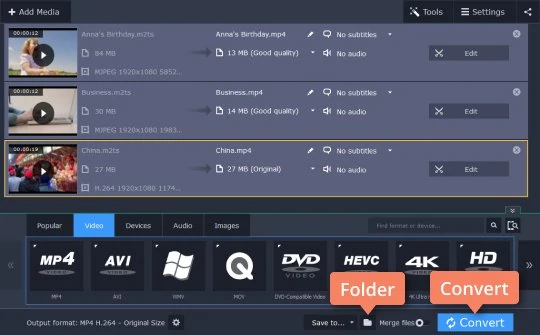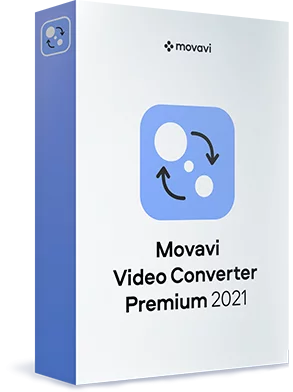 Movavi Video Converter
The ideal way to get your media in the format you need!
Convert video, audio, DVDs, and image files

Enjoy lightning-fast conversion without quality loss

Improve quality, adjust sound, trim and join files before converting

Save video and audio clips for easy mobile access
How to Convert M2TS for Free
There is another way of converting M2TS to MP4. You can do it for free using VLC Media Player. This freeware not only plays videos but is also able to convert them. While VLC Media Player is free, it isn't particularly fast, particularly if you need to convert large files.
First, download the latest version of VLC here.
From the Media menu, select the Convert / Save option. Click Add, upload your M2TS files, and then click Convert / Save. In the window that opens, select MP4 as the target format and then the appropriate preset. Choose the name of the output file and the folder in which you want to save it. Finally, click Start to begin the conversion.
How to Use M2TS Converter Online
The other option is to convert your media files online – we recommend using online converter like the one described below.
Go to the Online Video Converter website
This service provides fast conversion from most popular formats to MP4. The online converter has a couple of significant downsides, though. You can only convert one video at a time, and the file size is limited.
To convert M2TS to MP4 online, hit the Add Your Media button and select the file you want to convert. Next, click the Convert button. Wait until the conversion is complete, then click the Download button, and save the converted video on your computer.
M2TS vs. MP4 Comparison Table
M2TS files are usually used for storing high definition videos on Blu-ray discs. These files are large and not supported by many social media platforms, so they are not the most flexible format to store and share files.
MP4 and M2TS are both supported by a large number of media players. While MP4 files are generally of the same quality as M2TS, they are smaller and supported by all social media platforms, making them easy to share and upload to YouTube.
You can find a more detailed MP4 vs. M2TS comparison in the table below.
| Comparison parameter | M2TS | MP4 |
| --- | --- | --- |
| File extension | .m2ts, .mts, .ts, .m2t | .mp4 |
| Video coding formats | MPEG-2, H.264, H.265 | H.264, H.265, MPEG-4, others |
| Audio coding formats | AC-3, DTS, LPCM, others | MP3, AAC, AC-3, others |
| Streaming | | |
| Chapters | | |
Frequently Asked Questions
For a regular user, MP4 is better than M2TS. MP4 is more universal than M2TS; it can use the same video codec (H.264), so the video quality is the same; MP4 files are generally smaller and you can easily share them on social media or upload them to YouTube. M2TS files can be useful if you want to record a video to a Blu-ray disc.
How Do I Play M2TS Files?
Apart from Blu-ray players that natively support M2TS files, this format is supported by all popular media players. Examples of such media players include Windows Media Player, VLC, 5KPlayer, and SMPlayer.
QuickTime media players can't open M2TS files by default. To watch M2TS video on a Mac, you need to download a media player that supports M2TS, for example, VLC. You can also convert M2TS to MP4 or any other format supported by the QuickTime media player.
What File Format Is Blu-ray?
Usually, a Blu-ray disc contains streams of audio, video, and text multiplexed in a container format known as BDAV MPEG-2 Transport Stream that uses a .m2ts extension.
How Can I Convert Multiple M2TS Files to MP4?
Try Movavi Video Converter. This program lets you convert several video files at a time.
See Other Useful How-to Guides