How to Transfer MOV to MP4

There aren't that many really popular video formats, and MOV is one of the leading contenders. This format was developed by Apple as a standard for playing video on Macs as part of the QuickTime File Format. However, the incompatibility of formats between different platforms and devices can still be a problem for many users. For example, MOV videos can't be played on Android devices unless you use a special application for it. The best way to resolve this problem is to convert MOV files to another file type that is more widely supported by devices and operating systems, such as MP4 (MPEG-4).
Below, we'll discuss some of the easiest ways to do MOV-to-MP4 conversion:
How to Convert Your Videos with the Movavi MOV-to-MP4 Converter
Movavi offers an efficient software application for converting MOV files to MP4 without loss of quality – Movavi Video Converter. The program supports more than 180 formats and 200 mobile devices, including iPhone, iPad, Android-based devices, Xbox, PlayStation, and many more. Read a short tutorial on how to transform MOV to MP4, download the program for Windows PC or Mac, and give it a try yourself.
Install the Software
Run the downloaded file and follow the instructions to install Movavi Video Converter on your computer.
Open Files for Conversion
Click the Add Media button in the upper left corner and select the Add Video option. Now locate the MOV files that you want to turn to MP4, and add them to the app by clicking Open.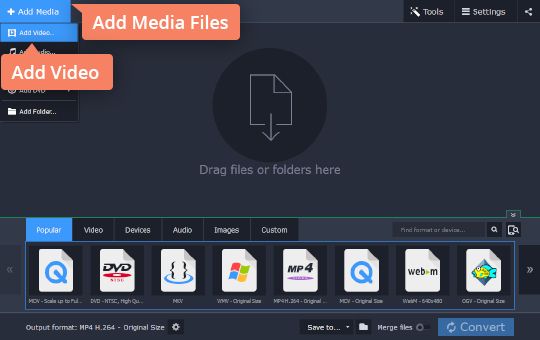 Specify the Output Format
Open the list of supported video formats by clicking the Video tab. Locate the collection of MP4 presets and select the desired one.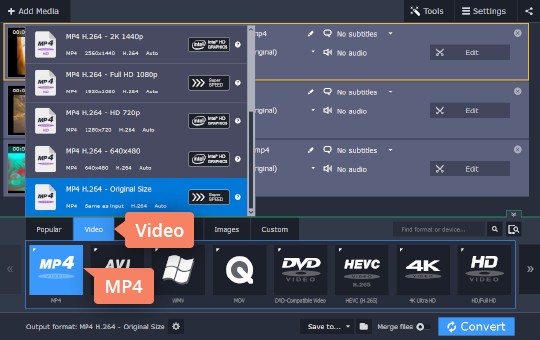 Edit Your Videos (Optional)
If you want to make changes in your videos before conversion, click the Edit button in the right portion of the file information section. You'll see a new window with a number of tabs.
Select the Stabilization tab and try different available options to reduce shaking in your video. Choose the Audio tab to manage the volume levels of the video or even reduce background noise. In the Adjustments tab, you can set desired values of brightness, contrast, saturation, and other parameters. You can also add effects, subtitles, or watermarks by opening the appropriate tabs and specifying elements you want to add. Use the tabs Crop, Rotate, and Trim to cut video edges, rotate the footage, or trim away unwanted fragments.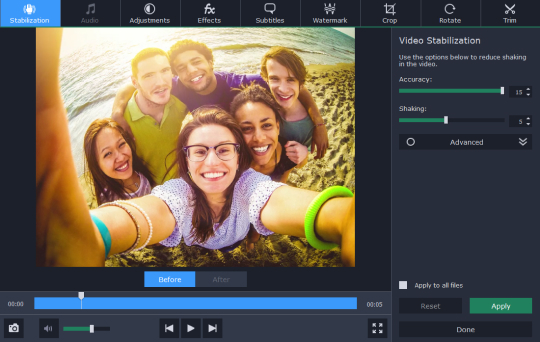 Compress MOV Files (Optional)
If you have large MOV files that you want to export to MP4, you can also compress them on the way using Movavi Video Converter.
Just click on the file size value shown in the output information. In the dialog box that opens, set the desired size, quality, and bitrate by moving the appropriate slider. Click Convert Sample to see how a file fragment will look like after conversion.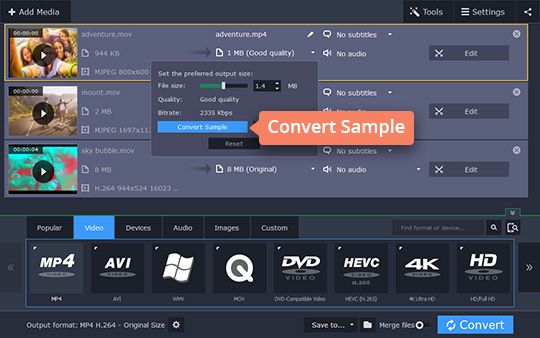 Save Your MOV Files in MP4
Click Convert to start the operation. The app supports batch conversion so you can transcode multiple files simultaneously. When the conversion is complete, the folder containing the output files will open automatically.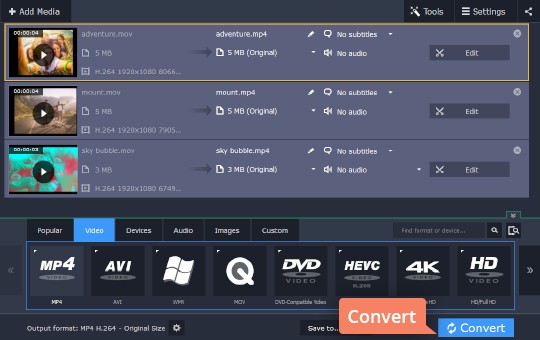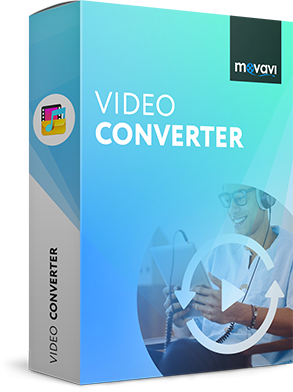 Movavi Video Converter
The ideal way to get your media in the format you need!
Convert video, audio, DVDs, and image files

Enjoy lightning-fast conversion without quality loss

Improve quality, adjust sound, trim and join files before converting

Save video and audio clips for easy mobile access
How to Convert the Videos with an MOV-to-MP4 Converter That's Free
Another way is to use an MOV-to-MP4 converter that's free – for instance, VLC Media Player. Although it's not particularly fast and cannot convert large files, it does enough for a freeware app.
Download the appropriate version of VLC
After that, do the following. Go to the upper left-corner of the interface and click Media > Convert / Save. Hit Add to upload the MOV files you want to convert and then click Convert / Save. In the dialogue window, select MP4 as the target format. Choose the folder in which you want your file to be saved and enter the name of the file. Once you're done, click Start.
Differences between Desktop and Online Converters
Online Video Converter
Long-time wait
Up to 100 MB file size
Popular formats supported
Slow conversion speed
Movavi Video Converter
0-second wait
No size limits
180+ formats, presets for 200+ devices
Converting a 2-hour HD video from MOV to MP4 within 15 seconds
Online user support
How to Convert MOV to MP4 Online
There's also an option to convert MOV to MP4 online by using an appropriate online application like the one offered below.
Visit the Website
Click the link below to open the online video converter website.
Upload Your MOV File
Click Add Your File to find and select the MOV file you want to convert.
Bear in mind that the service has limitations – you can only convert files under 100 MB and not more than one at a time.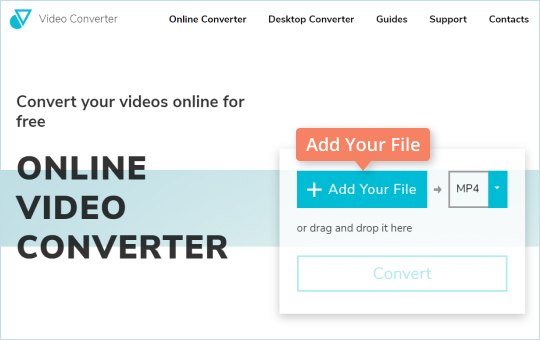 Do the Online MOV-to-MP4 Conversion
Hit the Convert button below. After the file has been uploaded and converted, you'll be able to download the new file to your computer.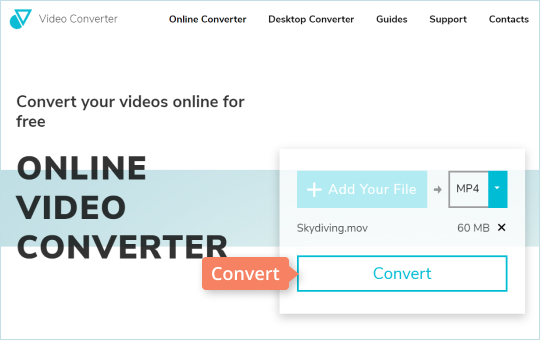 MOV vs. MP4 – Comparing Formats
Let's compare MOV and MP4. First, it should be noted that .mov is an extension of the QuickTime format. This is why it makes more sense to discuss the comparison between QuickTime File Format and MP4. Another important factor is that MP4 as a format was created based on the QuickTime group of formats, so they have a lot in common. The most significant difference between QuickTime and MP4 is that the first was developed by Apple and is mostly used by Apple devices, from phones and tablets to computers, and MP4 was developed by the International Organization for Standardization, so the format is more universal, and it's supported by almost any device manufacturer, including Apple.
Comparison parameter
QuickTime
MP4
File extension
.mov, .qt
.mp4
Video encoding formats
MPEG-2 (OS X Lion or later), MPEG-4 Part 2, H.264, H.263, H.261, Apple ProRes, Apple Pixlet, others
H.264, H.265, MPEG-2 Part 2, MPEG-4 ASP, H.263, VC-1, Dirac, others
Audio encoding formats
AAC, Apple Lossless, MP3, others
AAC, MP3, AC-3, Apple Lossless, ALS, SLS, others
Device support
Apple (iPhones, iPads, MacBooks, etc.)
Support for other systems is limited
Almost any device, including Windows, Linux, Ubuntu, Android, iOS, etc.
See Other Useful How-to Guides