How to Add SRT to MP4 Video
Many movie fans are familiar with the SRT format. These small files contain subtitles for your favorite ongoing anime or a Korean drama. Unfortunately, not every player can read external subtitles. It's also much more enjoyable to watch a mix of Oscar nominees on your DVD player if the files you want to burn to disc already have hardcoded translations.
If you want to combine a video with SRT subtitles, Movavi Video Converter is the tool you need! You can encode the translation permanently with it, so you can watch your favorite movies and series on any device. However, the program does not just hardcode subtitles, it can do a lot more! Movavi Video Converter also converts files into different formats (e. g. MKV, AVI, VOB, FLV, and M4V), joins separate videos, compresses media, even changes the resolution of any movie.
Here is a step-by-step guide for how to integrate external subtitles into a video.
Install the Subtitle Adder
Download the installation file, open it and follow the instructions to install the software.
Add Your MP4 Files
Click Add Media, then choose the Add Video option. Find the folder containing the videos you want to add subtitles to and select them. The files will be added to the program.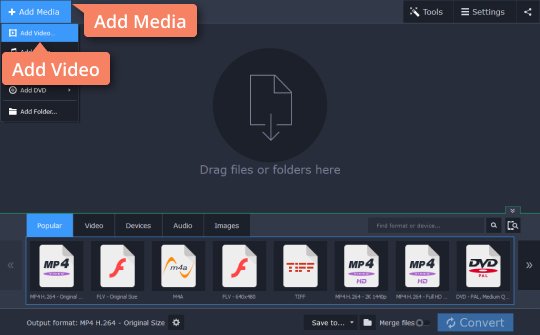 Select the Subtitles
Click No subtitles in the output information section. In the pop-up window, click the Add button and select the subtitles you want to merge into your video. If the SRT file has the same name as the video and is located in the same folder, the program will suggest the subtitle track automatically, and it will appear in the list of subtitles. You can also choose the Apply to all files option to merge the subtitles into all the chosen videos.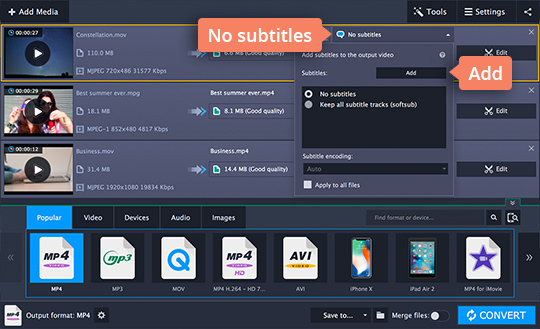 Choose the Preset for Conversion
Open the Video tab and select the MP4 format. If you are satisfied with the resolution of your video, choose the MP4 H.264 - Original Size option. If not, you can choose any other resolution from the list that you feel would work better.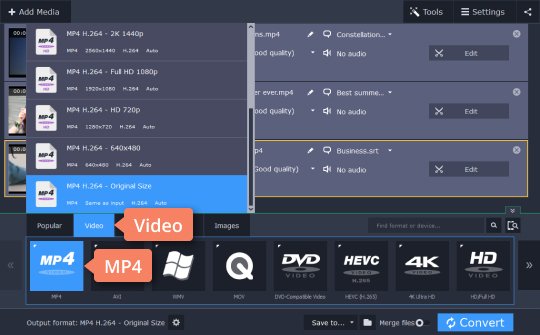 Generate the Subtitled Video
Select the target folder for your videos by clicking the Folder icon at the bottom of the program window. By default, the subtitled videos will be saved in the Movavi Library folder. Hit Convert to add SRT to the MP4 files. The folder with the output files will open as soon as the processing is done. Now you can put the hard-subbed movie on a DVD disc or transfer it to any device.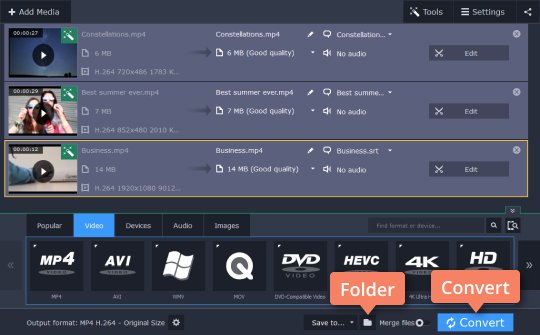 Now you know how to add subtitles to MP4. You can follow the same simple steps to embed subtitles into films in any other format (including AVI, MOV, WMV, or MPEG). Movavi Video Converter can also help you attach multiple subtitle tracks to MKV files.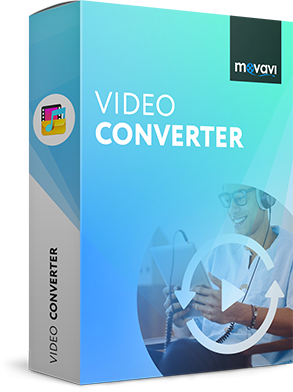 Movavi Video Converter
The ideal way to get your media in the format you need!
Convert video, audio, DVDs, and image files

Enjoy lightning-fast conversion without quality loss

Improve quality, adjust sound, trim and join files before converting

Save video and audio clips for easy mobile access
See Other Useful How-to Guides