How to Create a Product Demo Video
Demo videos are usually short video clips demonstrating what your product looks like and how it works. You can create demo videos for any kind of product: a computer program, a mobile app, a website, a physical item, or even a service. Creating a demonstration video is a great way for startups and young companies to introduce themselves to potential customers. And it's good for well-known companies, too, as they still need to present new products from time to time.
If you want to create an awesome product demo video, you'll need some appropriate software. Try Movavi Business Suite – an all-in-one program that lets you record your screen and edit videos like a pro.
How to Make a Product Demo Video: Useful Tips
Think about Your Product's Advantages

Why should potential customers choose your product? How can it solve their problems and/or make their life better? Define what makes your product stand out from the ranks of its competitors and focus on this in your demo video.
Don't record your video right away. Write a brief plan of action for your product video to make sure that nothing important is left out and everything happens in a logical order. If you are going to record a voiceover, write down the full text and read it aloud to prepare yourself for recording.
Record a Comprehensive Screencast

To demonstrate your software or online service, you'll need to record a screencast. Show the viewer how to use your product simply and clearly. Add a voiceover to walk the viewer through the on-screen activities. If you need to explain any abstract concepts, it's a good idea to also include infographics in your video.
Below, we'll show you how to make a product video using Movavi Business Suite.
Step-by-Step Guide on How to Make a Demo Video
Install Movavi Business Suite
Download Movavi Business Suite. Launch the program after the installation is complete.
Record a Screencast
Click Record computer screen in the start-up dialog. Run your software or go to the online service that you want to demonstrate.
Draw the capture area. If you want to capture sound as well, make sure the System Audio icon is highlighted in green. If you're going to record a voiceover alongside the screen recording, check the Microphone icon and choose your device from the drop-down list. Note that you can record a voiceover at any time later. When you're ready to start, click Start recording. Don't be afraid to record more than you actually need: you'll be able to delete unwanted footage in the next step. Click Stop when you're done.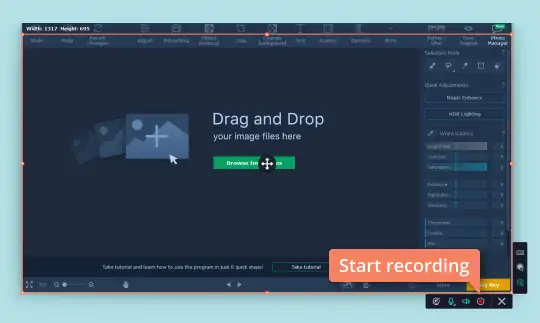 Edit the Recorded Footage
After clicking Stop, the editor window will open. Now you can reorganize the footage however you like. To split a clip into two parts, select it on the timeline and place the marker on the point where you want to make the first cut. Click Cut (the scissors button). Make as many other cuts as you need the same way. Delete unwanted segments by selecting them and clicking Delete fragment (the trash can button).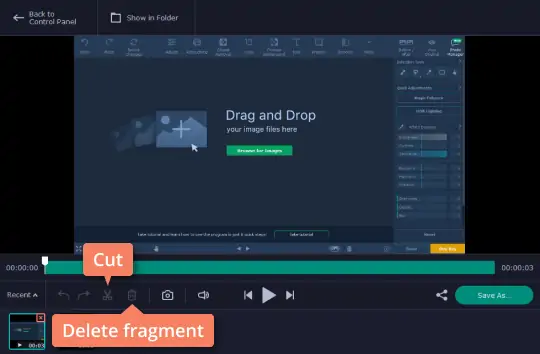 Save the Result
To save the result, click Save As in the bottom right corner of the program window. Select the appropriate format for your demo video, type the file name, set the destination folder, and adjust additional settings if necessary. Click Save when you're ready.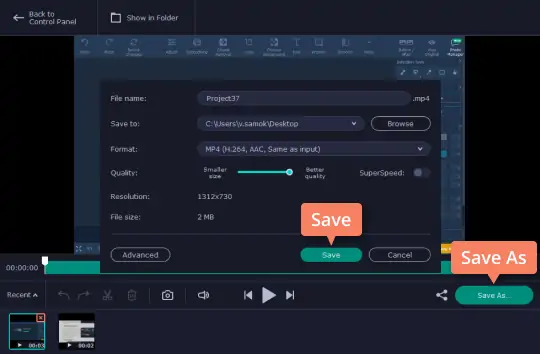 Now you know how to create a product video – it's not as hard as it might seem. Movavi Business Suite is the perfect demo video maker that will make your video creation process easy and fun.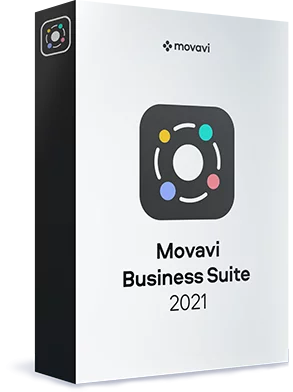 Movavi Business Suite
Ramp up your business productivity
Create tutorial, marketing, and commercial videos

Convert multimedia files to any popular format

Capture screens for demo videos and job interviews

Share videos using Movavi Cloud