How to use Movavi's MPEG converter
MPEG is one of the most popular formats for video, and it's easy to see why. MPEG files offer a high level of compression and generally good quality – so converting large files to MPEG significantly reduces the size of the files without compromising the look of the videos. If you want to keep a huge film collection but don't necessarily have sufficient hard disk space available, the solution is obvious: convert your videos to MPEG.
Even if your collection is already in a decent format like MP4, you sometimes need to convert your movies to other formats to make them compatible with certain apps and players. That's where an MP4-to-MPEG converter comes in.
Movavi Video Converter is exactly the program you need if you want to quickly convert MP4 to MPEG files. It's not only a good MPEG video converter but also a powerful tool to help you manage your multimedia files. The app supports all popular media formats and lets you transfer videos to MPEG as well as convert MPEG files (including MPG, MOD, DAT, and VRO) to AVI, MP4, WMV, FLV, AVCHD, DVD-compatible video, and other video formats. With this handy tool, you can also extract music from your videos and save it in MP3, WAV, AAC, or any other popular audio format.
Grab a free download of Movavi Video Converter for Windows or Mac and follow the guide below to learn how to convert MP4 to MPEG.
Step 1. Install the MPEG converter
Download this video converter and install it on your computer.
Step 2. Add a video file for conversion
Open the MPEG file converter. Click Add Media in the upper left corner and then Add Video. Choose one or more files to convert to MPEG.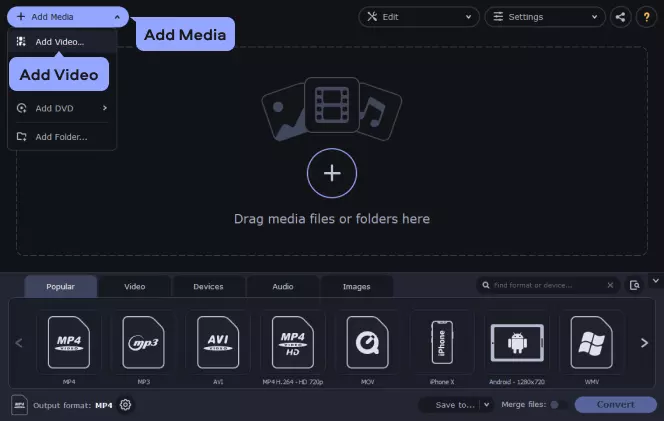 Step 3. Choose MPEG as the output format and adjust settings
Go to Video > MPG and select the MPEG preset that best suits your needs. Click the Cogwheel icon to manually adjust the frame size, bitrate, and more, if you wish.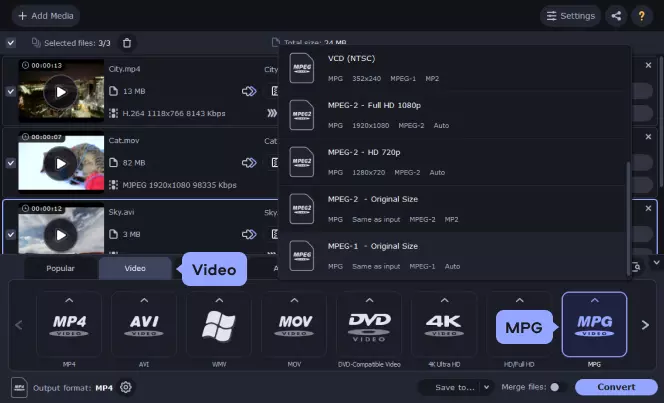 Step 4. Convert your file from MP4 to MPEG and save it
Choose the folder in which to place the converted files by clicking the Save to button. Then, start the processing by clicking Convert. The conversion of your videos to MPEG can take a while, depending on the size and number of files. When the program has finished the task, the output folder will open automatically (unless you specified otherwise in the Preferences).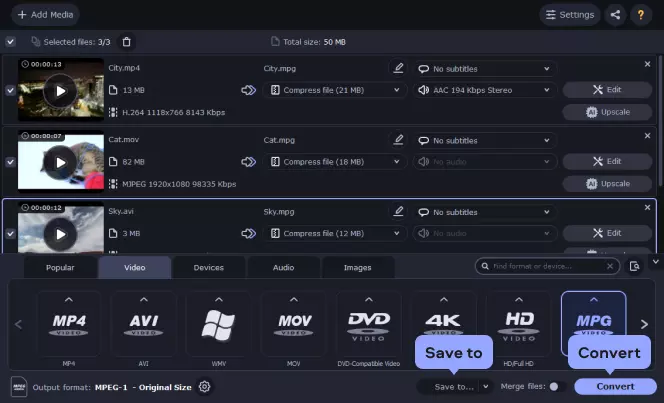 Now you know how to make sure your videos are compatible with tricky media players and applications. By using the Movavi software as an MP4-to-MPEG converter during the free trial period, you can change the format of your movies and clips with ease. Also, consider purchasing the full version of the program to enjoy its features without limitations. Transfer files between dozens of other formats and save your media for more than 200 mobile devices, including top-of-the-line models from Apple (iPhone, iPad), Samsung, Xiaomi, Huawei, Lenovo, and many more. Experiment with the essential editing tools. Make the most of your creativity and imagination!
MPEG vs. MP4: A comparison
Let's do a quick comparison of MPEG vs. MP4. Both formats are developed and standardized by the Moving Picture Experts Group. MPEG files are compressed with either MPEG-1 or MPEG-2 methods and generally used for storing videos on CDs and DVDs. In MP4 files, video is compressed with MPEG-4 and audio with AAC encoding; this format works best for sharing video content on the Web. See more details on MP4 vs. MPEG in the table below.
| Comparison parameter | MPEG | MP4 |
| --- | --- | --- |
| File extension | .mpg, .mpeg, and others | .mp4 |
| Video-encoding formats | MPEG-1, MPEG-2 | MPEG-4, H.264, H.265, and others |
| Audio-encoding formats | MP3 | MP3, AAC, AC-3, and others |
| Supported by | Windows-, macOS-, and Linux-based devices | Almost all Windows-, Linux-, Ubuntu-, and Android-based devices. Apple devices may experience problems with this format |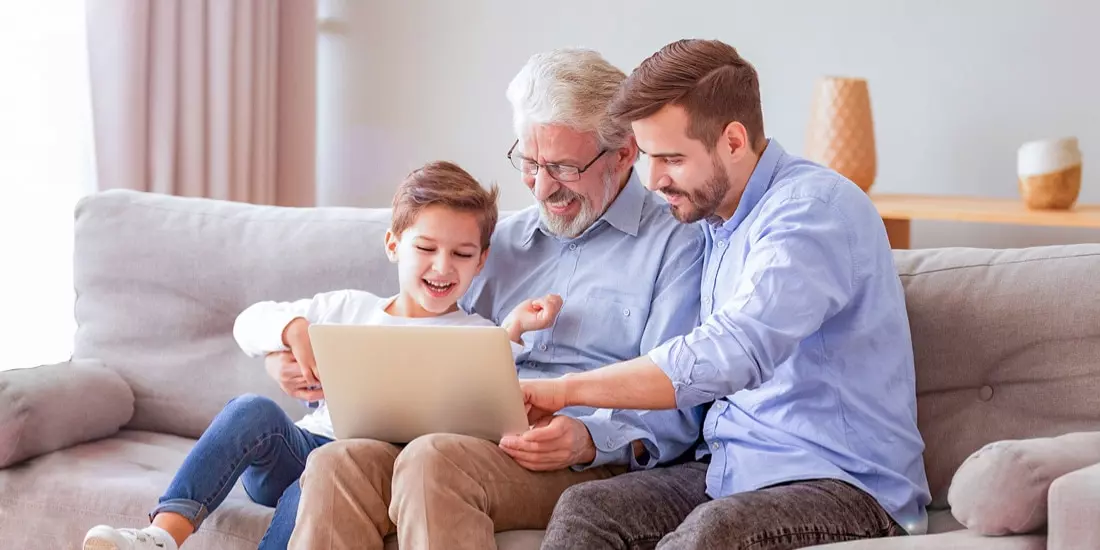 Movavi Video Converter
The ideal way to get your media in the format you need!
Frequently asked questions
What is the MPEG format?
MPEG is actually a family of video and audio compression standards developed by the Moving Picture Experts Group, which is where the standards got their name from. The first MPEG video format, MPEG-1, was introduced in 1993. Since then, several standards have been released, the most well-known of which are MPEG-2 and MPEG-4. The last one is widely used to play back video on the Web and mobile devices.
Is MPEG-4 the same as MP4?
Essentially, yes. MP4 originally stood for MPEG-4 Part 12, a standard that was directly based on Apple's QuickTime File Format. Now MP4 corresponds to a newer version of this standard, MPEG-4 Part 14.
Is MPEG better than MP4?
It depends on what you want to do with either MPEG or MP4 files. MP4 is better in the sense that it can store subtitles, still images, and other important data together with video and audio. It's also probably the most popular video format, recognized by nearly all multimedia players, systems, and other platforms. MPEG is good for storing videos on CDs and DVDs.
How do I play an MPEG file?
You can open MPEG files with many different applications on almost any platform. Double-click the file and let your system decide which app to use – iTunes, Windows Media Player, VLC, or another.
Can you play MPEG files on an iPhone?
Even though the iPhone recognizes MPEG-4 (MP4) files, it doesn't support MPEG-1 and MPEG-2 files. To open these files, convert them into MP4 using an app like Movavi Video Converter.
See other useful how-to guides
Sign up for news and special offers