How to Convert MP4 to AVI and Vice Versa
The MP4 format is becoming increasingly popular – it's the perfect format for playing movies on your desktop or laptop and for publishing online. But it can lead to problems if you want to use a DVD player as not all of them are compatible with MPEG-4. This problem can be quickly overcome by converting MP4 videos to a more appropriate format.
Here are some of the issues you may be familiar with.
Your device won't open the file
Most likely your device doesn't support this file type. Try converting the video to a more suitable format using Movavi Video Converter.
You work remotely
When working from home, you may experience storage space problems. Compressing your large video files can be a solution here.
There's no sound in the video
Either the video is too large, or the audio codec is incorrect. You can reduce the file size or change the codec with the Movavi converter.
AVI is a multimedia container format developed by Microsoft. AVI files can store both audio and video and support multiple streaming audio and video tracks. The filename extension is .avi.
MP4 or MPEG-4 is a multimedia container format used to store video and audio. It can also store subtitles and images and can be streamed over the Internet. The official extension for MPEG-4 is .mp4.
Below, we'll discuss some of the ways to convert MP4 files to AVI. To read the part that interests you, click the appropriate link.
How to Use Movavi's AVI-to-MP4 Converter
Movavi Video Converter is one of the fastest ways to change a file format, for example, to convert MP4 files to AVI. It can also do the reverse – convert AVI and other video formats to MP4 – just as easily as well as change the format of music and image files.
Download Movavi Video Converter and see how easy conversion can be!
Install the Video Converter
Open the installation file and install the program following the on-screen instructions. Movavi Video Converter has a simple and intuitive English interface, so you can easily use this software for the conversion of MP4 and other video processing needs!
Choose a File for Conversion
Click Add Media in the upper-left corner of the screen and select Add Video. Now choose the MP4 video that you want to convert to AVI. Movavi Video Converter supports the batch conversion of MP4 as well as other formats, so you can convert multiple files or even an entire folder in one pass!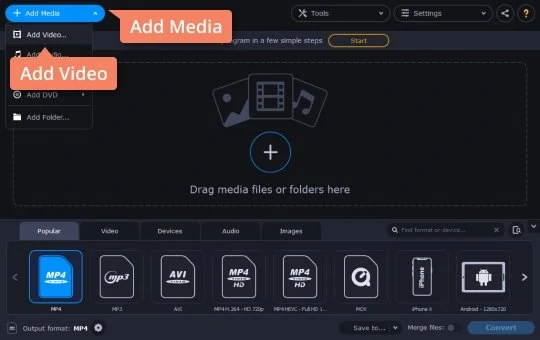 Edit Your Clips before Conversion (Optional)
To edit your videos before converting them, click the Edit button on the right in the file info section. A new window with multiple tabs will open.
Click Stabilization and experiment with the available tools to fix shaky-cam footage. Open the Audio tab to adjust the volume or remove background noise. Go to Adjustments if you want to alter contrast, saturation, brightness, and other parameters. Use the Effects tab to apply a variety of creative filters to your videos. In the Subtitles and Watermark tabs, you can insert subtitles or watermarks, respectively. You can also cut the edges of your video, rotate it, or trim away fragments you don't want in the appropriate tabs.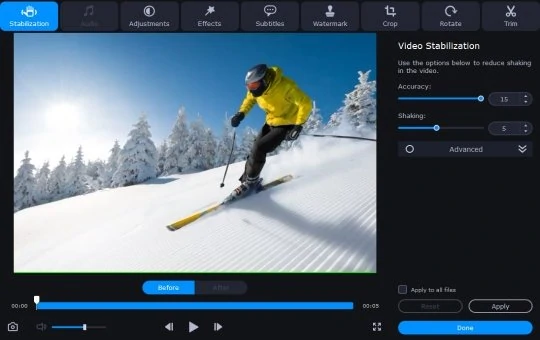 Compress MP4 Files (Optional)
You can also use Movavi Video Converter to compress large MP4 files that you want to export to AVI. To do that, just click on the size value of a file in the info section. In the opened dialog box, specify the size, bitrate, and quality. To check the quality of your end file, click the Convert sample button.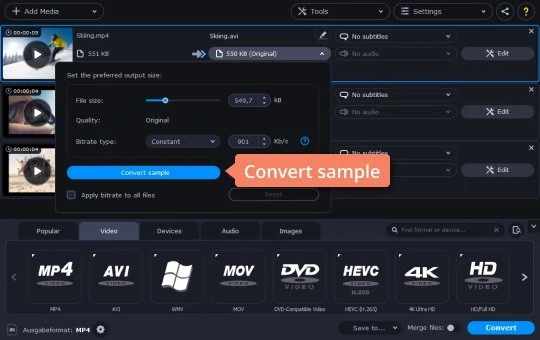 Choose a Format
Go to the Video tab, find the AVI group, and select the appropriate AVI preset for conversion. You can also convert AVI to MP4 or any other file format you wish.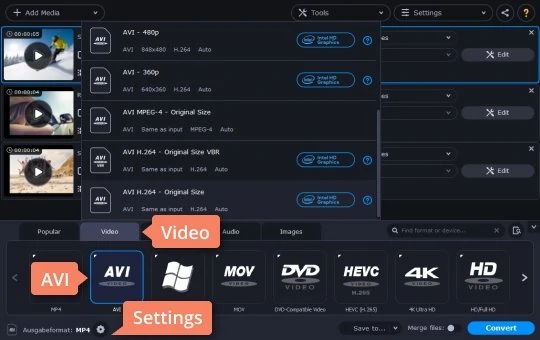 Choose an Output Folder and Convert AVI to MP4
Choose the folder in which you want to place the converted files by clicking the Save to button. Finally, click Convert to convert MP4 to AVI or AVI to MP4. The process can take anything from one to several minutes, depending on the file size and the number of files you transfer.
Movavi Video Converter: from MP4 to AVI and back with ease!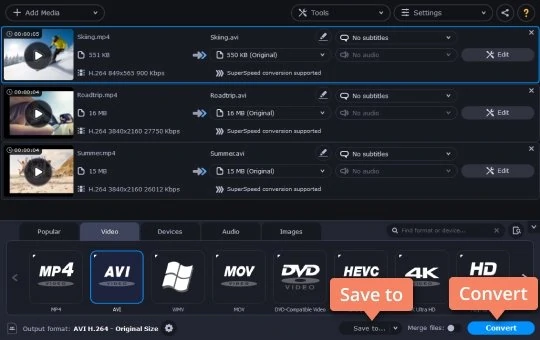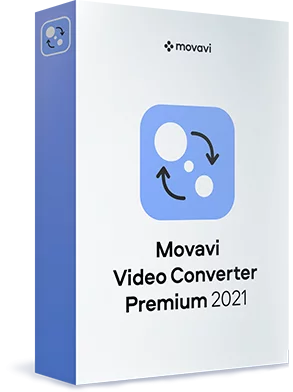 Movavi Video Converter
The ideal way to get your media in the format you need!
Convert video, audio, DVDs, and image files

Enjoy lightning-fast conversion without quality loss

Improve quality, adjust sound, trim and join files before converting

Save video and audio clips for easy mobile access
Differences between Desktop and Online Converters
Online Video Converter
Long-time wait
Limited file size
Popular formats supported
Slow conversion speed
Movavi Video Converter
0-second wait
No size limits
180+ formats, presets for 200+ devices
Fast conversion
Online user support
How to Convert AVI to MP4 Online
Go to the Website
To convert MP4 to AVI and back online, follow the link below.
Upload Your File
Click Add Your Media and select the file you want to convert.
The service has limitations – you can only convert one file at a time.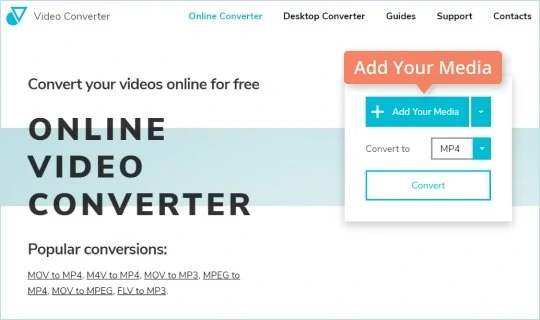 Convert Your Video
Hit the Convert button. When the conversion process is finished, you can download the new file to your computer.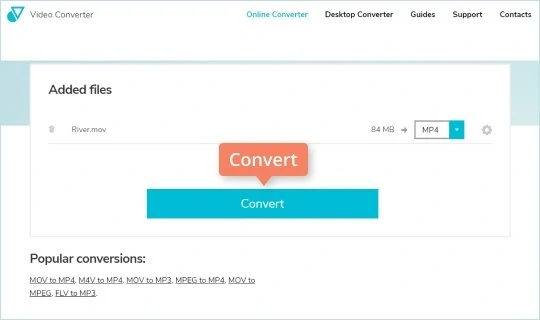 How to Convert Videos with an AVI-to-MP4 Converter That's Free
You could also use an alternative converter that's free, for example, the VLC media player, but there are some downsides. VLC cannot convert large files and isn't particularly fast. In spite of that, it functions well enough for a free program, so you can easily convert AVI to MP4 for free.
Download the appropriate version of VLC
After the download process is complete, install the program. Then go to the upper-left corner of the interface and click Media > Convert / Save. Click Add to upload the files you want to convert and then click Convert / Save. In the dialog box, select MP4 as the output format. Choose the destination folder and enter the name of the file. When everything is ready, hit Start.
MP4 vs. AVI – Comparing Formats
| Comparison Parameter | AVI | MP4 |
| --- | --- | --- |
| File extension | .avi | .mp4 |
| Video-encoding formats | H.263, VC-1, MPEG-1, MPEG-2, MPEG-4, others | H.264, H.265, MPEG-2 Part 2, MPEG-4 ASP, H.263, VC-1, Dirac, others |
| Audio-encoding formats | AAC, WMA, MP3, FLAC, AMR, others | AAC, MP3, AC-3, Apple Lossless, ALS, SLS, others |
| Device and OS compatibility | All Windows-based devices, Mac OS X, Linux | Compatible with almost all devices and operating systems |
Frequently Asked Questions
Which Format Offers Better Quality: MP4 or AVI?
MP4 and AVI are both container formats – wrappers for video, audio, and other streams. The quality of a file depends on the codec that the video stream was compressed with. Both containers can hold video compressed with older codecs like MPEG-4 as well as newer ones like H.264. More recent codecs provide better video quality with the same file size, so it is better to pay attention to the codec than the format.
Is AVI a Good Video Format?
Both MP4 and AVI are popular video formats. However, many mobile devices don't support AVI, while MP4 is a default format for iPhone, iPad, and many other devices. So, if you want to transfer videos to your phone, it's better to choose MP4. But if you only want to watch your videos on a PC, you can keep them in AVI.
How to Convert Multiple AVI Files to MP4?
Use appropriate software, such as Movavi Video Converter – it lets you convert batches of video files in one pass.
How Can I Play AVI Files?
Just download a media player that is compatible with this format – for example, VLC.
How Do I Convert AVI to MP4 on a Mac?
You'll find all the information you need in our guide.
See Other Useful How-to Guides