Download

Download

the program
Get ready to start recording
Record your podcast
Edit your recording
Save the result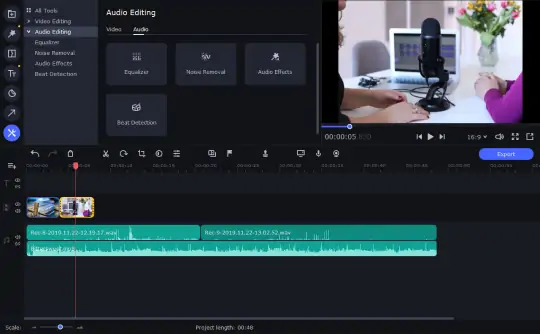 Recording a Podcast Guide
If you've ever wondered how to become a podcaster, here's a beginner's guide for you.
How to build a podcast: building a podcast needs to be well-planned. Think of what you're going to talk about. To begin with, find an interesting topic that you want to cover and develop it. Then, organize the recording equipment and software. You will definitely need a computer and a microphone. You can use the Movavi Academic app to create and edit your audio.
Start practicing podcasting for beginners with our program. It has all the essential tools for recording and editing a podcast. Read this article about how to record a podcast and get started with your first recording.
Step 1.

Download the Program

Downloaddownload Movavi Academic to your PC or Mac. Install the program following the installation instructions. The process will take just a couple of minutes.
Step 2.

Get Ready to Start Recording

In the welcome window, choose Create Video to continue. Click the Record Audio button to adjust the recording settings. Select the microphone you want to use in the Audio device list. You can also change the Volume for your recording.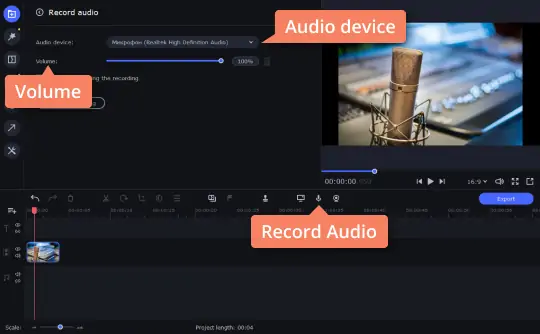 Step 3.

Record a Podcast

When you are ready for recording a podcast, click the Start Recording button. Click Stop Recording when you are finished talking. You can continue capturing sound any time by clicking the Start Recording button again. Your recordings will appear on the Audio Track.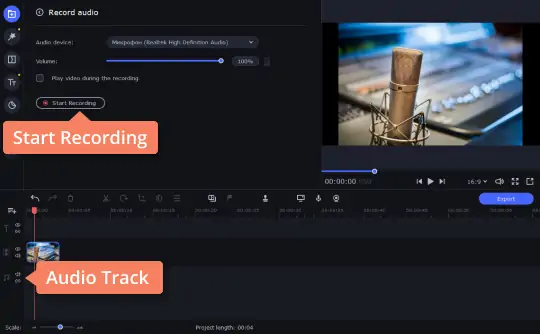 Step 4.

Edit Your Recording

Double-click on the recording to edit it. You can change the Volume and Speed of the audio. Click the More tab to use extra editing features. Use the Noise Removal option to get rid of unwanted sounds captured by the microphone. Apply Audio Effects like Echo, High pitch, or Radio to liven things up.

To trim the selected audio, place a red marker where you want to make a cut and click the Split button. Reposition or delete the cut-out sections of the recording.

You can also add background music to your podcast. Just drag the music file from a folder on your computer to the Timeline.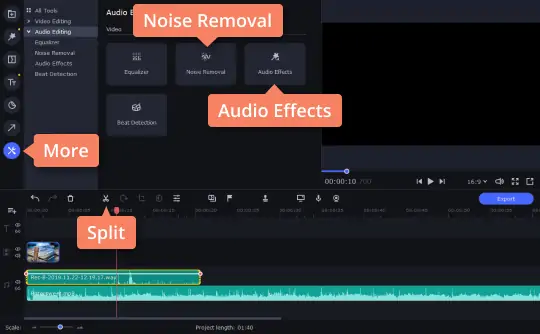 Step 5.

Save the Result

Click the Export button when you are done editing the podcast. In the Save Audio File tab, choose the format for your recording. Then, select the file name and the folder to save your project in. Click Start. Wait a couple of minutes while your video is saved.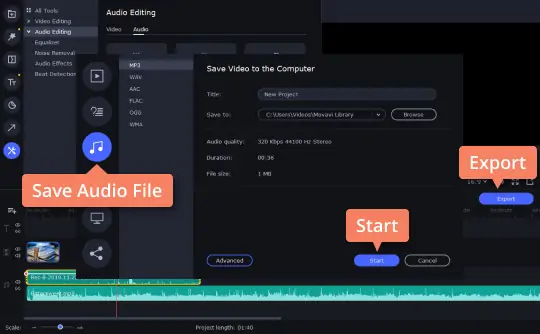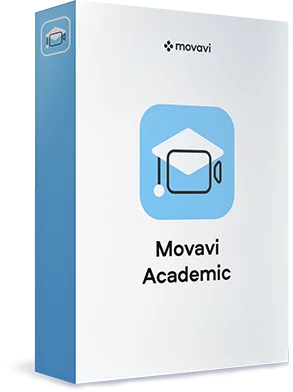 Movavi Academic
Enhance the learning experience
Explain new topics through video

Record lectures and webinars

Create online training courses

Design engaging classroom projects