How to Record Video on Your MacBook
Looking to save a live broadcast, your favorite music video, or a webcam chat with a friend right on your MacBook, but not sure which software to choose? Recording video can be easy and fun if you have a handy tool by your side like Movavi Screen Capture Studio for Mac OS! This multifunctional app can capture screen activity and audio streams, record your voice and video calls, edit and convert recorded files, and much more. At the same time, it is incredibly simple to use, even for first-time video recorders, which is why we believe it's the best choice for MacBook screen capture.
With this simple guide, you will learn how to record video on MacBook Pro and MacBook Air using Movavi Screen Capture Studio.
Step 1: Download and Install Screen Capture Studio
Download the program, open the installation file, and follow the instructions. It will take just a couple of minutes.
Step 2: Set Capturing Parameters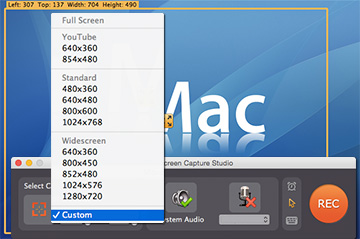 When you launch the program, you'll see a yellow recording frame. Adjust it to the required size by pulling on its edges and move it to any position on the screen, or use one of the presets on the Select Capture Area menu.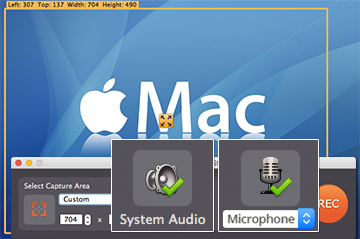 Now check the two big icons which show a speaker and a microphone. A green checkmark indicates which sound device will be used for the recording. You can grab audio from speakers and a microphone simultaneously or separately. Just click the necessary icon to turn the option on/off. If you plan to use an input device, select the name from the list under the microphone icon.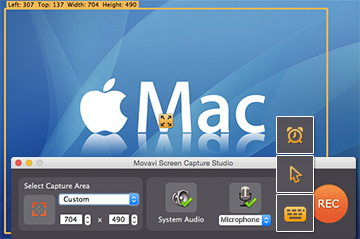 If you want the program to capture keyboard and mouse actions as well as regular sound, click the appropriate icons – they'll turn yellow when activated. You can also set the duration of the recording by clicking the clock icon – Screen Capture Studio will stop capturing automatically, so you don't need to track the whole process yourself.
Step 3: Record the Video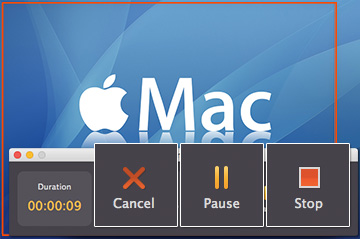 When all the parameters are set, click REC; the program will start recording your video. You can control the process by clicking Pause/Resume to take breaks, Stop to finish and save, or Cancel to stop without saving. You can also use hotkeys: ⌥ ⌘ 1 to pause/resume the recording and ⌥ ⌘ 2 to stop it. To take a screenshot, press ⌥ ⌘ 3.
Step 4: Edit the Recording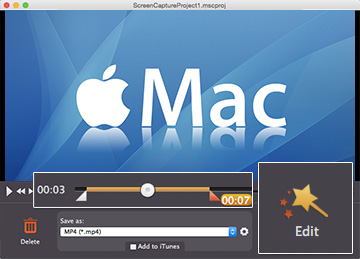 After clicking Stop, you'll see a preview window where you can review your video and trim any unnecessary material from the beginning and/or end. To do this, drag the triangle markers on the seek bar to the appropriate positions. If you want to make further adjustments to your file, click Edit to launch the Video Editor app.
Unleash your creativity and start editing: add music, apply transitions, trim and split the video, and much more. You can also use the Magic Enhance filter to improve the quality and appearance of your recording.
Step 5: Save the Video
In Video Editor, click Export and choose the appropriate tab to save your file as video or audio, format it for watching on a mobile device, or prepare it for uploading to the web. Adjust the settings as necessary, click Start and wait for a few minutes.
If you didn't open the Video Editor app, you can save your file from the Screen Capture Studio preview window by opening the Save as menu and clicking Video and audio formats. Choose the format you need and click Save. Wait until the program finishes converting. Your video is ready!
See what else Movavi Screen Capture Studio for Mac can do for you:
Disclaimer: Please be aware that Movavi Screen Capture Studio does not allow the capture of copy-protected video and audio.
Movavi Screen Capture Studio for Mac
Capture screencasts, online video
Record sound from any device
Capture the keyboard and mouse actions
Edit your footage in the built-in video editor
Save video in popular formats
Download
Software Trusted in 150 Countries
Movavi has been developing video processing software since 2004. Our programs are trusted in 150 countries including the US, Japan, and Europe. We guarantee high quality of our software and safety of payments on our website.
Email us
Knowledge Base
Subscribe on YouTube
Watch video tutorials on the Movavi's official channel:
Movavi Official