How to Enhance a Photo
Enhancing an old photo, sharpening a blurry image, or brightening up a picture can be a real pain in the neck unless you have a powerful picture enhancer like Movavi Photo Editor. With its help, you'll be able to adjust various aspects of your images (brightness, contrast, sharpness, etc.) and improve quality in your photos with just one click.
Just drag the slider below to see how Movavi Photo Editor can digitally enhance your photos
With Movavi Photo Editor, image enhancement and photo repair are easy to do at any skill level. The program interface is so simple that even a beginner can easily improve any photo. All you need to do is download the appropriate installation file and read the following guide, which works for both the Windows and Mac versions of the program.
Install the Software
Open the downloaded file and follow the on-screen instructions to install the photo quality enhancer. After the installation, launch Movavi Photo Editor by double-clicking the program icon.
Upload Pictures to Image Enhancer
Click Browse for Images and choose a photo for enhancing. Alternatively, drag and drop the image file onto the program window.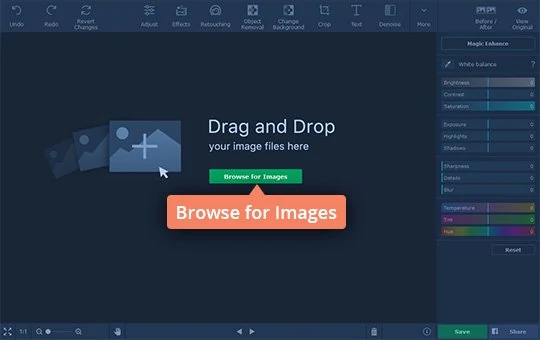 Enhance a Photo
In the Adjust tab, you can apply automatic contrast and brightness correction or manually adjust the image parameters as you wish. For auto enhancement, click the Magic Enhance button. By doing this, you will instantly make the colors in a pic more vivid and saturated. To adjust the image settings manually, drag the sliders below or specify the exact value of the parameters in the respective fields on the right side of each slider bar.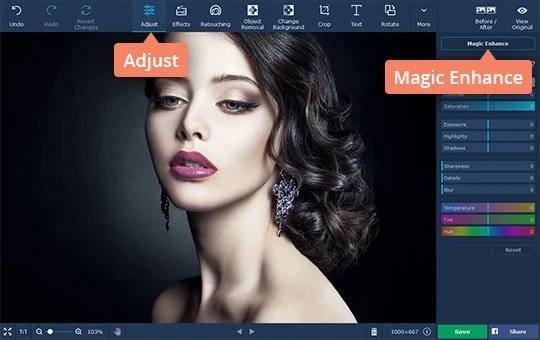 Manual adjustment can be useful in many different instances. For example, if you enhance resolution of a picture (say, from 640 × 480 to 960 × 720 pixels), it may get blurry. Sharpness will help you fix this and make the picture much clearer. Drag the Details slider to the right to emphasize textures. With the help of Exposure, you can adjust the light intensity in a picture to rescue under- or overexposed photos. Try changing different image parameters until you achieve the desired result.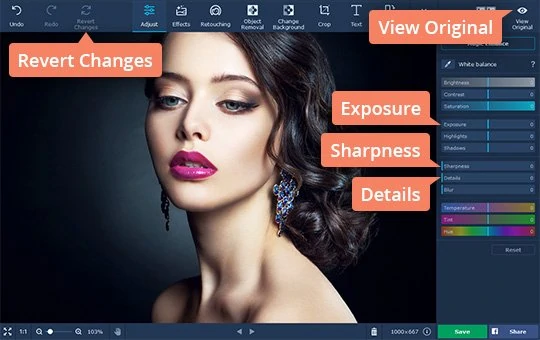 To compare the edited photo with the original, hold down the View Original button. If you want to cancel the changes in a photo, hit Revert Changes.
Save Enhanced Photo
Press the Save button in the lower right corner of the interface, choose a folder, and save your image in the format that fits your needs best.
Congratulations! You've just learned how to enhance a digital photo and taken one more step to becoming a photography expert!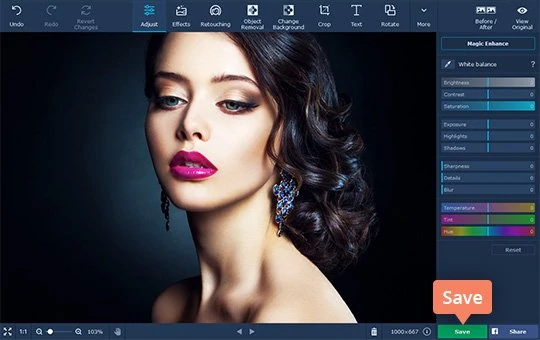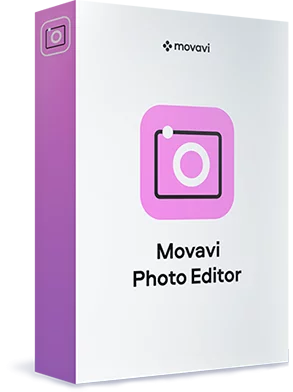 Movavi Photo Editor
The easiest way to turn any snapshot into an eye candy
Improve quality and retouch blemishes

Add effects and filters

Crop, straighten, and flip pictures

Change image backgrounds and remove objects
See Other Useful How-to Guides