How to Make Explainer Videos
A good explainer video can be an important element of your marketing strategy. It may have different definitions, but its main purpose is always the same: to demonstrate the value of your offering clearly and concisely. Most often, explainer videos are shown on YouTube channels and landing pages, and you can sometimes encounter them in marketing emails too.
Today, people are consuming more video content than ever. So a good explainer video is a must-have for any company – from startups to top global corporations. Want cool DIY explainer videos that will grab your audience's attention? We recommend you use Movavi Business Suite – this app has all the tools you need to create amazing marketing videos. Read our tips and step-by-step guide below to learn how to make great explainer videos for your offerings.
How to Make Explainer Videos: Useful Tips
Think carefully about what you want your audience to do after watching your video. You may want them to buy your product, sign up for your service, visit your website, create an account, or something else. Disciplined goal-setting is essential to help you convey the right message in your video.
Your video won't meet its goal without the right audience. Determine the target ages, genders, jobs, locations, and other important characteristics, then make sure your video is appropriate for your target audience type.
Writing a solid script is a crucial task for every explainer video maker. First, present a brief overview of your offering. Second, describe the problem your solution is designed to solve and show how you solve that problem; this enables your audience to relate directly to your offering. Finally, include a call to action: encourage people to subscribe to your channel, download a free trial, visit your website, or other action you can use to capture their information. Try to use simple terms and clear concepts – don't overload your video with dense facts and numbers.
A 30- to 90-second explainer video is enough to give a customer all the information they need to go to the next step without boring them. Shorter videos (up to 60 seconds) are best for YouTube and Instagram, while longer ones (from 60 to 90 seconds) are fine for inclusion on a landing page or in an email.
Making Explainer Videos Using Movavi Software
Install Movavi Business Suite
Download and install Movavi Business Suite to your computer. When the installation is finished, run the program and click Record computer screen in the start-up dialog.
Record Screencast (Optional)
In this step, you'll learn how to record a screencast for your explainer video using Movavi Business Suite. If you're only using ready-made materials, go to step 3.
Launch the software or go to the site for the service that you want to show in the screencast. Now draw the capture area. If you want to record sound, be sure to enable the System Audio icon. To record a voiceover as well, enable the Microphone icon and select the appropriate device from the drop-down menu. You can also record a voiceover at any time later. Hit Start recording to start recording and Stop to finish.
Add Media Files to the Program
Select Edit video in the start-up dialog. Click Add Files and select the files you want to use in your explainer video. You can also manually drag them onto the timeline.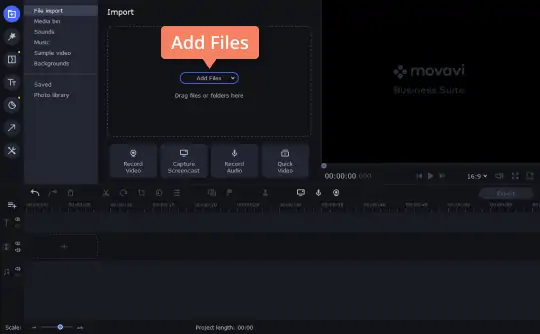 Organize the Files, Add Explanatory Elements
You can organize the files you've added however you want: change the order on the timeline, cut and move them around, remove excess footage. To trim a video or audio clip, select it and move the marker to the point where you want to make the cut. Click Split (the scissors icon). Do this again to make other cuts. To delete an unwanted segment, select it and click Delete (the trash can icon).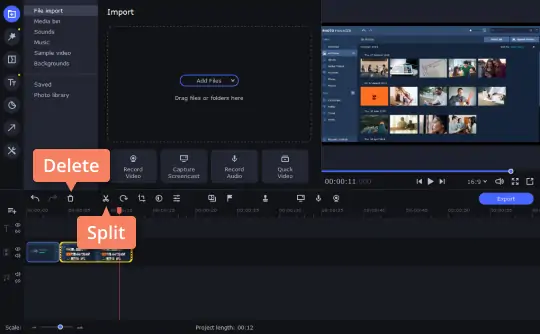 To highlight the most important information in your video, you can add titles, callouts, and other explanatory elements. What is more, you can add funny stickers to liven up the video. Open the appropriate tab on the left panel and drag the desired element onto the clip. To adjust the element, double-click it on the timeline and edit it in the preview window, then click Apply to save the changes.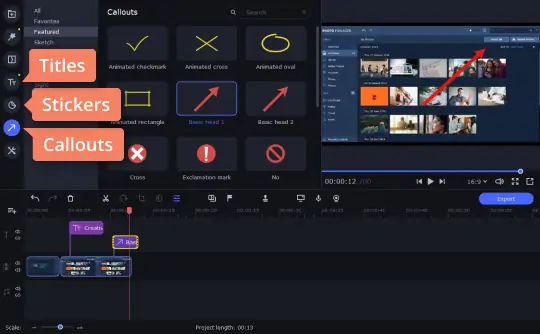 Add Your Voiceover
If you want to record a voiceover separately, click the Import tab. Click Record Audio (the microphone icon), select your recording device from the list, adjust the audio quality and volume if necessary, and click Start Recording. The recorded audio will automatically appear on the timeline.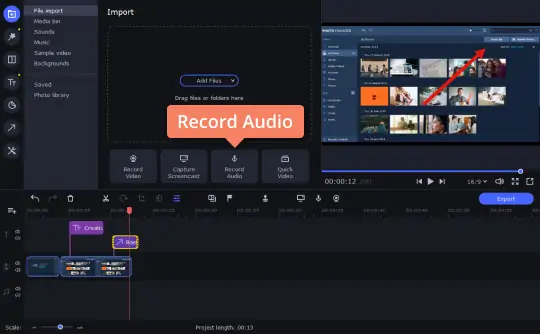 Save the Result
Click Export when you're ready to save your explainer video. Now choose the desired output format and adjust other settings if you need to. Click Start and wait for a couple of minutes.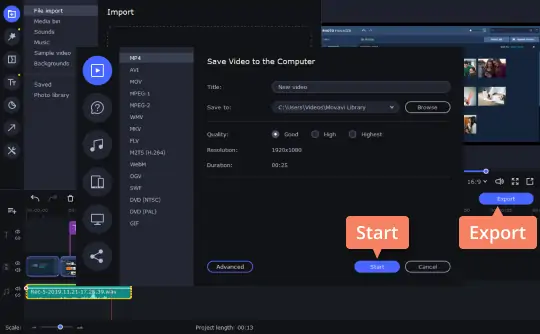 Now you know how to make explainer videos – it's not as hard as it might seem. We recommend you use Movavi Business Suite – powerful and easy-to-use explainer video software that will help you make first-rate marketing videos.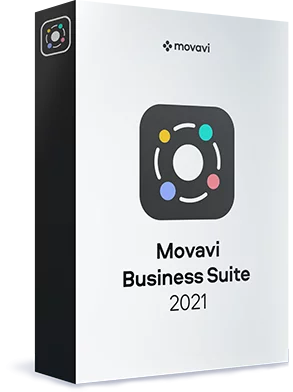 Movavi Business Suite
Ramp up your business productivity
Create tutorial, marketing, and commercial videos

Convert multimedia files to any popular format

Capture screens for demo videos and job interviews

Share videos using Movavi Cloud