How to Add a Background to a Video
When editing a self-made movie, you sometimes need to replace or edit the background, usually to make the video more appealing. But you also might want to add a background to a video for practical reasons: when you need your video to fit a particular size, or if you want to disguise the poor quality of a video by making it smaller. It is also an option when you want to create a small preview of a video. But is there a video background change editor for that?
No need to look for a separate program. Movavi Video Editor can be used as a background changer for videos, but it can also do much more.
Here is a five-step guide to how to change video background without a lot of effort.
Install Movavi Video Editor
Download and launch the setup file for Movavi Video Editor. Follow the on-screen instructions during the installation process. The program will open when the setup is complete.
Import Your Video Files
Select New Project on the start screen in Movavi Video Edito Plus. Then click Add Media Files and choose the video that needs editing. Or, you can simply drag the file into the timeline area.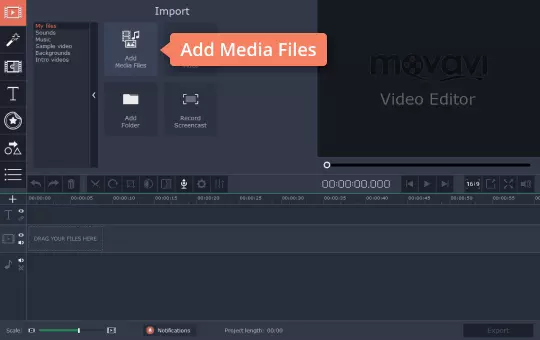 Add a Background
To change a video background, open the Backgrounds tab and select a picture. Drag it into the timeline area.
Create an additional video track by clicking the Add icon. Then click Add Video Track and move your video to the track that appears. Adjust the duration the background is displayed by dragging the right edge of the image so that it aligns with the right edge of the video track.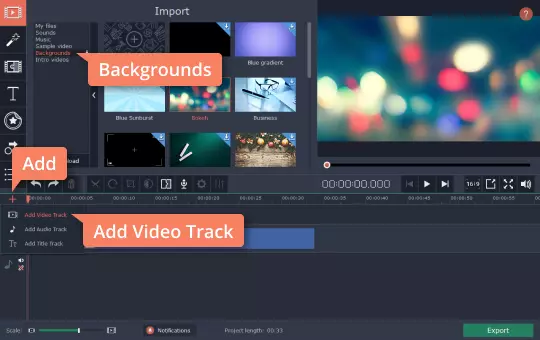 Customize Your Video
Click on the video track, then on the Properties icon. There, select the Picture in picture option. Adjust the size and location of the video on the background. Once you're happy, click Apply to change the video background.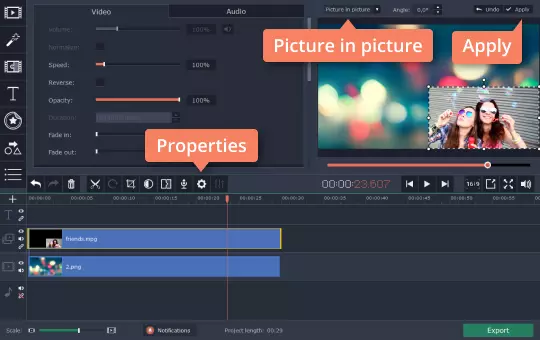 Export Your Video
To save the result, click the Export button. Choose the video format, quality, and folder, then click Start. When the video has been successfully saved, it will appear in the specified folder.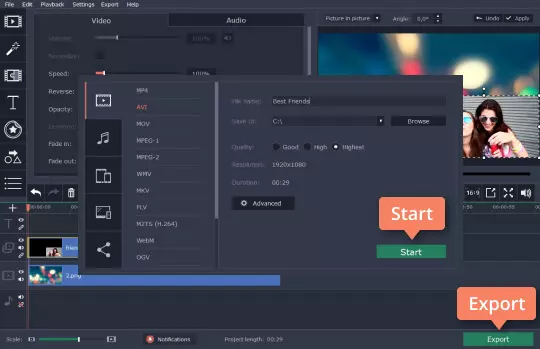 Now you know how to add a background to a video. Obviously, Movavi Video Editor is more than just a background changer. It can perform many other functions, so feel free to use this app to enhance your videos and add many different effects.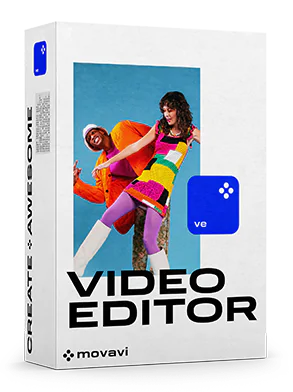 Movavi Video Editor
Your next step in video-making
Edit video clips, images, and audio on a timeline

Add transitions, filters, titles, and stickers

Animate objects using keyframes, use more built-in media

Export videos in any popular format
*The trial version of Movavi Video Editor may have the following restrictions depending on the build: a 7-day trial period, watermark on exported clips, 60-second video or 1/2 audio length limit, and/or some advanced features unavailable when exporting videos. Learn more