How to Brighten a Video
Lighting is the key to high-quality video. But when you record a video, you often don't have enough time or the right equipment to get the lighting right. As a result, your video may come out dark. Luckily, there is an easy way to make it brighter and clearer. All you need is the right video brightness editor. Learn how to brighten a video with Movavi Video Editor – simple and easy-to-use video editing software that will enhance video quality.
If you want to know how to make a video brighter, download Movavi Video Editor for Windows or Mac and follow the guidelines below.
How to brighten a video with Movavi Video Editor?
Download and Install Movavi Video Editor
Download Movavi Video Editor to your computer. Then open the downloaded file and follow the on-screen prompts to install the program.
Add a Video Clip You Want to Brighten Up
Launch the video lighting editor and choose Create a project in full-feature mode. Then click Add Media Files and choose the video you want to lighten up.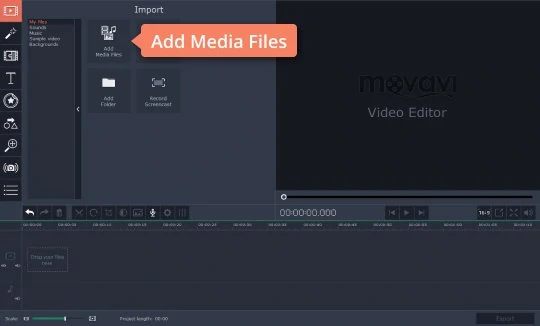 Adjust Video Brightness
Click Color Adjustments to start editing the video automatically or manually. For instance, use the Magic Enhance tool to improve brightness and contrast of the video automatically.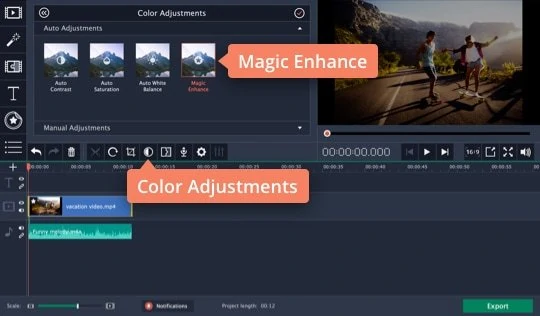 To make the video lighter manually, open the Manual Adjustments tab. Move the Brightness slider to the right to increase brightness. Besides adjusting brightness, try moving the Highlights and Shadows sliders to add light to a dark video.
In the Manual Adjustments tab, you can also fix the color temperature of your video, darken it or adjust the color saturation.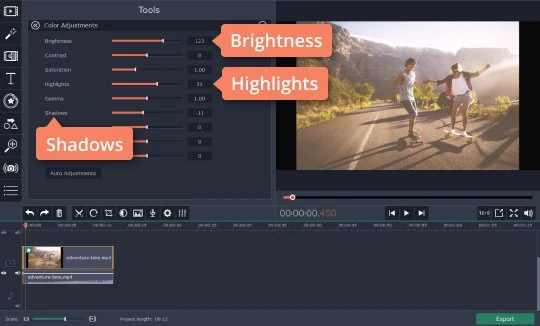 Save the Edited Video
Click the Export button and select the appropriate option: choose the output format, pick a ready-made preset for your mobile device, or upload your video directly to the Web. Then select the folder and a name for your video file. Click Start to save the video.
Now you know how to lighten a video in a few simple steps! With Movavi Video Editor, you can easily edit and brighten dark videos.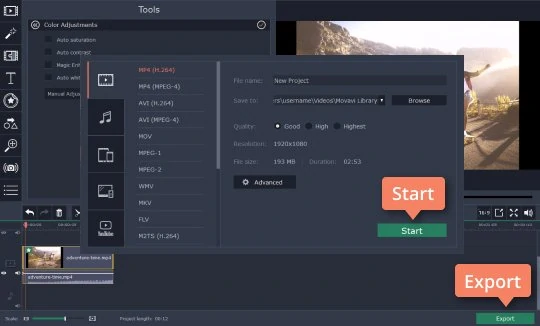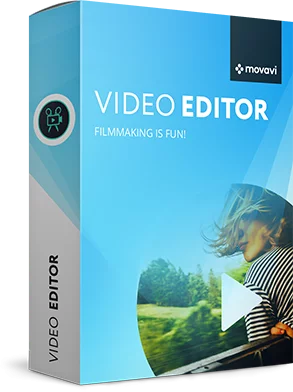 Movavi Video Editor
Creating videos has never been so easy!
Edit video clips, images, and audio on a timeline

Add transitions, filters, titles, and callouts

Use special effects like Chroma Key and Slo Mo

Export videos in any popular format
* The free version of Movavi Video Editor has the following restrictions: 7-day trial period, watermark on the output videos, and, if you're saving a project as an audio file, an ability to save only half the audio length. Learn more
Frequently Asked Questions
💻 How Do I Adjust a Video?
You can enhance the quality of your footage with Movavi Video Editor. With this program, you can adjust the most important aspects of your video, including contrast, brightness, saturation, temperature, and much more. Read the article below to learn how to tweak your video like a pro, even if you've never done it before.
🧾 How Do I Fix a Dark Video?
In our article about ways to brighten a video, we explain how to fix dark footage using Movavi Video Editor. Read our instructions to learn how to adjust the lighting in your clip.
In addition to brightness, you can also adjust other characteristics that influence the lighting in your video, such as contrast, highlights, and shadows. By tweaking these settings, you can make your footage look brighter.
See Other Useful How-to Guides