Top 12: Best 2D Animation Software (Download Some for Free!)
If you are looking for the best 2D animation software, you came to the right place. We've compiled a list of the best 2D animation software currently available, for both beginners and professionals, to lead you through the process of choosing the right one. Whether you want to get started in the animation world or just want to try a different software program, you will find the one that best fits your needs on our list.
Top Picks
| Program Name | Price | OS | Level |
| --- | --- | --- | --- |
| Stop Motion Studio | $4.99 (Android, iOS), $9.99 (MacOS, Windows) | Android, iOS, macOS, Windows | Beginners |
| Moho Pro (Anime Studio Pro) | $399.99 (30-day free trial) | macOS, Windows | Beginners |
| Adobe® Animate® | $20.99/mo. (free trial) | macOS, Windows | Professionals |
| Toon Boom Harmony | $17/mo. (Essentials), $41/mo. (Advanced), $78/mo. (Premium) | Linux, macOS, Windows | Professionals |
| CelAction2D | $71/mo. (Studio Edition), $709 (Professional Edition) | Windows | Professionals |
Best 2D Animation Software for Beginners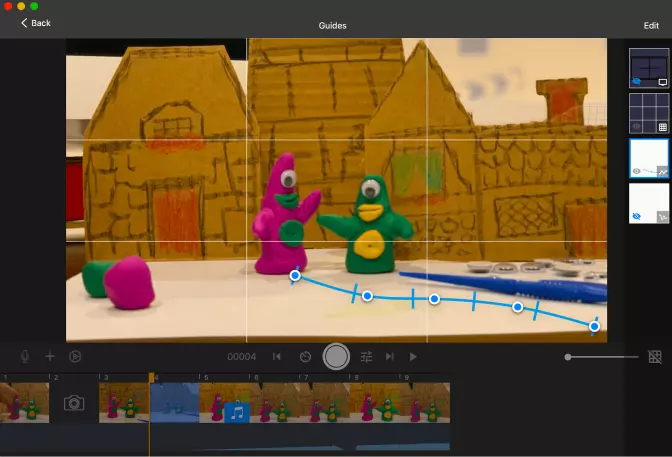 Price: $4.99 (Android, iOS), $9.99 (MacOS, Windows)
OS: Android, iOS, macOS, Windows
Level: Beginners
You've seen stop motion animation; it's the frame-by-frame Claymation-type animation seen in LEGO videos and Aardman Animations shorts and movies. Stop Motion Studio is an easy-to-use program that allows you to quickly and easily create beautiful stop-motion animations, without any previous knowledge. You can plug in your DSLR and take pictures directly into the program, letting the software take full control of all the settings in the camera as you shoot frame-by-frame. You can also add text, themes, colors, drawings, and green screen backgrounds to your stop motion animation.
Stop motion animation development is easy with Stop Motion Studio. Just gather your LEGO or clay figures and start shooting! The program is available for Mac and Windows computers and Android and iOS phones and tablets. It's also one of the more affordable options out there.
Key Features:
Works with most digital cameras or your phone/tablet camera
Green screen backgrounds
Add facial expressions to LEGO animated figures
Pros:

Perfect for making LEGO and Claymation videos
Easy sharing to YouTube
Great for kids

Cons:

Stop motion animation only, not full animation
Some features require in-app purchases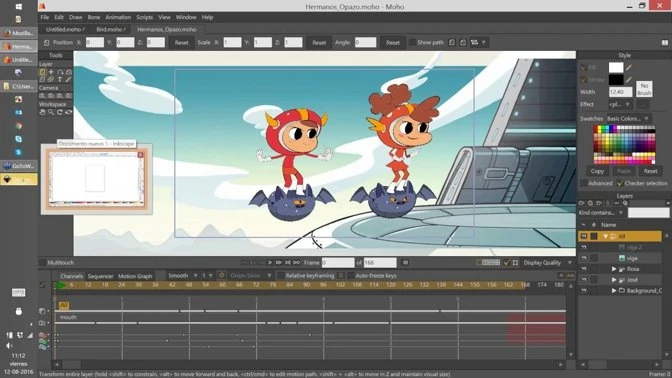 Price: $399.99 (30-day free trial)
OS: macOS, Windows
Level: Beginners
Moho Pro, formerly known as Anime Studio Pro, is a good program for getting started with 2D animation. It's one of the easiest programs for beginners to use but includes a wealth of advanced features for professional use. One of these features is called Smart Bones, which helps to reduce or completely remove any distortion around elbows, knees, or any moving joints on a character. This tool simplifies some processes that can take much longer to perform in other programs. Moho Pro is a good choice if you want to learn animation, and you can give it a try for free with its free trial.
Key Features:
Powerful 2D rigging system
Integrated lip-synching
Realistic motion blur
Pros:

Intuitive interface
Smart Bones for realistic character movement
Supports drawing tablets

Cons:

Expensive
Some features are hard to master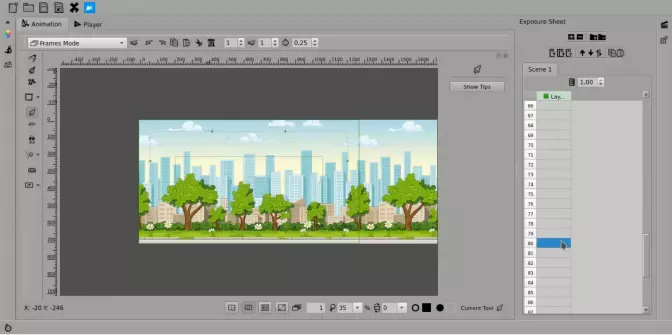 Price: Free
OS: Android, Linux, macOS, Windows
Level: Beginners
TupiTube is one of the best free 2D animation software for beginners. It was created by two animators to encourage the animation industry in Latin America. It's free and open-source, so you can download it to see if you like it. It's designed for kids and amateurs and has a simple interface that's easy to learn.
TupiTube allows you to create an animation frame by frame and cut-out Flash-style with tweening. The TubiTube community is growing every day, so you can find a lot of video tutorials to learn the basics of the software. The TupiTube app is available to download for Windows, Mac, and Linux computers, as well as Android mobile devices.
Key Features:
Character animation
Image library
Sound synchronization
Pros:

Easy-to- use interface
Perfect for kids and teens
Free

Cons:

Not as polished as other animation software
No iOS version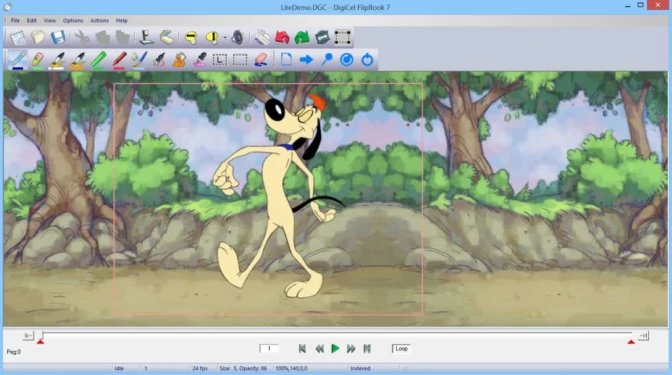 Price: $98 (Lite), $298 (Studio), $798 (ProHD)
OS: macOS, Windows
Level: Beginners
FlipBook is an animation software for artists. If you enjoy drawing and you've always wanted to create your own Disney-like cartoon, this software will suit you well. FlipBook allows you to import pictures from your scanner or other sources. You can also import illustrations directly from a drawing tablet. Animation is manual, so there's no fancy bones or similar functionality. It's definitely an old-school approach, but if that's the way you roll, FlipBook is the software for you.
Key Features:
Scan or draw directly to the program
Import soundtracks or lip-sync voice tracks
Pan, zoom, rotate, blur, and dissolve
Pros:

Perfect for traditional hand-drawn animation
Can work with scans or drawings
Compatible with most drawing tablets

Cons:

Traditional animation only
Few automated features
Best 2D Animation Programs for Professionals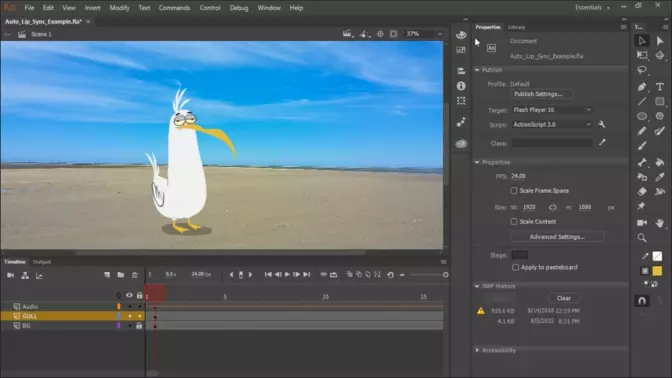 Price: $20.99/mo. (free trial)
OS: macOS, Windows
Level: Professional
Adobe® Animate®, previously known as Adobe® Flash®, offers pro-level drawing and animation tools, including animation paths and bones. The built-in virtual camera lets you imitate realistic camera movement, along with pans, zooms, and rotating. While it includes no audio editing tools, it does let you sync imported audios on the animation timeline.
Adobe® Animate® is powerful 2D animation software, although you need to use it with Adobe® Illustrator® and Photoshop® to get the most functionality. At just $20.99/month subscription, it's also affordable.
Key Features:
Bone-based animation
Virtual camera functionality
Key frames
Pros:

Tutorials for both beginners and experienced users
Integrates with other Adobe software, including Illustrator and Photoshop
Save clips in AVI and MP4 formats, including 4K

Cons:

No audio editing tools
No direct uploading to YouTube or Facebook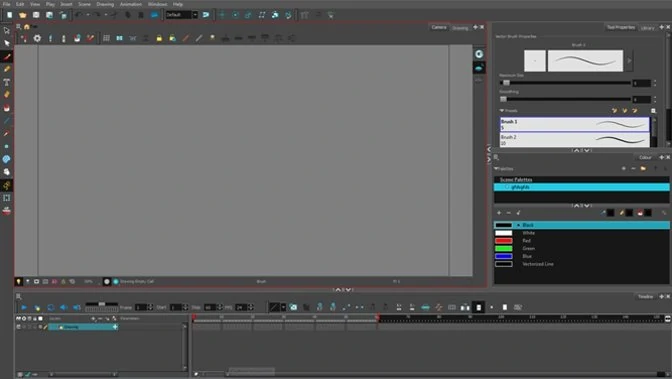 Price: $17/mo. (Essentials), $41/mo. (Advanced), $78/mo. (Premium)
OS: Linux, macOS, Windows
Level: Professional
Toon Boom Harmony is Emmy-winning 2D animation software that's used by both beginners and professionals. It's the industry-leading 2D animation program, used by the pro animators at Disney, Pixar, and Warner Bros. for projects like Family Guy, Teen Titans Go!, and Disney's The Lion Guard.
The number of tools and options available in Toon Boom makes it one of the best 2D animation programs available today. It offers a full range of properties for pencils and brushes, so you can draw directly into the program with your mouse or your Wacom tablet. The program enables you to use traditional frame-by-frame animation or the cut-out. Other available features include camera angles, post-production special effects, and vector drawing. It also has an incredible lip-syncing feature to match the voice with the animations. It's available in three different versions: Essentials (for students and hobbyists), Advanced (for professionals), and Premium (for most advanced users).
Key Features:
Wide variety of pro-level tools
Lighting and shading options for realistic depth and volume
4K camera resolution
Pros:

Used by professional animators at Disney and Pixar
Loads of great features for beginners and professionals
Characters' movement looks natural

Cons:

Uses significant system resources
May be too expensive for hobbyists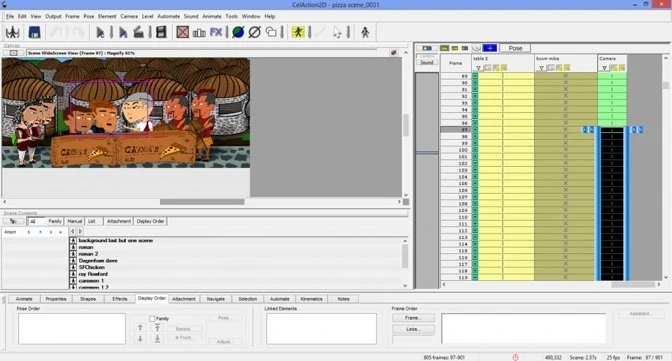 Price: $71/mo. (Studio Edition), $709 (Professional Edition)
OS: Windows
Level: Professional
CelAction2D is another program used by a large number of animation studios and professionals for Disney-like animation. Powerful but easy to learn, this animation program offers a wide range of options that can make the learning process a little bit easier. You can use vector and bitmaps simultaneously, customize your workspace, and create both simple and massively complex projects. It's ideal if you want to import hand-drawn illustrations. You can rig character models to skeleton frames, which can then be stored and easily reused. CelAction2D is designed to run on just about any Windows PC but can run on Intel-based Macs using Boot Camp and similar tools.
Key Features:
Advanced synching technology
Real-time animation preview
60+ special effects
Pros:

Produces hand-drawn animation quality
Bitmap and vector drawing
Doesn't need many computer resources

Cons:

No native Mac version
The price for a lifetime license is the highest compared to other programs from this list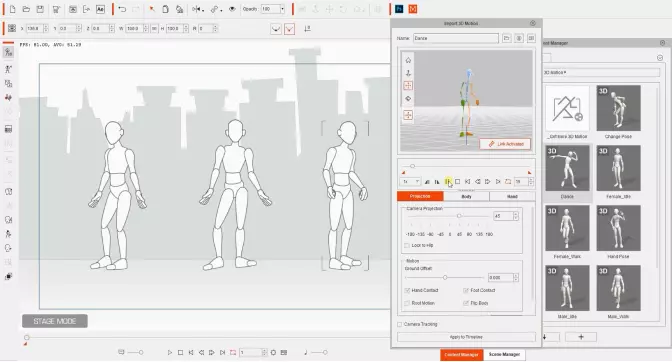 Price: $149 (free trial)
OS: macOS, Windows
Level: Professionals
Cartoon Animator, formerly known as CrazyTalk Animator is a pro-level 2D animation program used by artists and illustrators, movie and video creators, web and game designers, and students and educators. It offers a library of professional-looking premade characters, as well as a variety of animated movements and special effects. Cartoon Animator offers sophisticated motion capture for facial expressions and body movements and automatically applies lip-synching to an imported or recorded voice track. The program also offers templates for bones and other character effects. You can export in 4K to AVI, MP4, or WMA formats, but can't directly upload to Facebook or YouTube.
Key Features:
Motion capture
360-degree head creation
Bone-based animation
Pros:

Apply 3D motions to 2D characters
Create 2D characters from images or photos
Professional production environment

Cons:

No automatic uploading to Facebook or YouTube
Some features only available at extra cost
Price: Free
OS: Linux, macOS, Windows
Level: Professionals
Synfig is an open-source, free 2D animation software with the power of a professional one. Available for Windows, Linux, and Mac, this program lets you quickly and easily make beautiful animations. The community behind this animation program is one of the best, with hundreds of tutorials and videos to learn from.
Synfig was designed to look like and work similar to Adobe Flash (now called Adobe Animate), so if you've used Flash in the past, you will quickly learn the Synfig workspace. It includes a number of advanced animation tools, including vector tweening, layers and filters, and bones. Synfig gives you a lot of power – and it's all free.
Key Features:
Vector tweening
Bone-based animation
50+ layers
Pros:

Pro-level animation tools
Free
Big and helpful community

Cons:

It takes a long time to master
You'll need a powerful computer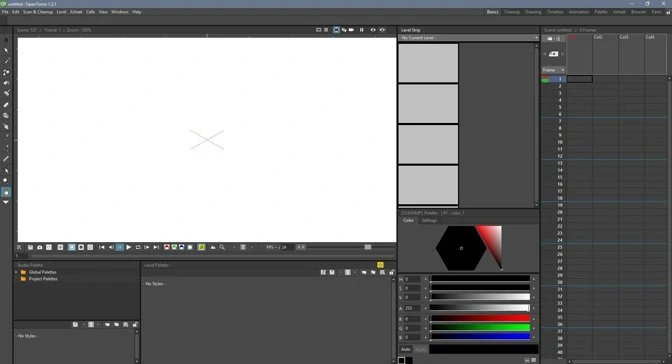 Price: Free
OS: macOS, Windows
Level: Professionals
Opentoonz is another popular free, open-source 2D animation software. This one was used by Studio Ghibli to make the world-famous Princess Mononoke film, and it's quite powerful. The software's toolset has a lot of features that you can find in the more professional – and more expensive – software on the market.
Opentoonz combines traditional drawing with 2D animation. Use the program's GTS tool to scan in your black and white or color drawings, then start using the built-in animation tools.
Key Features:
Proprietary GTS scanning tool
Real frame-by-frame animation
Customizable templates
Pros:

Free
Good for hand-drawn animation

Cons:

Interface looks dated
Steep learning curve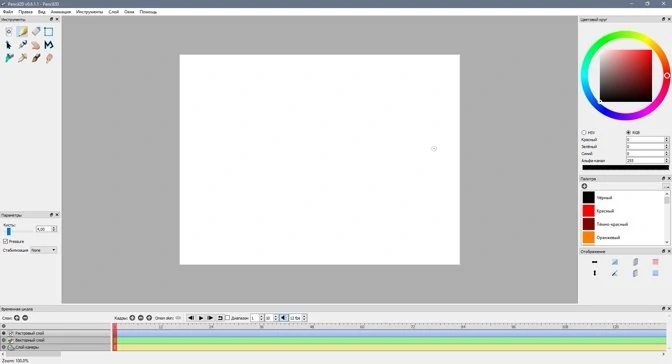 Price: Free
OS: Linux, macOS, Windows
Level: Professionals
Pencil2D, another open-source and free-to-use animation software, is one of the most powerful 2D animation software today. This program features a minimalist-style workspace, created to avoid distractions from the main animating window. It's focused on traditional frame-by-frame animation so every frame is made from scratch. It comes with a manual to learn how to use the program adequately. If you still think it's a bit difficult, there are a few tutorials on its official website.
The Pencil2D software is a good alternative for those who like the traditional frame-by-frame animation. It has a large and supportive community of users, so if you find any bug or problem with the program, they will help you out. Pencil2D is completely multi-platform, so you can download it for Windows (including XP and Vista), Linux, and Mac. The program is lightweight and doesn't use large amounts of RAM, so almost any computer can handle it.
Key Features:
Raster and vector graphics
Image editor
Built-in templates
Pros:

Great for hand-drawn animation
Minimalist, easy-to-use workspace
Free

Cons:

Not frequently updated
Not as full-featured as similar programs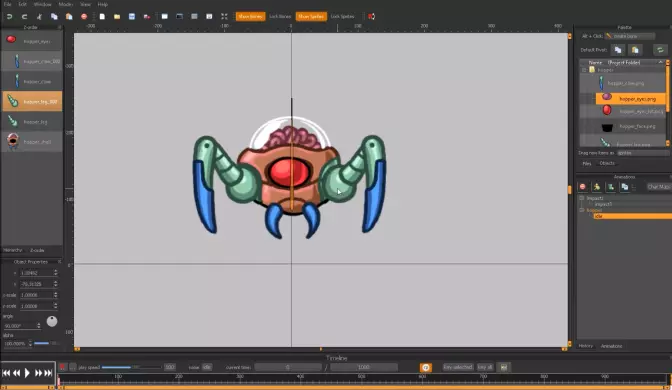 Price: $59.99 (free version available)
OS: Linux, macOS, Windows
Level: Professionals
Spriter Pro is a 2D animation program designed for professionals. It uses bones for more realistic animations. Upload the pieces of the character's image, place them in the right positions, and animate it piece by piece. This is useful if you want to change a single aspect of your character design or animation; you don't have to update the whole character, just the part you want to change. You can also create new characters based on data from existing characters.
BrachMonkey does offer a free version of Spriter but lacks many of the program's advanced features. For full-featured animation, you'll want to invest in the Pro version.
Key Features:
Bone-based animation
Create animations within animations
256 free Spriter animations
Pros:

Ideal for game designers
Automatically import images as animated sprites
Familiar operation to old Adobe Flash

Cons:

Need to create sprites in other apps and then import
Some users complain about bugs and crashing
How to Choose 2D Animation Software
Animators use 2D animation to create cartoons, animated movies, video games, marketing materials, and more. If you've ever watched a classic Disney movie or episode of The Simpsons or Family Guy, you've seen 2D animation.
There are dozens of 2D animation software programs available today. Some of this software is targeted at beginners, others at professional animators. These programs automate much of the historically hand-drawn animation process, making it both easier and less expensive to create animated shorts and movies.
On the surface, choosing the best 2D animation software for your needs seems like a difficult task. But it is quite easy when you know which factors to consider:
What type of animation do you want to do? Will you be doing traditional cel animation, digital animation, path animation, stop motion animation, cut-out animation, hand-drawn animation, or Flash-based animation? Make sure you choose a program designed for the type of animation you want to do.
What level of user is it designed for? You don't want the program to be too advanced for a beginner, or too simple for a professional.
How easy is it to use? Look at the interface and workflow, as well as any included templates and designs.
What features and tools does it include? If you're a more advanced user, look for advanced features and tools that let you create more sophisticated animations. You'll want 2D animation software that includes things like bone-based animation, animation curves, natural deformations, onion skinning, tweening, motion capture, lip-synching, and such. It's also important to support a variety of import and export formats, including 4K video.
What is the cost of the software? You may not have a big budget; fortunately, many of these programs are free. Even some of the more expensive 2D animation software is available with a free trial period that lets you try it before you buy or subscribe to it.

When you're looking for 2D animation software, the programs listed in this article are a good place to start. These are the top 12 best 2D animation software for users of every level.

Need an animated video, but don't want to deal with video making yourself? Luckily, there are companies that can make animated videos for you. Check out Kasra Design if you need an animated video for your business:

Kasra Design
Frequently Asked Questions
What 2D animation software does Disney use?
One of the programs that Disney animators use is Toon Boom Harmony. You can find more information on the app in our article.
What are the five types of animation?
Traditional or cel animation
2D animation
3D animation
Motion graphics
Stop motion
Is animation a good career?
A career in animation can be challenging, but it's definitely an exciting job. There are plenty of career choices in this field: you can work as a cartoon animator, graphic artist, 3D artist, video game designer, or something similar.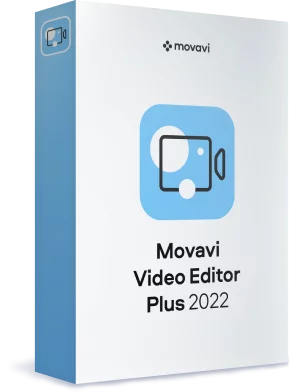 Movavi Video Editor Plus
Your next step in video-making
Edit video clips, images, and audio on a timeline

Add transitions, filters, titles, and stickers

Animate objects using keyframes, use more built-in media

Export videos in any popular format
* The free version of Movavi Video Editor Plus has the following restrictions: 7-day trial period, watermark on the output videos, and, if you're saving a project as an audio file, an ability to save only half the audio length. Learn more
Read Other Useful Articles