How to Apply Blur Effects to a Video
Need to add motion blur to your footage to convey a sense of speed? Or maybe you want to know how to blur out a part of a video to disguise people's faces or hide confidential information? Movavi Video Editor Plus can help! This intuitive video editing software lets you easily perform a variety of creative tasks to improve your videos. If you want to learn how to blur a video, download Movavi Video Editor Plus and read our quick guide below.
How to blur objects with Movavi Video Editor Plus?
Install Movavi Video Editor Plus
Open the program file you've downloaded and follow the installation instructions. The video editing app will be ready to use in just a few moments.
Import Your Video
Click Add Media Files and choose the video file you want to blur. You can also drag and drop files from a folder right onto the Timeline at the bottom of the program window.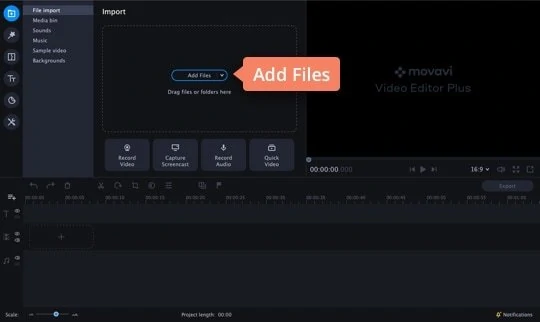 Blur an Entire Video
To blur a video in the editor, first click the Filters tab and open the Blur category. You will see a collection of different blur filters. To add your preferred blur efffect, simply drag its icon onto the video on the Timeline.
To apply a basic video blur effect, choose Blur – mild or Blur – intense depending on the amount of blur you want to add.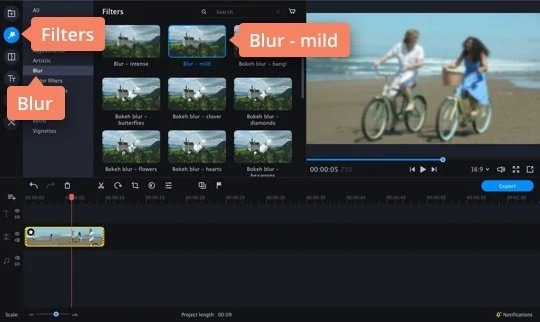 To add an artistic touch to your blurring, try the effects in the Bokeh blur series. You can choose different bokeh shapes: hearts, diamonds, flowers, etc. Experiment with different shapes and choose the ones that work best for your video.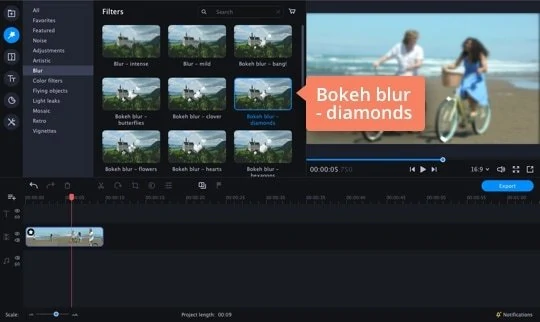 If you want to make your video more dynamic, try the Motion blur. This filter will intensify the sensation of rapid movement in your footage. Remember that you can add multiple filters to one video clip, so experiment away!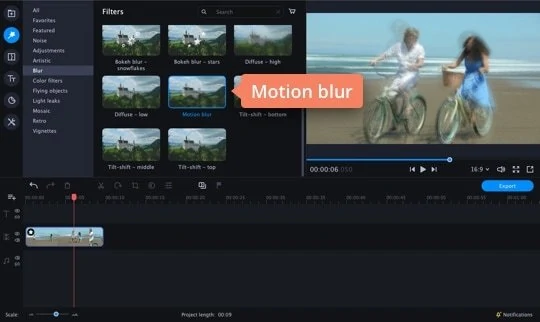 Blur a Part of a Video
If you want to blur out only a part of your footage, select the target video clip on the Timeline, click the More tab and choose Highlight and Conceal.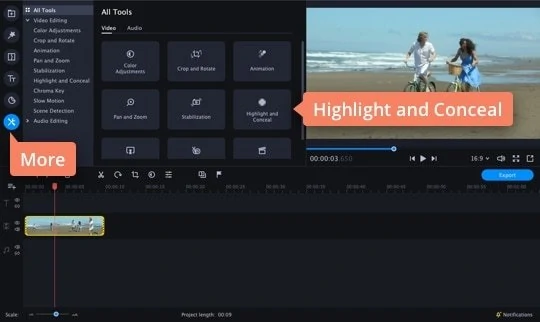 Select Conceal in the drop-down list. Adjust and move the orange frame in the preview window so that it covers the object you want to blur (e.g., the face of a person). Then click the little Blur icon and move the Opacity slider to set the desired blur amount. To pixelate an area in your video, click the Pixels icon and adjust the Size slider. If you want to blur out multiple areas, click Add Mask and repeat the procedure.
When you're satisfied with the result, click Apply.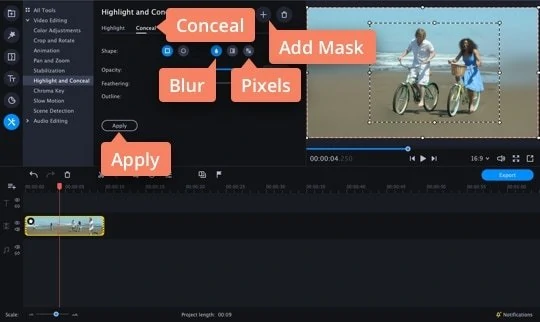 4. Export the Result
When you've finished applying the blurs, click the Export button. Choose the desired format and quality for your video and hit Start.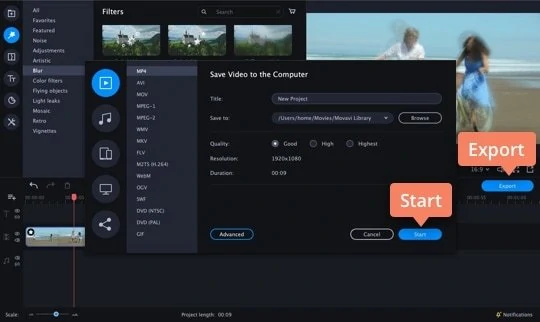 As you can see, blurring videos with Movavi Video Editor Plus is as easy as 1-2-3!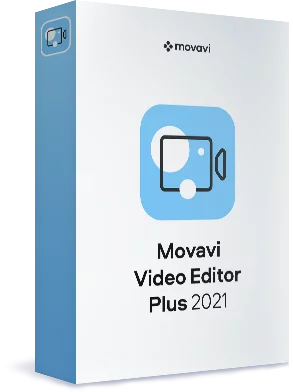 Movavi Video Editor Plus
Your next step in video-making
Edit video clips, images, and audio on a timeline

Add transitions, filters, titles, and stickers

Animate objects using keyframes, use more built-in media

Export videos in any popular format
* The free version of Movavi Video Editor Plus has the following restrictions: 7-day trial period, watermark on the output videos, and, if you're saving a project as an audio file, an ability to save only half the audio length. Learn more
See Other Useful How-to Guides