The 6 Best Color-Grading Software
If your video project requires high-quality color grading and you're searching for the best color-grading software, there are plenty of options out there. With such a wide selection available, it can be hard to decide which software is right for you, which is why we've compiled this list of high-quality color correction software to help you find the ideal solution based on your color-grading needs.
What Is Color Grading?
Before diving into the nuts and bolts, let's take a step back. What is color grading in the first place? Color grading is a process that reconfigures the color of a static or moving picture. It's what makes a cinematic Hollywood movie look moody, bright and airy, or vintage. When you color grade, you, the video editor, can put your signature "look" on a product. Personally, this can help you build your videography brand. But it also benefits the audience. Color grading is part of the overall story – be it dark, cool tones for a thriller or soft, light colors for a wedding film.
Color Grading vs. Color Correction: Do You Need Both?
When comparing color grading vs. color correction, many budding videographers may think they're one in the same. Spoiler alert: they're not. They're different elements that use color theory to perfect footage, and you actually need to use both. Color correcting is the adjustment of raw footage, which includes contrast, brightness, white balance, highlights, and shadows. Most footage that comes out of the camera needs at least a bit of tweaking; this step should come before you begin color grading to guarantee accurate colors that don't look overly processed. Then, you'll move on to color grading to set the mood and aesthetic of the film, whether it's teal and orange tones or soft, glowing hues. Let's dive into the color-correcting basics for beginners.
What Is the Best Color Correction Software for Videos?
There's no shortage of options available when it comes to video color correction software, but some applications are better than others. The following is our list of the best professional video color-grading software we found. Keep in mind that we aren't ranking these in any specific order. Instead, we encourage you to consider each to determine which is best for you.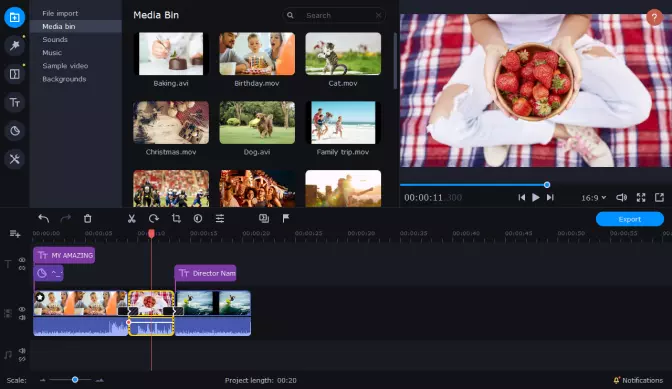 If you're looking for an easy-to-use color-grading software that includes many professional-grade features without the learning curve that comes with premium software, Movavi Video Editor Plus is a great program to use. In addition to color correction capabilities, you can do a lot more with Movavi Video Editor to create the perfect video production.
Features
Simple color correction tools with a user-friendly interface
A wide range of editing tools and special effects
Share videos to YouTube and other platforms
OS compatibility: Mac and Windows
Pros
Very easy to pick up and use
Plenty of features to edit videos beyond color correction
Makes video editing an enjoyable process
Can easily share completed videos
Cons
The trial version is limited
To read a detailed review of the program, follow the link below.
Proceed to the TechRev.me website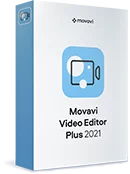 Movavi Video Editor Plus
Your next step in video-making
Edit video clips, images, and audio on a timeline

Add transitions, filters, titles, and stickers

Animate objects using keyframes, use more built-in media

Export videos in any popular format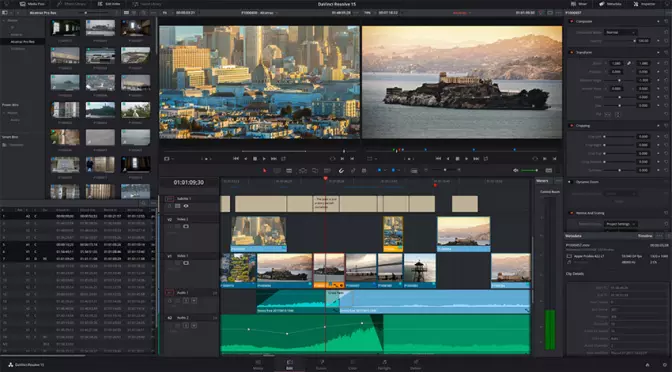 DaVinci Resolve stands out because it was designed specifically for the purpose of color grading, which becomes clear when you use this software. This color-grading software includes most of the features you would get with the premium version, but the few caveats are that the free version only allows you to export in UHD or lower quality, and you'll only be able to process videos using a single GPU or rocket card, without 3D support. Ultimately, it's a good program for beginners just getting used to color correction.
Features
Many powerful features
Useful for color-grading and editing
One-time payment for the full version
OS compatibility: Mac, Windows, and Linux
Pros
Wide range of features
The free version includes many features
No repeat payments
The face-tracking feature makes it easy to lighten or darken complexions or make other adjustments
Cons
The free version lacks certain capabilities that you would get with the full version
To learn more, read the user reviews.
Proceed to the TrustRadius website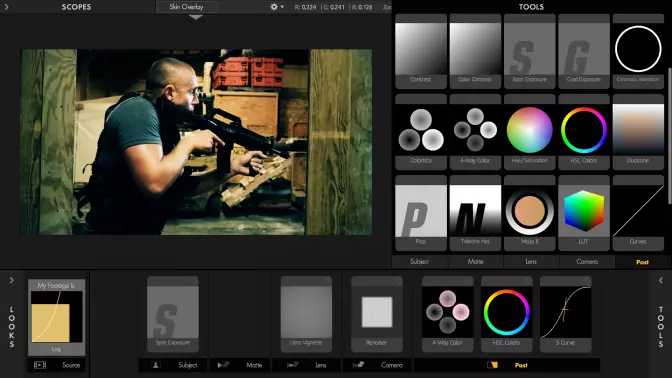 For another good free color-grading software, you might want to consider Red Giant Colorista. Colorista Free includes a three-way color grading feature with plenty of input options. You can also use this tool as a supplement for other color correction software, and you can even install a Colorista plugin for use with After Effects. Red Giant has developed a solid reputation for good reason.
Features
Seamless integration with Adobe programs, including Premiere CC and After Effects
Color correction guide for beginners
Selection of LUT presets
Plugin available
OS compatibility: Mac and Windows
Pros
The plugin makes it easy to integrate with After Effects
Compatible with Adobe Premiere CC
Includes a guide for users who are new to color-grading
LUT presets
Cons
Need to pay for the full version to access all features
To learn more about the plugin, follow the link below.
Proceed to the postPerspective website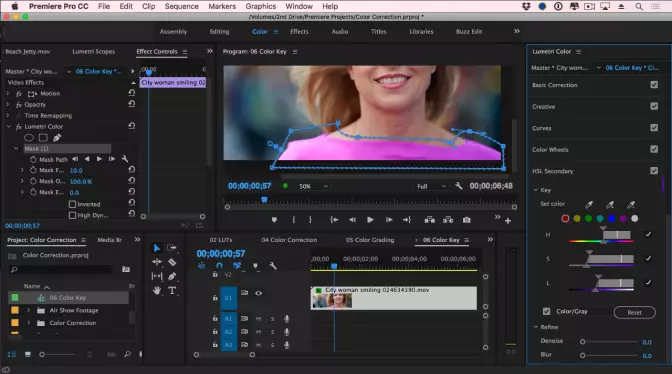 Adobe Premiere Pro's color correction software, Lumetri, has gone through a lot of developments over the years since the launch of Premiere Pro. You can use the Color panel to use various effects unique to Lumetri, along with traditional tools such as color wheels. You can also save your favorite presets for future color-grading projects, and, perhaps best of all, Lumetri is free if you subscribe to Adobe Premiere Pro through Adobe Cloud. Keep in mind that this isn't the cheapest option, but if you're in the market for professional-grade software, you can't go wrong with Adobe.
Features
Save presets for future projects
Automated tracking masks for targeted filtering
A variety of traditional and unique color correction tools
OS compatibility: Mac and Windows
Pros
The ability to save presets
You can use the automated tracking to apply filters to specific parts of an image
Free with a subscription to Adobe Premiere Pro
Cons
Can be pricey for some, requiring a subscription to Adobe Cloud
To learn more, read the review by PCMag.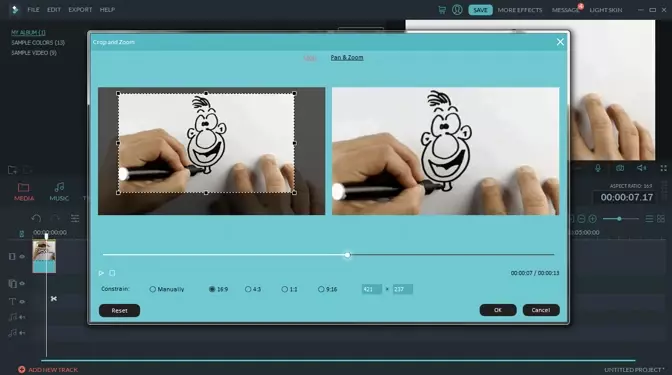 FilmoraPro makes it easy to create great-looking videos through color grading, along with many other features including special effects and motion graphics. You'll likely find it to be easy to use, but it's also among the more powerful options out there. Filmora makes it easy to adjust color value with precision using color scopes such as Histogram, Vectorscope, Waveform, and Parade.
Features
Plenty of video-editing features beyond color correction
Easy to use with a user-friendly interface
Precise color correction capabilities
OS compatibility: Mac and Windows
Pros
Very easy to use and intuitive
A wide variety of presets and video-editing effects
Includes a lot of tutorials and other resources to get you started
Frequent updates
Cons
To learn more about the program, read the review by PCMag.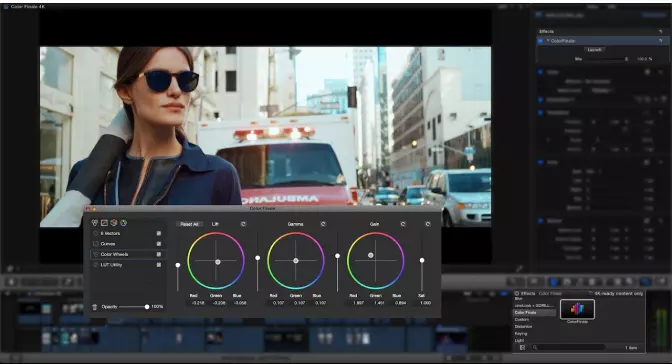 Color Finale is another great color correction software if you're looking for a good complement to Final Cut Pro X. However, it's a plugin that's only compatible with Final Cut Pro X, so if you don't have that software, you're better off going with another solution unless you plan on purchasing Final Cut. If you're a Final Cut user, this plugin will give you the color-grading capabilities that Final Cut alone lacks. It includes various features including color sliders, wheels, and auto white balance tools, as well as a secondaries vector option.
Features
Plenty of color correction tools that make color-grading easy and simple
Seamless integration with Final Cut Pro X
7-day free trial version
OS compatibility: Mac
Pros
Easy to use with many color correction features
Opens separate window for ease of use with Final Cut Pro X
Standard and Pro versions available depending on your needs
Cons
Only compatible with Final Cut Pro X, so you won't be able to use without FC
No free version, only a 7-day free trial
To learn more about the program, follow the link below.
Proceed to the macProVideo website
Give Movavi Video Editor Plus a Try
Trying to find out what is the best color correction software for video production? All the color-grading software included in this complete list is great to use if you're in need of a reliable color correction tool. Movavi Video Editor Plus is among the best tools out there if you're searching for something simple and effective, with plenty of features to create the perfect video. If you want an easy solution that makes color correction both simple and fun, download Movavi Video Editor Plus and find out if it's right for you. Try it for free and, if you find that this software is just what you've been looking for, check out our premium version for additional features that can provide the optimal video-editing experience.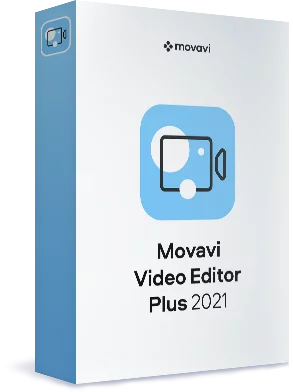 Movavi Video Editor Plus
Your next step in video-making
Edit video clips, images, and audio on a timeline

Add transitions, filters, titles, and stickers

Animate objects using keyframes, use more built-in media

Export videos in any popular format
* The free version of Movavi Video Editor Plus has the following restrictions: 7-day trial period, watermark on the output videos, and, if you're saving a project as an audio file, an ability to save only half the audio length. Learn more
See Other Useful How-to Guides