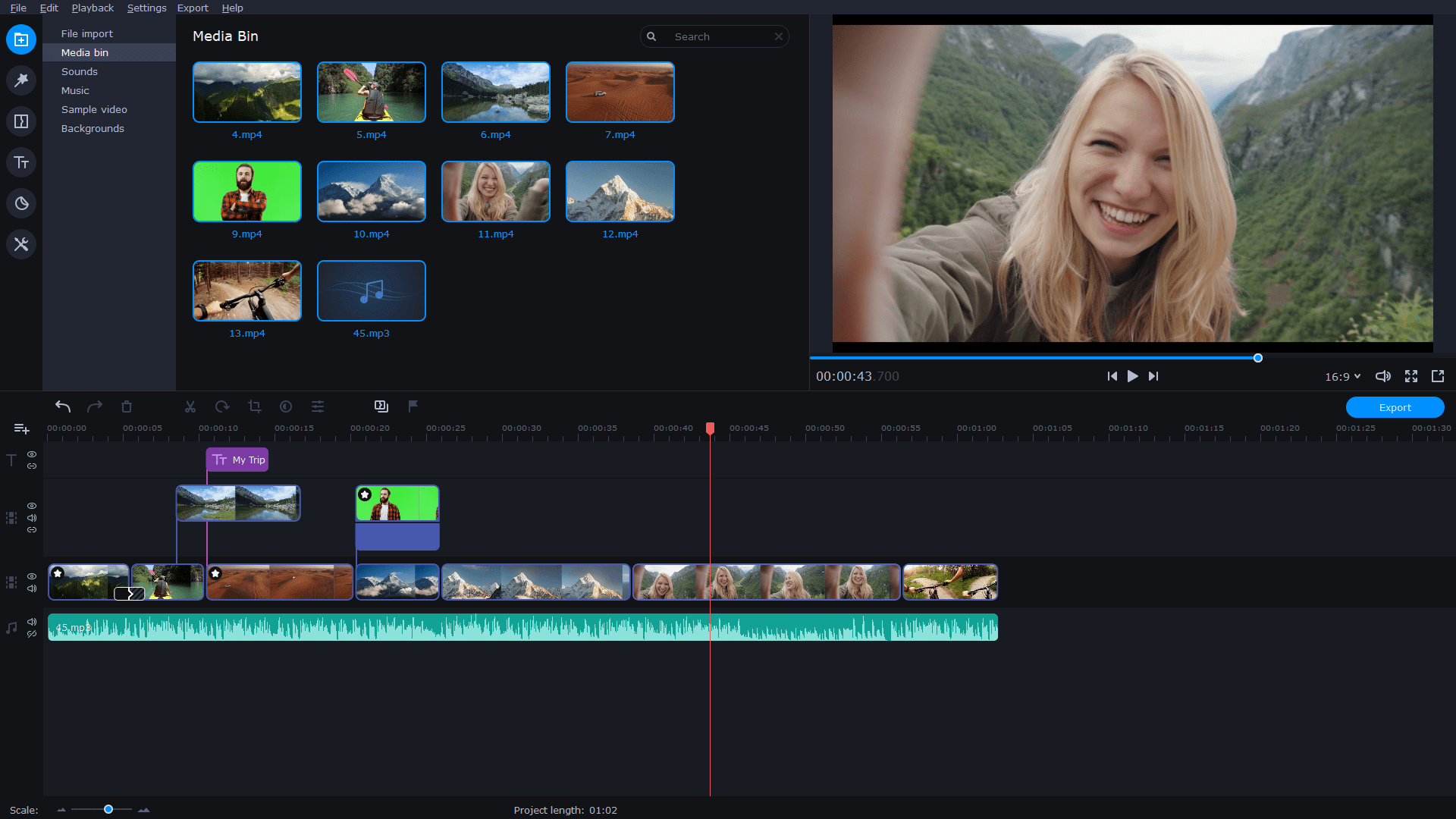 Top 11 Best Gaming Intro Makers for Gamers
If you already know how to capture video games, you are going to need a great gaming intro maker to stand out as a pro gamer. The intro of your video is like your business card, the first thing you show of yourself, and it will catch the attention of your viewers, so get the best out of it!
We've made for you a selection of software that will help you in this task, with the best features for video games, and with a varied range of prices; we even include a free gaming intro maker! So keep going and check it out!
Create an Outstanding Gaming Intro
Here we show you the list of the best software for creating your gaming intro, each of them pretty good in some feature, so they are not ranked in any particular order. Pay attention to the features they offer so you can choose exactly the most suitable gaming intro maker for your needs!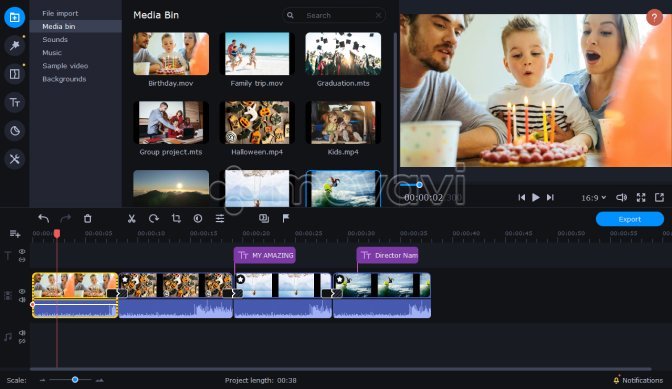 Movavi Video Editor Plus is a professional program for editing your videos. It provides all the necessary tools to create a fascinating gaming intro in just a few easy steps. You don't need to have any video-editing experience: thanks to the user-friendly it will only take 20 minutes to master the program.
With this program, you can apply different filters, add transitions and titles to your intro, upload your own music or even record a voiceover. Movavi Video Editor Plus allows saving your intro for later use. You can save it as a template and add to all your gaming videos.
If you're looking for handy software that is easy to work with, then definitely check out Movavi Video Editor Plus.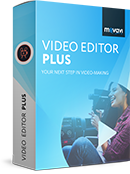 Movavi Video Editor Plus
Your next step in video-making
Edit video clips, images, and audio on a timeline

Add transitions, filters, titles, and stickers

Animate objects using keyframes, use more built-in media

Export videos in any popular format
Panzoid: The Software with the Best Community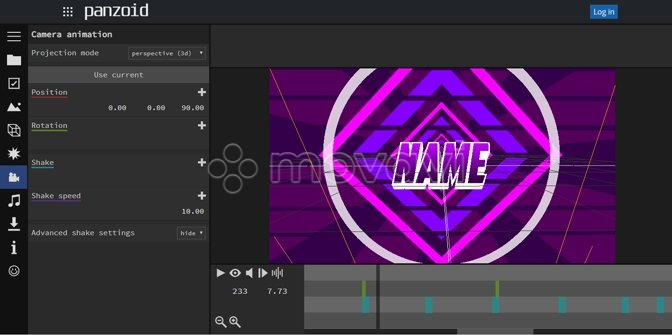 As you can notice, this is a website. Panzoid is an online video editor, which has three main modules: The General Video Editor, The Backgrounder and the module of our interest: The Clipmaker.
This Panzoid Clipmaker is pretty good for all the basic needs of creating a gaming intro for your channel. It allows you to create a 2D or 3D animation from scratch, using the wide catalog of resources it provides, such as:
More than 20 different background scenes
More than 20 fonts for 3D text
7 types of customizable shapes
Special Effects for Color, Distort, Framing and Enhancing
This and plenty of other features are completely customizable.
And if you want something fast and easy, the Panzoid.com community has gathered for you a wonderful collection of customizable templates. You just go to the Clipmaker and, in the left section, click on the template you feel attracted to, play it and edit it as you please.
It may be rather complicated to use, especially if you are beginning in the video editing world, but the good news is that it is a completely free gaming intro maker and you can run it from any Android device, so you have no excuses for learning and practicing your video editing skills!
RendrFX: The Most Cutting-Edge Animations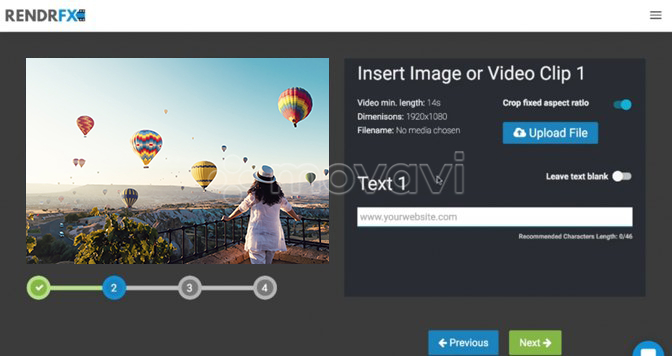 This is another online video editing platform designed for all those who need a video with a professional finish in a short time and without complicated processes.
This is all possible due to the wide library of template animations of RendrFX, many of them specially designed for a tutorial or gaming intro, with stunning 3D animation.
You choose the template that fits the best with what you want and proceed to modify the text, the colors, and even the background images, which you can select from the RendrFX stock of photos or you can upload it from your computer. The other mechanisms of the video are not easily customizable, so you must choose a template with the speed, the movement and the animation that really works for you.
You can use the full version of this online gaming intro maker for $49.99 monthly. There are two cheaper packages with its correspondent limitations: a personal package without commercial use license, for $19.99; and a free trial with watermark in all your videos.
Renderforest: The Broadest Catalog of Video Intro Templates

This is also an online animation software that can for sure develop what you need for your gaming videos. It is not as easy to use as the Rendrfx, but it has plenty of more options and flexibility in the editing interface, especially if you subscribe to the premium version.
With the free version, you can use the cloud features, as saving your progress online and uploading your images and videos to the cloud, so you can continue working in your gaming intro from any computer with internet connection. Also, you can access the very useful video template library, with more than 300 pre-built animations, which is without a doubt the more attractive feature for anyone who runs a YouTube channel.
On the other hand, the free version allows very few editing options, and a final video limited to 360p with a watermark. If you don't mind about the scarcity of resources but you want an HQ video, you still can create your intro in the free version and make a payment just for upgrading the video finish, so you can get a full 1080p video without watermark for $29.99.
Ivipid: The Most Outlandish Templates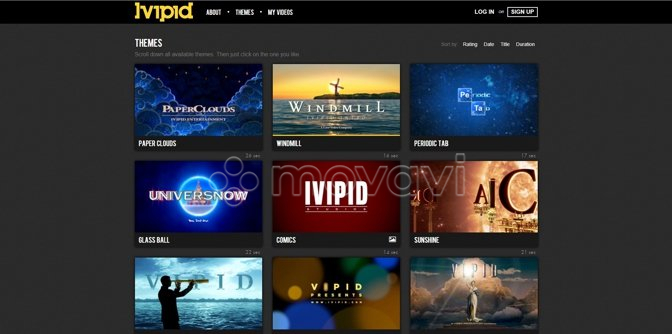 Unlike their peers, Ivipid is not a complete video editor or animation maker, but it specializes in offering attractive and fun video intros extracted from popular movie introductions and TV shows openings, which you can customize with your own text and other basic features. So if you want to mix your video game with an unconventional Hollywood display, this is the place for you.
Although the service is very engaging, the catalog is, to say little, scarce. It only offers 38 templates and is not connected to any community, so it doesn't give the option to the users to add their own creations.
Anyhow, if you like one of the few video intros available, you can use all the tools of the website for free, and share your video in any social media you choose, including YouTube. Yes, it will come with a watermark and in the smallest resolution (270p).
Whether you want to download the video, erase the watermark or upgrade the resolution, you will need to pay for it. The minimum fee for a 1080p video intro is $7.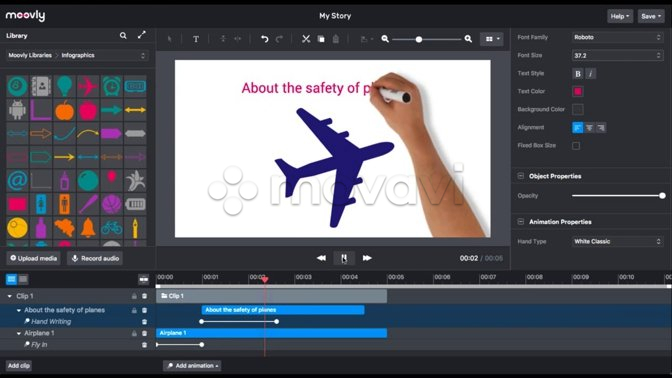 A great option among all the online video editors. Moovly studio is a complete tool for creating any audiovisual content, and it is also a terrific gaming intro maker.
It offers a 30-day free trial which gives you access to the full editor software and the online library with more than 750,000 free video footages, music, images, animated objects, and the most important for us: video templates.
Also, you can use your own material and save it in the cloud up to 100 MB in the free version. Your final video will have a pretty good 480p resolution, but also a watermark and a Moovly outro. You can share it both on YouTube and other social media.
The pro version has a cost of $49.00 monthly and it allows to create and download unlimited HQ 1080p videos without watermarks. Also, you can use your video for commercial purposes and you have 1gb of storage in your Moovly account.
All in all, the interface is user-friendly and the website offers plenty of webinars and tutorials to successfully guide you through the creative process.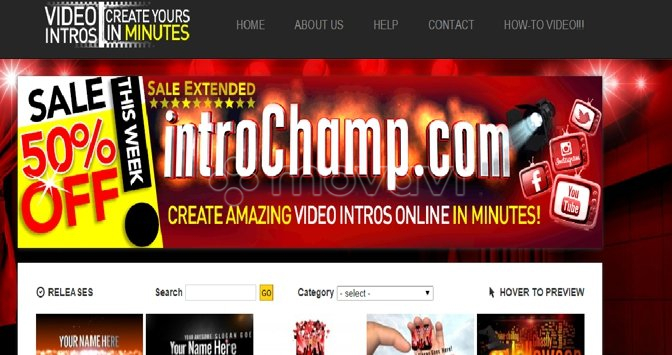 This is a website for easy and simple stuff. It is not a video editor as such, you are not able to use any kind of tools or operating system; you only select the template you like the most among the 300 templates catalog and then you modify the individual aspects it allows, which are the texts, some background colors, the soundtrack and the logo image. You must use files from your computer but they should meet some requirements of the site.
And that's it. This means good news for the people who really don't want to spend time editing and want everything pre-made. Although the designs are pretty simple, you will find several dynamic templates related to video games and streaming that you may find useful and attractive.
This website has no free video option at all. You can test and preview all the templates, but for rendering, sharing and download your video you will need to pay a tiny fee of $4.98 for a 720p video and $5.90 for an HQ 1080p resolution, any of them without watermark and with the commercial license.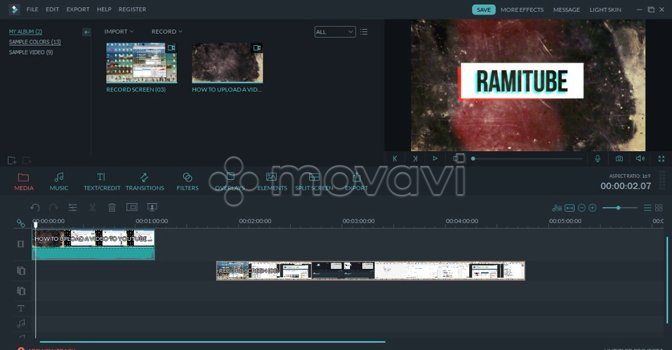 We've arrived at the standalone software category with Wondershare Filmora. This software is a full video editing software, with all the tools for creating audiovisual content from scratch, and it also makes a great job for intro videos due to its catalog of highly designed and animated title templates, all of them fully customizable in aspects like:
You can use any image or photo from your portfolio as the background of you animated text and, additionally of the text, you can animate objects and shapes. All that you need to create a nice 3D gaming intro, which also you can directly upload from the software to YouTube. Wondershare Filmora works on a beautiful and easy-to-use interface, besides offering a detailed user guide and several video tutorials on the website to make your experience easy and fun.
You can download the program for free and use all the features without limitations, but the final videos from the free version have a watermark. Anyhow, the premium packages of this software are really cheap: $39.99 for a year and $59.99 for the lifetime.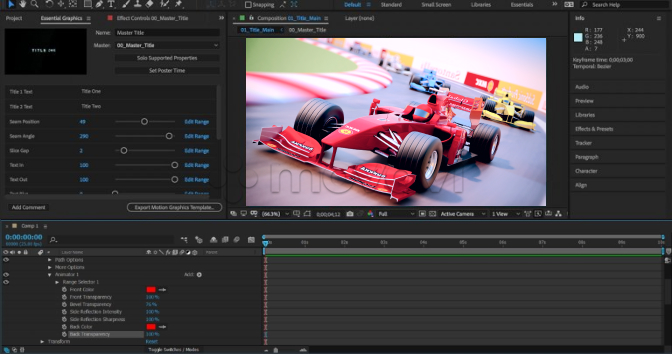 If you want to go pro, Adobe After Effects is the right choice. With this program, you can do any kind of animation: 2D, 3D, motion texts and graphics, explosions, fire, gunshots, storms, and whatever you can imagine. So, here you can not only make a gaming intro, you can make the most highly designed and original intro ever.
But of course, first, you would need to learn how to do it, because After Effects is not an easy software. It is made for professional purposes, so you would go crazy among all the tools and options if you try to use it without a proper preparation.
You can choose from the plenty of motion text templates and modify it as you please, or make a new animation for text, objects or shapes from scratch.
Download a free 7-day trial version of the program in the official website, with full features and no watermark, and if you like it you can buy the software license for $29.99 during a month, or $19.99 monthly during a year.
Blender: The Best for 3D Animated Intro Videos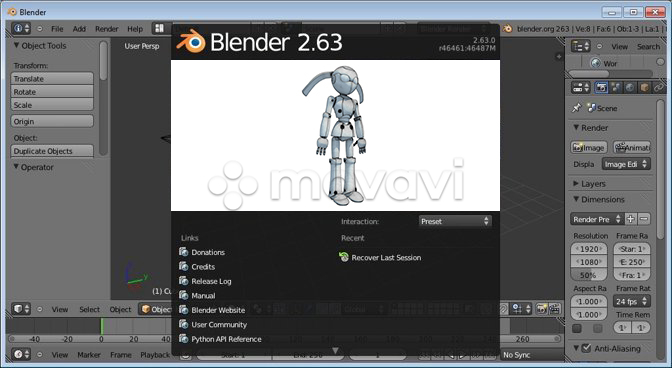 This is a really advanced level, not even for professionals but for fussy YouTubers who really want to stand out with their video intro because this software is for making all by yourself. Blender is a 3D animation developing program. Here you can draw 2D and 3D, process 3D pipelines and produce any kind of animation and rigging. Clearly, you can make an awesome video intro for your video game with it, but it will take you a few weeks even if you've already learned how to use the software, which is clearly pretty complicated.
The good news? It's a totally free gaming intro maker, and the options are nearly endless, so if you have some time to spend you will not regret upgrading your skills in this software. So don't hesitate any longer and download the free version from the official website.
Cinema 4D: For the Most Advanced Intro Videos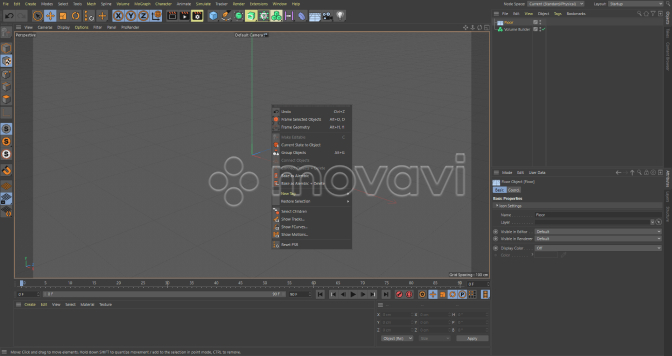 This application is also quite a high level. It requires prior experience with similar programs. Watching an intro video made in Cinema 4D certainty will be an extraordinary experience. There's no doubt that you will catch all the audience to your channel if you spend long enough time developing a detailed and movielike intro video.
Cinema 4D is made for architects, motion graphics artists and 3D animators. You can use the 3D modeling, rendering and animation tools for creating the video intro from scratch, with text, figures, characters and any kind of effects.
It is advisable to take a course before tackling this program, especially since the cost of the program exceeds the $3,500.00. If you want to give it a look before spending that considerable amount of money, you can always download the 42-days free trial version on the official website.
---
With all of this in your hands, you can do any gaming intro you are dreaming about. And when you finish your intro, make sure to assemble it to the full video using a practical and integrated audiovisual editing software as Movavi Video Editor Plus. This is all you need, so get creative and turn your ideas into an entertaining video!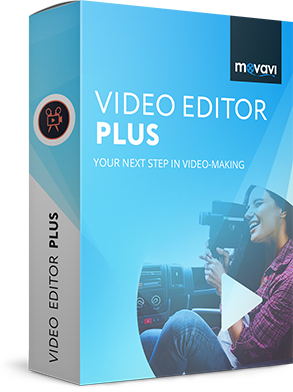 Movavi Video Editor Plus
Your next step in video-making
Edit video clips, images, and audio on a timeline

Add transitions, filters, titles, and stickers

Animate objects using keyframes, use more built-in media

Export videos in any popular format
* The free version of Movavi Video Editor Plus has the following restrictions: 7-day trial period, watermark on the output videos, and, if you're saving a project as an audio file, an ability to save only half the audio length. Learn more
Read Other Useful Articles