10 Best Free Audio Converters in 2020
An audio file can't be played on your device or you just need to reduce your audio file size? Then you need to convert it to another format. With that task, an audio file converter will help you. There are tons of different programs on the internet, and choosing the best one is not easy. Especially, if you're not willing to pay for it and are looking for the best free audio converter. To help you with that, we've found the most convenient and useful converting tools on the internet. Find our list and choose the one that is the most suitable for you!
We recommend you to check out Movavi Video Converter – a simple and effective tool for switching between video, audio, and image formats.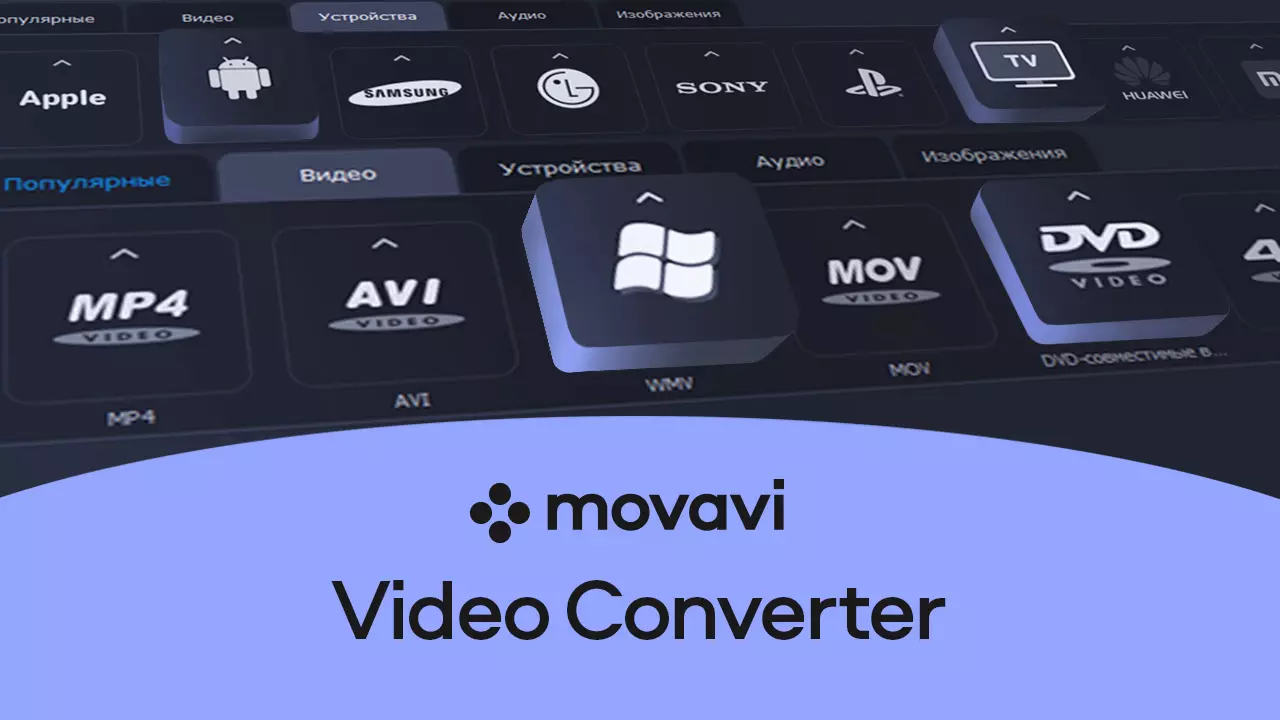 Find the Best Free Audio File Converter
Check out the list of free audio file converters that will help you with all your tasks.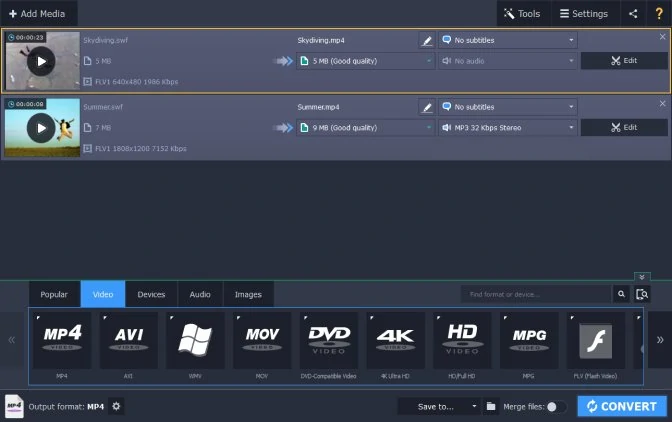 One of the fastest and most error-free media converters that access more than 180 video, audio and image formats. With Movavi Audio Converter, you'll be able to convert audios, save soundtracks from video files, and improve the quality of your media. The software is available for Mac and Windows, it also comes in 14 languages. You can download the trial version for free, and if you like it, purchase the full version.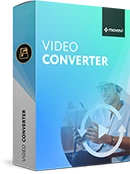 Movavi Video Converter
The ideal way to get your media in the format you need!
Convert video, audio, DVDs, and image files

Enjoy lightning-fast conversion without quality loss

Improve quality, adjust sound, trim and join files before converting

Save video and audio clips for easy mobile access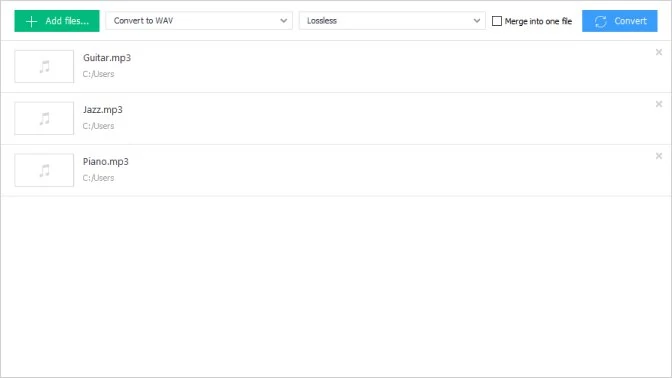 A simple and free audio file converter for Windows that will help you quickly convert your files. It supports all of the most popular formats. But it's most famous for its great quality of MP3 conversion. With this software, you can convert multiple files at one time. The application comes with batch mode and it also has flexible settings. If you want to, you can create presets and modify the parameters according to your needs.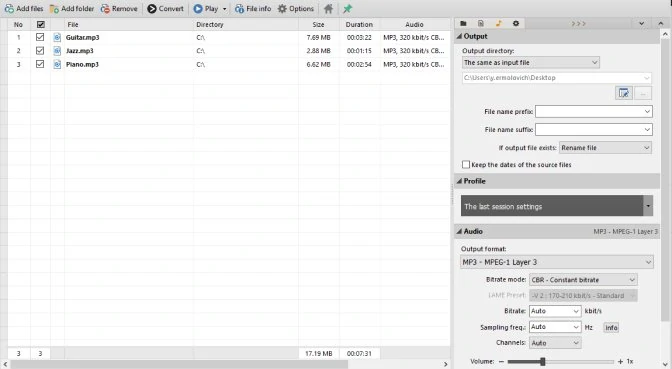 A multifunctional software that can work with more than 70 audio and video formats. Pazera will let you extract an audio clip from a video file without loss of quality, or split a file, say an audiobook, by chapters. The interface is very user-friendly yet stuffed a lot of advanced features. The app comes with integrated support for 20 languages. So if you need a powerful and easy-to-use audio converter for free, download it right away!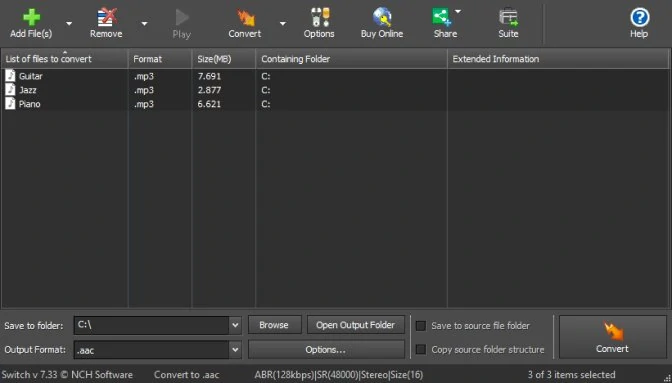 A good converter for advanced users. Switch can convert to lots of formats, supports batch conversions and will let you extract audio from a video file or another source. With Switch, you can delete the source audio file right after the transition, automatically normalize the processed audio file, download CD album details from the internet, and do much more. The coolest feature of this app is that it lets you set up three presets for conversion, and then use them for any file you need in just one click. The software is available for Windows 10 and Mac and is free to download.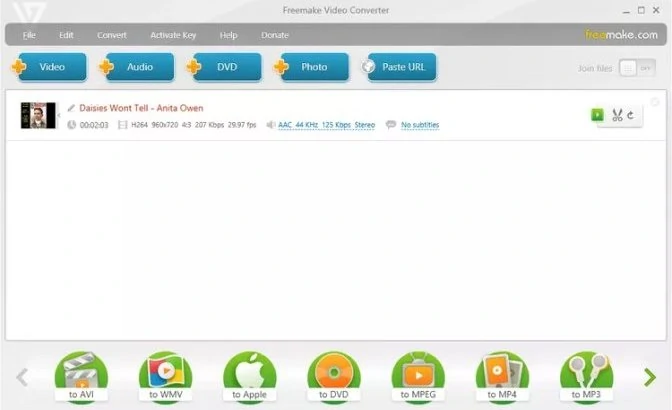 With this program, you can convert files of the most common audio file formats. Freemake supports more than 50 of them. The great thing about this software is that it allows users to run more than one conversions at once and merge multiple audios into one larger file. The free version of the app converts only files that are less than three minutes. Freemake lets you adjust the quality of the processed file. It also will be helpful if you need to extract audio from a video file. The resulted file you can send directly to your Google Drive or Dropbox, or download it.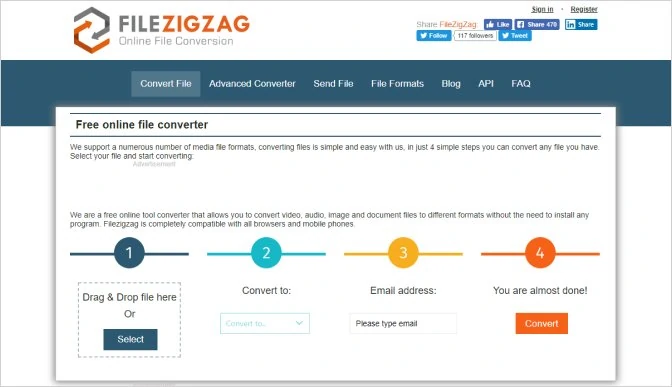 An online audio converting service that supports most common music and audio formats. It works only with files that are less than 180 MB, which is usually enough for most of the users. You can upload an audio file from your computer, Google Drive, or a URL. The program will show all the formats you can convert your file to. The converted audio will be sent to your email, and the only inconvenience is that you have to wait until you receive it. As ZigZag works online, it is available on any operating system you use if it supports web browsing.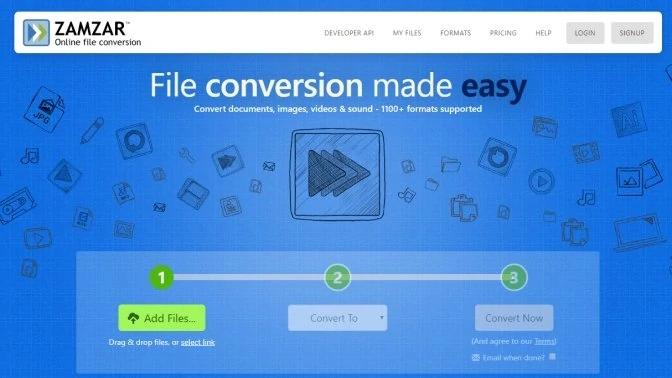 One more web-based audio converting program. This one is really easy to use. All you do is upload a file from your PC or enter a URL and choose the format you need. The list of available formats will automatically appear as your file is transferred to ZamZar. The conversion will take a bit longer compared to other programs, but on the other hand, you will be able to download your converted audio file from the software and won't have to wait for an email. However, if getting an email is more convenient for you, that option is also available in ZamZar.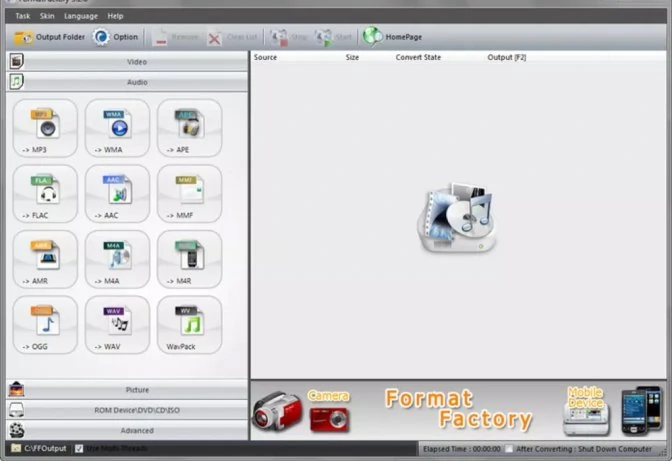 A powerful freeware for Windows that will help you to convert your audio to any of the popular formats, rip CDs, join multiple files into one, recover damaged files. One of its main pros is that it works really fast. Format Factory is available in 62 languages and is completely free to download. Format Factory supports both single and batch modes. It also will help you to save soundtracks from videos or, the opposite, overlay audiotrack on a video.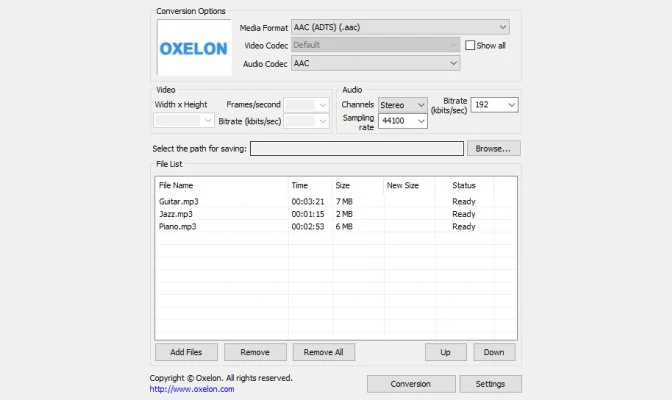 If you need to convert your files in a couple of clicks, then Oxelon Media Converter will be a good choice. It supports FLAC, MMF, MP3, MP2, OGG, VOC, AC3, AAC, AIFF, AMR, AU, WAV, and many other formats. Also, the software will help you to convert multiple files simultaneously. Once you install Oxelon, you can start the conversion of any media file by right-clicking on it. A time saver!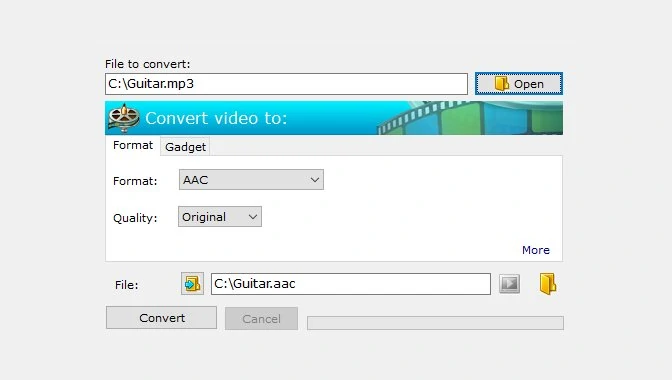 A good user-friendly free converter for Windows lovers. Supports all the popular audio and music formats, including the ones for mobile devices. After the conversion, the program will let you adjust the quality of the audio. The best thing about Convertilla is that if you don't know which format you need, you can choose a preset for your device. And the list of presets is quite impressive. It includes not only ones for, say, Android, IOS, or Windows phone, but also for Sony PSP and Microsoft XBOX. The only thing is that you can't download the program on macOS or any other operating system except for Windows.
All the mentioned programs are good options for converting audio files. We recommend you use Movavi Video Converter to not only convert your files but also enhance them. Download the trial version of the program for free and start converting your files today!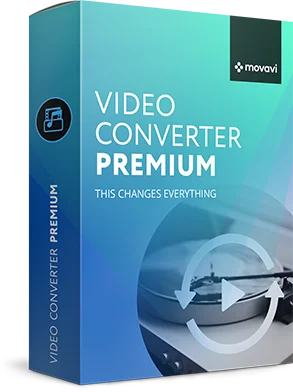 Movavi Video Converter
The ideal way to get your media in the format you need!
Convert video, audio, DVDs, and image files

Enjoy lightning-fast conversion without quality loss

Improve quality, adjust sound, trim and join files before converting

Save video and audio clips for easy mobile access
See Other Useful How-to Guides