How to Convert Files to JPG
JPG (or JPEG) is one of the most popular image formats, and it's not hard to see why. Converting images to JPG can solve a number of problems you might face.
Your photo is too large and takes up much space
Converting an image to JPG lets you make an image file smaller in size while keeping a relatively high image quality, so many users convert photos to JPG to conserve hard disk space.
Your device won't open a file
JPG is a universal format: it's supported by almost every device. So if you convert your images to JPG, you can easily view and edit them on practically any device.
Having trouble uploading photos to social networks?
Not all formats are suitable for social networks. JPG images are great for posting on social media as JPG is one of the most widely used formats. Also, the small file size ensures fast loading.
If you need a handy JPG converter, we recommend you try Movavi Video Converter! This software is not just for video; it can help you convert images to JPG and many other formats.
If you want to open JP2 or JLS files, there's no need to download a special JPG reader or viewer: you can easily convert the files to a more common format. Movavi's converter recognizes all popular formats in the JPG family, including the more exotic JPG 2000 and JPG-LS.
To learn how to convert to JPG, download Movavi Video Converter for Windows or Mac and follow these simple instructions.
JPG vs. JPEG – What's the Difference?
In fact, JPG and JPEG are the same thing. Some time ago, Windows required that all formats should have a three-letter extension. That's why the abbreviation JPEG (Joint Photographic Experts Group) was shortened to JPG. Mac has never had these extension limitations, so those users have always used the .jpeg extension. Now there's no such limitation on Windows either, so both .jpg and .jpeg are widely used.
JPG Pros and Cons:
| Pros | Cons |
| --- | --- |
| Great for photographs – keeps high image quality | Cannot be animated |
| Great for images with more than 256 colors | Not good for text images |
| Great for reduсing image file sizes | Not good for images with sharp edges |
| Compatible with almost every editing app | Lossy: file compression results in lost data and quality from the original |
| Compatible with most devices | |
Download and Install Movavi Video Converter
Open the downloaded file and follow the installation instructions.
Add Your Files
Click the Add Media button, then Add Images and choose the pics you want to convert. The software supports batch conversion, so you can add multiple pictures at one time.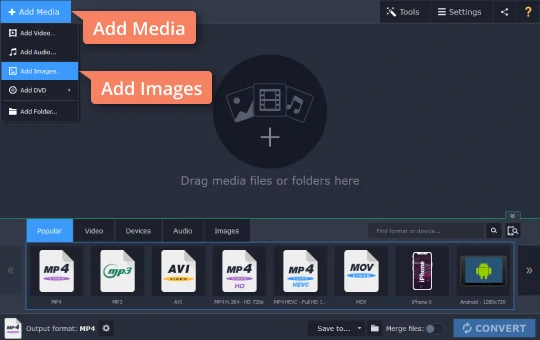 Choose the Image Format
To convert an image to JPG format, open the Images tab, then click JPG and choose the only preset available.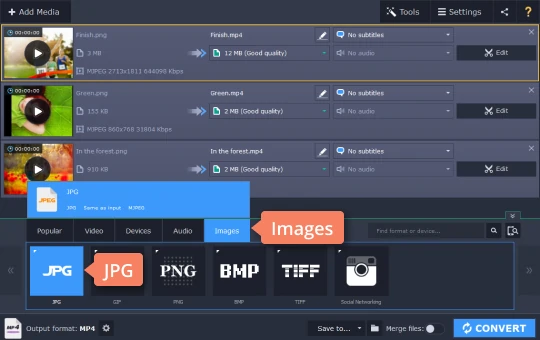 Convert the Image to JPG
Click the Folder icon and specify the output folder, then click Convert. After the program has finished converting, the folder containing your files will open automatically.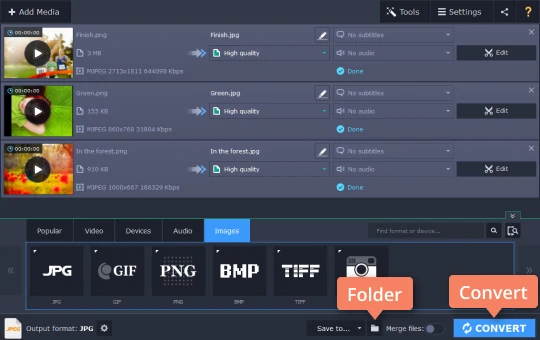 Now you know how to change image formats to JPG. Our multi-talented program can do this and a whole lot more, so don't hesitate to check out Movavi Video Converter!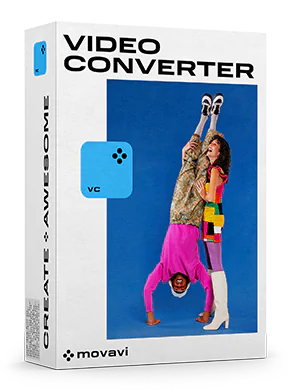 Movavi Video Converter
The ideal way to get your media in the format you need!
Convert video, audio, DVDs, and image files

Enjoy lightning-fast conversion without quality loss

Improve quality, adjust sound, trim and join files before converting

Save video and audio clips for easy mobile access
See other useful how-to guides