MKV is a popular format that is quite easy to convert when it comes to videos. We will discuss the best MKV-to-MP4 converters in this article that can make your task of conversion easier.
Comparing the best MKV to MP4 converters
Best MKV converters for desktop
1. Movavi Video Converter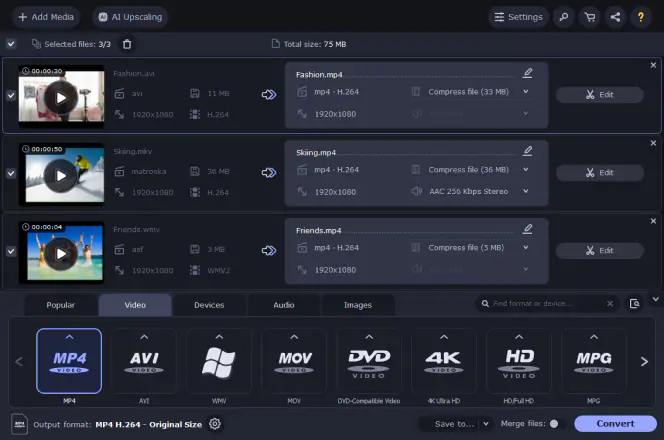 Platform: Desktop
OS: Windows 7/8/10/11, Mac OS X 10.13 or higher
The first option on our list is Movavi Video Converter. The program supports all popular media formats and is very easy to use. Along with converting videos, you'll also have access to top-notch editing capabilities. Its main features are a comprehensive library of programmed conversion and optimization features, and speed of conversion. You can even edit videos with subtitles.
If you want a reliable converter with a wide range of features, download Movavi today for free.
Pros:
Available for both Windows and Mac users
Fast conversions with no limits
Wide range of optimization features
One of the easiest apps
Cons:
It does not have an online video download feature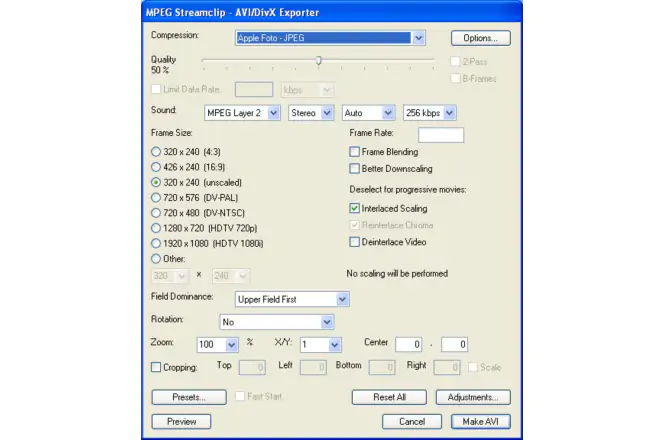 Platform: Desktop
OS: Windows XP/Vista/7, Mac OS X 10.2 or higher
If you do not have prior experience converting videos, MPEG Streamclip is the perfect tool to start with. Though it's simple to use, it offers a wide range of features. Along with being a reliable MKV converter freeware, it's also a video player and editor. One of the standout features is its capacity to handle large files, which can be split into segments during conversion.
Pros:
Free to use
You can convert files of up to 4 GB
Versatile file importing
User-friendly and interactive interface
Cons:
Somewhat limited features compared to high-end tools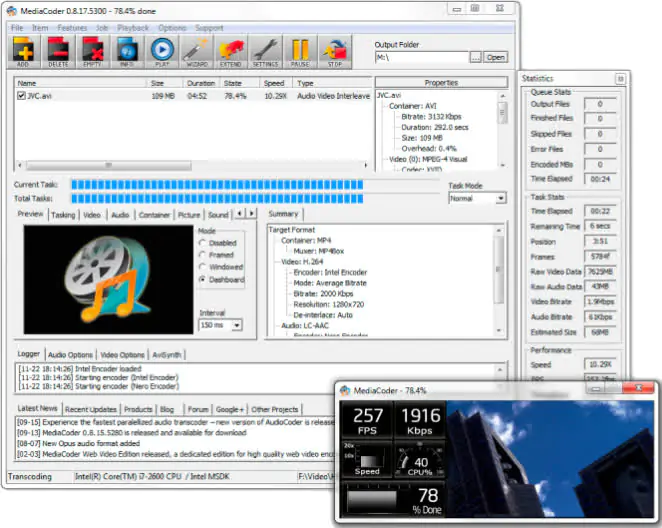 Platform: Desktop
OS: Windows 7/8/10/11
For top-notch video conversion capabilities, MediaCoder is undoubtedly one of the best free MKV-to-MP4 converters. During conversion, this software will compress the videos. However, even after doing so, the output quality will be unaffected. If your video is not complete or slightly corrupted, MediaCoder will repair the damage, allowing you to watch the video.
Pros:
Cutting-edge video and sound management features
Compresses videos while preserving quality
Cons:
Not suitable for beginners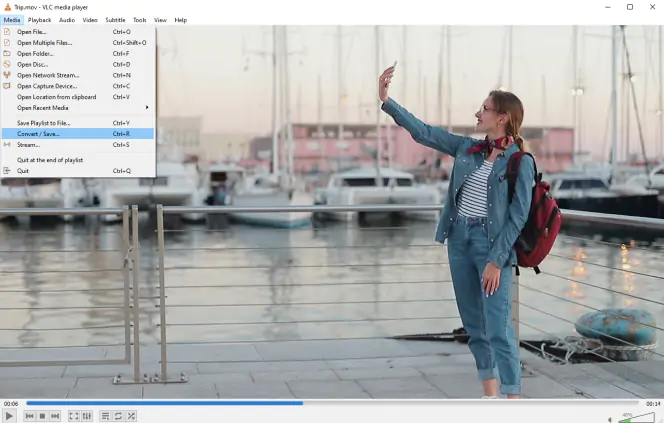 Platform: Desktop
OS: Windows XP or higher, Mac OS X 10.7 or higher
Other than being a video player, VLC is also a reliable MKV-to-MP4 program. Whether you are using Windows or MAC, you can use VLC. It's easy to use and supports a wide range of video and audio formats, hence its popularity.
Pros:
Free to use
Expandable via plugins
Cons:
Limited features compared to other MKV converters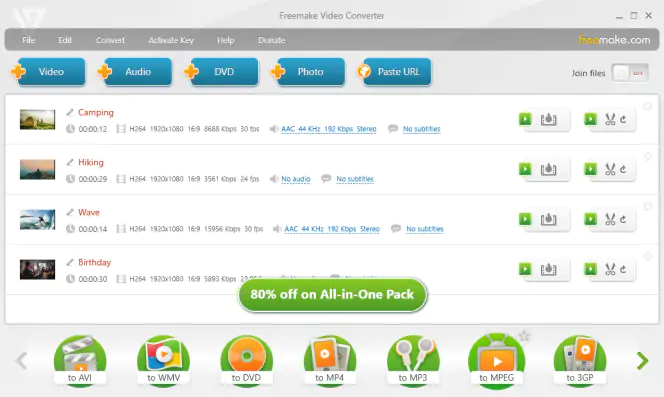 Platform: Desktop
OS: Windows Vista/7/8/10/11
As the name implies, Freemake Video Converter is a free conversion tool. With over 93 million users, it's undoubtedly one of the best MKV converters for Windows. Though it offers a wide range of video conversion options and supports many formats, you do not require any specialist knowledge to change the format of your videos.
Pros:
Supports multiple output options
Beginner-friendly
Cons: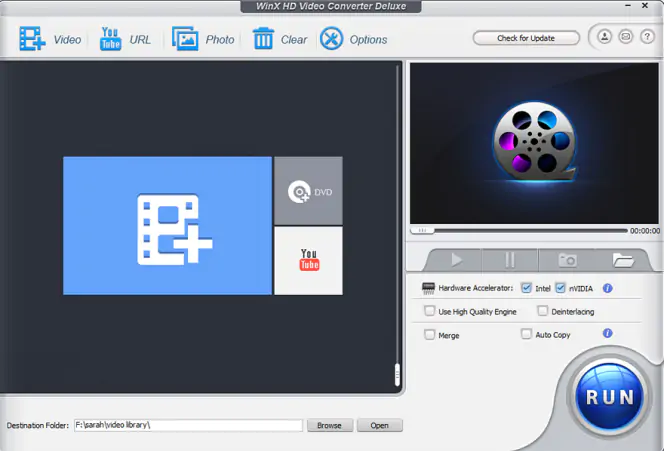 Platform: Desktop
OS: Windows XP/Vista/7/8/10
WinX HD Video Converter Deluxe is a video conversion program made for users of all skill levels. It allows you to convert a wide range of video formats and comes with GPU acceleration tools to allow for fast conversions. The free version only allows you to convert up to five minutes and one video at a time, but it's a great tool for converting short videos.
Pros:
Support for 9 high-definition formats and 24 other video formats
Download and encode videos directly from the web
Very fast installation
Also converts audio and photo files
Cons:
Not many editing features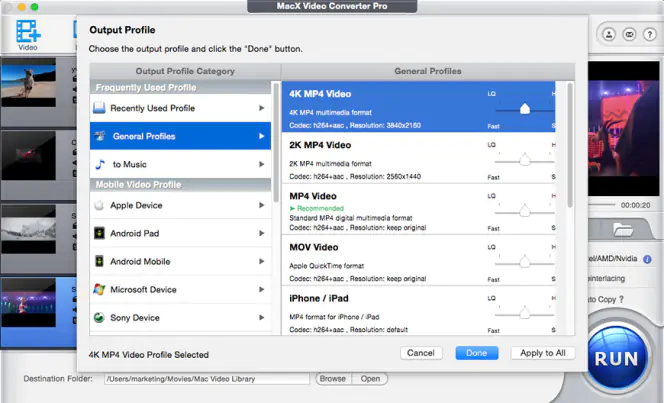 Platform: Desktop
OS: Mac OS X 10.6 or higher
MacX Video Converter Pro is an excellent media encoder for Mac users who want conversions for professional use. Along with converting, you'll be able to record, compress, and edit videos. Designed for professional use, MacX Video Converter Pro can handle HD, Full HD (1080p), and 4K Ultra HD videos without losing quality.
Pros:
Can transcode high-quality videos
Quickly convert your files
Cons: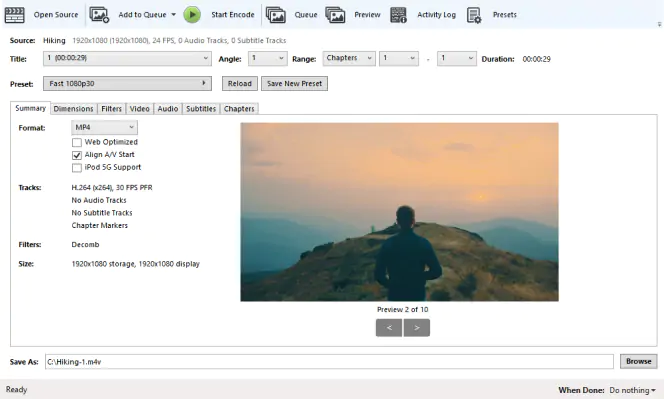 Platform: Desktop
OS: Windows 10 or higher, Mac OS X 10.13 or higher
As one of the fastest free MKV converters, HandBrake received a warm welcome from Windows users after initially only being available on a Mac. This tool has a wide range of features and makes little effort to explain some of the terminologies. As such, it is suitable for users with some experience.
Pros:
Customizable presets
Fast conversions
Cons: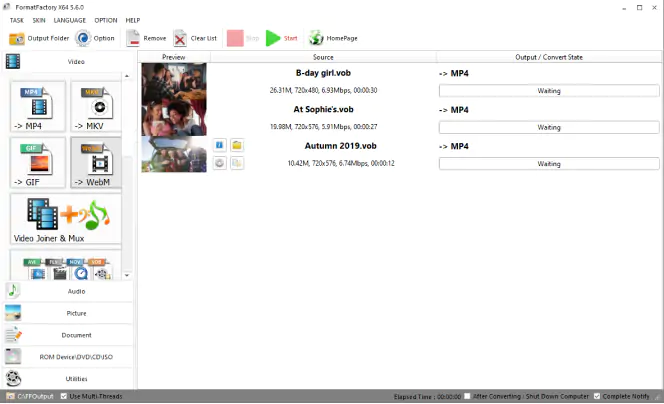 Platform: Desktop
OS: Windows 2000/XP/7/8/10
Format Factory is a free multimedia transcoding software that you can run on any Windows platform. The application covers a vast range of format options that can help you turn anything to a format of your choice. The UI is easy to use, allowing users to use the application without hassle. In fact, with the help of this application, you can transfer CDs and DVDs into various formats. The conversion speed is superfast, and you will not feel any kind of lag. If you want hardware acceleration, it is available for this application during conversion. Users can repair any kind of video file, decrease file size, and convert necessary files to PDF.
Pros:
Free app
Superfast conversion
Comes with the option of disc-ripping
Supports hardware acceleration
Cons:
Offers to install unwanted applications
Only available for Windows
Free MKV converters: Online tools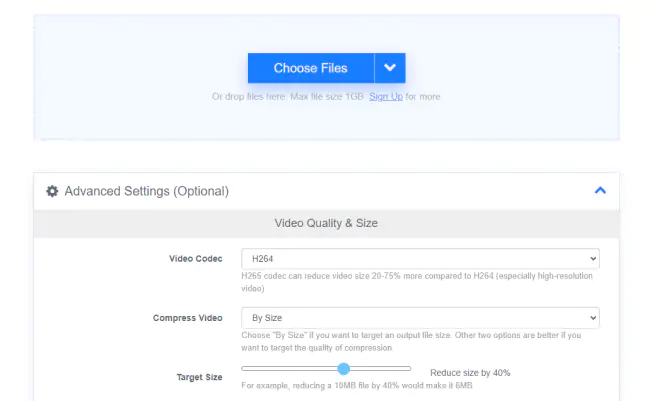 Platform: Online
OS: Any
FreeConvert.com is a completely and totally free online video conversion tool. It's a simple and fast way to convert your files. Plus videos delete from their servers after 2 hours and are protected by SSL encryption at 256 bits, so it's completely secure.
Supporting over 60 popular file formats for import – including MKV – FreeConvert.com can help you convert some of the more obscure file types. Changing the format with this bulk file converter is a simple process.
If you want to customize your conversions, there are also some tools available. Just know that the program limits your file size to 1 GB.
Pros:
Batch conversion feature for up to 20 videos
Allows you to compress videos
Offers more security than most online converters
Cons:
Can only convert files up to 1 GB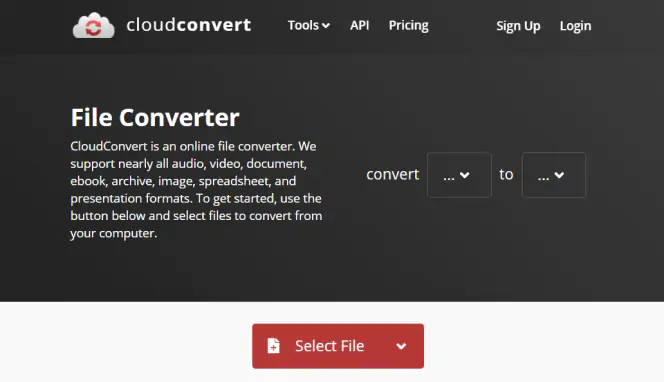 Platform: Online
OS: Any
Whether you want to convert videos, audios, documents, images, e-books, and spreadsheets, CloudConvert is the ideal tool. As long as you have a reliable internet connection, you can access the platform as it is cloud-based. Using this tool is easy, making it suitable for first-time users.
Pros:
Easy to use
You can synchronize with Google
You can also convert images, documents, and presentations
Free trial period
Has a website capturing feature
Cons:
You have to pay a subscription fee after the trial version
Relatively little support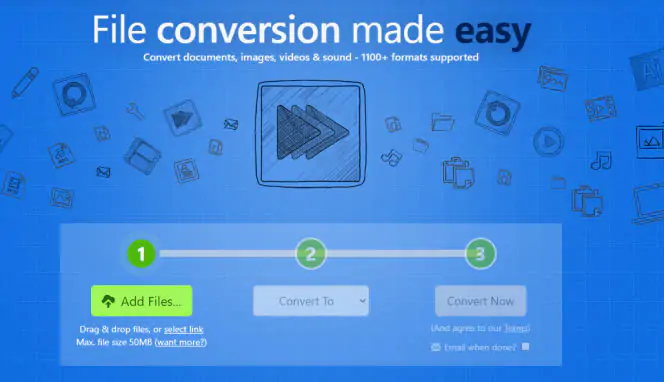 Platform: Online
OS: Any
When you need an MKV converter to use on the internet, Zamzar is an ideal option. This online tool supports a lot of formats and is easy to use, making it suitable for beginners. Once you load the website, you can begin converting files even if you do not have a user account. When your conversion is complete, you'll receive an email notification. Since it's an online converter, you can access it via Windows, Linux, or Mac. All you'll need is a web browser and internet connection. You can use this online MKV converter for free.
Pros:
Free to use
You can upload files from your computer or the internet via an URL
Can be used to convert files through email
Cons:
You can only convert a maximum of two files each day
To increase files size capacity, you'll need to upgrade to the premium version
Slow in comparison to other tools
Delays of up to an hour for conversions when the website has high traffic
If you are looking out for some great MKV-to-MP4 converters, the above list can surely help you. One of the options that are getting famous among users every day is Movavi Video Converter. The best aspect of this application is that it comes with editing options that you cannot find in any other application.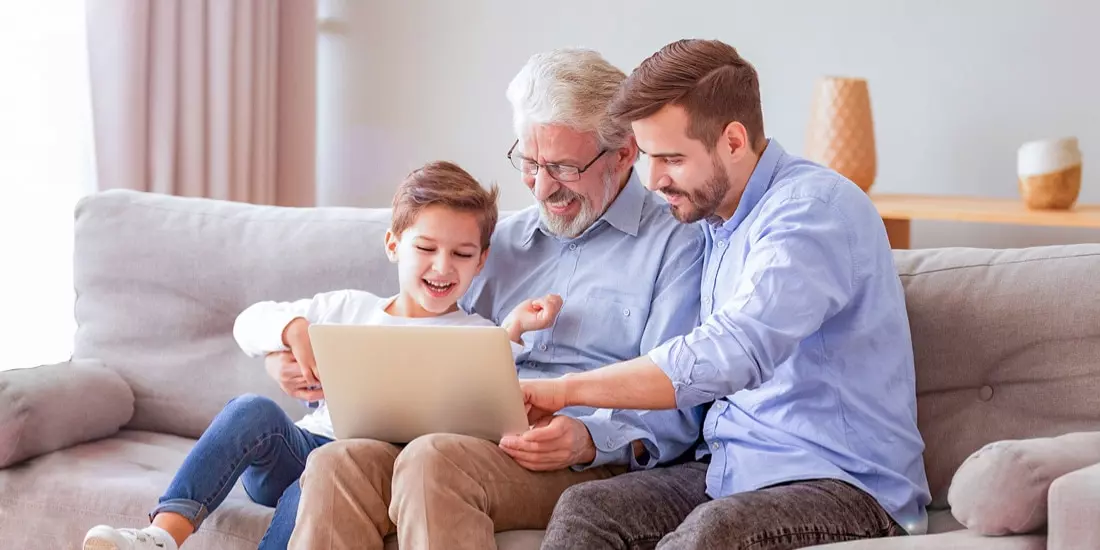 Movavi Video Converter
The ideal way to get your media in the format you need!
Frequently asked questions
What is the best MKV video converter?
There are several choices when it comes to MKV video converters. You can have a look at the list above to make your choice. You can opt for Movavi Video Converter if you are willing to have every feature in a video converter. It is well known for its speed of conversion and ease of use. The application is available for both Windows and macOS. The only disadvantage of the application is that there is no feature of online video conversion.
How can I convert MKV to MP4 for free?
If you want to know how to convert your files for free, there are plenty of MKV converters (freeware) that you can use. Some, such as FreeConvert.com and CloudConvert, are web-based tools that you can use if you have an internet connection. With others, such as Freemake Video Converter, MPEG Streamclip, and WinX HD Video Converter Deluxe, you'll need to download software on your device.
Why is MKV not supported?
For a video to play in your video player, it must have the codecs supported by the media player. If MKV files are not playing, you might be missing a codec.
What can play an MKV file?
There are many media players that support MKV files. They include Windows Media Player, VLC, and DivX Player, among others.
Does MKV work on TVs?
If your TV is compatible with MKV, or you can download the codecs, you'll be able to watch MKV videos. However, if the MKV files contain other incompatible formats, the video may not play. For instance, MKV files that contain Dolby Audio do not play on Samsung TVs.
Can you put MKV on an iPhone?
If you want to play MKV files on your iPhone, you'll need to download an external media player such as VLC for iOS as the built-in media player in Apple devices does not support MKV files.
Is MKV better than MP4?
Both MKV and MP4 come with their own set of features. One of the differences between the formats is that MP4 files are a lot smaller in size in comparison to MKV. Also, the media players that you will get with today's mobile devices are more likely to support MP4. MP4 files can provide great quality videos in small file sizes with H.264 encoding. If you want a file format that is small in size without any compromise on quality, MP4 is the option for you.
Sign up for news and special offers