How to Record a Flash Video
Flash video is basically a good thing as it has sophisticated features. Flash is platform-independent and is supplied with almost all browsers these days, so it is widely used.
And of course, there are a variety of video applications that would not be possible without Flash. But still, one of the reasons people are reluctant to deal with Flash Videos is that you don't have direct access to the video.
But don't worry, you can actually record a Flash video. In this article, we'll see how to capture Flash videos in five easy ways. As you will discover in this article, you can make a Flash video capture using a desktop program, an online Flash video recorder service, a browser extension, an iOS, and an Android app.
How to Record a Flash Video in Movavi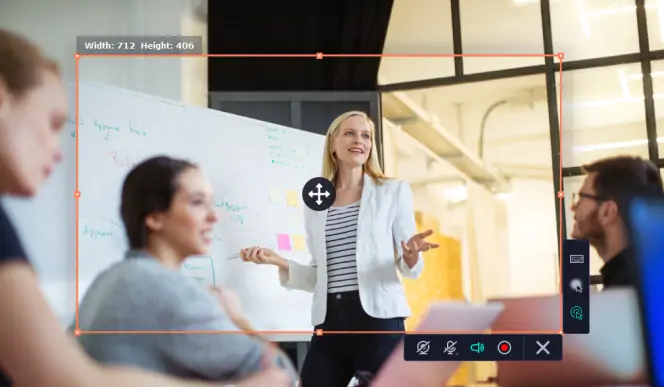 Best for: capturing streaming videos, webinars, and online calls
G2 rating: 4.5 out of 5 stars, 41 good reviews out of 44
One of the easiest and most convenient ways to record a Flash video stream is through desktop programs. These are generally compatible with Windows and Mac, but the disadvantage is that most are not free software. And if you find freeware, there are usually limits to the functions you can get with the Pro versions. Also, the free versions are often watermarked.
But Movavi Screen Recorder is one of the best video recorders you can record and save a Flash video. Movavi lets you separate your video into several parts without re-encoding or losing quality! Below we explain how to use Movavi Screen Recorder to capture a video from a website.
Step 1. Install Movavi Screen Recorder
First, download and open the installation file. Follow the on-screen instructions to install the program. Then open the program by double-clicking on the icon.
Step 2. Prepare the Program for Video Recording
Launch Movavi Screen Recorder and find the Screen recording icon on the sidebar. Adjust the capture area by dragging on the edges of the orange frame.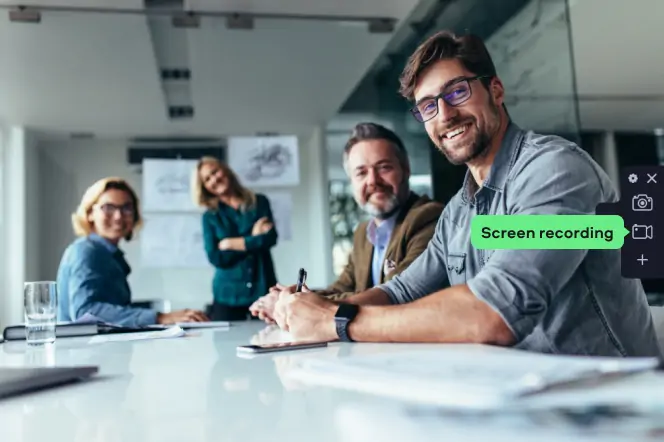 Ensure that System Audio is on and the Microphone is off (as shown on the screen). In this case, the sound from the video will be recorded, but no external sounds will appear in the clip.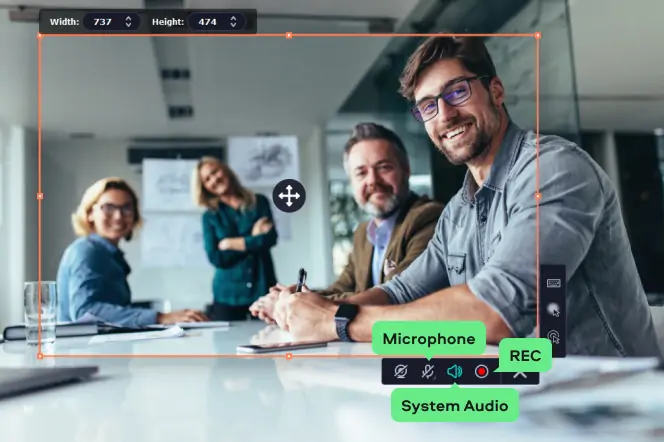 Step 3. Record and Save Your Flash Video
Hit the REC button and start playing your video. Click Pause when you want to take a break or Stop when you've finished capturing. You can also manage the process with hotkeys: in Windows, press F9 to pause/resume and F10 to stop recording. If you use a Mac, press ⌥ ⌘ 1 and ⌥ ⌘ 2, respectively. Your recording will be automatically saved in MKV format and appear in a new preview window after you click Stop. If you want to change the format, go to the next step.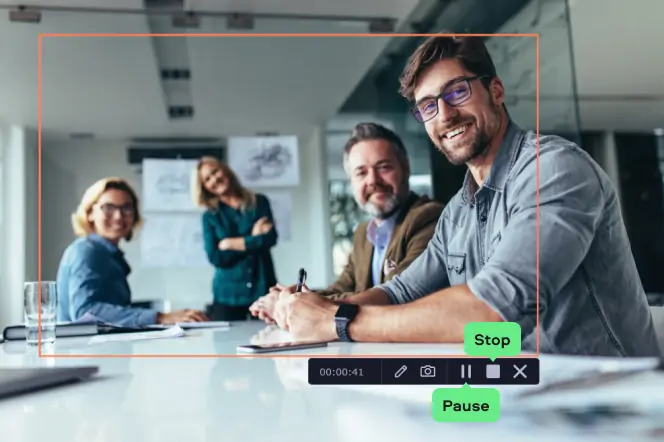 Step 4. Convert the Clip (Optional)
In the preview window, click Export. Enter the name of the file at the top of the window. Files are automatically saved to the "Movavi Screen Recorder" folder. Now you can select one of the available presets: choose the one that best suits your requirements. When you're ready, click the Save button.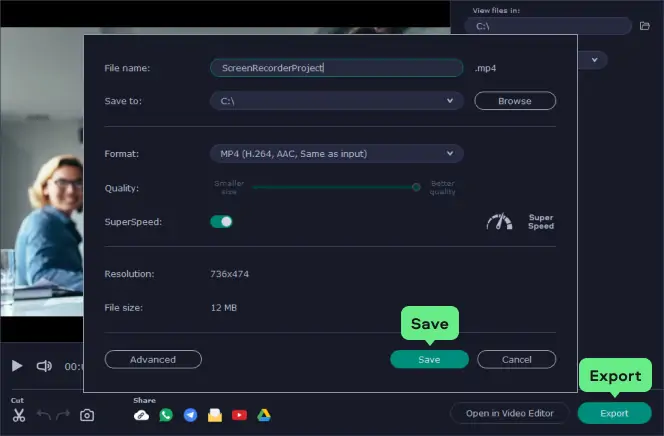 Now you know how to record Flash videos and use Movavi Screen Recorder as a converter to save captured videos! No matter what you want to record: an online video, a live stream, or Flash animation – our software can help you copy any video to your computer.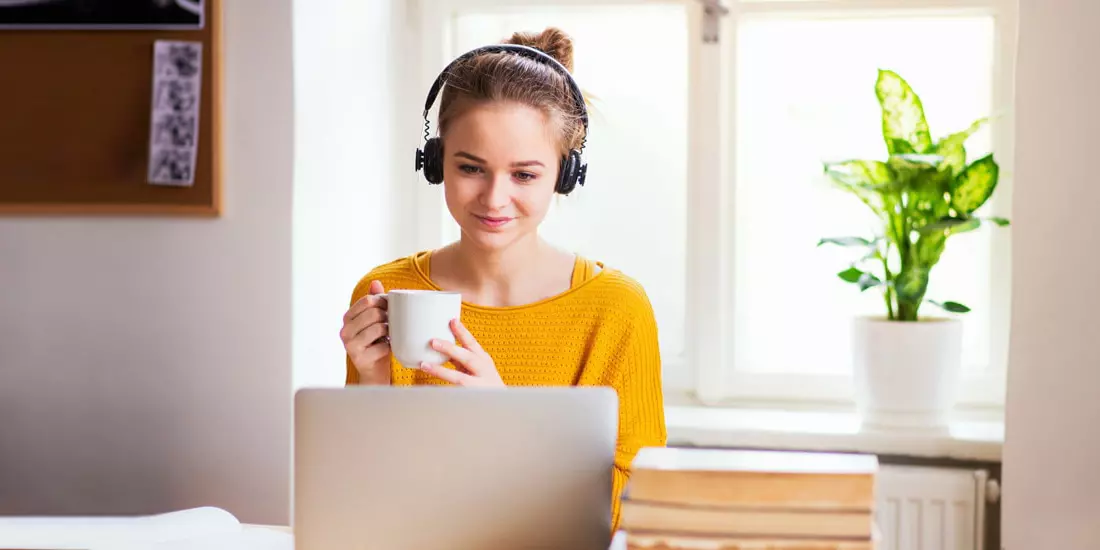 Movavi Screen Recorder
The perfect way to record from your screen
Disclaimer: Please be aware that Movavi Screen Recorder does not allow capture of copy-protected video and audio streams. Learn more
Online Flash Video Capture Service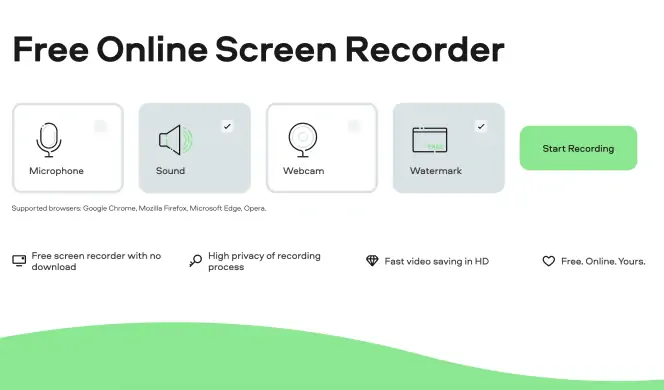 Best for: instant screen capture
Trustpilot rating: 4.6 out of 5 stars
You can record Flash videos from websites using online services. However, in most cases, you have to download and install a specific app for that.
Screencapture.com offers one of the best features for online video grabbing. And the big deal is that the service is free in exchange for a watermark on the video. It works on Google Chrome, Opera, Microsoft Edge, and Mozilla Firefox. On Screencapture.com, you can copy files and share them. The service is 100% available on the web and doesn't need a download. It has a high level of security and privacy and saves high-definition videos faster.
To use Screencapture.com, follow the procedure below:
Visit the website.

Ensure that the Sound option is enabled. Turn off the Microphone and Webcam so that your face and voice will be excluded from the video.
Choose the area to capture and click Start Recording so the service can begin grabbing videos on your screen.
Go to the Flash file, start the video and keep recording.
When the video is over, click Stop Recording and save the file.
Browser Flash Video Recorder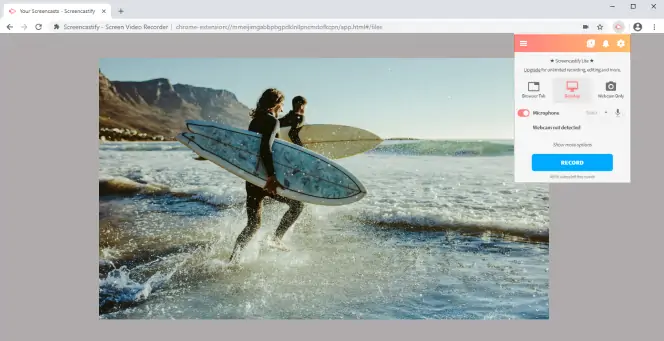 Best for: educational tutorials and demos
Chrome web store rating: 4 out of 5 stars
With browser extensions, you don't have to save and install extra programs on your PC. Still, to perform additional functions through your web browser, you can install extensions on your browser so that when you want to record, the installed extension will act as a built-in program, offering a seamless recording and saving process. But browser extensions are not ideal for old PCs or PCs with low RAM as they can slow down the PC or web browser performance or even cause it to stall. Also, most browser extensions work on desktop computers alone.
One of the best browser extension tools for recording a Flash video is Screencastify. If you use Chrome as your browser, Screencastify is a good option. This extension can record all kinds of activity (including audio) within a browser tab and on your screen in general – that is, outside the browser.
Screencastify's recording capabilities are not dependent on additional plug-ins, such as Java or Flash. You can even use it on Chromebooks. And videos recorded with Screencastify can be saved to your hard drive, posted directly to YouTube, or uploaded to Google Drive with a simple click.
The free version allows you to record videos of up to 10 minutes, which in many cases is more than enough.
To record with Screencastify:
Click on the extension icon so you can open the control panel for recording.
Click on Desktop (there is no need to click Webcam and Microphone).
Click on Show More Options and activate the System Audio so that you can capture audio coming from the computer. However, this option is not available for Mac users.
Click on Record and then opt for Entire Desktop capture, and a countdown will begin.
Next, go to the Flash file and play it.
When you're done, tap on the Screencastify icon and stop the recorder. Next, you'll be able to edit, save and/or share your recording.
How to Record a Flash Video Stream on iOS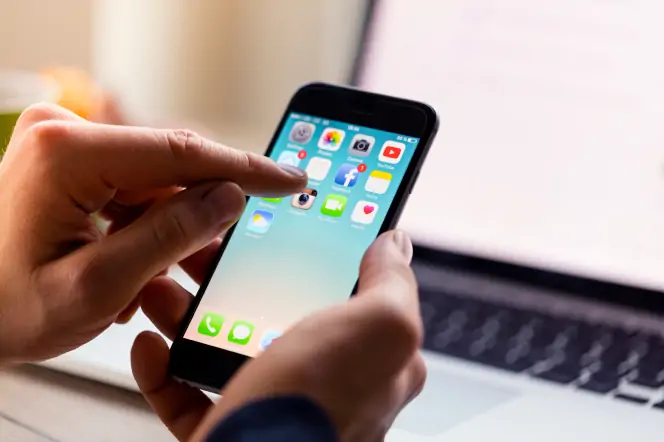 The screen-recording feature on iOS can be useful for creating tutorials, sharing a video game, or illustrating a manipulation without necessarily going through the screen-recording feature on Mac. It is also available on an iPad equipped with iOS 11, 12, or iPadOS.
Here is how it works in detail:
Add Video Recording Shortcut to Control Center. First of all, you have to go to Settings to add the video screenshot shortcut to the control center. By going to Settings and Control Center, you can manage the commands accessible from the Control Center, particularly on the Customize commands page.
Look for Screen recording in the list. Add it to the top list named Include by pressing the green plus sign. That's it. If all went as expected, the shortcut for the screen video capture function is now integrated into the Control Center.
To start recording the screen, you must first display the Control Center. On iPhone with Face ID (and on iPad with iOS 12 or later, or iPadOS): swipe down from the top right corner of the screen. Record the Flash file as it is being played.
To stop recording, just press the same button on the Control Center again. The video is saved to the Camera Roll or sent to the chosen app.
How to Capture a Flash Video on Android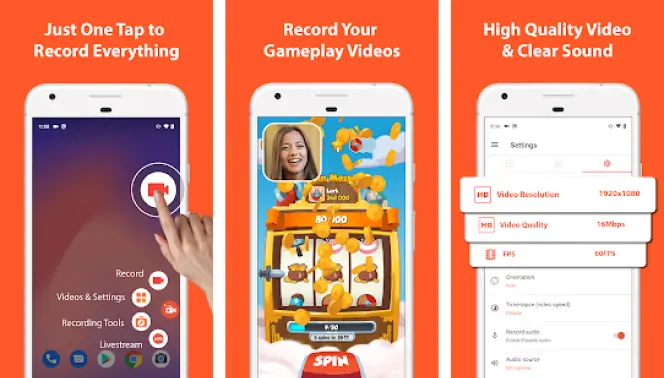 Best for: screen recording and editing
Google Play rating: 4.5 out of 5 stars
Phones with OS inferior to Android 10 don't have the feature to record internal audio. On Android 10, you can use a third-party app like AZ Screen Recorder, which you can find in the Google Play Store.
To start, go to the Play Store to download AZ Screen Recorder and install it.
Tweak the video recording settings to your needs.
Tap the red camera shutter in AZ overlay, and the recording process will begin.
Navigate to the Flash video and play it while AZ keeps recording.
When the video stops, pull down your notification slide and tap Stop.
The video will be saved to your phone automatically.
The videos on many websites are in Flash format, a format characterized by its flexibility and high compression that reduces its weight. Typical examples are YouTube, VEVO, Hulu, and many other video hosting and streaming sites. While it is possible to have an online Flash video viewing experience, you may encounter problems when capturing and downloading them from such websites. We hope that the methods recommended in this article will let you capture flash video in a breeze and have it saved appropriately on your device in specific or selected formats.
Frequently Asked Questions
What is the best Flash recorder?
The best Flash recorder is usually software that can record in high-definition format. Like Movavi Screen Recorder, it should give you an option to cut and edit the video.
It should also let you save in your format of choice and save directly into your smartphone or PC.
Also, try these tools:
Screencapture.com
Screencastify
iOS built-in tool
AZ Screen Recorder
How do I capture a Flash video in Chrome?
Although you can record videos with most of the methods recommended, to capture a Flash video in Chrome, the best option is to use a website extension like Screencastify.
How do I save a Flash video to MP4?
Not all video recorders let you save into MP4. However, you can grab a Flash video with Movavi Screen Recorder and save it in MP4. Also, you can download the Flash video directly from your browser and then convert it with Movavi Video Converter.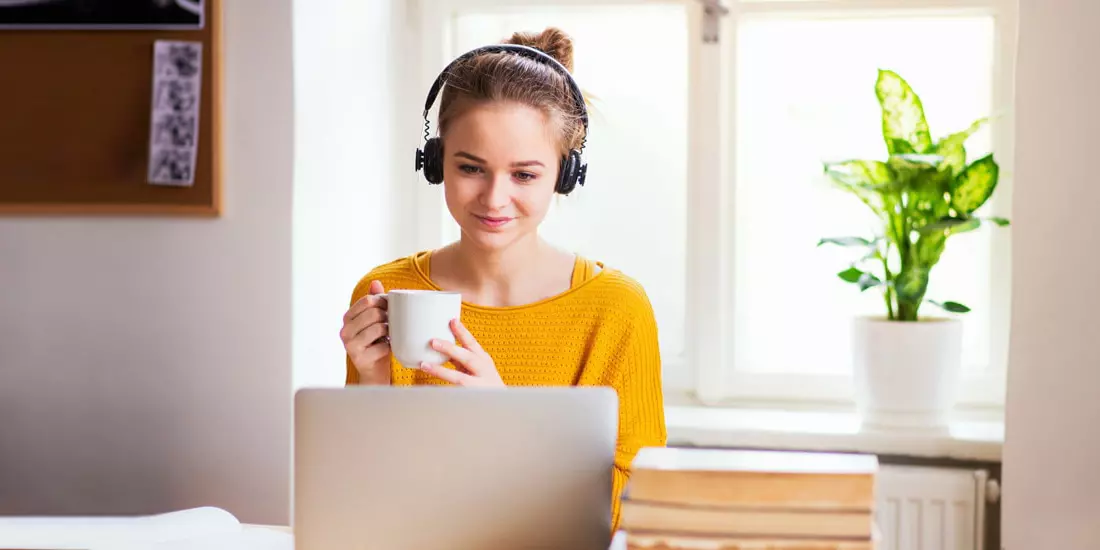 Movavi Screen Recorder
The perfect way to record from your screen
Disclaimer: Please be aware that Movavi Screen Recorder does not allow capture of copy-protected video and audio streams. Learn more
Sign up for news and special offers