How to Record Games with Gecata by Movavi
Want to share tips and walkthroughs on Grand Theft Auto missions or show off your highest castle in Minecraft? Or maybe you just want to save that breathtaking cinematic from the latest Final Fantasy game. Whether you share Let's Plays on YouTube or create music videos using game clips, you'll need an effective way to record gameplay.
Grabbing PC gameplay is much easier than recording video games from consoles – there's no need for a special grabber device. On a PC, all you need is an app that lets you record game footage.
Gecata by Movavi has everything you need to capture in-game video from your computer screen. Download the app below and learn how to record gameplay on PC with this tutorial.
Install Gecata by Movavi
After the download is complete, run the .exe file and follow the Installation Wizard instructions. It will take just a few minutes to finish the process. Once it's done, run the app and record any gaming video you want.
Adjust the Capture Settings
In the main window, make sure the Capture mode is set to Game. System sounds will be captured by default. On the Devices tab, enable the Microphone and Webcam if you want to record your voice and/or your face while you're playing.
Switch to the Web Camera tab to adjust the webcam capture settings – size, video resolution, position, and frame rate.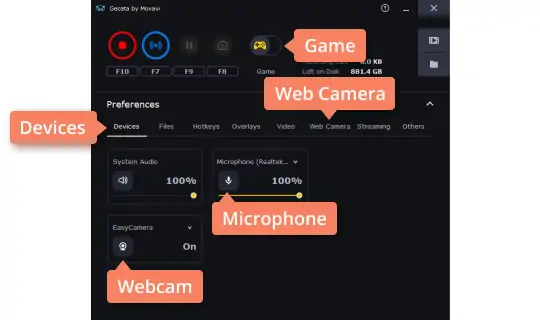 Adjust Video Settings
On the Video tab, you can set the video resolution and quality. From the Resolution list, select Original if you want the resolution of the actual game to be preserved in the output video, or choose one of the preset sizes. Expand the Frame rate list and select a frame rate between 15 and 120 frames per second. The higher the frame rate, the larger the file size, so if your game is not an action-packed adventure, choose a lower frame rate – it's the best way to save space on your hard drive.
Choose the output video quality by adjusting the Video quality slider. Note that high-quality game footage will take a lot of space on your PC, so make sure you have at least 2 or 3 GB of free space before recording.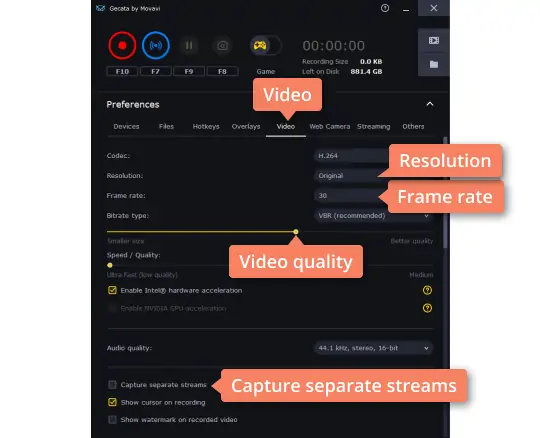 You can also save the screen capture and webcam footages as separate files – just check the Capture separate streams box.
Record Gameplay
If you want to start recording immediately after launching the game, click Start Recording in the program interface before you run the game; otherwise, just start the game you want to record. Press F10 to start or stop recording and F9 to pause. You don't need to do anything – the game footage will be automatically saved to your hard drive as an MP4 file. This is how to record games on a PC – it couldn't be easier!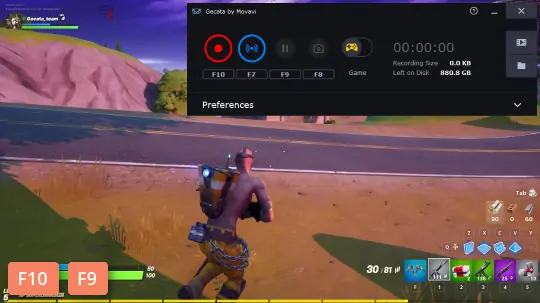 Now you know the best way to record gameplay on your computer – with Gecata by Movavi.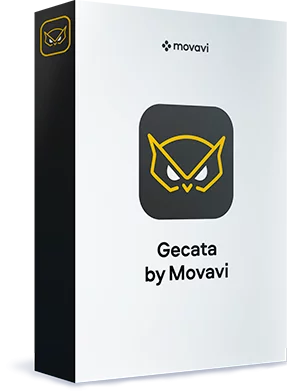 Gecata by Movavi
The best way to preserve your gaming achievements.
Stream and record HD game videos at up to 120 FPS

Grab sound from microphone and speakers

Add webcam video to the game footage

Save video in MP4 for easy uploading to YouTube
See Other Useful How-to Guides