7 Best Free Movie Maker Programs for Video Editors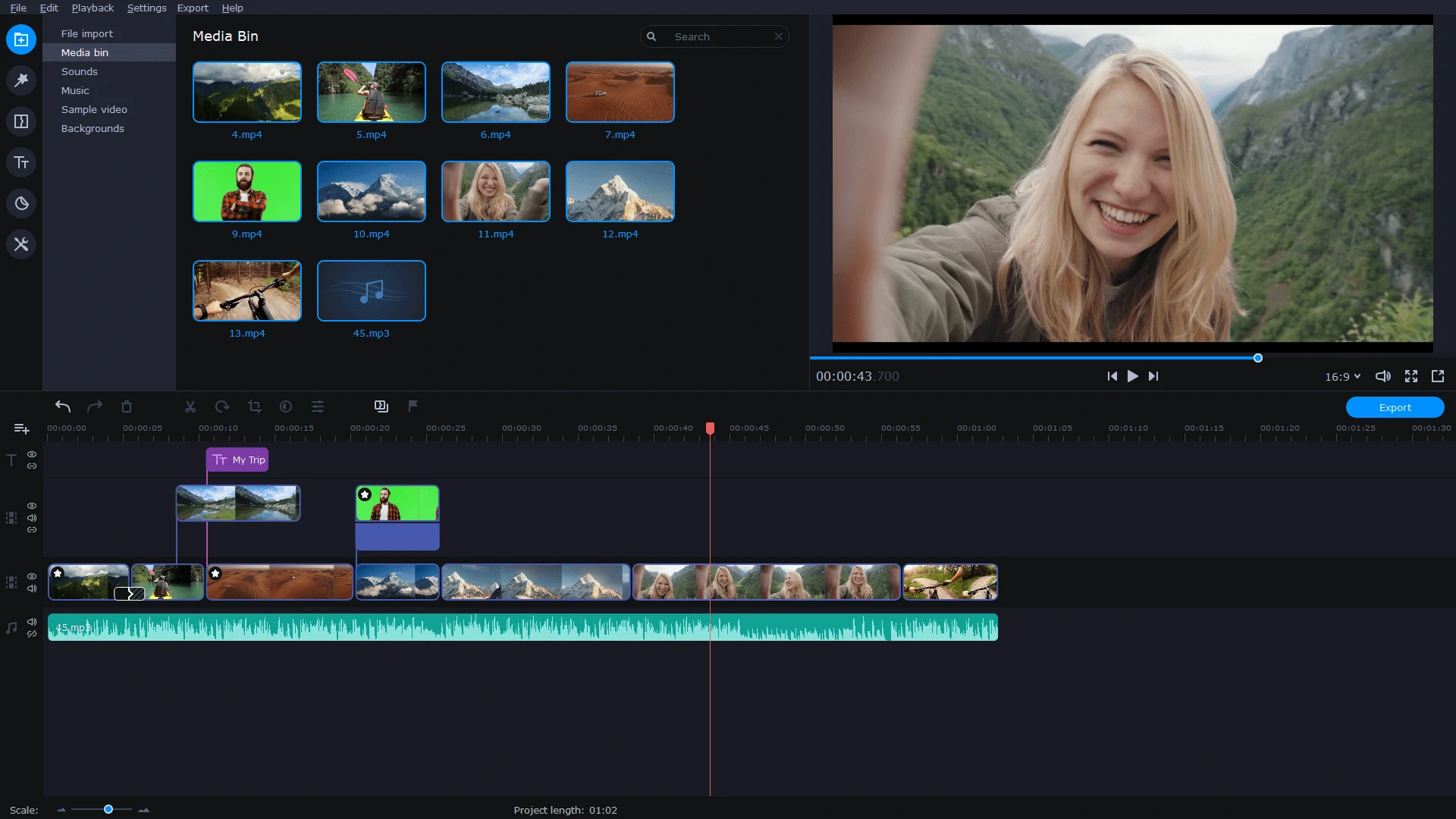 Years ago, an emerging video editor had the power of beloved free movie maker software – the Windows Movie Maker free software – to harness their editing powers and prepare their film projects for the world. And, they could do so on a budget. Now, the world of free movie maker software looks completely different. Windows Movie Maker went by the wayside as Windows pushed customers to use the movie-making effects of its Windows 10 Photo app. That's why video editors far and wide are searching online for the best free movie maker software that's built for, well, movie makers – not photographers.
But fear not: We have your video-editing needs covered. We analyzed a variety of free movie maker software programs for Mac and Windows to help you find the best video-editing tools, whether you're on a beginner budget or not.
Best Movie Maker Features to Look for
What are the most important features in a free movie market program? First, make sure your movie maker is speedy. If you're bogged down with uploads, editing time, and downloads, your hourly rate will plummet – and your patience will reach a boiling point. It's important to have text options, visual effects, transitions, and audio so you can elevate your project from simple footage to impressive and engaging film.
Intuitive workflow is also a plus for a live movie maker program. Otherwise, you'll waste too many hours learning the software – which leads to not enough hours spent on editing. If you can, opt for a nonlinear video editing program as well. This will give you utmost creative control.
7 Best Free Movie Maker Software Programs for Windows and Mac
Disclaimer: We use affiliate links to the products mentioned on this page. When you click an affiliate link and make a purchase, we receive commissions. If you want to support our portal, you can use the links. Otherwise, you can find the recommended products using a search engine.
#CommissionsEarned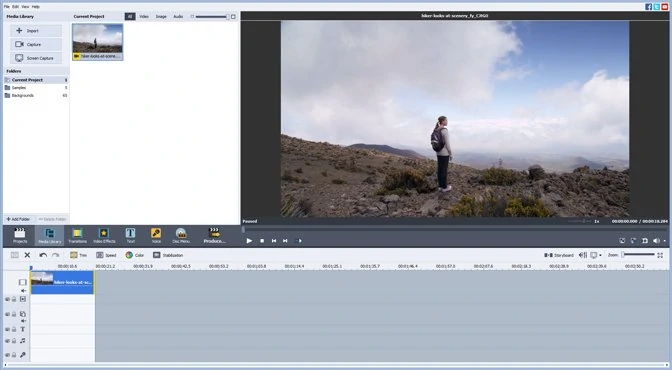 With a versatile and robust set of features and tools, AVS Video Editor is one of the best free movie maker programs. You can trim, split, rotate, cut, and add unique video effects and transitions with an intuitive yet powerful interface that's perfect for beginners. The text and audio options are great for a trailer film, a video intro, a tutorial for your website, or even poster editing. HD video editing is as speedy as can be with the AVS Video Editor. It also has built-in capabilities for slideshows, Blu-ray video editing, and outputs for a DVD or Blu-ray disc, as well as iOS and Android devices to share on your favorite social media app. It supports an impressive list of formats, including MP4, DVD, MKV, AVI, VOB, 3GP, MOV, WMV, and DVD. This free software is compatible with Windows only.
Best for: beginners at video editing.
OS: Windows
Price: $59 for unlimited access, $39 for an annual subscription
Pros
Supports popular video formats
Can transfer videos from cameras and webcams
Cons
Available for Windows only
Follow the link below to read the detailed review by PCWorld.
Proceed to the PCWorld website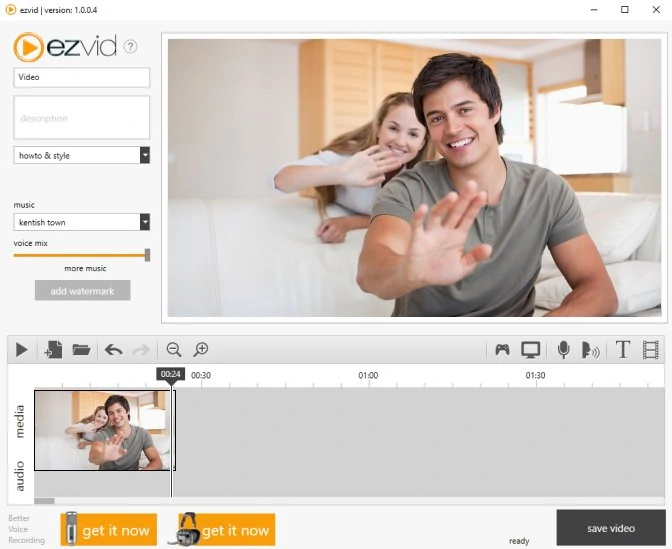 Ezvid is a strong and easy to understand option for video editors who prefer a nonlinear workflow. Available for Windows, this quick software gives you the power to use screen recording of up to 45 minutes (great for tutorials), speech synthesis (for narration), and a variety of special effects to bring your video to life. The free movie maker software program's speed adjustments let you add interest to your film, with videos edited to a music's beat. To that note, music is included with the software. There are also no watermark issues to worry about with Ezvid; you can set whichever watermark image you would like. You can use your own photo and video files as long as they're in common formats like PNG, JPG, BMP, GIF, MOV, and WMV. Ezvid is optimized for YouTube output. You can download full version of Ezvid for free, although the founders encourage a donation within 30 days of download.
Best for: those who want to create videos without watermarks.
OS: Windows
Price: free
Pros
Has a screen-recording feature
Offers free built-in music
Cons
Video length is limited to 45 minutes
Go to the TechRadar website to read the full review of Ezvid.
Proceed to the TechRadar website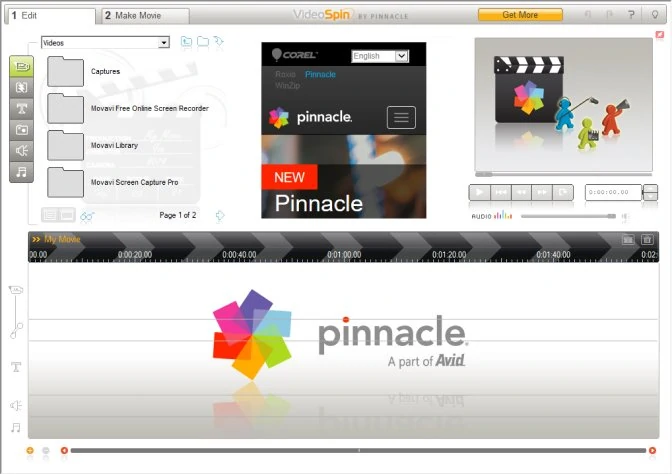 With the Pinnacle VideoSpin software, you have a free alternative to the premium Pinnacle Studio program. It comes with a simple-to-navigate user interface that allows for photo and video uploads with a multitrack timeline for editing. Special effects in VideoSpin range from text editing to music and audio. It syncs up with YouTube for easy output, although you have control over the output format if you'd rather share your video elsewhere. You can create videos for a DVD, iPad, and more. This is a free-to-download Windows software, although you will be required to pay for certain codecs after a 15-day trial.
Best for: beginner YouTubers.
OS: Windows
Price: free
Pros
Intuitive user interface
Can create videos suitable for different devices
Cons
Software was discontinued by the developer
Check the PCWorld review of Pinnacle VideoSpin.
Go to the PCWorld website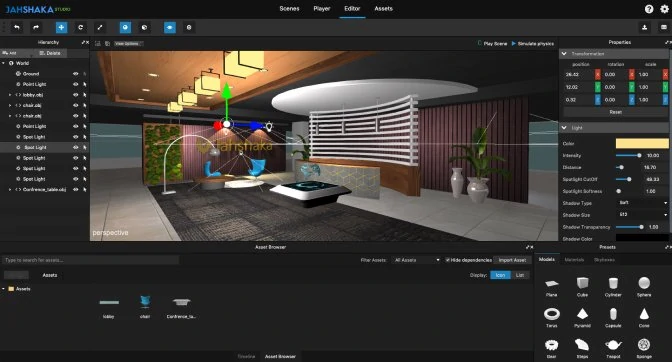 With the capability to digitally edit virtual worlds, Jahshaka is a unique video-editing alternative to Windows Movie Maker. This free program gives you the tools to create an immersive 3D world, with included support for things like objects, particles, and animated movements. It has OpenGL and OpenML environments for movie creation, and has a clean and functional interface, particularly when using the software's desktop section. You can work in layers to build out highly involved video projects; color correction options and filters give you control over your scenes. One thing to note: Jahshaka works best with JahPlayer, although you could use other players like VLC. You can download a full version of Jahshaka for Windows; note, it's not available for Mac.
Best for: those who have some experience with video editing.
OS: Windows, macOS, Linux
Price: free
Pros
It has a lot of advanced features
It is able to 3D create content
Cons
It requires reading some tutorial before starting to use it
Users may face troubles with installation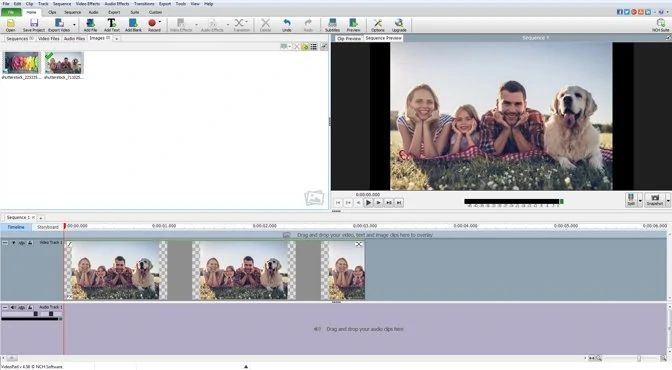 It's time for a video editing software for Mac users! The VideoPad Video Editor for Mac is an simple, quick yet jam-packed platform. It has more than 50 effects and transitions to add a "pop" to your films, with a set of digital audio tools to further bring your videos to life. Editing 3D or 360 video footage? No problem. The VideoPad Video Editor has the capability to edit and export these files. You can export your film as a file, on a DVD, as a Blu-ray export, for YouTube, and more. You can download a full version of the VideoPad Video Editor and begin crafting your masterpiece (on a Mac) instantly. To note, features are limited in the free version versus paid, but it's a great platform to get your feet wet with video editing.
Best for: Mac users who don't want to spend much time trying to master the software.
OS: Windows, macOS
Price: free (for home use)
Pros
Very simple
Good at working with complex projects
Precise at cropping and trimming
Cons
Slow in video processing
There might be issues with sound
If you want to look through a detailed review, visit the Capterra website.
Proceed to the Capterra website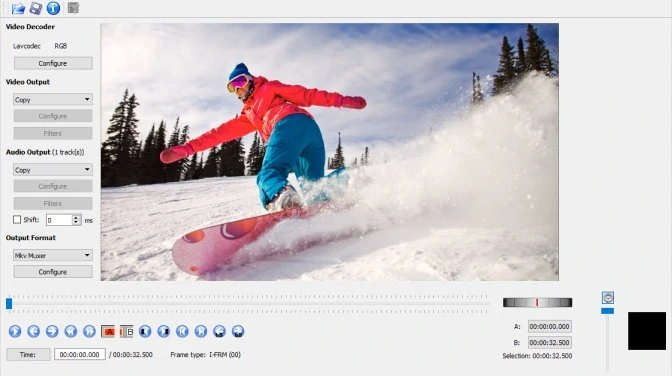 Another free movie maker and encoder for Mac is the Avidemux platform. This easy-to-use software was built for those who need more flexibility than Mac's built-in iMovie. It supports AVI, DVD, MPEG, MP4, and ASF files with numerous types of codecs. This free tool, also available on Windows and Linux, doesn't have the cleanest interface, but if you're not in it for aesthetics – you'd rather have a powerful free movie maker that works – this could be your tool. You can access filters, templates, transition effects, and other plus-ups to improve your video-editing capabilities. If you need an app without trial, Avidemux is worth trying.
Best for: those who need basic video editing features.
OS: Windows, Mac, Linux
Price: free
Pros
Weighs less than 20 MB
Supports both H.265 and H.264 codecs
Cons
No special effects like chroma key
No technical support
TechRadar made a full overview of the app.
Visit the TechRadar website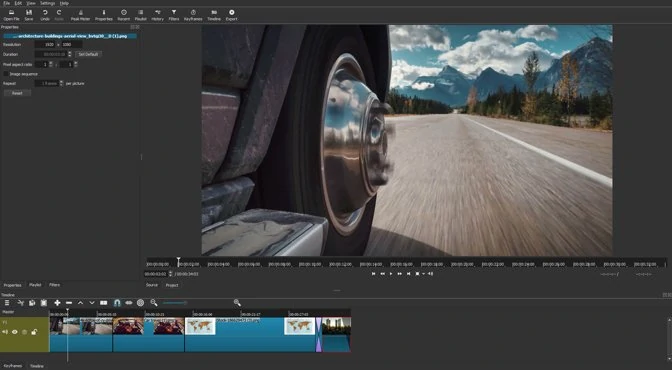 Shotcut is one of the best Windows Movie Maker alternatives on the market. It comes with various features, including cut, copy, and paste operations; three-point editing; scrubbing and transport control; the ability to detach audio from clips; presets for most filters; and much more. This open-source platform also supports hundreds of audio and film formats and codecs. You can also work in multi-format timelines, with a simple and sleek interface and Blackmagic Design SDI and HDMI inputs, as well as support for resolutions up to 4K. This free movie maker program is available for download on Windows, Mac, and Linux.
Best for: users who are already familiar with video editing.
OS: Windows, macOS, Linux
Price: free
Pros
Supports resolutions up to 4K
Supports all popular media formats
Cons
Inexperienced users may find the app a bit difficult to work with
To learn more about Shotcut, read the article from PCMag.
Proceed to the PCMag website
So, with these top 7 best free movie maker alternatives as evidence, you have plenty of robust options to perfect your films – even without the defunct Windows Movie Maker. Even better? This video-editing software is free, so you can scout multiple options until you find the programs that work best for you.
Software Alternatives
For an enhanced movie maker experience, try software like Movavi Video Editor Plus. This video-editing program is simple, intuitive, and powerful, with a mix of professional and basic editing features. Expect a short learning curve – and little stress – with options like the Movavi Video Editor Plus software. That means you can dive in and get to video editing immediately!
Frequently Asked Questions
Is Windows Movie Maker Still Available?
Windows Movie Maker is no longer available for download on Windows 7, 8.1, and 10, and Windows recommends not downloading it from third-party sites because they could have dangerous malware or viruses. Instead, Windows recommends using the editing tools in its Windows 10 Photos app.
Can You Still Download Windows Movie Maker?
You cannot download Windows Movie Maker through Windows as of January 2020. The company recommends not downloading Windows Movie Maker from third-party sites as well, as the download may come with viruses or malware. Windows ended support for its Windows Essentials 2012 suite in January 2017.
What Do Most YouTubers Use to Edit Their Videos?
Many YouTubers choose versatile video-editing software across budget levels, with the most popular being:
Movavi Video Editor Plus
Lightworks
Vegas Pro
iMovie
Final Cut Pro
Read the guide linked below to learn more about these and other programs.
What Is the Best Free Movie Maker?
There are definitely many free video editors worth checking out, for example:
Ezvid
Pinnacle VideoSpin
Jahshaka
AVS Video Editor
VideoPad Video Editor
Avidemux
Shotcut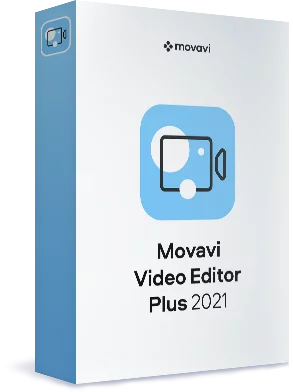 Movavi Video Editor Plus
Your next step in video-making
Edit video clips, images, and audio on a timeline

Add transitions, filters, titles, and stickers

Animate objects using keyframes, use more built-in media

Export videos in any popular format
* The free version of Movavi Video Editor Plus has the following restrictions: 7-day trial period, watermark on the output videos, and, if you're saving a project as an audio file, an ability to save only half the audio length. Learn more
See Other Useful How-to Guides