How to Record Internal Audio
The hunt for internal audio recorders that function in a top-tier way and produce high-quality results can feel a little strenuous at times. The truth is that there's no shortage of free programs and online services when it comes to screen recorders that record internal audio. The programs are out there, and while it may feel like a witch hunt to find that perfect audio recorder for you, it'll feel like eating your favorite candy for the first time when you do find the ideal screen-recording match.
To assist with your hunting, we've detailed the best 12 ways to record system (internal) audio just for you. Those that we've selected include using programs, online services, browser extensions, and Android apps.
Desktop Screen Recorders with Internal Audio
When you need a quick solution for grabbing sound or video, utilizing desktop software for all of your screen recording needs can be your superhero. Relying on internal audio recorders on PC allows you to have everything you may need from the comfort of your personal computer. While having direct access is great, it can turn into a disadvantage if your software of choice takes up too much space on your PC.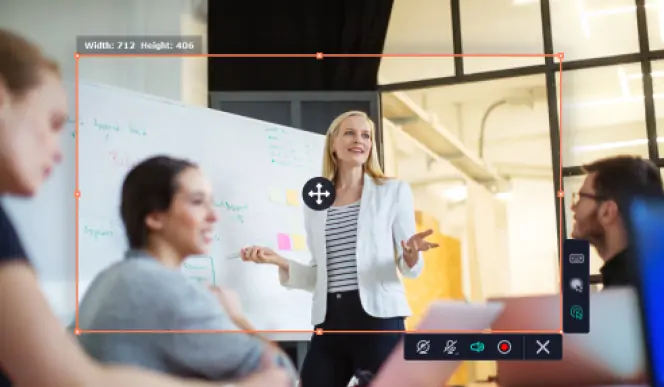 Best for: capturing streaming videos, webinars and online calls
G2 rating: 4.5 out of 5 stars, 41 good reviews out of 44
Created to give you the best chance at capturing webinars, important tutorials, online calls, and much more, Movavi Screen Recorder is designed with the individual user in mind. You can capture screens in one click, making it simple to record internal audio.
Pros:
Basic editing tools are available to tweak the recording.
Clips can be saved to Full HD or 4K.
Movavi Screen Recorder allows you to schedule recordings, draw on videos, and capture webcam output without recording the screen.
Cons:
You cannot enhance the initial video quality.
Filters and effects are not included.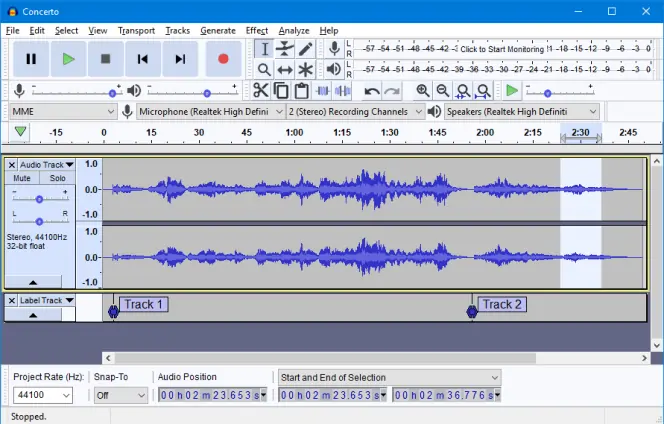 Best for: professional sound processing
G2 rating: 4.4 out of 5 stars, 314 good reviews out of 331
Great for recording, Audacity is an all-in-one option to record internal audio. The software is made to be accessible when looking at ways to record internal audio and works seamlessly with Windows 10. You can fully manipulate tracks using keyboard shortcuts, making it a quick fix to work through trial and error edits that need to be redone to perfect your final product. Unlimited redo/undo tabs assist in going back steps to ensure your audio is exactly what you need.
Pros:
Audacity supports LADSPA, LV2, Nyquist, VST, and Audio Unit effect plug-ins, making it simple to adjust sound quality, add real-time effects, and export to the file of your needs.
It is an internal sound recorder Windows 10 software that allows you to change the speed, pitch, or tempo of a recording effortlessly.
The software takes up minimal room on a hard drive and can even be loaded to a flash drive.
Cons:
There is a reasonably steep learning curve when it comes to learning how to use the interface of Audacity. It can be a powerful screen recorder with internal audio, but it can take time to understand tutorials.
Making major edits, such as removing background noise, requires the use of third-party plugins and is a little challenging to accomplish.
Best for: real-time audio capture
G2 rating: 4.4 out of 5 stars, 41 good reviews out of 44
Open Broadcaster Software (OBS) is open-source software for video recording and live streaming. OBS brings you real-time video and audio capturing, which you can then edit to create scenes made from multiple sources. The program captures images, text, browser windows, webcams, capture cards, and more.
Pros:
There's a possibility to add and customize transitions between the scenes.
In-program audio mixer filters noise suppression, noise gate, and gain to give you complete control over the sound.
Straightforward interface makes using the software as simple as possible to provide a very short learning curve.
Cons:
OBD takes up a large portion of CPU/memory.
You can't link to an audio file as a source.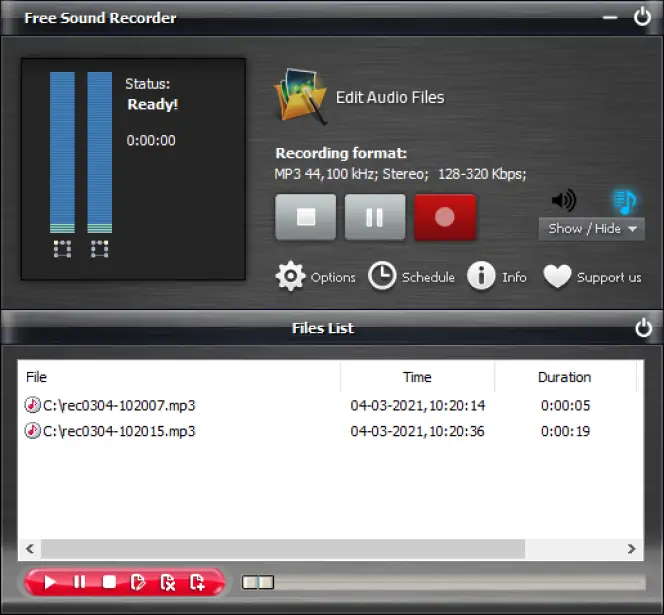 Best for: internal and external sound capture
Founded in 2005, Free Sound Recorder was created to bring the best software to the table for users looking at how to record internal audio on Windows 10. The program is entirely free, requires no signup, and allows you to access all features from day one. The interface is designed to be simple, with each button being written in clear, readable fonts so that you can always be confident of what your clicks do. All it takes to start recording is to click one button.
Pros:
There's an ability to capture both internal and exterior sound.
There's an ability to schedule recordings with a predetermined time from your desktop or a website.
Auto-naming functions help ensure you don't accidentally overwrite a file and prevent you from having to manually rename files should you have to record more than once.
Cons:
Audio-editing tools are limited.
Tagging files is finite.
Services to Record Internal Audio Online
In the last few years, online screen recording services have been popping up left and right, which is great for small or simple projects. With the promise to offer you various features depending on your preferences, act as an internal audio recorder, and much more, it seems like you can't go wrong with an online option.
That's not entirely true. While most online programs allow you the same basic features as desktop services, they're limited in what you can do. Some online programs will only let you record for a few minutes, many won't let you put your personal watermark on your projects, and with it being online, it's slightly riskier when it comes to the privacy of your files.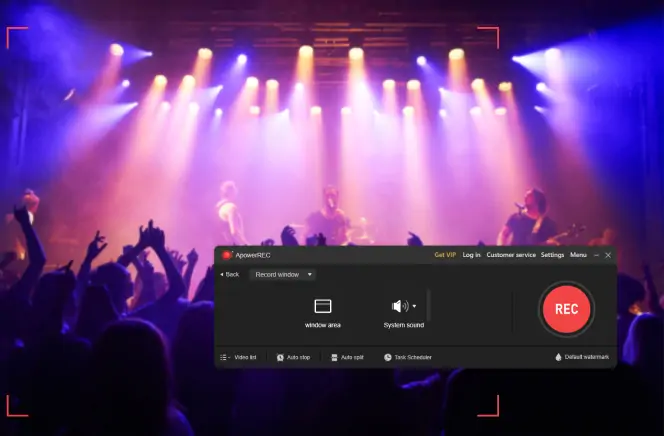 Best for: unlimited sound recording
TechRadar rating: 4.4 out of 5 stars
You're one click away from unlimited recordings. Apowersoft functions as an online recording service, but if you've never used it before, you will have to install a launcher like Java Applet to screen-record without limits. The program allows you to record partial areas of your screen or maximize your content with full-screen recordings.
Pros:
As a screen recorder that records internal audio, you can add your webcam to the screen to record tutorials and more.
Well thought out interface allows you to add annotations while recording.
All files can be saved to a cloud to reduce storage on your PC.
Cons:
The program cannot function on multiple monitors at once, limiting screen recording.
Few editing options are available.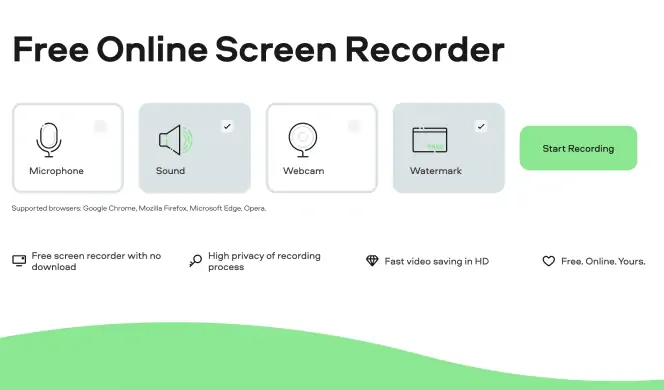 Best for: quick no-download sound recording
Trustpilot rating: 4.6 out of 5 stars
Supporting both internal and external audio, this online service is high functioning on PC. The online version is excellent for working solely on capturing your screen, webcam, or some audio. However, for anything more, such as edits, and you'll need to download the app. Luckily, you can try the desktop version completely free.
Pros:
The tool records and saves in HD.
It functions well with Google Chrome, Mozilla Firefox, Microsoft Edge, and Opera.
Little to no learning curve.
Cons:
Features are limited online and require a download to access any form of editing.
A few users report that there is an occasional lag in recordings.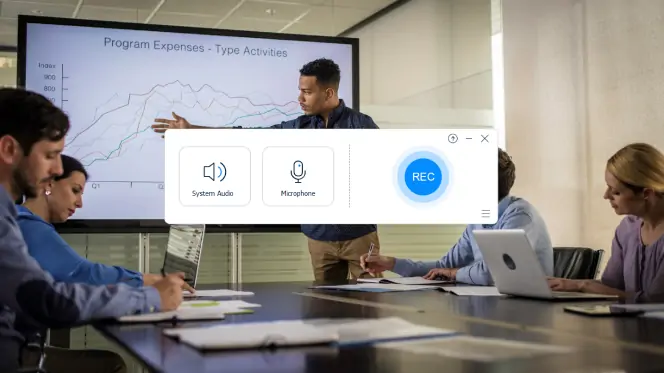 Best for: quick sound recording and sharing
As a free web-based audio and voice recording tool, you can record internal audio online and save it to an MP3 file effortlessly. The online outlet allows you to record music, radio, voice chat, and more, all from the convenience of their webpage. Within three steps, you can save the file to your computer as a personal keepsake or upload it to your platform of choice later.
Pros:
No installation or registration is required.
You can record audio from your microphone to add a personalized narration to your video projects.
There's a surplus of guides and resources for learning.
Cons:
For full features and additional formats, you'll need to upgrade to the PRO version.
You cannot capture more than audio with the free version.
Internal Sound Recorders on Windows 10 for Browsers
Browser extensions are great when you're looking for a quick fix with internal audio. You can log online and grab what you need with a few clicks, easily save it, and upload it where you need. Compared to software, apps, and other options, it's a lower quality resource. While you're able to capture your screen and record it just like other outlets, you can only do so with an online connection.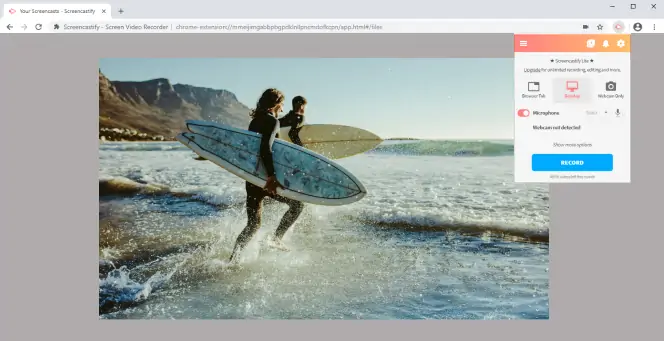 Best for: teachers, designers, marketers
Chrome web store rating: 4 out of 5 stars
Great for recording tutorials, lessons, or creating videos, this extension offers a clean-cut screen recorder. The steps for recording are as simple as clicking a button, making it efficient for smaller projects. The only downside is that you can't work offline with the extension.
Pros:
It saves files directly to YouTube or your Google Drive.
Little to no learning curve, designed to be user-friendly.
It works seamlessly with Google Chrome.
Cons:
The free version does not allow you to edit.
Recording time maxes out at 5 minutes.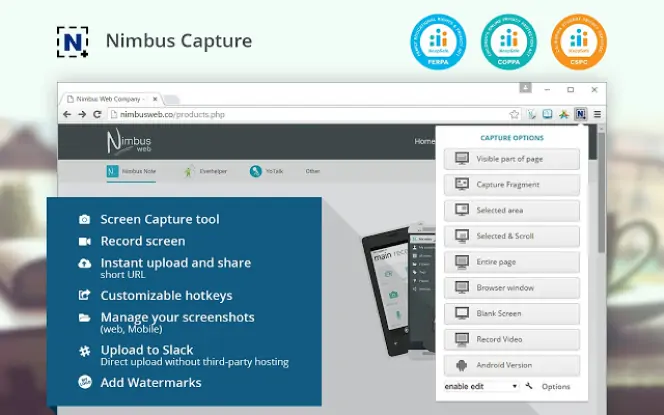 Best for: educational demos
Chrome web store rating: 4.6 out of 5 stars
To capture your entire desktop, browser tabs, or spotlight audio is no problem for this browser extension. With easy editing tools, you can focus on recording internal audio with one simple click. The extension is very flexible, allowing you to customize your experience and includes drop-down options to help guide you.
Pros:
Trimming, cropping, and editing can be done directly in a browser.
Scrolling while recording will not disrupt recording.
Built-in countdown ensures you start recording when ready.
Cons:
Updates to the extension require you to review them before being able to use the tools.
Screen recording is only accessible for Chrome and Firefox users.
Screen Recorders that Record Internal Audio on Android
When you're on the go, in a bind, or simply need a screen recorder that records internal audio, there are Android Apps that give you the quickest and best solutions. Each app provides you with accessible features, easy to download options, and the ability to trim your screen recordings as needed. The main disadvantage when using Android Apps is missing out on the surplus of features you may get with desktop software.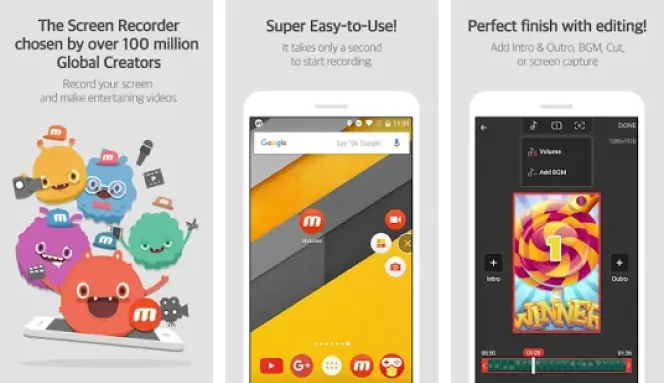 Best for: recording and editing
Google Play rating: 4.1 out of 5 stars
Mobizen is a great app for gamers: you can record your voice while playing and capturing internal audio. The app works seamlessly with Android devices and allows you to review and edit recordings with ease. In-depth menus assist with adjusting frame rates, screen capture resolution, and more.
Pros:
Possibility to screen-record, capture audio, and edit for free.
Possibility to start and stop recordings with the click of a button.
It can seamlessly mirror your screen to a larger compatible device.
Cons:
Files will only be saved to the Android device they're recorded on.
The app drains your battery quickly.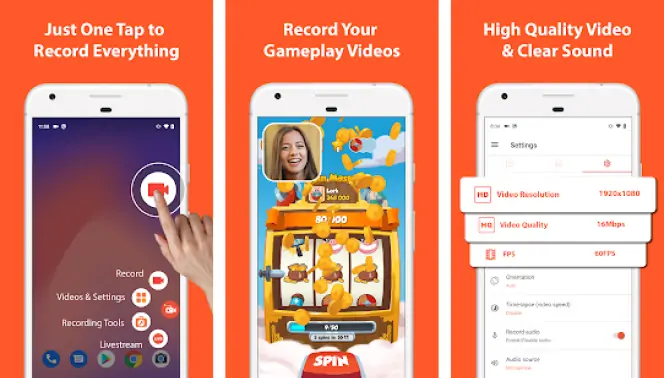 Best for: recording and livestreaming
Google Play rating: 4.5 out of 5 stars
Record while livestreaming with the AZ app. AZ works seamlessly with Android devices, allowing you to pause and resume recording as often as needed. The app is perfect for taking your screen recorder on the go and creating beautiful audio recordings with ease.
Pros:
High-quality internal audio recording.
Possibility to draw on the screen, trim, and edit while recording.
The app supports 1080p, 60FPS, 12Mbps, giving you the same quality you'd receive with desktop audio.
Cons:
It is only supported on mobile devices.
Bubble control hides buttons when you start recording, meaning you can only stop the video via the notifications tab.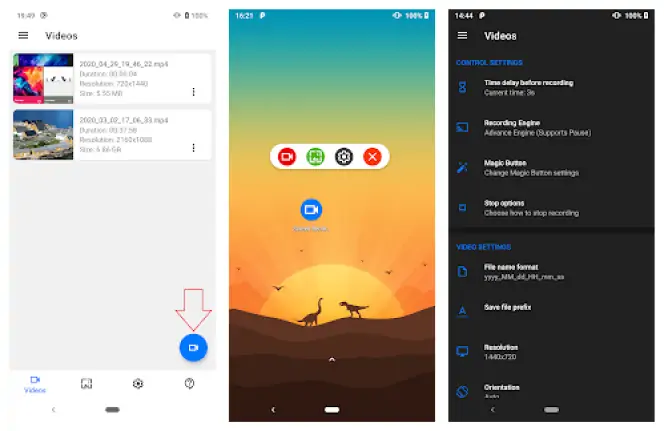 Best for: one-tap recording
Google Play rating: 4.3 out of 5 stars
While the app doesn't allow you to record internal sound, you can utilize the mic to record audio via the Screen Recorder app. When using this software, you can change language controls to support English, French, Turkish, Spanish, and more. Features include day and night interfaces, a 'magic button' to start, pause, and stop recordings, and overlay options for all of your annotation needs.
Pros:
It is easy to insert logo text or imaging.
The app supports Facecam recording.
It takes up minimal space.
Cons:
Internal audio can only be recorded on devices running Android 10.
Few users report that the app freezes or occasionally stops recording on longer videos.
Comparing Screen-Recording Software
| Software | Supported Formats | Pros | Cons |
| --- | --- | --- | --- |
| Movavi Screen Recorder | MP4, AVI, MOV, MKV, GIF, MP3, PNG, BMP, JPG | Simple screen recording, multiple formats support | Puts a watermark in the free trial |
| Audacity | WAV, AIFF, MP3, AU, FLAC, OGG | Small file, 16-bit, 24-bit, and 32-bit support | Steep learning curve |
| | | | |
| --- | --- | --- | --- |
| OBS | FLV and MKV are the recommended | Completely free, almost entirely customizable | Heavy on space |
| Free Sound Recorder | Export to MP3, WMA, WAV, OGG | Allows you to schedule recordings | Doesn't allow you to make your own beats |
| Apowersoft | WMV, AVI, MP4, MOV, MKV, FLV, MPEG, VOB, WebM | Cloud-based | Cannot mirror and record multiple screens |
| Screen­capture.com | MP3, MP4, JPG, MOV | Works with all major web browsers | Requires the desktop version for the full editing features |
| Free Online Audio Recorder | MP3 | 3-step process for MP3 recordings | Processes audio only |
| Screencastify | WebM, MP3, GIF, MP4 | Direct access without having to switch tabs | Online only |
| Nimbus Screenshot & Screen Video Recorder | MP4, GIF | Can be used via PC, tablet, or smartphone | Requires reviewing updates before using new tools |
| Mobizen | MP3, 3GPP, MP4V-ES | Can mirror your screen to a larger device | Drains the device battery quickly |
| AZ Screen Recorder | GIF, MP3 | Offers high-quality recording | Doesn't offer unlimited effects and editing for free |
| Screen Recorder | MP4 | Requires little space on device's hard drive | Can only record internal audio on devices running Android 10 |
How to Record Internal Audio on Windows 10
Uncertain of how to record internal audio on Windows 10? Movavi Screen Recorder has you covered. The program has a Windows built-in tool that allows you to adjust parameters, schedule recordings, and capture your audio conveniently. Once you've installed the Movavi Screen Recorder, capturing internal audio is simple.
The guide below will show you how to use the internal audio and screen recorder from Movavi.
Step 1. Install Movavi Screen Recorder
Download Movavi Screen Recorder and install the program following the on-screen instructions.
Step 2. Start Recording the Internal Sound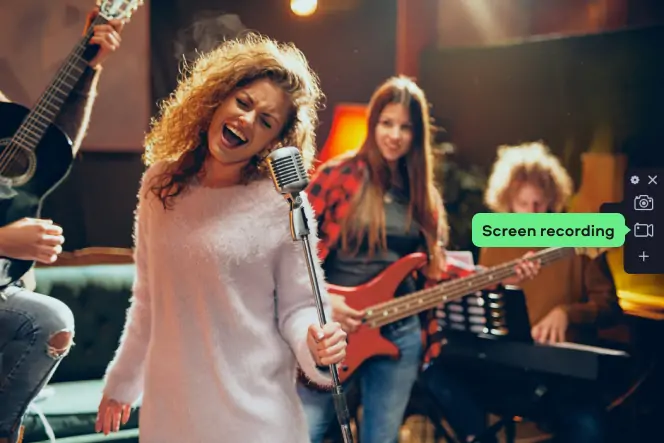 Launch the recorder. The pre-recording panel will appear on the screen. Choose the recording tool and adjust the capture area.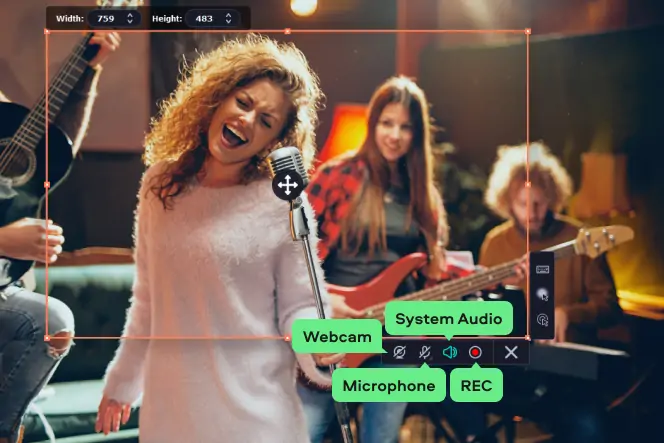 If you need to record a clear internal sound without visuals or external noises, turn off Microphone and Webcam. Only the System Audio button should be highlighted in green. If you want to record your facial expressions while listening to music, activate the Webcam icon.
Now click on REC and turn on the desired audio. Don't worry that the recording process starts a little bit earlier than the audio. You can cut out the unwanted parts later.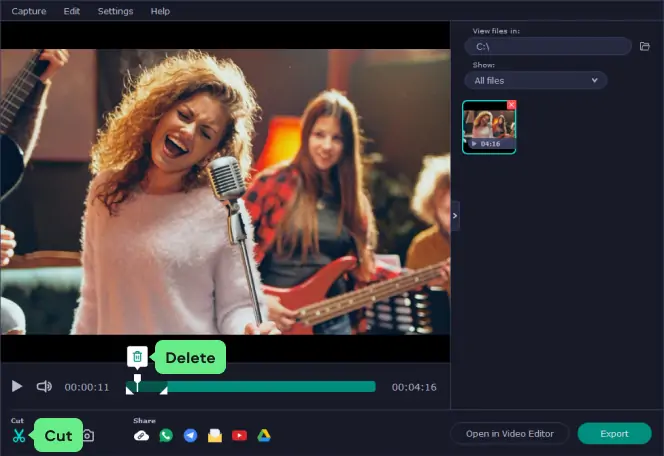 Got your sound? Great! Now you can shorten the recording or cut out parts that didn't work. The Cut and Delete buttons will help you make the audio perfect.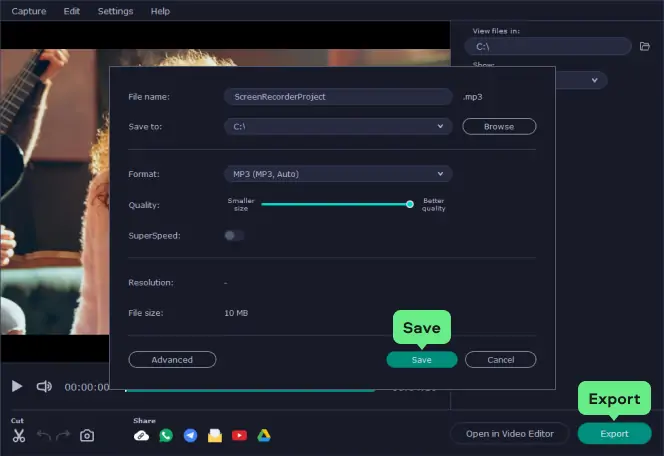 The last step is the most important because you need to save the result in a suitable format. Click on the Export button, then select MP3 from the list of available formats. Don't forget to name the file and choose the folder. Finally, click Save. That's it!
Frequently Asked Questions
How do I record internal audio?
Download and install Movavi Screen Recorder.
Launch the recorder, select your preferred recording tool, and adjust the area you'd like to capture. You can turn off the microphone and webcam on your PC to clarify the internal audio quality.
Click the REC button.
Edit your results as needed, click Export, then Save. Be sure to select MP3 as the output format.
Does Screencastify record internal audio?
Yes, Screencastify is an internal sound recorder, Windows 10-friendly only.
Why can't I record internal audio on Android?
With the 7.0 update, Google disabled apps from recording internal audio. However, with Root and Audio plugins, Android devices are compatible with Mobizen, AZ, and Screen Recorder for all of your internal audio recording needs.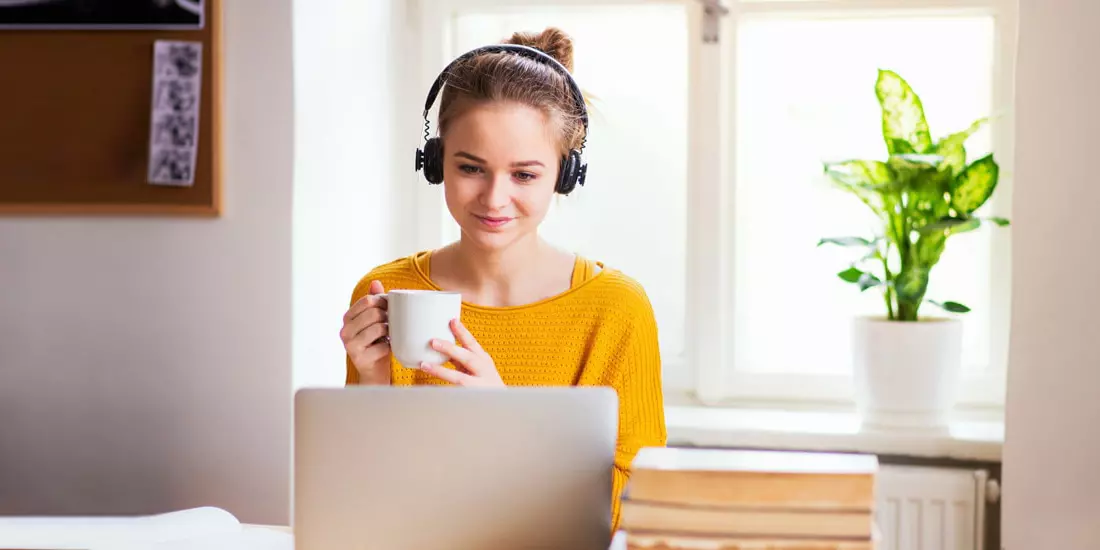 Movavi Screen Recorder
The perfect way to record from your screen
Disclaimer: Please be aware that Movavi Screen Recorder does not allow capture of copy-protected video and audio streams. Learn more
Sign up for news and special offers