Recording streaming video allows you to revisit those streams again and again. Recording a live stream on your PC will give you a chance to look back over that content and view it at your convenience, all without having to flip through extensive links in order to find your content. It's one thing to view that content on the web. It's another thing altogether to have your own copy of that content from the Internet. At the same time, you don't want to spend a fortune on streaming video software.
Luckily, there are several options that will allow you to record a streaming video for free.
Wondering how to record a streaming video? Interested in finding the best streaming video recorder for your needs? From how to capture a streaming video online to recording a live stream on your PC, we'll help you take a look at five different types of screen recorders: desktop apps, online tools, browser extensions, iOS apps, and Android apps.
How to Record Streaming Videos with Desktop Software
When it comes to streaming video capture software, you'll often find that desktop software offers you one of the most effective solutions. If you're looking for ways to save a streaming video, desktop software can offer the features you need to take that content from the Internet directly to your PC. Recording with desktop software offers a number of benefits. Often, you get better quality, better functionality, and more features through desktop recording.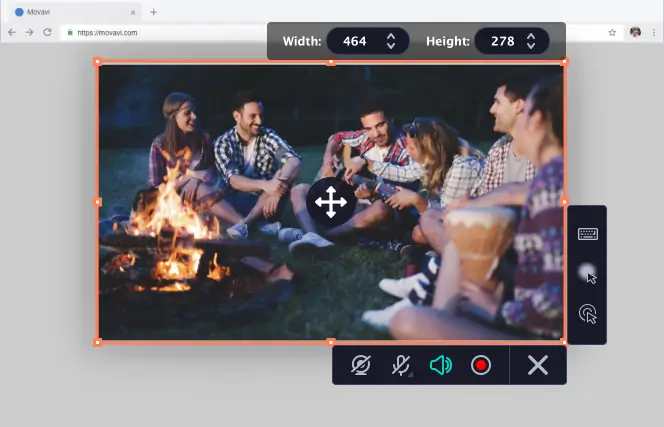 Movavi Screen Recorder offers the ability to easily set up recording parameters, grab audio and video, and edit the recording and save the file. By setting up recording parameters, you can choose the specific capture error, which means you'll capture only the area you actually want to keep from your screen.
Movavi Screen Recorder does not require clunky hardware or cumbersome add-ons. Instead, it makes it simple to capture screen activity and save it to popular video formats.
Movavi Screen Recorder has a high overall rating, with many customers giving it 5 stars for convenience and functionality. Many consumers also like the timer feature, which allows them to walk away from videos, webinars, and other content and stop recording at a pre-specified time, then come back to watch it later. The program allows you to:
Create screencasts while simultaneously grabbing your voice with your mic or capturing your face with a webcam.
Record only audio from your computer or microphone.
Capture webcam output.
Schedule your recording times, which means you don't have to be at your computer to make it work.
Capture screen and audio streams separately or simultaneously, based on your current needs.
Take screenshots and edit them.
Show keystrokes and mouse use, so you can easily walk users through tutorials or provide them with a clear view of exactly what you're doing on-screen.
Easily share your videos and captures on YouTube or Google Drive.
The one con mentioned by many users is that Movavi Screen Recorder does use up a great deal of space on older PCs, which can make it more difficult to run it effectively. Newer models, however, have the operating power needed to run this streaming video recorder effectively.
Want to see more about what other users have to say about Movavi Screen Recorder? Check out the link below.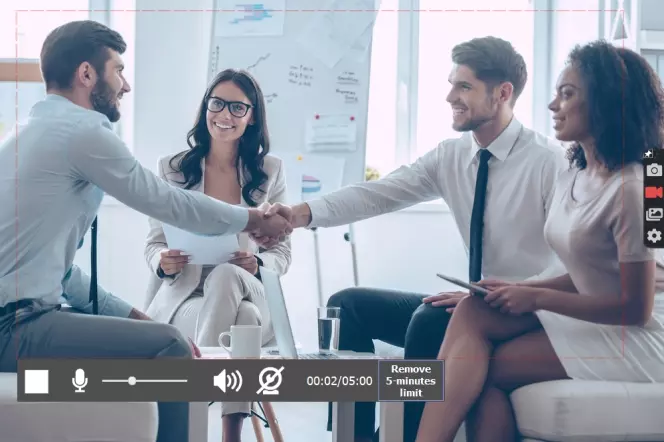 ScreenRec is a free app for capturing any screen activity. Although it was mainly designed as a productivity app, capturing a streaming video with it is also entirely possible. With its small size and simple interface, it's a great choice even for those who have weak PCs or are not that savvy in screen-recording software. For a more demanding user, ScreenRec provides recording videos in 4K and analytics to see how your videos are watched. It also promises complete privacy, which is important for a cloud-based service. The app has over 90,000 active users.
The main features of the software are:
Taking informative screenshots by adding arrows, shapes, and bubbles
Recording your screen activity with system sound, microphone, and webcam
Sharing your screenshots and recordings via a cloud service
Hosting your materials in an online gallery
ScreenRec has 4.1 out of 5 stars on Trustpilot with over 40 reviews. People love how easy it is to use the app and how customer support is understanding and helpful.
To check out the reviews by yourself, follow the link below: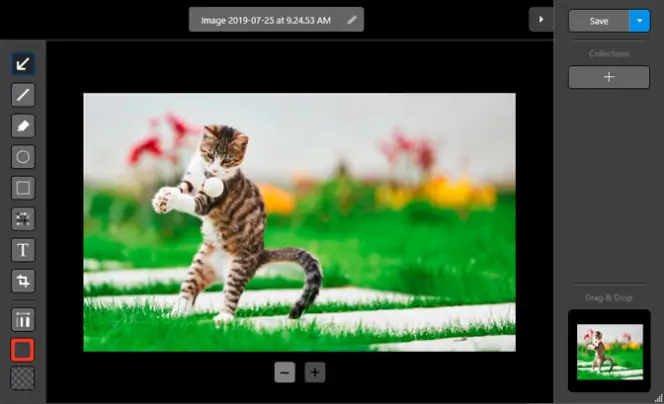 CloudApp makes it easy to instantly capture and share material directly from your screen. This software makes it easy to record a live stream on your PC. CloudApp is screen recording software for Mac, Windows, Chrome, and iOS. It focuses on making meetings easier and more streamlined: instead of sitting through the whole video, you can use CloudApp's streaming video capture software to record the meeting for you, then go back later to check context and look for more information. It offers a number of important features, including:
Capture or record your stream
Share pictures, GIFs, and videos through a convenient link
Create GIFs based on your captured content
CloudApp is billed as a top free screen and video capture software. As a desktop download, it's easy to use and highly effective. Users rate it with an average 4.7 out of 5 stars, raving about its quick and easy annotation options as well as its ability to create GIFs. It's set up to start recording with a quick keyboard shortcut, which many users consider extremely convenient. With more than four million downloads, CloudApp's streaming video platform offers convenience while providing the ability for users to "work faster."
Want to learn more about what others have to say about this strategy that allows you to save a streaming video? Check out the link below.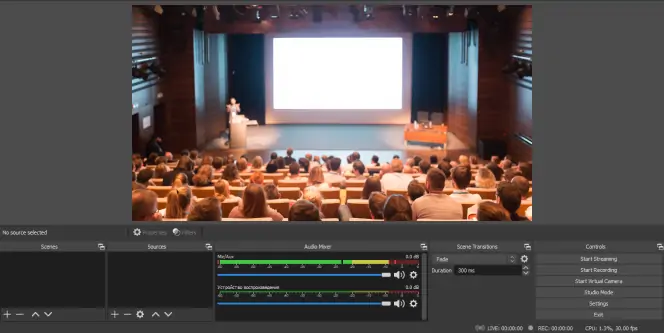 If you're looking for a platform that will allow you to rip a streaming video with ease, OBS Studio provides you with an easy solution. Compatible with Windows, macOS 10.13 and above, and Linux, this easy-to-use software offers several valuable features. The platform provides high-performance, real-time video and audio capturing and mixing, which makes it easy to make scenes made up of information from multiple sources. You can seamlessly switch between an unlimited number of scenes. OBS Studio offers:
The ability to use window captures, images, text, browser windows, webcams, and capture cards
An intuitive audio mixer with multiple options
Multiple, easy-to-use configuration options
Easy layout rearranging
OBS supports multiple streaming platforms, which makes it ideal for users who may want to integrate those platforms as they create professional-quality productions. This open-source program is free, convenient, and makes it easy to save a streaming video and make recordings of your screen.
Want to learn more about what others have to say? Check out the review below.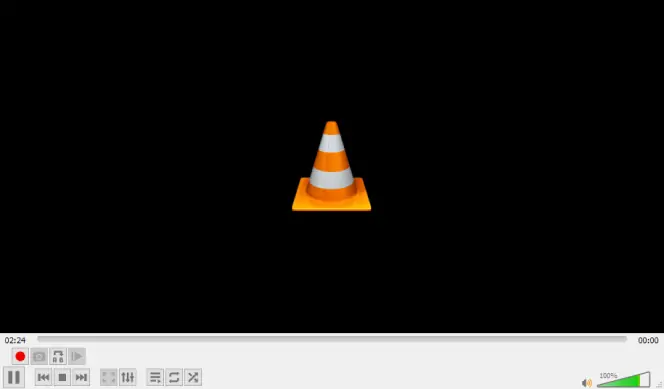 VLC offers a free, open-source platform that is billed as being simple, fast, and powerful. This platform runs on all platforms, from Windows and Linux to Mac OS X and Android: in short, a variety of options. It's completely free: it contains no spyware, no ads, and no user tracking. It also plays files, discs, webcams, devices, and streams and makes it easy to download and use the platform. It has an average of 4.5-star rating among reviewers, who appreciate the fact that it can play and record almost any type of video.
Users do note that the VLC media player has a very basic interface and does not have the visual appeal of newer design apps.
Want to check out more reviews or learn more about what users have to say about VLC? Check out the reviews at G2 below.
How to Capture Streaming Videos Online
In many cases, you may find yourself wondering how to capture streaming video online. You may not want to record the live stream on your PC, or you might simply want to store it on the web. If you want to grab effective streaming video content using an online downloader, try some of these programs. Online downloaders are ideal for people who want to quickly capture streaming video, especially if you don't have time to download and install a program. They may, however, slow down your device, especially if you do not have sufficient system resources for the program you're trying to run.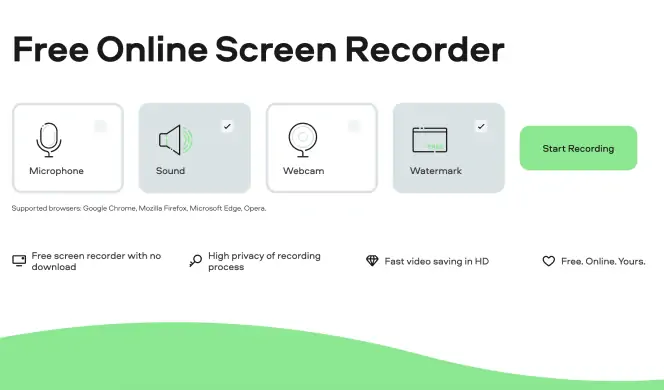 Screencapture.com is a free online screen recorder that works on Google Chrome, Mozilla Firefox, Microsoft Edge, and Opera. It offers the advantage of easy recording direct to the Internet, where you can easily copy your files or share them with others. This online program:
Doesn't require a download
Offers a high degree of privacy and security
Saves video fast, in HD
It makes it easy to capture your browser activity or your computer desktop, record sound, or include your face in a recording via webcam. This new, free tool does add a small watermark to the recording, which some users do not like.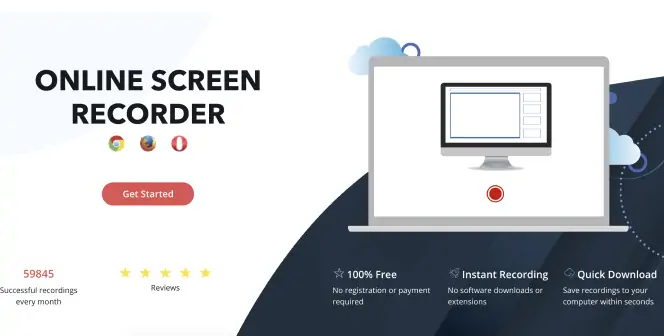 Screenapp.io is an online screen recorder with a large number of five-star reviews and an average of 60,000 successful recordings every month. It's 100% free, with no registration or payment required, and allows for instant recording: no software downloads, no extensions, and nothing to clutter up your PC or make your usual tasks more difficult than usual.
This platform also makes it easy to quickly download your recordings to your computer.
While this ripper does make it easy to record a streaming video online, it might not be the best way to handle longer recordings: its recording time is limited to about 15 minutes.
Best Streaming Video Recorders for a Web Browser
Do you use Google Chrome as your web browser? If so, you might find that the best streaming video recorder for your needs is a Chrome extension. Chrome extensions are highly secure and less likely to use up unnecessary system resources. They're also ideal for Chromebook users, who may prefer that streamlined experience.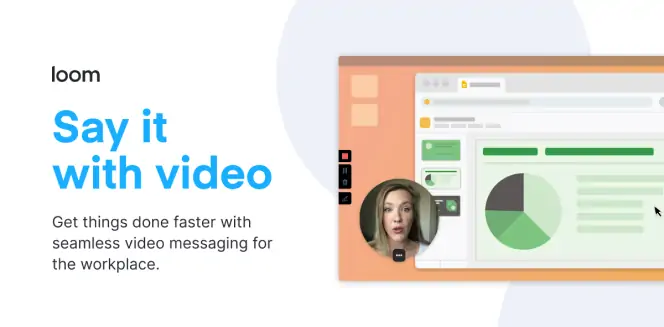 Loom provides extensive recording options that are compatible with your device and the platform you already use. It bills itself as being perfect for onboarding new employees, troubleshooting customer issues, or managing code reviews. It lets you record your screen, voice, and face, then instantly share your video in less time than it typically takes to put together an email: the ideal way to share content straight from your device to someone else's. Loom is a great solution for modern workers, many of whom are looking for new ways to communicate while working from home. It's free to use and easy to get started with. Users find that it helps them save time while simultaneously improving relationships.
Customer service for Loom is, according to reviewers, somewhat lacking compared to other platforms. However, Loom does have an average of 4.5-star review rating, and it has a huge number of monthly users and downloads. Loom is one of the most popular streaming video recorders on Chrome.
Want to learn more about what reviewers have to say? Check out the link below.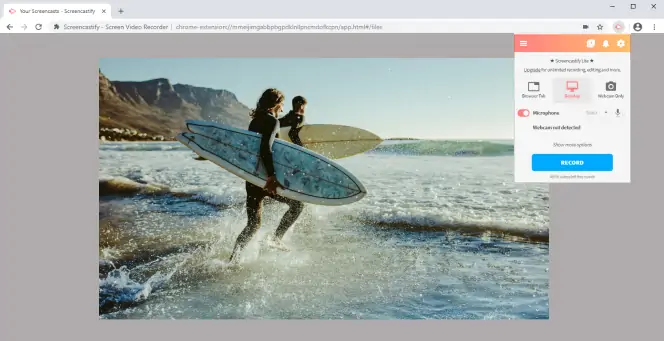 Screencastify bills itself as being "video for everyone." It offers a simple, intuitive platform that functions as a Chrome extension. Millions of users engage with Screencastify to record, edit, and share videos – and it's easy to get started. In fact, the platform is so simple that it takes no time at all to get started using it. It also markets itself as being:
Free
Easy to combine with sharing platforms, including Google Drive and YouTube
Screencastify is a simple way to deliver a simple, more effective message. Rather than having to type up long emails, you can capture your screen and easily share that information with other users. It does not, however, work as well on recordings that aren't in web browsers, according to some reviewers.
Want to see what other reviewers have to say? Take a look below.
Best Streaming Video Capture Software for iOS Devices
Are you using iOS to record your screen, whether from a phone, desktop, or tablet? Using a phone or tablet is a little different from using a desktop device. You may not want as many features, or you might want to streamline use when you're tapping rather than clicking or using your keyboard. Fortunately, there are streaming video recorders that you can easily use directly from your iOs device. Keep in mind, however, that recording directly from an iOS device using an app may offer a clunkier experience that may use more system resources than you initially thought. Try these apps for some of the best streaming video recorders for iOS.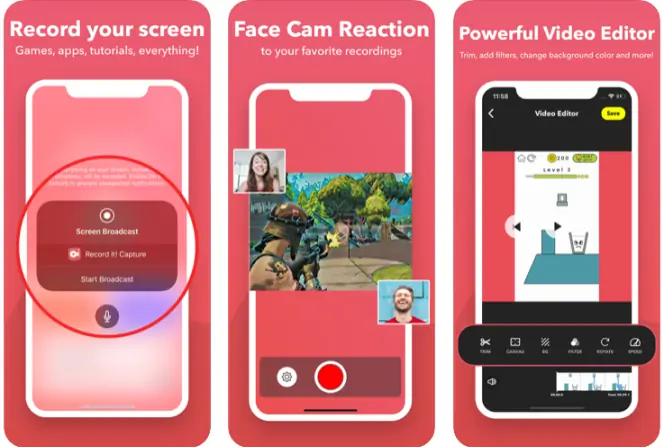 Record it! has the best rating in the App Store, and with good reason. Out of more than 1.7 million reviews, it holds a whopping 4.6 stars. Record it! allows you to:
Record your entire screen
Include a Face Cam reaction
A powerful video editor that will make it easy for you to put together your videos according to your specific needs
Keep recordings organized in the app
Easily share your recordings
Record it! is ideal for recording games and apps for tutorials, game walk-throughs, video demos, and training demonstrations. You can add commentary as you go or put it in later in your app to make a cohesive, easy-to-follow video. Check out more ratings and reviews below.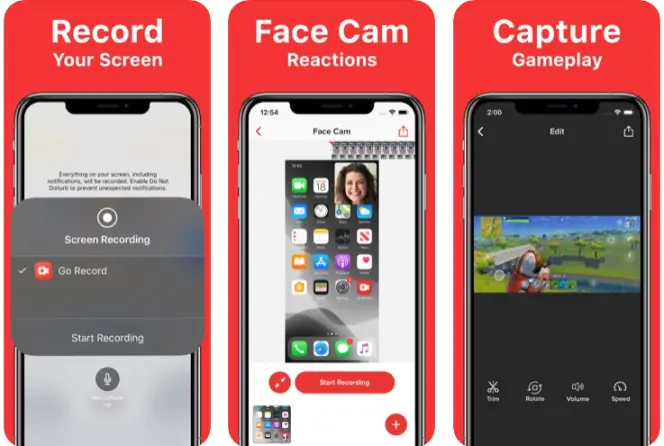 While not as high as Record it!, Go Record does offer a high average rating, with 4.5 stars out of 39.6 K reviews. Go Record provides:
One tap screen recording, making it easy to start the process
Face Cam addition so you can put in your reactions
Easy-to-add audio commentary
Easy uploading to YouTube
This simple platform makes it easy to put together screen recordings and capture reactions all at the same time. As a result, you can streamline your digital video recordings and easily figure out how to capture streaming video. This program is simple, intuitive, and easy to put together on your iOS device.
Take a look at reviews and ratings for Go Record below.
How to Record a Live Stream on Android Devices
Don't worry, Android users: there are streaming video capture software options available for you, too. If you want to save a streaming video to your Android device, these platforms are simple, highly rated, and offer the high-quality streaming you need. These apps are specifically designed for an Android device, so you will find that they offer a better experience on those devices than online downloaders. You may find, however, that Android apps still slow down your system, so make sure you choose the right apps for recording your streaming video. Ready to get started as you rip a streaming video to your Android device? Try these options.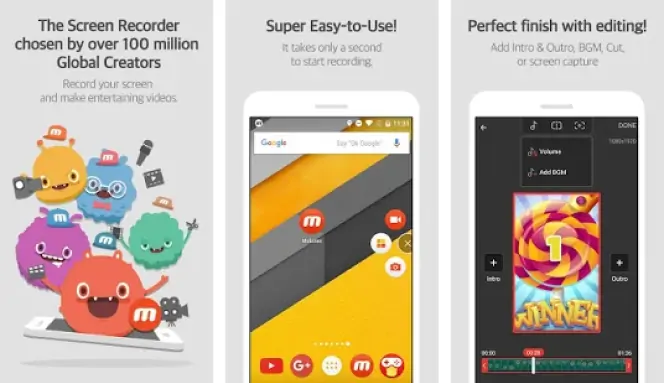 While Mobizen does offer an option that will allow you to record streaming video for free, the app does contain in-app purchases and ads, which can prove clunky and distracting for some users. However, if you're looking for a way to rip a streaming video with ease, consider the advantages of Mobizen:
Offers a highly effective screen recording profile
Allows you to edit, trim, and cut your images
Records a clean screen without a watermark, which means that you can use the video for any purpose
Records your reactions freely, including both your face and the sound of your voice, thanks to face cam us
Allows you to put in intro or outro videos with a few short taps, making it easy to use
While Mobizen is a highly popular screen capture software, with an average of four-star review, it does come with some clunky features. Sometimes, the in-app ads start along with the video recorder, which can disrupt the recording experience. Sometimes, that may mean losing track of the streaming content, which can't always be retrieved. The screen recorder also takes up a number of assets on your Android device, which means that it may cause frustrating lags in videos and games. Nevertheless, it does remain an easy, fun way to quickly capture streaming video, especially if you're looking into it for personal or leisure purposes.
Want to learn more about what reviewers have to say about Mobizen? Check them out below.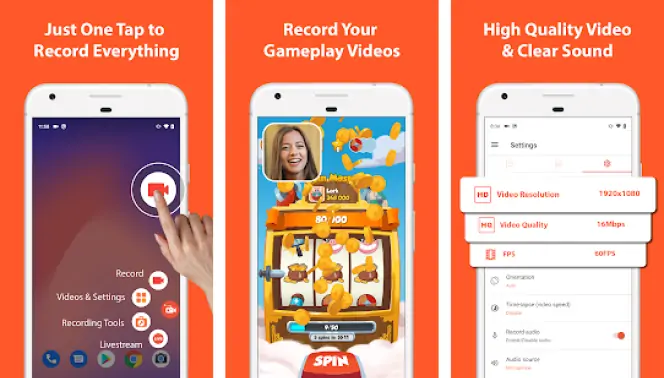 AZ Screen Recorder, with more than 1.3 million downloads and reviews and a 4.5-star rating, offers all the features that many users are looking for in their screen recording software. It makes it simple to start recording: just one tap makes it easy to get started. The app delivers high-quality videos with clear sound, so they're easy to follow, highly professional, and ideal for your needs.
AZ Screen Recorder also includes a powerful image editing tool, which makes it easy for you to customize the appearance of your videos and screenshots and ensure that you're capturing exactly what you need. It also connects to Youtube, Facebook, and more so that you can easily livestream as you capture content directly on your screen. Share your reactions, put together stunning tutorials, or offer more information about your daily tasks. Its features include:
Full HD game recording
Screen recording with Facecam
Internal sound recording
Gameplay recording with external sound
The ability to pause and resume screen recording
Fantastic video-editing options, including the ability to easily convert videos to GIF
The option to compress videos to make them easier to share, download, and store
Audio editing
Screenshots and image editing, including the ability to detect and combine images, blur images, add text, and more
Users note that AZ Screen Recorder is an incredibly useful app, filled with great features. It offers high-quality video recording that's highly reliable. Users do, however, note that it doesn't offer the same high-quality audio recording that it does when it comes to video: it tends to record whatever sound is happening around the phone or device, and sounds tend to make it indiscriminately into the video. While that's excellent testament to the power of your device's microphone, it might not fit your video recording needs. It's also important to note that the app does include ads and in-app purchases.
Want to learn more about what users have to say about AZ Screen Recorder? Check out their reviews below.
Frequently Asked Questions
What is the best streaming video recorder?
The best streaming video recorder for your use will depend on your specific needs. What type of platform are you trying to use for your video recorder? Do you want to record a streaming video online, or do you prefer to use a desktop app? Are you looking for an easy-to-use solution for iOS or Android? The best streaming video recorders depend on those specific needs.
If it's an Android app you need for your streaming video, AZ Screen Recorder comes in at the top of the list, with Mobizen coming in at a close second. For iOS, Record it! has the highest popular rating and the widest number of users. Go Record, however, does offer a number of features and incredible convenience when it comes to screen recording. If you're looking for a Google Chrome extension, both Loom and Screencastify have excellent reviews.
Do you prefer downloading your streaming video online? Try out Screencapture.com or Screenapp.io to learn more about your available online options. Take a look at their features to make sure that they fit your needs, including storage and usability.
Often, the best streaming video recorders are those that record directly to your device. Using desktop software often means a cleaner overall video capture and better-quality options. Consider Movavi Screen Recorder, one of the top-performing streaming video recorders available, or take a look at ScreenRec, CloudApp, OBS, or VLC, depending on your specific needs and the features you need most in order to record your streaming videos and share them with others.
Can I record streaming video on my computer?
Yes, you can record a streaming video for free with special screen-capture software. You can use a desktop app, for example, Movavi Screen Recorder. Alternatively, you can use an online tool – you can search for a screen recording extension in the Chrome Web Store.
Can I record streaming TV?
You can record live TV with the help of a digital video recorder (DVR). Today you can find DVR devices that work without a cable – they're called over-the-air (OVT) DVRs.
How do I download a streaming video in Chrome?
There are special tools that let you download streaming videos in Chrome. For example, you can use the Free Online Video Downloader from Acethinker. This is an online tool that lets you download videos from different websites – you just need to copy the URL of the video you want to save, paste it into the address bar, and click Download.
Can I record a live stream on my laptop?
You can record a live stream using screen capture software. Try Movavi Screen Recorder – it's a useful app that lets you record your laptop screen and save the video in any popular format.
Can I record a streaming video to watch it offline?
Want to know how to record streaming videos? One way to record a streaming video is to use a desktop screen recorder. If you don't want to install software on your computer, you can capture a streaming video with online tools.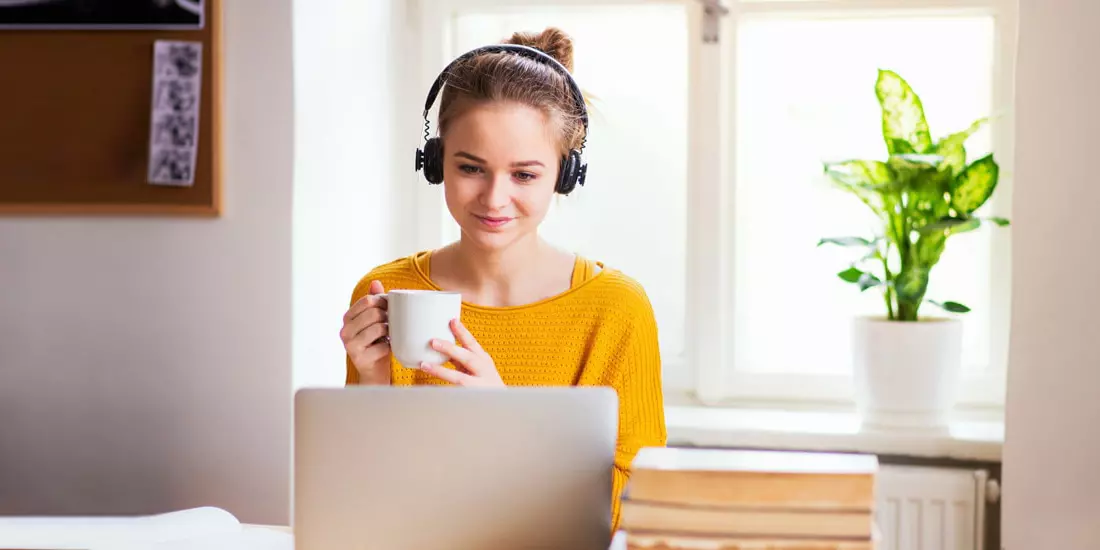 Movavi Screen Recorder
The perfect way to record from your screen
Disclaimer: Please be aware that Movavi Screen Recorder does not allow capture of copy-protected video and audio streams. Learn more
Sign up for news and special offers