How to Use an MP3 Bitrate Converter

Bitrate – the number of bits per second – is the parameter that generally determines the size and quality of video and audio files: the higher the bitrate, the better the quality and the larger the file size. So, if you want to reduce the size of your media files, you can convert them to a lower bitrate, but remember that this will lower the quality. The best solution is to find a balance between size and quality that gives you the best of all worlds.
You can use Movavi Video Converter as a bitrate changer for both audio and video files. Thanks to extensive media format support and a user-friendly interface, Movavi Video Converter will help you to change the bitrate of your media files quickly and easily. You will find detailed instructions on changing the bitrate of audio files below. If you are interested in more information about changing video bitrates, check out our guide on reducing the size of video files.
To change the bitrate of your audio files, just download the necessary version of Video Converter and follow these five easy steps.
Install Movavi's Bitrate Converter
Download and run the installation file for Movavi Video Converter. Follow the instructions on your computer screen to install the software.
Add the Files You Want to Convert
To add audio files to the program, click the Add Media button and choose the Add Audio option. Locate the file(s) you want to convert on your computer and click Open. You can also drag and drop the files into Movavi Video Converter right from the folder they're stored in.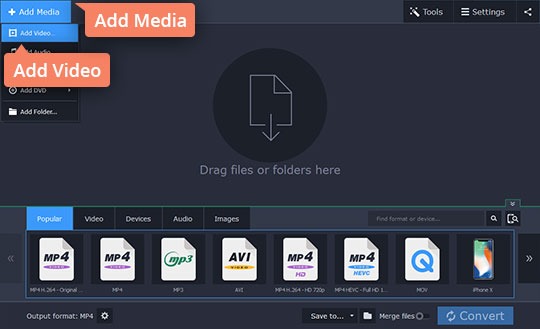 Choose the Audio Format
Open the Audio tab and click on your desired audio format. Now select the preset with the desired bitrate from the list (this option is not available for FLAC, OGG, WAV, and M4A files). If you chose a preset with a specific bitrate and don't want to customize it, you can skip the next step and proceed to the conversion (Step 5) right away.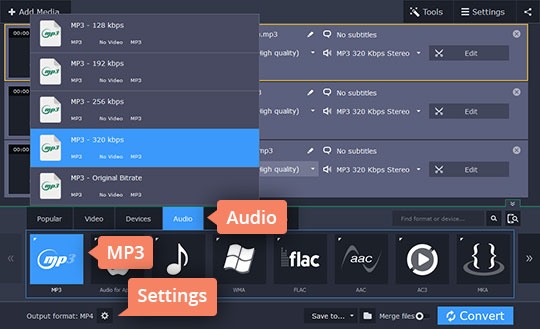 Specify the New Bitrate Value
Click the Cogwheel button next to the Output format field. In the window that opens, you have the option to change audio parameters such as sample rate, number of channels, and bitrate (settings vary depending on the format you choose). Here we describe how to change bitrate for an MP3 file.
To set a specific bitrate, select the Custom option under Bitrate type. Then specify the bitrate in the Bitrate (kbps) box and click OK to confirm the changes.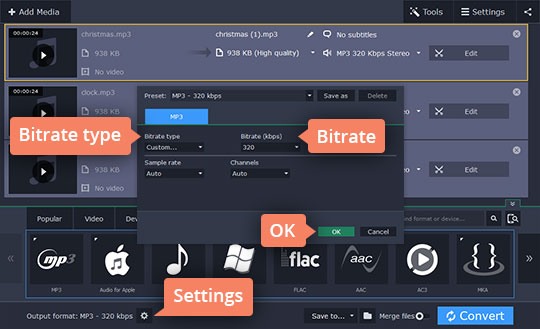 Start Converting Your Audio Tracks
Before launching the conversion, specify the folder where your converted files should be saved. Click the Folder button next to the Save to field and choose an existing folder on your computer or create a new one. You can also stay with the default destination folder.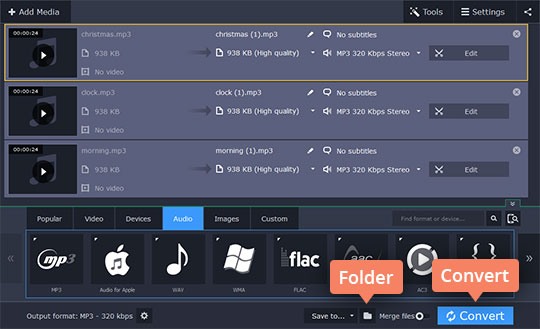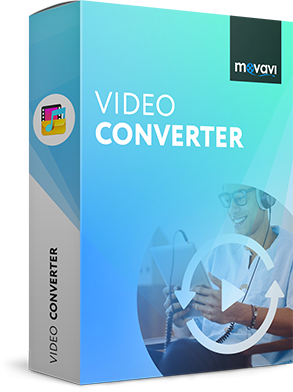 Movavi Video Converter
The ideal way to get your media in the format you need!
Convert video, audio, DVDs, and image files

Enjoy lightning-fast conversion without quality loss

Improve quality, adjust sound, trim and join files before converting

Save video and audio clips for easy mobile access
See Other Useful How-to Guides