How to Compress MP4 Videos

MP4 is among today's most popular formats, supported on PCs, Macs, and mobile devices. But there's still one problem you may encounter – file size. It's well-known that high-definition and high-quality videos can take up a great deal of disk space. If these videos are stored on your computer, you can simply move them to an external storage device, but that won't work for mobile devices. So, is there a way to preserve your favorite movies without using up all your storage space? The answer is simple: compress the video!
Here are some reasons why you might need to compress your files.
Videos take up too much space
If your storage does not have enough room for all your files, compress them. In this case, you won't need to decide what to delete; you can keep all your videos safe.
Videos upload too slowly
Large files take too much time to be sent via email, uploaded to the web, or even transferred to a data carrier. Things go much faster with compressed videos.
It costs too much to store videos in the cloud
When you are using cloud storage, you have to pay for the space you use. File compression lets you store more videos at no additional cost.
You can try one of these approaches to the file compression:
How to Compress Videos Using the Movavi MP4 Compressor
Of course, you can't compress video without losing quality at some level but, using the appropriate software, it's possible to reduce the file size significantly and preserve reasonable image quality. Movavi Video Converter can compress MP4 files – as well as videos in other popular formats – in the time it takes you to make a cup of coffee. The program's smart ready-made presets are designed to provide the best possible size-to-quality ratio.
The compression rate depends on your choice of preset and bitrate. Here, you can see the approximate compressed file sizes after changing video resolution from Full HD 1080p to HD 720p using Movavi Video Converter. Of course, these are just average results given as an example.
| Video | Before compression | After compression |
| --- | --- | --- |
| Movie | 6.3 GB | 3.75 GB |
| Clip | 850 MB | 190 MB |
| Short phone video | 34 MB | 16.5 MB |
Download Movavi Video Converter for Windows or Mac, read the instructions below, and you'll find out how to compress MP4 for storing on a computer, watching on a mobile device, uploading to the Web, sending by email, and more.
Add the Files to the MP4 Compressor
In the upper left corner of the program interface, click the Add Media button, then choose Add Video. In the dialog box that opens, find the MP4 files you want to compress and click Open.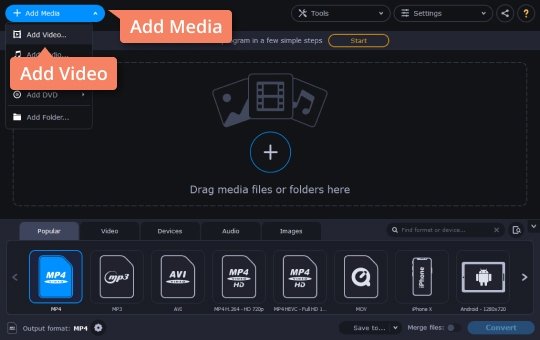 Choose the Target Preset
In the lower part of the interface, go to the Video tab, open the MP4 group, and choose the preset that matches your desired video codec and resolution.
For MP4, presets with MPEG-4 and H.264 codecs are available. We recommend H.264 presets, since this codec provides better compression.
In the list of added files, you can see the resolution of the original video. If it's too high, you can try choosing a preset with a lower resolution, but remember that the quality will be lower, too.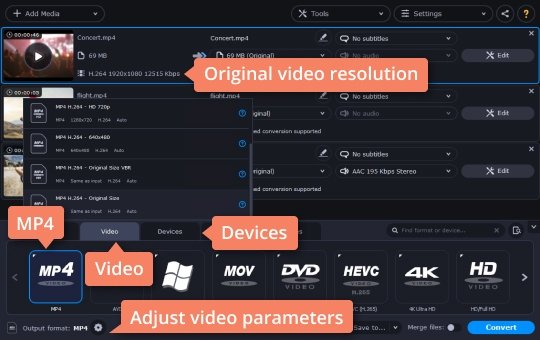 As an example, you can compress 4K Ultra HD video using MP4 H.264 - Full HD 1080p or MP4 H.264 - HD 720p preset. If you want to adjust video resolution and other parameters manually, click the Cogwheel button.
If you are compressing videos to watch on a mobile device, go to the Devices tab, and simply choose your model from the list of presets.
Adjust the Bitrate (Optional)
Video size and quality depend primarily on the bitrate. The ready-made presets in Movavi Video Converter are smart and well-optimized so, when you choose an appropriate preset (see above), you can expect the output video file to be smaller than the original. If you want to compress your video even more, reduce the bitrate value manually, but remember that this may worsen the picture quality. To do this, click the estimated output size in the list of added files. In the pop-up window, set the desired output size value using the File size slider. By clicking Convert sample, you can also see how a converted file will look like.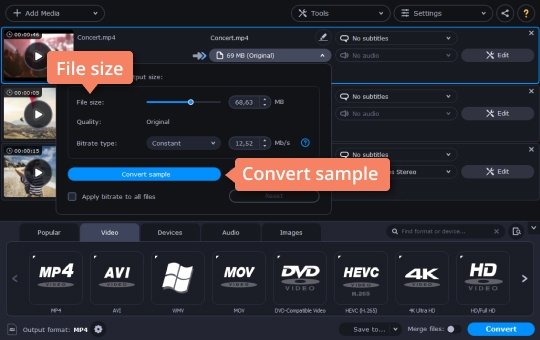 Start Compressing Your MP4 Files
First, define where the converted files will be stored. Click the Save to button at the bottom of the program window and specify an appropriate directory on your computer. You can also stay with the default Movavi Library folder.
Once everything is ready, click the Convert button to start the conversion. The video processing will take a little while and, when it's done, the target folder containing the compressed MP4 files will open.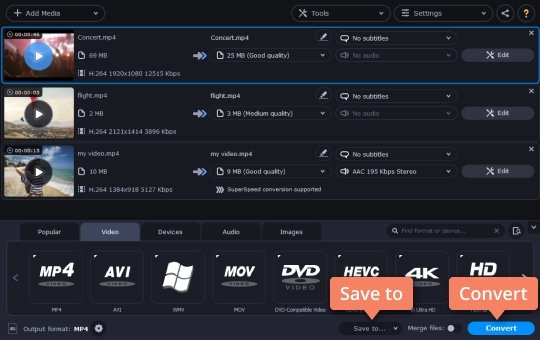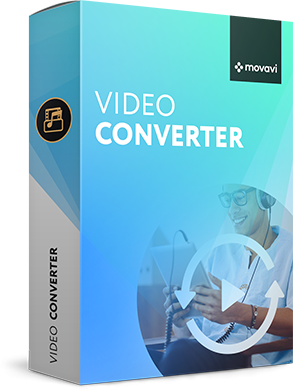 Movavi Video Converter
The ideal way to get your media in the format you need!
Convert video, audio, DVDs, and image files

Enjoy lightning-fast conversion without quality loss

Improve quality, adjust sound, trim and join files before converting

Save video and audio clips for easy mobile access
Differences between Desktop and Online Converters
Online Video Converter
Long-time wait
Up to 100 MB file size
Popular formats supported
Slow conversion speed
Movavi Video Converter
0-second wait
No size limits
180+ formats, presets for 200+ devices
Fast video compressing
Online user support
How to Compress an MP4 Video to a Smaller Size Online for Free
Another easy way to lower the size of your video is to use an online tool. Try this one. It is a great choice if you don't want to download anything. Here's how to compress MP4 online.
Go to the Site via the Link Below and Add Your Clip
Click the link below to go to the online converter home page:
Upload your file: click the Add Your Media button and choose the file to be compressed. Please note that this file cannot be over 100 MB, and it has to be a single file. If you have multiple files, you'll need to compress them one by one.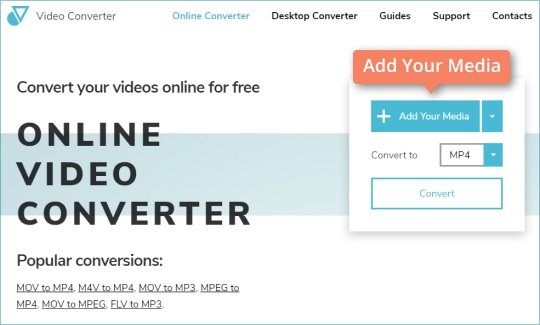 Define the New Video Resolution
Hit the Cogwheel icon to the far right of your file name. Lower the video resolution by choosing a new one from the Video resolution list. Click the Cogwheel icon to close the menu.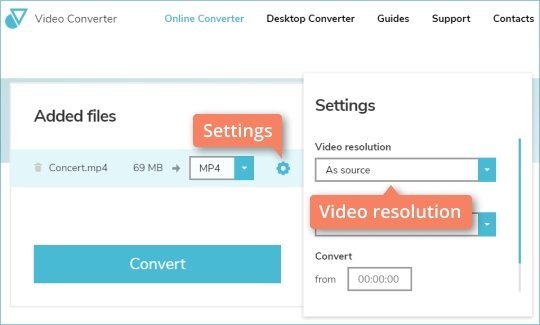 Compress the MP4 File
Click Convert to start the compression. You'll see a progress bar below your file name. Once it reaches the end, the compressed file will be downloaded automatically – or you can hit Download to get it.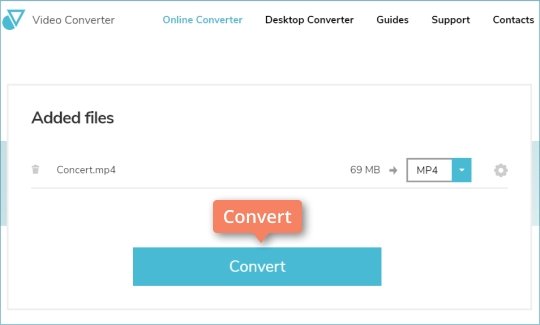 See Other Useful How-to Guides