How to convert MPEGs to MP3
MP3 is one of the most popular audio formats in the world thanks to its high efficiency. You would be hard-pressed to find a smartphone or a media player that does not support MP3. MPEG is a video format, which isn't as easily supported by many devices.
Here are the situations when you have to switch MPEG to MP3:
Can't find a soundtrack from a movie?
When you hear a great song in a movie, you may well want to add it to your playlist to listen to anytime. But what if you don't know the artist or can't find the track on the Internet? Don't get frustrated! You can simply extract the song from the original video using special conversion software.
Want to turn a video into an audio file?
In some videos, you don't actually need the visual part – you just listen to the audio. So, whether it's a live concert video, an interesting lecture, or a video podcast, you might want to have on hand it as an audio file. If that's the case, converting your video to MP3 would be a good solution.
Need an audiobook for your child?
It's often easier to find an interesting video for kids than an audiobook. Using a format converter, you can turn any cartoon or movie into an audiobook, so your children can listen to their favorite stories any time!
How to convert MPEG to MP3 on Windows and Mac with Movavi
With this MPEG-to-MP3 converter for PC and Mac, you can easily convert any video to MP3. This software program allows you to extract audio from MPEG, AVI, FLV, MP4, and other video formats. It also gives you many more tools to work with than any MPEG-to-MP3 converter that's free.
Download the necessary version of the program and learn how to convert MPEG to MP3 in just a few clicks.
Step 1. Install the software
You can download Movavi Video Converter from our website and try it for free. Run the downloaded file and follow the setup instructions.
Step 2. Add files for conversion
Use the Add Media button in the upper left corner of the program window and then Add Video to add the video files you want to convert to MP3. The desktop software allows for batch conversion, unlike the MPEG-to-MP3 converter online.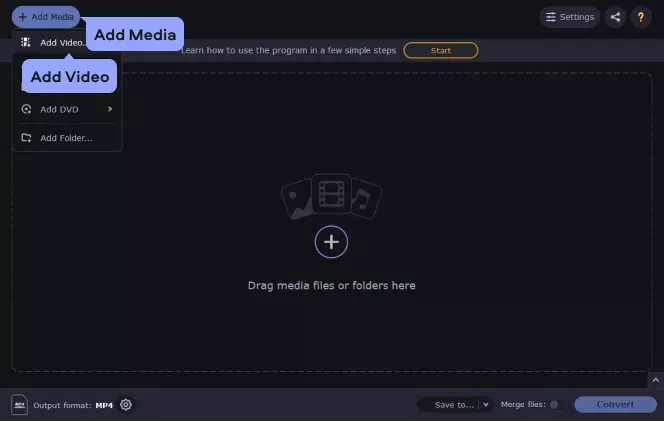 Step 3. Set MP3 as the output format
Click the Audio tab and open the MP3 category. You can now select from a range of presets with different bitrate values. A higher bitrate generally means higher quality, but remember that high bitrate files may also take up significantly more disk space.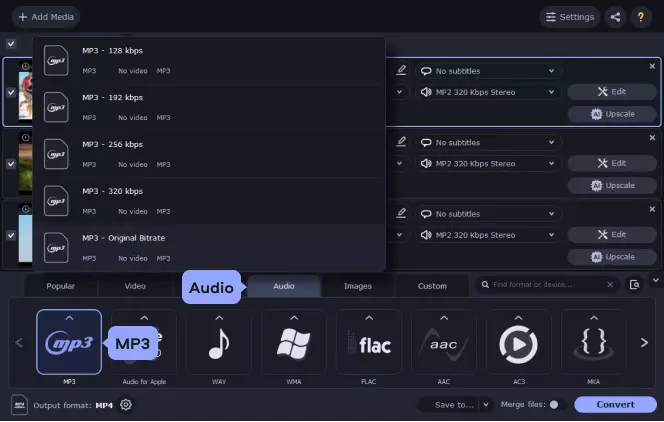 Step 4. Convert MPEG to MP3
By default, converted files are saved to the Movavi Library folder. You can change the output folder by clicking the Save to button. After all the settings are specified, click Convert and wait while the files are converted.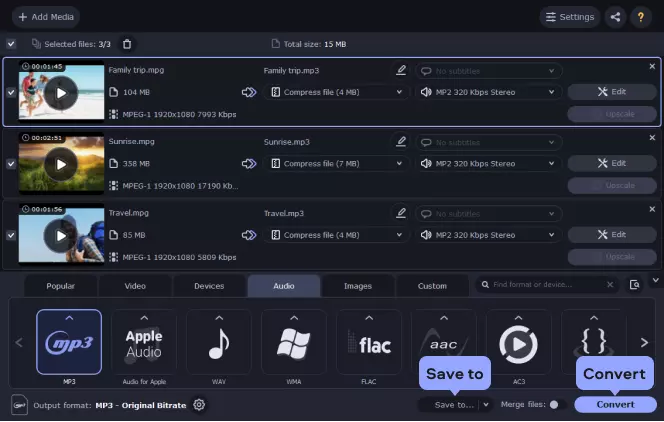 After the conversion is complete, the folder containing the converted MP3 files will open automatically. Now you can upload the music of your choice to your cell phone or media player.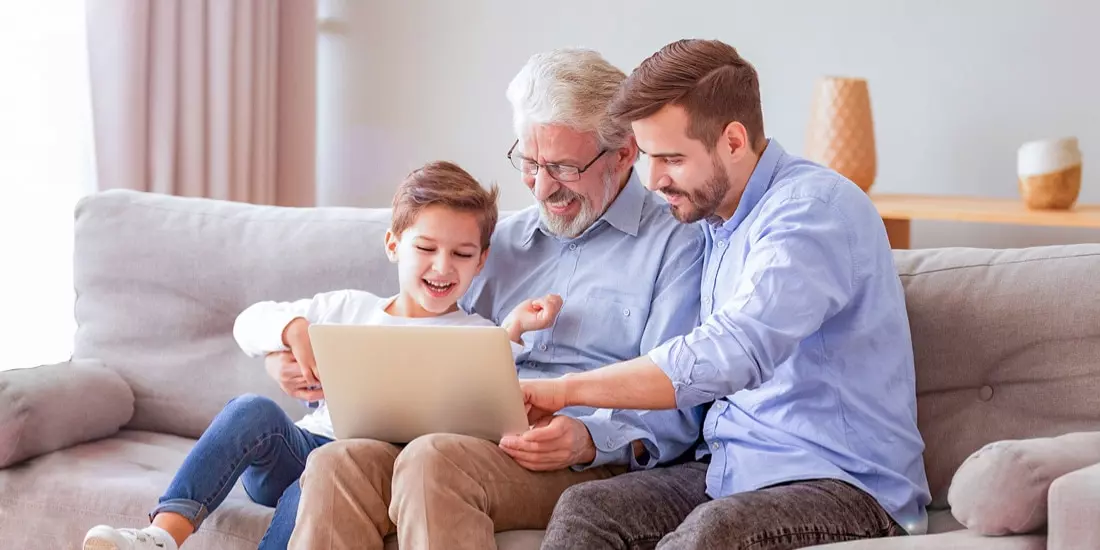 Movavi Video Converter
The ideal way to get your media in the format you need!
MPEG vs. MP3: The comparison
The main difference between MPEG and MP3 is that MPEG is a group of file formats that can contain video data as well as audio and MP3 can only carry audio data. For more information on MPEG vs. MP3 format comparison, check out the table below. It contains data on the MPEG-1 and MPEG-2 formats.
| Comparison parameter | MPEG-1 | MPEG-2 | MP3 |
| --- | --- | --- | --- |
| File extension | .dat, .mpg, .mpeg, .mp1, .mp2, .mp3, .m1v, .m1a, .m2a, .mpa, .mpv | .mpg, .mpeg, .m2v, .mp2, .mp3 | .mp3 |
| File type | Audio, video with audio | Audio, video with audio | Audio |
| Developed by | Moving Picture Experts Group | Moving Picture Experts Group | Fraunhofer Society and others |
| Developed in | 1991 | 1995 | 1991 |
| | | | |
| --- | --- | --- | --- |
| Possible audio codecs | MP2, MP3, etc. | MP2, MP3, etc. | MP3 |
| Possible video codecs | MP4, MKV, AVI, MXF, PS, TS, M2TS, VOB, etc. | MP4, MKV, AVI, MXF, PS, TS, M2TS, VOB, etc. | – |
Frequently asked questions
How to convert MPEG to MP3 on Windows 10/8/7?
Use suitable MPEG-to-MP3 converter software. Here's how you do it with Movavi Video Converter:
Get the program installed on your PC.
Drag and drop your MPEG files into the program window.
In the Audio tab, select MP3 and choose an appropriate bitrate preset.
Finally, click Convert.
How to convert MPEG to MP3 on Mac?
To change MPEG to MP3 on macOS, get Movavi Video Converter:
Download, install, and launch the software.
Click Add Media, then Add Video to locate and open the files you want to convert.
Open the Audio tab, select MP3, and click a suitable bitrate.
To start the conversion from MPEG to MP3, click Convert.
How to convert MPEG to MP3 with Windows Media Player?
Articles on the Internet suggest burning your MPEG file to a CD and then ripping it with Windows Media Player. However, it may be difficult to pull out since many computers nowadays don't have a CD drive and the whole burning process is difficult without proper software.
We recommend trying conversion software instead. For example, Movavi Video Converter is an MPEG-to-MP3 converter that's free to download. Unlike Windows Media Player, it can actually transcode your files to change the file format, so using it is easier than trying to make the default Windows player do the task it's not designed for.
Is MPEG the same as MP3?
No, they're not, even though they have something in common. MPEG is a format for video with audio, while MP3 only contains audio. So, MPEG files may contain MP3 audio data, but they're not equal.
How to play MPEG on Windows 10?
MPEG is natively supported by Windows 10, so they generally can be played by any video player you're using: Windows Media Player, VLC, Media Player Classic, etc. Just double-click your MPEG file and, if the video doesn't open, select a media player you have installed on your PC.
How to convert MPEG to MP3 using iTunes?
Converting MPEG to MP3 is also possible with iTunes on Windows and Mac. Here's how to use iTunes as an MPEG converter for getting MP3s:
On Windows, in the menu bar, select Edit and click Preferences (Music > Preferences for Mac).
Open the General (Files) tab, click Import Settings.
Choose the MP3 format in the menu next to Import Using.
Confirm the choice by clicking OK.
Select the MPEG videos you want to convert.
Click File, then Convert and Create MP3 Version.
Sign up for news and special offers