How to Convert MKV to MP4 on a Mac
MKV, or Matroska, is a universal video storage format used to incorporate multiple elements in a single file. MKV files can contain audio, video, and subtitles, all in a single, convenient file for ease of opening and use.
Unfortunately, it's not possible to open this type of video on all devices. MKV files are not, for example, supported by Apple's built-in video player. In order to play MKV files on your iPhone or Mac, you will need to download an external video player, which could take up vital memory on your phone. Many users find it more efficient to use a video converter to convert those videos into a format that the phone or computer can read more easily. In order to make the most of your videos, you'll need to be able to convert MKV to MP4 on a Mac. Meanwhile, you want to be sure that you aren't losing any quality along the way!
In the article below, you'll find out how to convert MKV files on your Mac, learn the differences between MP4 and Mac, and get answers to common questions about the MKV-to-MP4 conversion.
Let's have a look at solutions to common problems related to MKV files.
Can't open a video file?
Either your device doesn't support the format, or you need to install a special media player. Converting the file to a suitable format is the best solution.
Is your video distorted?
There can be a number of possible explanations. Most likely, however, the video file is just too large. Reducing its size in a conversion app might help.
Sound problems?
Usually, this is due to an incorrect audio codec used in the file. Change the codec using a dedicated video converter.
How to Use Movavi's MKV-to-MP4 Converter on a Mac
While Android devices support MKV playback, iPhone users cannot open MKV files on their devices. Even opening those files on a Mac can pose some challenges. As a result, many people may find themselves searching for information on how to play MKV files or even how to play movie files on a Mac! In order to view your video without complications, you'll need to convert your video to MP4 format. This format will offer easier playback and viewing across your Apple devices. Fortunately, Movavi Video Converter can help you easily convert your video files to MP4 format.
If you're looking for an MKV-to-MP4 converter for your Mac, using Movavi Video Converter is a great way to get a smooth, effective conversion that will not result in a loss of quality. The SuperSpeed Conversion option will also allow a faster conversion, which may help you get your video handled and start watching it sooner.
What Is the SuperSpeed Mode?
The fastest way to convert MKV to MP4 on Mac is to transfer data from one container to another without compression. The SuperSpeed mode is a function in Movavi Video Converter that enables format changes in the blink of an eye without re-encoding or associated quality loss.
There are a few limitations though that you need to take into account when using SuperSpeed conversion:
Codecs, resolution, bitrate, and other video parameters need to remain unchanged.
Special effects cannot be applied: e.g., you cannot rotate your video or add watermarks.
Ready to get started? Follow these tips for a successful video conversion that will allow you to watch your videos on a wider range of devices.
Step 1. Download the Installation File for Movavi's Transcoder
Download the installation file for Movavi Video Converter to your hard drive, open it, and install the program.
Step 2. Open Files for Conversion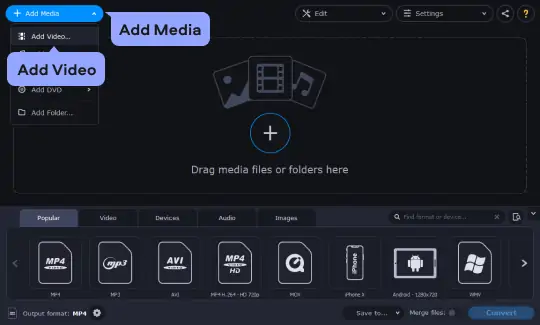 Locate the files you want to convert on your device by clicking Add Media in the upper left corner, selecting Add Video, and choosing the video or videos that you want to convert. If you want to use SuperSpeed Conversion, your MKV files will need to be encoded with H.264 or MPEG-4 codec. Without these file formats, you cannot use SuperSpeed mode for your video conversion.
Step 3. Select the Output Format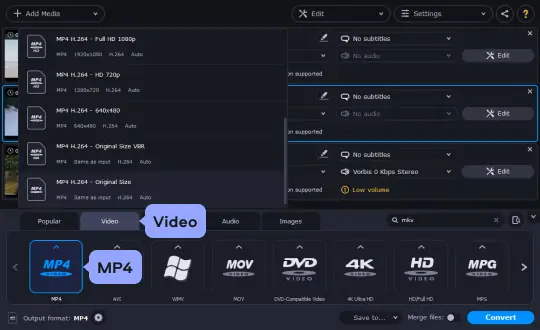 Open the Video tab and find the icon associated with the format you want to use. Since you want to convert MKV to MP4 on a Mac, you will want to select the MP4 icon. You will then see a list of MP4 formats. Choose the one that best meets your needs. The preset with the SuperSpeed icon will convert fastest, allowing you to view your video more quickly. As you convert your MKV to MP4 on your Mac, however, make sure that you choose the format that best fits your needs.
Step 4. Start the Conversion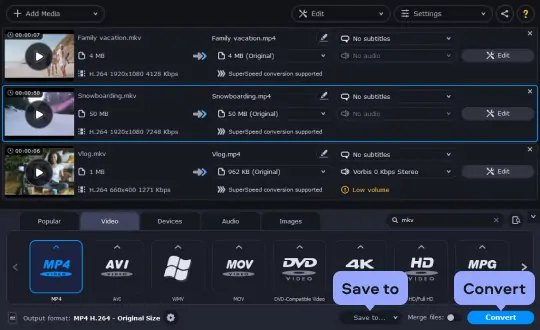 By default, all converted files are stored in the "Movavi Library" folder. If you want to use a different folder, click Save to and locate the desired folder on your computer. Click the Convert button to start the process. Since the Movavi app supports one of the fastest video processing technologies, your files will be converted in no time.
With Movavi Video Converter, converting MKV to MP4 on a Mac is fast and lossless! The program also includes other features like cropping, rotating, and adding watermarks to your video. Download the software and check it all out!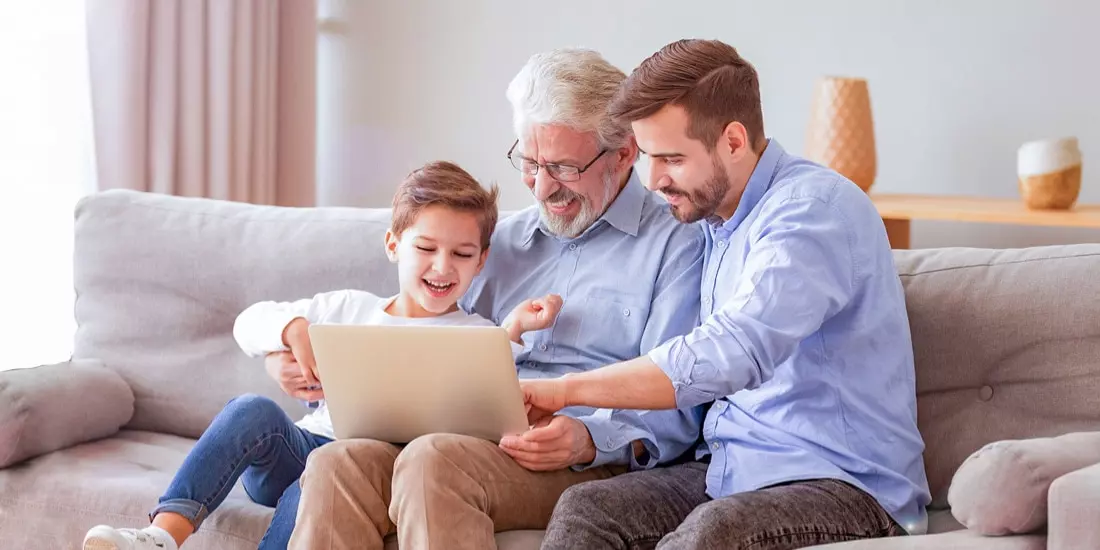 Movavi Video Converter
The ideal way to get your media in the format you need!
How to Convert MKV to MP4 on a Mac for Free Using VLC
VLC can also be used to convert MKV to MP4 on a Mac for free. Using VLC involves a few simple steps. First, open your VLC media player, then follow these key instructions to convert your files. If you don't have VLC on your Mac, use the link below to download it.
Step 1. Upload Your File to the App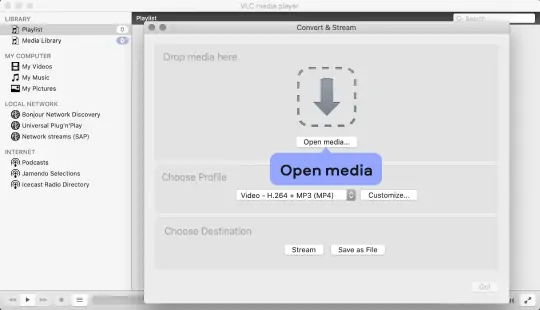 Select File, then choose Convert / Stream. Click the Open Media button to upload your file. Choose the MKV file that you want to convert to MP4 format. You can also drag and drop files onto the list, which can prove more convenient if you have the file list open in another location.
Step 2. Select the Profile
In the Choose Profile section, select Video – H.264 + MP3 (MP4). Click the Customize button if you want to edit the selected profile.
Step 3. Customize Your Settings (Optional)
If you've decided to edit the profile, go through your tabs to make sure that you have chosen the right settings for your file conversion. This includes:
On the Encapsulation tab, make sure you have selected MP4/MOV.
Check the Video codec tab, then click both Video and Keep original video track.
Visit the Audio codec tab and make sure that both Audio and Keep original audio track are selected.
Your settings can make a big difference in your final file, so make sure you've gone through the settings to ensure that it will convert the way you want it to. If you notice any settings that aren't quite right, fixing them now will save you from having to go back and do it again. Once you've checked your settings to ensure that they fit your needs, click the Apply button.
Step 4. Start the Conversion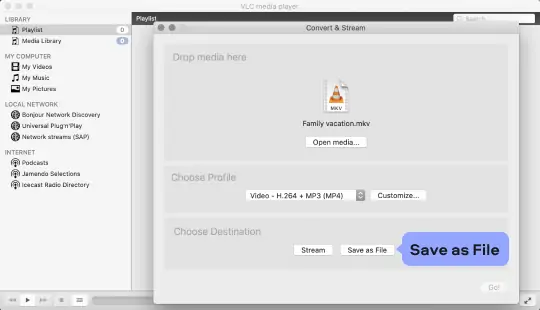 You likely have a specific destination where you want to save your video file. Select it in the Choose Destination section by clicking Save as File. Then click Browse, enter the file name select your destination, and click the Save button. To start converting your MKV files, click Save.
Once you start converting, you can observe your progress by watching the progress bar in the main window. This progress bar will let you know how long you have until your video conversion is complete and you can watch the video in your desired format. You can then visit your destination file to watch the video.
Pros and Cons of Using VLC
Here are the pros of using VLC as a free MKV-to-MP4 converter:
VLC is available for free
There are no ads in this free MKV converter for Mac
After the conversion, you can use this player to watch your videos
The drawbacks of this method are the following:
The conversion process is a little confusing
Some users may find the interface design outdated
How to Use an Online MKV Converter on Your Mac
When you're looking for a free solution for converting MKV files to MP4 files on a Mac, you may find yourself looking into online video converters. Many of these tools are free and make it easy for you to manage that transition. It's important, however, to note that many MKV files are too "heavy" to use in an online converter – often, these tools have a file size limitation.
We recommend you try Online Video Converter. Follow the steps below to learn how to convert your MKV files using this online tool.
Step 1. Go to the Online Video Converter website
Visit the Online Video Converter website by following the link below.
Step 2. Upload Your MKV File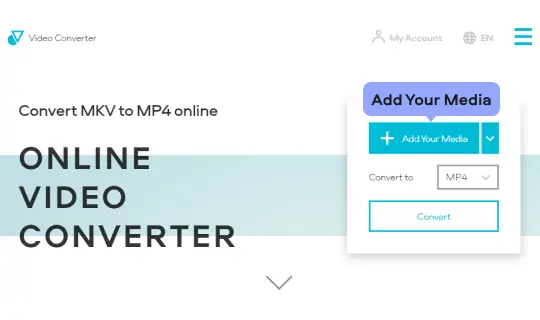 To upload your video, click the Add Your Media button and locate your MKV file.
Step 3. Choose Your Destination File Type
You will need to select MP4 as your intended end file type for the conversion. To do this, just open the Convert to drop-down menu and find MP4 from the list.
Step 4. Convert the Video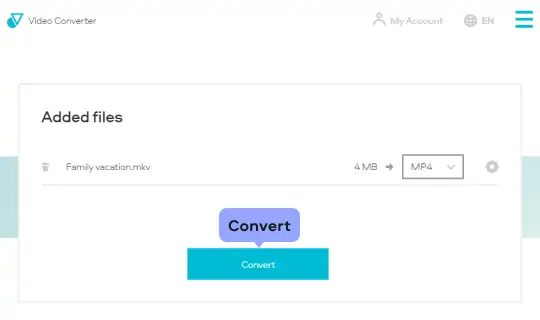 Click the Convert button to start the conversion process. Once you have converted your MKV file to MP4, the file will be downloaded automatically. Again, this may take some time, depending on the length of the file.
Pros and Cons of Using Online Video Converter
There are the pros of converting your files using this online tool:
You don't have to download and install software
A simple interface makes it very easy to use
The drawbacks of this conversion method are the following:
It doesn't support batch conversion
The file size is limited
The editing features aren't available
MP4 vs. MKV Comparison
MKV vs. MP4: what are the main differences? Let's have a closer look at the formats.
MP4 (MPEG-4 Part 14) is a container format used for storing video and audio streams. Low loss of quality combined with high compression levels, as well as its compatibility with almost all default media players, makes the MP4 format one of the most widely used formats on the Internet. You can play MP4 files with any default media player.
MKV (Matroska Multimedia Container) is a free, open-standard video container format. MKV files can contain an unlimited number of video, audio, and subtitle tracks in one file. That's why this format is widely used for storing multimedia content such as movies and TV shows. Using this format, you can watch your favorite movies with any combination of audio tracks and subtitles. It's less universal than MP4 because you need to install a special media player to open MKV files, and you can't open these files on iPhones.
| Comparison Parameter | MP4 | MKV |
| --- | --- | --- |
| File extension | .mp4 | .mkv |
| Video-encoding formats | H.264, H.265, MPEG-2, MPEG-4, H.263, VC-1, Dirac, others | H.264, H.265, MPEG-4, MJPEG, Theora, VP9, DV, others |
| Audio-encoding formats | AAC, MP3, AC-3, Apple Lossless, ALS, SLS, others | AAC, AC3, MP3, ALAC, Vorbis |
| Device and OS compatibility | Compatible with almost all devices and operating systems | Some TVs, media players, and mobile devices. Windows PC (with a special codec installed), no native support in macOS |
To sum up, if you want to watch a movie with the audio track in your target language and English subtitles on a Windows PC, MKV is your best choice. In most other cases, MP4 is much more convenient.
Frequently Asked Questions
What is an MKV file?
The MKV file format is a common multimedia file. It contains video and audio content in one easy file, which makes it easier for others to view. The MKV file type supports high-quality H.264 video. MKV files are very large file formats, which can make them unwieldy. While they offer an excellent viewing experience, they may be difficult to watch in some formats, including on mobile devices and Apple computers.
MKV files are very large-format files. If you're trying to convert an MKV file, it probably hasn't taken you long to figure out that the format is very large – especially if you've attempted to perform that conversion online. The codecs used for the content inside the MKV file take up a great deal of space. In short, these large files are the price you pay for high-quality video playback. It's important to take that into consideration, both as you're deciding what format you want to use for your videos and as you're evaluating what steps you need to take when converting your MKV videos.
What is the MKV format used for?
MKV (which stands for Matroska Video) is a universal format designed as a new standard for high-quality video compression. MKV can combine HD video with multiple audio tracks and subtitle tracks – that's why it is a good choice for storing movies, TV shows, and concerts.
Can I play MKV files on a Mac?
Unfortunately, Mac users may encounter difficulties when viewing MKV files, and iPhones do not support MKV at all. To open MKV files on Apple hardware, you need to convert MKV to a more common format, for example, MP4. The best way to do this is to use a dedicated conversion program. Movavi Video Converter can help you transform your files fast, thanks to its SuperSpeed mode.
Can MP4 files be played on a Mac?
Although Mac's default player supports the MP4 video format natively, it can only play files compressed with MPEG-4, MPEG-2, and H.264 codecs. If you want to play an MP4 file encoded with a different codec, you'll need to install a player that supports that codec, or convert the video clip to another format, like MOV.
Is MKV better than MP4?
Which format is better – MKV or MP4? Both MKV and MP4 are popular video formats that support H.264 video. However, Apple smartphones and Mac computers don't support MKV natively, while MP4 is a default format for iPhone, iPad, and many other devices. So, if you want to transfer videos to your iPhone, it's better to choose MP4, but if your device supports MKV, you can keep your files in this format.
Will converting MKV to MP4 reduce the file size?
Yes, it will help to make the file smaller. MKV files are usually larger than MP4s because of some attributes like multiple tracks and subtitles. A smaller file size means quicker downloads as well as savings in storage space. So if you need your MKV video to be smaller, try converting it to the MP4 file format. If you're worried about quality loss, use the Movavi MKV-to-MP4 converter for Mac – it enables you to change the format of your videos while retaining good quality.
Are you ready to start converting? Whether you're wondering how to play MKV files or you're looking for a converter that will meet your needs, we're here for you. If you need to convert MKV files to MP4 on your Mac, Movavi Video Converter can help. Download the program today to start converting.
Have Questions?
If you can't find the answer to your question, please feel free to contact our Support Team.
Screen Recorder
An easy way to record from your screen in HD. Make video footage of any application, record online streaming video, webinars, even Skype calls, and save clips in all popular formats.
Video Editor
A comprehensive, streamlined video editing program that has everything you need to create amazing home movies with custom soundtracks, special effects, cool titles, and transitions.
Sign Up for News and Special Offers