How to Transform MP4 to WAV
MP4 is among the most popular video formats. Even so, it is not supported by all media players, and sometimes you even have to change the format of your files to play them back on your own device. If your only concern is the soundtrack, why not convert MP4 to WAV? WAV is one of the most accessible audio formats, so you'll be able to enjoy the new tracks wherever you want.
In this article, you will learn how to transfer soundtracks from the MP4 container to the WAV one and will see what's the difference between these two containers. Click one of the links below to jump to the corresponding section of the tutorial:
How to Convert MP4 to WAV with Movavi
The Movavi converter can do everything you need in terms of converting files and much more. The program supports over 180 different multimedia formats and provides, among other things, lightning-fast MP4-to-WAV conversion. Here's a short video about changing formats of media files.
Download the app and start experimenting with its many cool features after reading this step-by-step guide.
Install the MP4-to-WAV Converter
Double-click the installation file you've just downloaded and follow the instructions on your computer screen.
Add the Multimedia Files You Want to Convert
Go to Add Media, choose Add Video, and select the desired MP4 files for conversion. Hit Open. After files are uploaded, you'll see the file list inside the program window.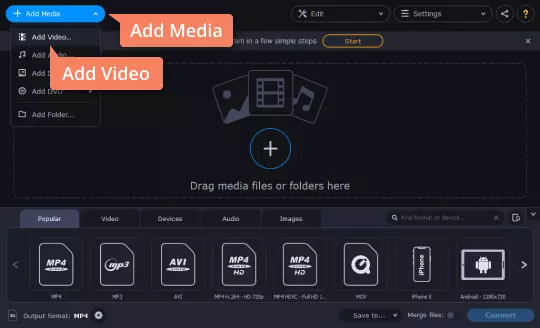 Choose WAV as the Output Format
Open the Audio tab, click the WAV preset group, and choose the preset. Its name will appear at the bottom of the program window. Now your files are ready to change the extension from .mp4 to .wav.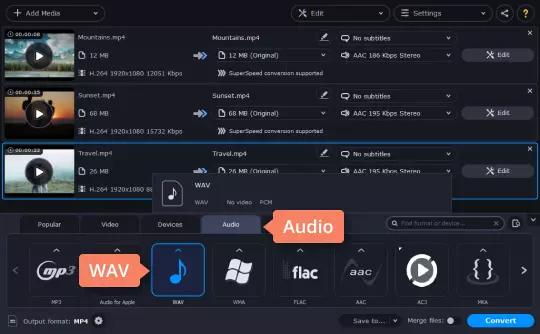 Start Converting from MP4 to WAV
Click Save to to set the folder in which you want to save your files. Click Convert to start the process.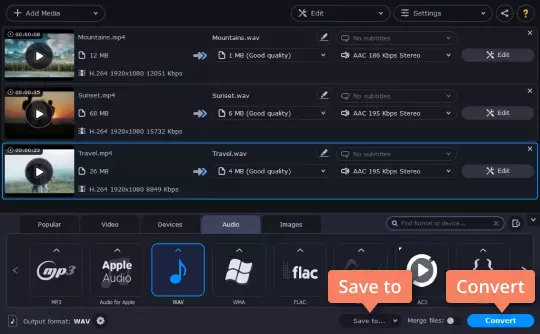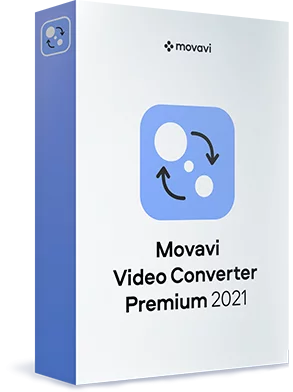 Movavi Video Converter
The ideal way to get your media in the format you need!
Convert video, audio, DVDs, and image files

Enjoy lightning-fast conversion without quality loss

Improve quality, adjust sound, trim and join files before converting

Save video and audio clips for easy mobile access
MP4 vs. WAV Comparison
It's tough to compare MP4 and WAV as far as these formats are primarily used for different purposes. However, for sound storing, WAV could be much better because it basically provides 'raw' uncompressed audio without any quality losses. WAV was developed by Microsoft, so it is useful for Windows users. MP4 provides worse quality, but it doesn't require that much space and is more familiar to Apple users. Here's a short formats comparison table.
| Comparison parameter | MP4 | WAV |
| --- | --- | --- |
| File extension | .mp4, .m4a, .m4p, .m4b, .m4r, .m4v | .wav |
| Introduced | 2001 | 1991 |
| Contains | Video, audio, and text | Only audio |
| Audio file size | Small | Large |
| Compression | Lossy and lossless | Lossy (for AAC and MP3 codecs) / No compression |
See Other Useful How-to Guides