How to Change Video Resolution

Video resolution is usually expressed as width × height, with the value given in pixels. There are two types of video resolution: Standard Definition (SD) and High Definition (HD). The most popular standard resolutions are 640 x 360 and 640 × 480 for video, and 720 × 480 and 720 × 576 for DVD. HD video usually has a resolution of 1280 × 720 (720p) or 1920 × 1080 (1080p, also called Full HD).
There are different situations in which you may need to change video resolution. It's not hard to reduce the resolution of a video. But if you want to increase it, keep in mind that the quality will not get any better, while the video size may grow. These transformations may be necessary only in rare cases.
Here are a few problems that can be solved by changing the video resolution.
Can't open a video on your device?
If you want to upload a high-resolution video to your mobile device, you may need to reduce the video resolution, since these devices often support only specific resolutions. Movavi Video Converter has special presets for iPhone, Samsung, Huawei, and other popular mobile devices.
Want to upload a video to a website?
A lot of websites have limitations regarding video resolution. So, if you want to upload your video to a particular website, there's a chance you'll need to change the resolution of the video file.
Need to burn a video to DVD?
If you want to burn a low-resolution video (for example a 320 × 240 video shot on your cell phone) to DVD, you will need to increase the resolution because the DVD standard requires video to have a resolution of no less than 720 × 480.
You can change video resolution using a desktop app or an online tool.
How to Change Video Resolution with Movavi Video Converter
Movavi Video Converter is powerful, yet easy-to-use conversion software that lets you change video resolution easily. It supports the most popular video formats and offers ready-made presets for even the newest mobile devices. Click the appropriate button below to get the version of the program for Windows or Mac and check out this brief step-by-step guide to learn how to change resolution for video files.
Install Movavi Video Converter
First, download the program from our website. Run the downloaded file and install the software following the on-screen instructions. Movavi Video Converter is fully compatible with Windows and OS X and supports the latest video processing technologies, so you can enjoy fast video conversion on the latest Microsoft OS and Mac OS.
Add Video to the Program
Run Movavi Video Converter and click Add Media > Add Video in the upper left corner of the program interface. In the new window, choose one or more video files to convert. If you want to add DVD Video, click Add DVD > Open DVD and choose your DVD.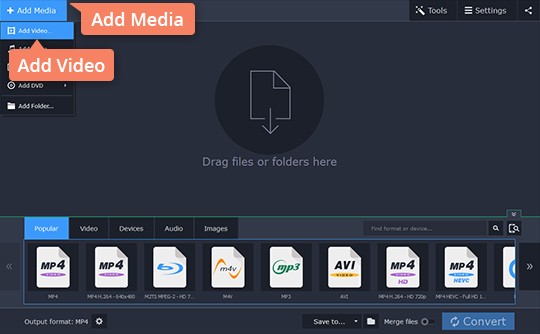 Choose the Desired Output Format
To review the list of available formats, open the Video tab and choose the video format you want: AVI, MP4, FLV, MOV, WMV, and many more. You can either choose a preset with a predefined resolution, for example, MP4 H.264 - 640x480 or specify a different resolution later on.
If you want to prepare video for viewing on an iPhone, iPod, iPad, PSP, or another portable device, click Devices and choose the appropriate preset for your device. Your video will be converted at the optimal resolution for viewing on that mobile device.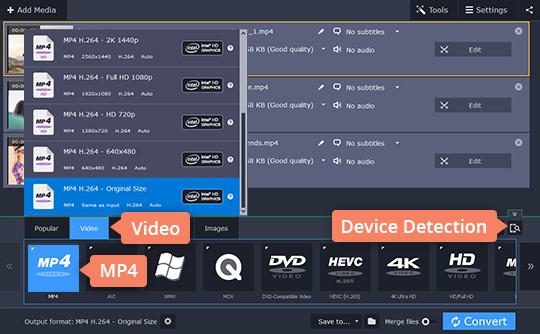 There's also an option to detect your device automatically by connecting your device to the computer and clicking the Cell Phone icon in the lower right corner.
Specify Video Resolution (Optional)
You can skip this step if you have already selected a format or device preset with a predefined resolution.
Click the Cogwheel icon below the presets ribbon. Locate the Frame size drop-down list. Here, you can either choose one of the standard resolutions, or select Custom and specify your desired resolution in the Width and Height boxes to the right. You may also want to choose a resize method from the drop-down list to optimally fit your video into the selected dimensions. Click OK to apply the changes.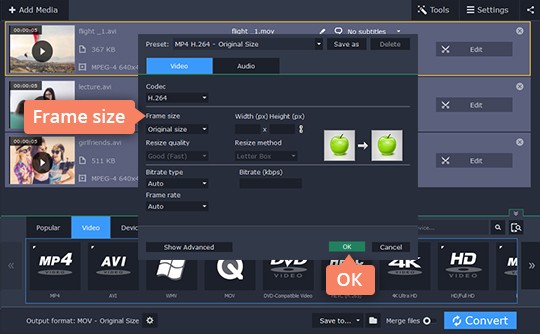 Convert Your Video
By default, converted videos are saved to the Movavi Library folder. If you want to change the output folder, click the Folder icon to the right of the Save to field and choose another folder or create a new one and click OK.
Click the Convert button and wait for the process to finish. After the conversion is complete, the folder containing the converted files will open automatically.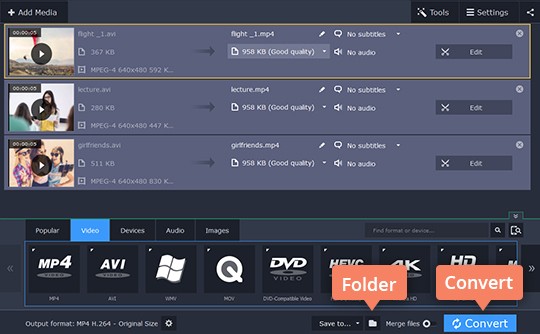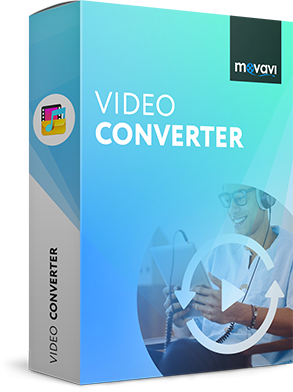 Movavi Video Converter
The ideal way to get your media in the format you need!
Convert video, audio, DVDs, and image files

Enjoy lightning-fast conversion without quality loss

Improve quality, adjust sound, trim and join files before converting

Save video and audio clips for easy mobile access
Differences between Desktop and Online Converters
Online Video Converter
Long-time wait
Limited file size
Popular formats supported
Slow conversion speed
Movavi Video Converter
0-second wait
No size limits
180+ formats, presets for 200+ devices
Fast conversion speed
Online user support
How to Change Video Resolution Online
For smaller files, you can use a video resolution converter online. We suggest you try videoconverter.com – an online tool that lets you convert media files for free. However, there are a couple of limitations: the size of the file is limited, and you can only convert one file at one time.
Changing video resolution online is quite simple. First, click Add Your Media, select the video, and click Open to upload the file. Then hit the Settings button on the right. Click As a source and choose a resolution from the list to change the original resolution to the one you need. Click Convert, wait until the process is complete, and click Download to save the file on your computer.
See Other Useful How-to Guides