How to Rip a DVD on a Mac
The DVD era is coming to an end, thanks to the widespread availability of Blu-ray discs, mobile devices, online video streaming, lightweight flash drives, and memory cards. If you have movies or home videos on DVDs, you can rip them onto your Mac. This way you won't have to worry about the problems associated with storing videos on DVDs.
Why would you need to rip DVDs? Here are a few reasons:
DVDs can take up a lot of space
Piles of DVDs collect dust and take up space. The best way to return your DVD-based movies to life is to rip them and transfer to your computer, flash drive, or cloud storage.
Discs can easily get lost when you move house or lend them to somebody. To avoid losing the data, you can rip your DVDs and use a cloud service to store the videos.
Some Macs have no DVD drives
DVDs are not that popular anymore, so many computers don't even have DVD drives. Ripping DVDs will enable you to watch videos on any computer or mobile device.
In this article, you'll find a review of the best DVD rippers for Mac.
Mac DVD ripper: How to Rip a DVD on a Mac with Movavi Video Converter
Movavi offers a powerful and easy-to-use DVD converter for Mac that enables you to process a DVD* into a video file in just a few simple steps. With Movavi Video Converter, you can rip DVDs on your Mac and save them in a wide variety of formats – AVI, MP4, FLV, MOV, MPEG-1,2, 3GP, and more – to create web-compatible and mobile-friendly versions of your DVD videos. You can even do a reverse operation – convert videos to the DVD-compatible VOB format on your Mac – just as easily.
Download and install the DVD ripping software on your Mac computer and start digitizing your DVD collection. Here's how to rip DVDs on your Mac with Movavi Video Converter.
Step 1. Install Movavi's Mac DVD Ripper
Open the installation file and follow the guidelines that appear in the pop-up window.
Step 2. Add Your DVD to the Program
Open the program and insert the disc into the drive. Click Add Media, choose Add DVD, then click Open DVD and select the DVD you want to convert.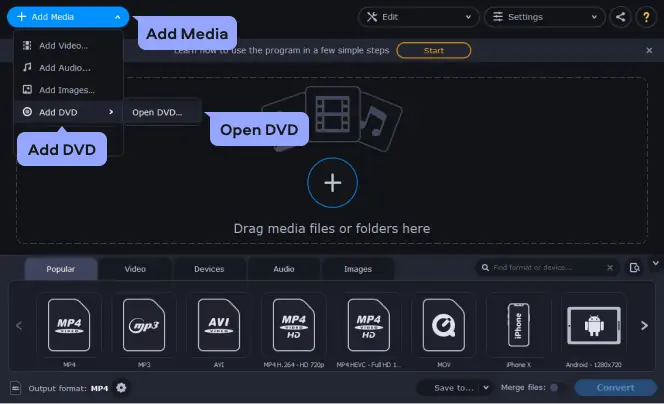 Step 3. Choose the Format
In the bottom of the program window, locate the target format for your DVD video. Can't find the right one? Go to the Video tab to see all available output video formats. Want to save the video to watch on your mobile device? Go to the Devices tab and explore the available ready-made presets for a wide range of phones, tablets, and players, including iPad, iPod, and iPhone.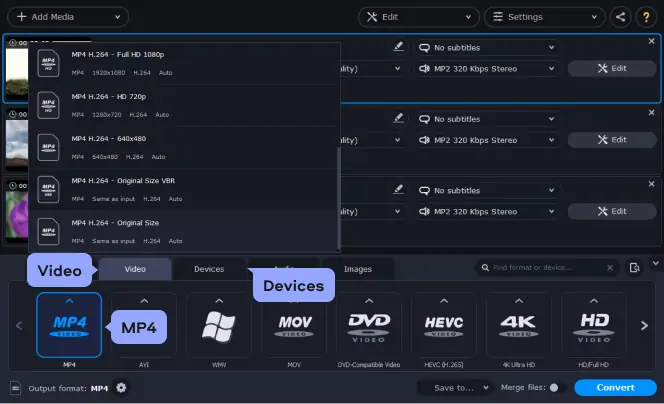 Step 4. Rip Your DVD on Mac
Before starting the conversion, make sure the program will save your video to the right place. Click Save to to locate a new destination.
If you're converting your video to any iTunes-compatible media format, or for playing on an Apple device, click Share and check the iTunes option; after the conversion is complete, the output files will be automatically added to your media library.
Now, to convert the DVD to MP4 (or any other format of your choosing) on your Mac, just click the Convert button and wait until the encoding is complete.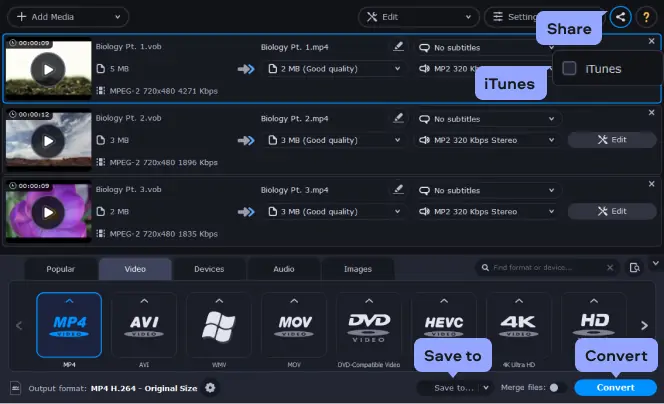 * Disclaimer. Please be aware that Movavi Video Converter for Mac does not allow you to convert copy-protected DVDs.
To read a detailed review of the program, follow the link below.
Go to Top Ten Reviews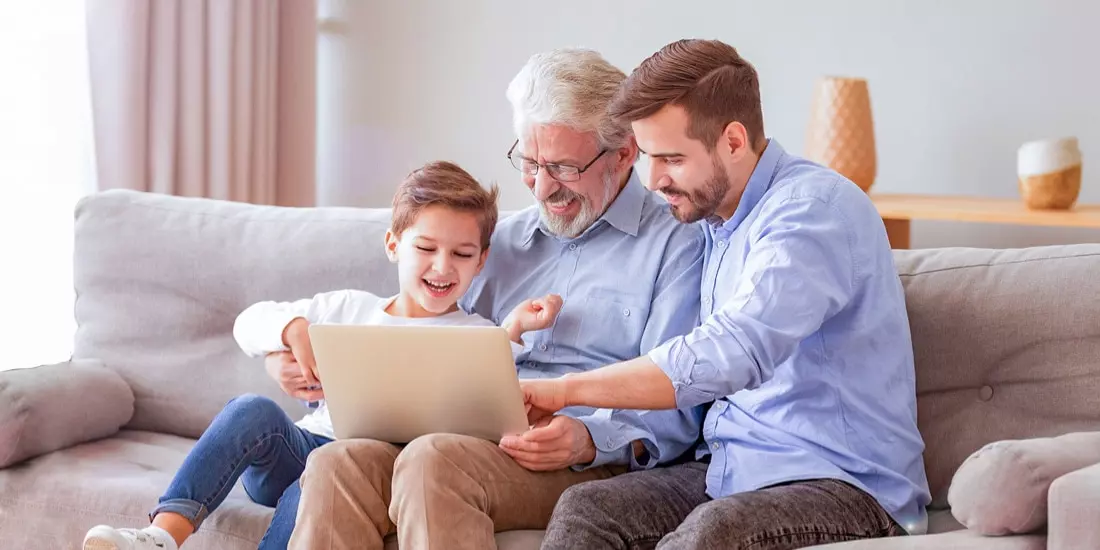 Movavi Video Converter
The ideal way to get your media in the format you need!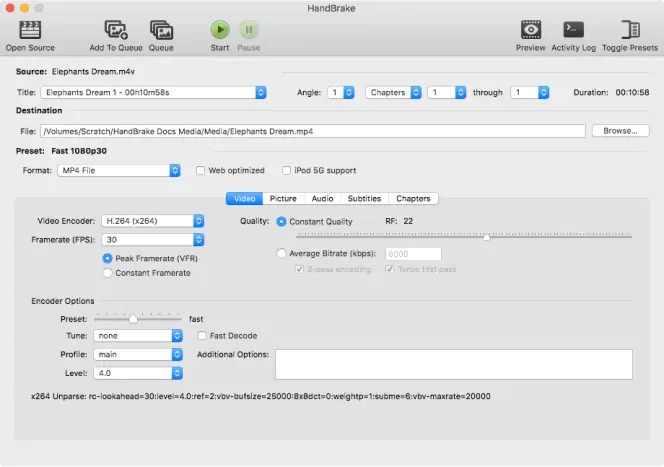 If you are looking for a powerful DVD ripper for Mac, HandBrake should be among your top picks. This tool is packed with a wide range of tools and presets, giving you many options. However, to accommodate all these features, this Mac DVD rip software has sacrificed user-friendliness. As such, it is not an ideal rip software for Mac for beginners.
If you already know how to rip a DVD on Mac, you will benefit from the additional features such as multiple video filters, video preview, title and range selection, chapter markers.
Once you have installed and configured the software, the following steps will help you rip DVD on Mac:
Insert the DVD you want to rip and launch HandBrake.
Drag and drop the video you want to convert into the app.
Select the output format.
Select the destination folder using the Browse button.
Click Start Encode to run the Mac rip DVD process.
Pros:
Supports multiple formats
Live preview
Device presets for both Android and iOS
Cons:
Can be a bit hard to use for beginners
The interface takes time to get used to
For more information, read TechRadar's review linked below.
Go to TechRadar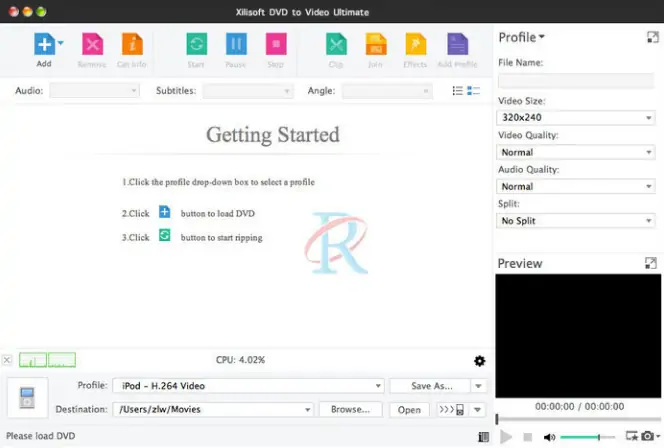 When it comes to DVD ripper for Mac, few tools can compare to the Xilisoft. With this tool, you will be able to convert DVDs into popular movie formats quickly. It also allows you to adjust video effects, crop image frame size, clip, merge and split files, and add subtitles and watermarks.
Despite the wide range of features available on this DVD rip Mac software, it is surprisingly easy to use. All the important options that will enable you to convert files are accessible via the main screen. The steps you need to follow to rip DVDs are:
In the Profile field, select the desired output format.
Hit Add and load your DVD.
Click Start to run the conversion.
If you have multiple files to convert, Xilisoft can handle them concurrently, or you can cue them. Alternatively, you can use the CPU usage throttle settings to choose which videos should be prioritized while the rest continue slowly.
Pros:
Easy to use and beginner-friendly
Can convert DVDs to most of the common formats
Has additional features such as cropping and merging files
Can handle multiple videos simultaneously
Cons:
Requires a subscription to unlock all the features
You'll find more information in the review linked below.
Go to PCWorld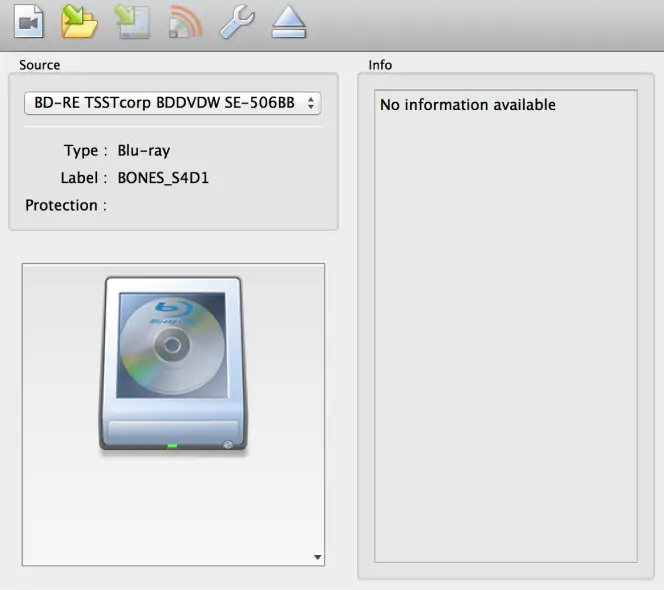 MakeMKV is a standalone software that allows users to rip DVD to Mac conveniently. It can also be used to convert encrypted files into formats that are readable on other devices. If you rip DVD for Mac using MakeMKV, you will be sure that the converted files will be similar to the original one.
Besides offering fast conversions, all video and audio tracks, including HD audio, will be preserved. Other elements that will be preserved include meta-information such as audio type and track language and the information on chapters.
MakeMKV is an easy to use software to extract video from DVD to Mac. All you have to do is:
Insert the DVD and run the application.
Click the scan title icon for the software to scan the headlines.
Select the titles you want to rip.
Choose a storage folder for the ripped files.
It may take 20 to 30 minutes to extract a video.
Pros:
Offers fast conversion
Preserves crucial elements of the files such as video and audio
Cons:
Finished files can be very huge and eat up a lot of disk space
To learn more about the program, read the review from Top Ten Reviews.
Go to Top Ten Reviews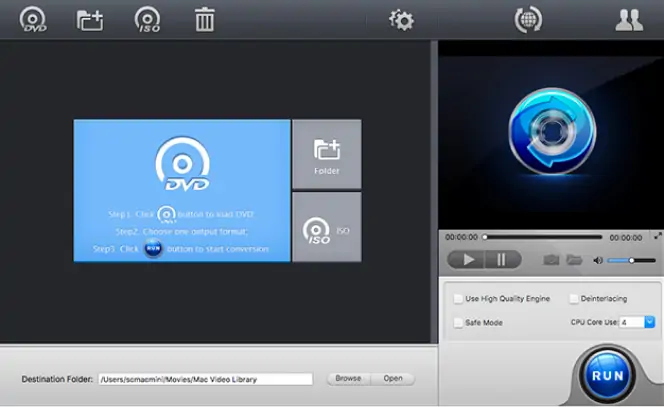 With numerous devices such as iPhones and iPads that you can use to watch movies, access to a reliable free DVD ripper for Mac is now somewhat of a necessity. In this regard, MacX DVD Ripper is an ideal option, especially if you do not have prior experience with ripping DVD on Mac.
It is not only easy to use but with the MacX DVD Ripper Pro, but you will also be able to convert DVDs to all the major video formats. It has in-built presets that make it easy for you to convert videos for your Apple devices.
It only takes a few simple steps to convert your videos:
Insert your DVD and launch MacX DVD Ripper.
Click the DVD Disc button and select the disc.
Select a preset output such as iPhone depending on your device.
Select a destination folder for the converted files using the Browse button.
Click the RUN button for ripping to begin.
Pros:
Rips videos in a relatively short amount of time
Easy to use
Can rip DVDs to the most popular video formats
Regular updates ensure you can rip new types of DVDs
Cons:
Some options, like hardware acceleration and presets for devices, are only available with the paid Pro version
You'll find more details in this review by Macworld:
Go to Macworld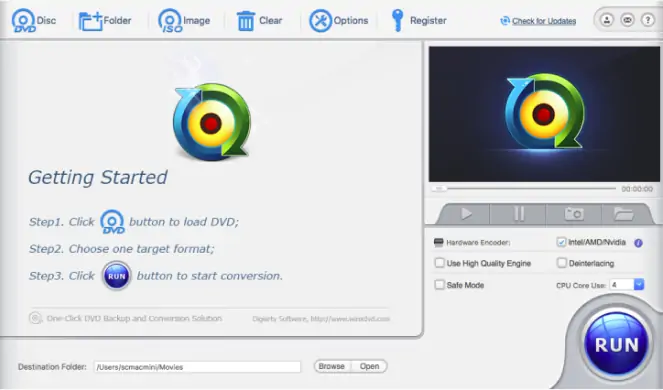 Since 2009, WinX DVD Ripper has been in the industry as one of the best DVD rippers for Mac. This is why it has over 70 million users. It allows you to back up your videos to MPEG2 format without losing any quality, and the process only takes five minutes. Another key feature of WinX DVD ripper can work on new, non-standard, regional, and even scratched DVDs.
It is just as easy to edit your videos as it is to navigate on the platform. Additional operations you can perform include adjusting frame rate, resolution, bitrate, codec, adding subtitles, and trimming videos.
To rip files DVDs using WinX DVD Ripper, you will need to take the following steps:
Open the program and click DVD Disc.
Select the source disc for conversion and click OK.
In the Output Profile window, select the target format.
Click Browse and choose the export folder.
Hit RUN to rip your DVD.
Pros:
Supports all types of DVDs
Fast ripping speeds
Preserves image quality
Easy to use
Ripped videos can be viewed on mobile devices
Cons:
The free version is only available on a trial basis
Learn more about the program in the review linked below.
Go to TechRadar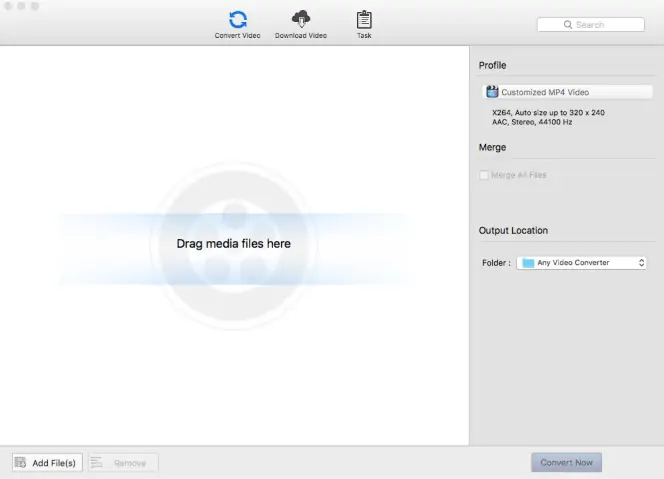 Another notable software that can help you rip the DVD on Mac is Any DVD Converter. Although the DVD conversion feature is available only in the paid version, you can try the free version to see if you like the interface and functionality of the program. And if you realize that this program is just what you need, you can always upgrade to the pro version and convert your DVD videos.
Any DVD Converter supports many input formats and has special output presets for popular devices. The program enables you to download YouTube videos using the built-in downloader. You can also use the app to merge video files and crop your videos. This DVD ripper for Mac supports batch conversion and provides high conversion speed.
The step by step process for ripping DVD on Mac using Any DVD Converter:
Insert your DVD and run the program.
Click Add File(s) and select the DVD video for conversion.
Open the Profile drop-down list and select the desired output format.
In Output Location, indicate a destination folder.
Click Convert Now to initiate conversion.
Pros:
Works with virtually all input files
You can burn files directly to a disc
Converts multiple files at a go
Merges different files
Has presets for mobile devices
Cons:
DVD conversion is available only in the paid version
Below you'll find a link to a detailed review of the program.
Go to Lifewire
What Makes for a Good DVD Ripper Software?
There are plenty of rip software for Mac, and each has unique features and capability. When choosing the best DVD ripper for Mac, it's all about finding one that adequately meets your needs. Some of the factors to consider are:
1. Supported Formats
From smartphones to smart TVs and gaming consoles, there are many devices that you can use to watch converted videos. With each, you will require a compatible video format. Though most tools for ripping DVD on Mac offer most of the popular formats, the best of the lot go the extra mile to give you more options.
2. Quality of Output Files and Speed
During the conversion process, some of the video properties may be altered, affecting the output quality. For a great user experience, make sure you select a Mac DVD rip tool that preserves the video's quality. Along with quality, the speed of conversion is a major consideration. A reliable tool should not take too long to convert videos.
3. Additional Features
Advanced Mac rip DVD applications offer additional tools enabling you to convert videos into what you want. They have video editing capabilities allowing you to crop videos, edit subtitles, add watermarks, and trim unwanted parts of the video. Other features include the ability to adjust frame rates, aspect ratios, bitrates, codecs, and more.
4. Cost of DVD Ripper for Mac
There are plenty of free ripping tools for Mac. However, to get the best quality and access to advanced features, you will need to pay for a subscription. Prices range from around $30 to $50 for the best tools available.
5. Available Support
Some applications have highly complicated interfaces that make them suitable for experienced users, whereas some are friendly to beginners. Either way, you should choose software for ripping DVD on Mac from a manufacturer that offers dependable support. This can come in the way of live chat, FAQs, tutorials, and other resources on their website.
Can You Get a Software that Has It All?
In most cases, you will be forced to choose between priority features. But that shouldn't be the case. Movavi Video Converter for Mac offers a combination of all these features accompanied by unparalleled conversion speed.
What Format Is a DVD Video?
If you're wondering "What format is a DVD video?", have a look at the table below. You'll find information about video and audio formats that can be used in a DVD video.
Description
Digital versatile discs or digital video discs (DVDs) are discs that offer more storage capacity than standard compact discs.
Types
There are single-sided, single-layer discs and single-sided, double-layer discs that can hold 4.7GB and 9.4GB. The rarest type is the double-sided, double-layer disc that can hold up to 9.4GB.
Supported video formats
MPEG-2, AC-3, PCM
Supported audio formats
MPEG-1, PCM, DTS, AC-3
Frequently Asked Questions
Is it legal to rip DVDs?
Ripping DVDs on Mас is legal, but only in specific scenarios. Reproducing any DVD that comes with a box or a copyright label, it is illegal to make copies of it.
Does ripping a DVD ruin it?
It is perfectly safe to rip DVDs on Mac. The process of ripping a DVD is much like the one for playing it. Neither the disc nor its contents will be affected.
How long does ripping a DVD take?
There are several factors that affect how long it takes to rip a DVD. These include the video's size, bitrate of the output video, and the DVD converter for Mac that you use. With Movavi Video Converter, you can rip a standard 4.7 GB DVD in about 16 minutes. If you use the SuperSpeed acceleration feature, it will take even less time.
How many GB is a ripped DVD?
The size of the output video when you rip the DVD on Mac varies. It depends on the size of the original video and the bitrate of the output file.
How do I reduce the file size?
If you want to reduce the size of the video, try converting it to another. With Movavi's rip software for Mac, you will also be able to trim converted files, enabling you to reduce the size.
Sign up for news and special offers