How to Fix Red-Eye in Photos

How many times have you blamed the camera flash for messing up your photos? Everything was perfect in your pictures except for one obvious problem – people with glowing red eyes. Let's take a look at why this happens.
The pupil responds quickly to changing light conditions. Light shining directly in the eye causes the pupil to contract to reduce the amount of light entering the eye. Conversely, when it's dark, the pupil dilates. So, red-eye usually happens if you take pictures in dim lighting or at night when the eyes are adapted to a low level of light. If a bright camera flash suddenly goes off, the pupils don't have time to react and change in size. That's how we get the red-eye effect in photos, which is in fact just a layer of tissue in the back of the eye, also called a fundus.
Movavi Photo Editor is the Right Software to Fix Red-eye in Photos
How to prevent the red-eye effect:
Look away from the lens. In this case, the flash won't hit your eyes, so there's little chance of getting vampire-like people in your pictures.
Add light to the room.
Activate the red-eye reduction mode on your camera.
Use an external flash. Aim it at the ceiling or a wall to create indirect light.
If none of this works, you'll need an app that can help you get rid of the problem. For example, try the red-eye removal tool in Movavi Photo Editor. Below, you'll learn how to remove red-eye and achieve the results you were hoping for in the stroke of a brush!
Install Movavi Photo Editor
Download the program and run the installation file. Follow the on-screen instructions.
Add a Photo to the Program
To open a photo on which to apply red-eye fix, click the Browse for Images button and select the picture you want to edit. Or drag and drop it into the app's working area.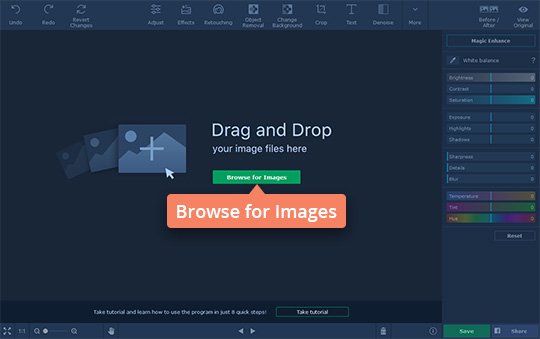 Use the Red-Eye Correction
To use Movavi's red-eye remover, open the Retouching tab and choose the Red eye removal tool from the right-hand panel.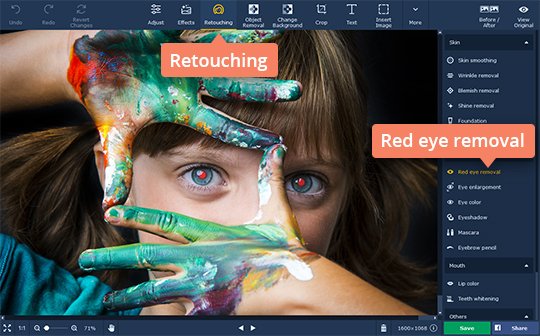 Click Remove Automatically to use the automatic mode. Movavi Photo Editor will fix the problem in your digital portrait in seconds. You can also edit the picture in the manual mode by adjusting Brush size so it is slightly larger than a pupil. Then click on the pupil and see the quick-working red-eye reducer in action! Don't forget to click the Apply button to save the changes.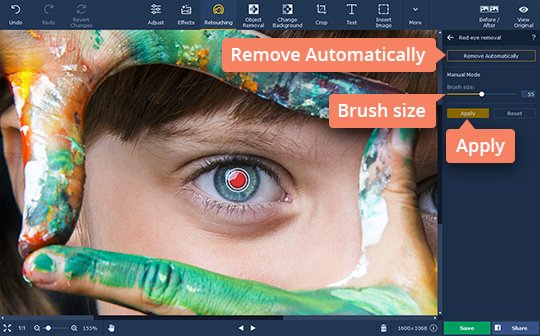 Save the Result
Save the corrected photo by clicking the Save button. Choose the file type and change the filename if you want.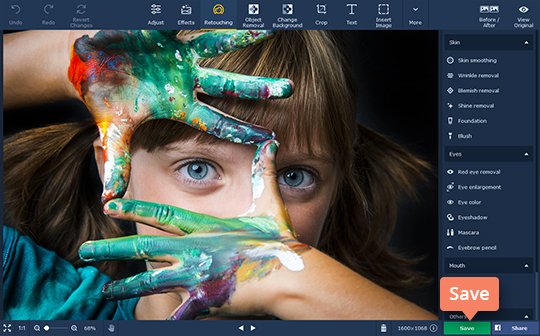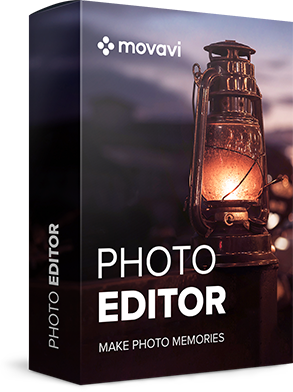 Movavi Photo Editor
The easiest way to turn any snapshot into an eye candy
Improve quality and retouch blemishes

Add effects and filters

Crop, straighten, and flip pictures

Change image backgrounds and remove objects