How to Remove People, Shadows, Objects and Other Unwanted Items from Photos
If you enjoy traveling, you probably know how difficult it can be to take the picture you want in a crowded tourist spot. Every time you think you have a clear shot at a fantastic view, someone walks right in front of your camera just as you click the shutter. And when you show your photos to your friends back home, the first thing they ask is "And who's that guy?"
With Movavi Photo Editor, you'll never experience this problem again. This software for unwanted person removal lets you quickly erase all the unnecessary objects and people (or their shadows) from your pictures. Our object remover is available for both Windows and Mac; you just need to download the correct installation file below, then read this simple guide and find out how to remove someone from a picture.
Download Photo Editor for WindowsDownload Photo Editor for Mac
Step 1: Install Movavi Photo Editor
Open the downloaded file and follow the installation instructions.
Step 2: Add Your Picture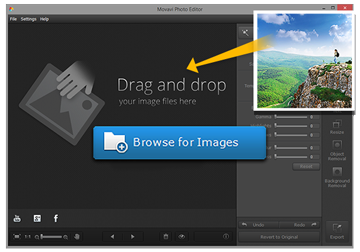 To add a photo for editing, click the Browse for Images button or just drag and drop the photo onto the Photo Editor working area.
Step 3: Mark and Remove Objects or People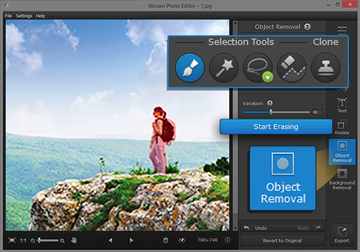 Use the Brush tool in the Object Removal menu to mark the object you want to delete. You can also use the Magic Wand or Lasso for selection. To erase unwanted marks, use the Selection Eraser tool. Then click Start Erasing to remove the person or object.
Use the Stamp tool to clear up any imperfections left after erasing – it works by enabling you to copy any part of the photo to the spot you need to clean up.
Step 4: Save the Edited Photo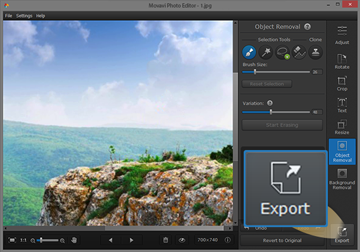 After removing all the unwanted items, click the Export button to save the photo.
With Movavi Photo Editor, you can remove people from photos as if by magic. It's so easy – it takes no more than a couple of minutes!
Now you know how easy it is to remove someone from a photo. See what else Movavi Photo Editor can do for you:
Movavi Photo Editor
Remove unwanted objects
Enhance picture quality automatically
Crop, rotate, and resize images
Use manual color correction
Save to widely used image formats
Download for Windows
Download for Mac
Software Trusted in 150 Countries
Movavi has been developing video processing software since 2004. Our programs are trusted in 150 countries including the US, Japan, and Europe. We guarantee high quality of our software and safety of payments on our website.
Email us
Knowledge Base
Subscribe on YouTube
Watch video tutorials on the Movavi's official channel:
Movavi Official