Best Free Video Converters for Windows
The process of converting video files can be considered to be easier than the process of editing videos but some people find it difficult because they believe they need an expensive and difficult video editor to convert their files.
This belief is false as there are very good video editors for free video conversion. They are really free, are easy to use and support many video file formats.
There are a lot of reasons as to why you might want to get a free video converter to convert your files to a different format. Part of these reasons may be that you might want to play a particular video on another device that doesn't support the format the video file originally comes in. Also, you might want to reduce the size of a video file so that you can play it on a device that has a limited capacity for storage. Or you might want to convert a video or movie so that you can easily share it with other people.
These are reasons for video converting. Now, you may be wondering, "what is the best free video conversion software to use for a fast and easy conversion of video files?"
To answer your question, we have put together a list of the top and best free video converters for Windows to give your videos a seamless finish. This list contains some of the fastest converters for your PC so that your edited movie will be ready in no time.
You can also check out the video converter by Movavi – a simple and effective tool for switching between video, audio, and image formats.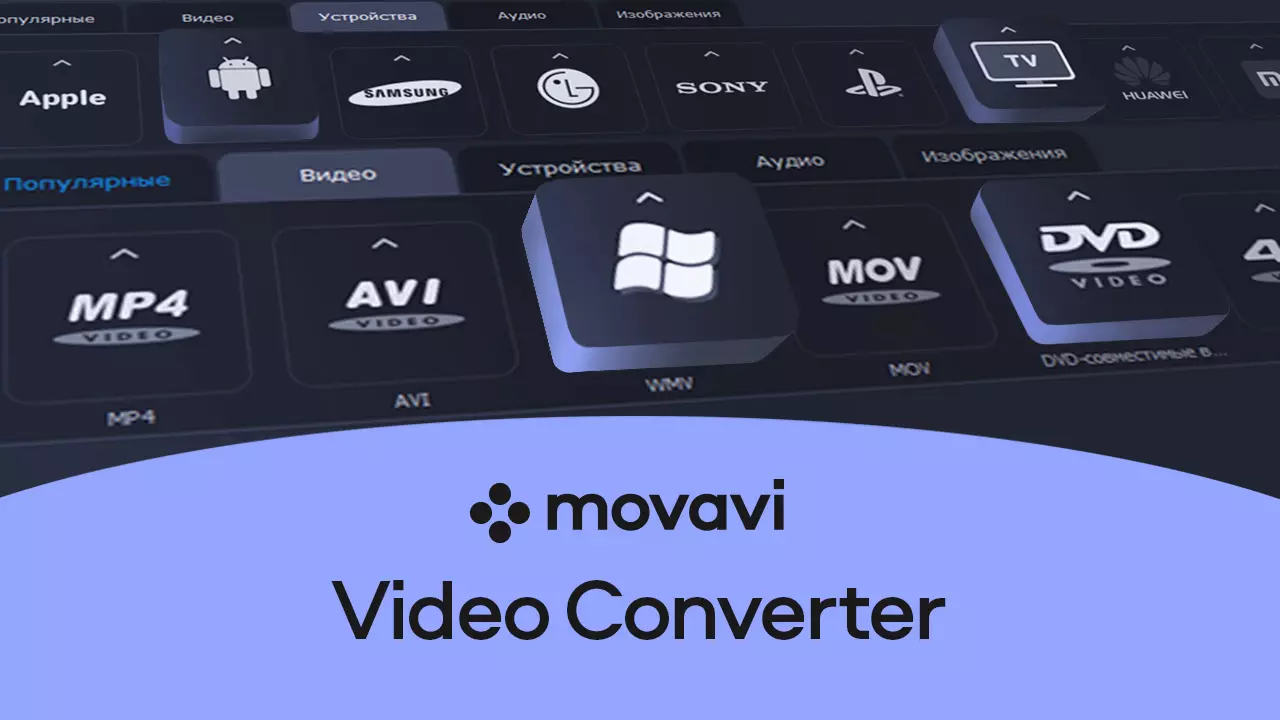 Here's our top 14 best free video converters for Windows
Desktop Tools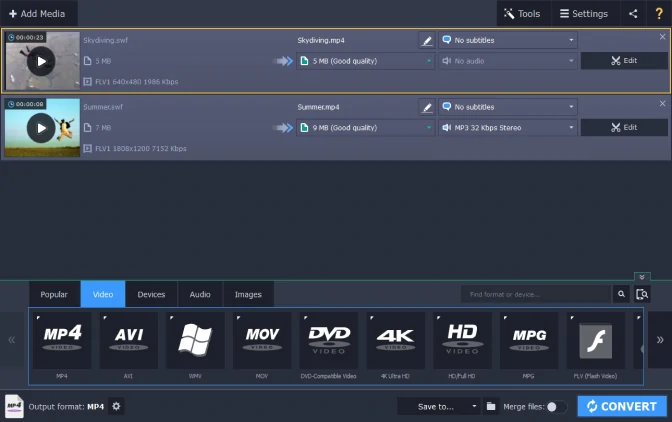 This video converting software is able to transfer video, audio, and images from one format to another in no time. The range of formats available for conversion is impressive: 180+ media formats, including MP4, MOV, AVI, SWF, GIF, JPG, MP3, and many others. This program also has a number of presets for all popular devices.The trial version of Movavi Video Converter is available for free.
Pros:
A lot of conversion tools and basic video editing features.
The program has a user-friendly interface.
Cons:
Some of its functions are not available during the trial period.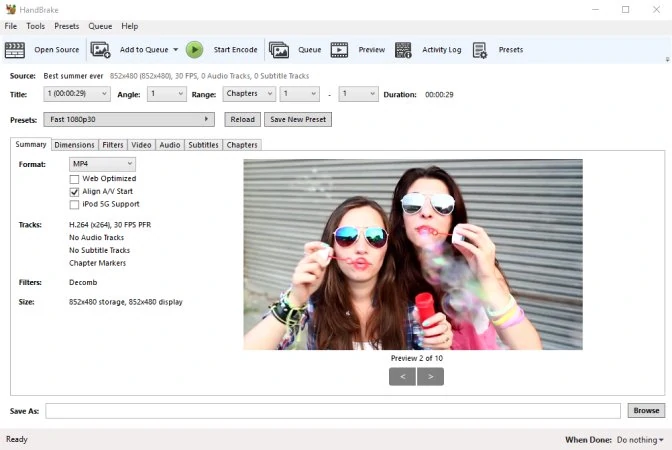 This freeware is highly recommended and is a top free video converter for Windows (including Windows 10). The features it comes with are many and include a wide range of presets and live preview. It has the ability to totally process different media files in both video and audio formats such as P4(m4v), MKV, H.264(x264), MPEG-4, MPEG-2 and MP3, and any DVD or BluRay files that do not contain any type of copy protection.
Pros:
It is compatible with a wide range of audio and video formats.
It has many features used for accurate video conversion.
Cons:
The process of conversion for video files is slow.
Its interface takes time to learn.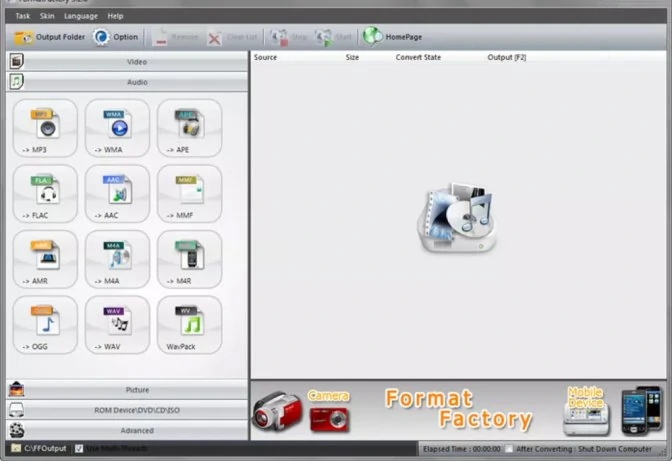 This is another best free video converter for converting media into various file formats. It supports file formats such as MPG, MP4, MP3, AVI, 3GP, OGG, BMP, TIF, TGA, ICO, WMA, SWF, FLV, JPG, WMV and many others and is compatible with Windows OS. Also, the program comes in 65 languages. It can be used to completely reduce the size of the file you want to be converted without a change in its resolution and HD quality.
Pros:
This freeware is modified and brought up to date on a regular basis.
When downloaded, it comes in many languages.
Cons:
The conversion features it comes with are not many.
The CPU usage it demands during the conversion process is a lot.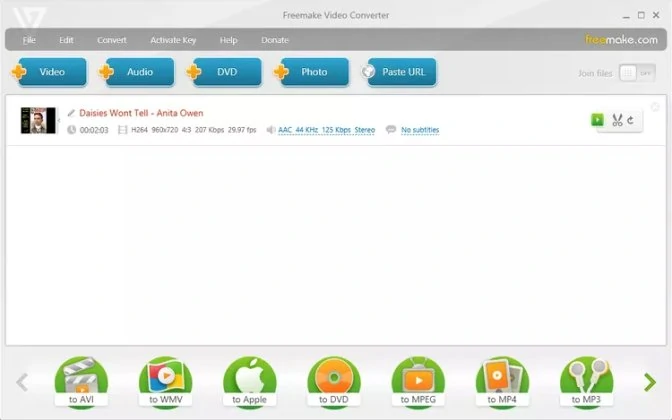 Freemake is a top video converting software with a simple and easy to use interface. The video formats it supports are over two hundred and it allows you to download and then convert videos that are online, after which you can save them offline after conversion. It is fast and absolutely safe to use, and there are features it offers that let you add subtitles to video files and convert them to and from DVD.
Pros:
You can convert videos from online sources with the software.
It has an easy to understand interface.
Cons:
Subtitles Pack needs to be purchased before you can edit imported subtitles.
Its free full version comes with a watermark.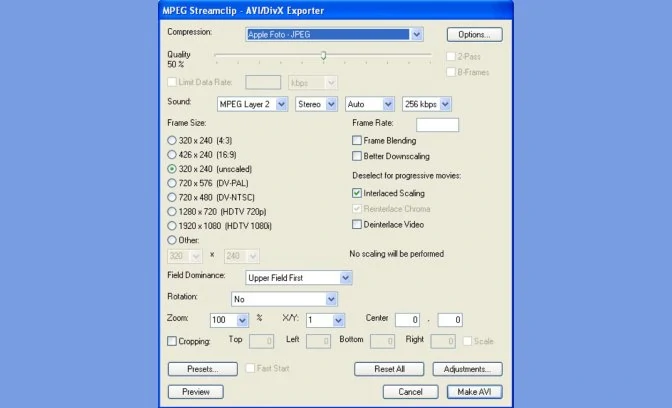 This free video converter for Windows lets you open media formats that include MPEG files and can be used as an encoder for video files. Some features it offers include Cut, Trim, Paste and Copy so that you can edit your videos and convert them to muxed or demuxed files. The program supports formats like MPEG, VOB, PS, M2P, MOD, VRO, DAT, MOV, DV, AVI, MP4, TS, M2T, MMV, REC, VID, AVR, M2V, M1V, MPV, AIFF, M1A, MP2, MPA, AC3 etc.
Pros:
It is compatible with many different file formats.
You are able to download videos online and convert them.
Cons:
Beginners might not find the user interface easy to understand.
Its design is not very impressive.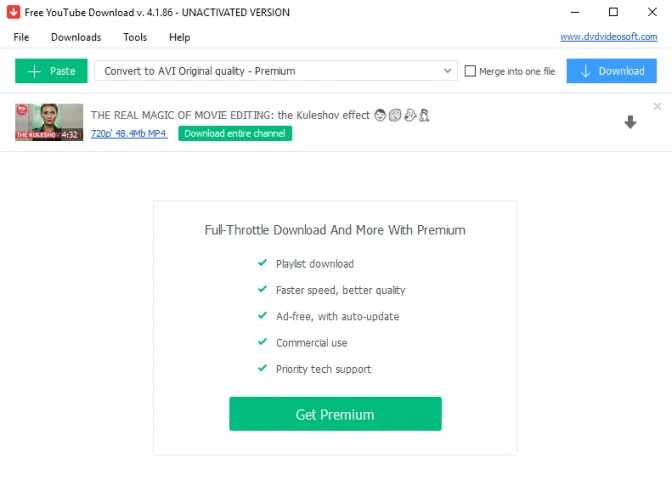 Another top video converter, this software is really free and makes video conversion and editing very convenient for the user. The features this freeware comes with include settings like resolution and a video encoder and it can convert a range of formats including MPEG, 3GP, FLV, MOV, MP4 MKV, and AVI.
Pros:
It has a user-friendly interface.
It is fast when converting videos.
Cons:
During the setup, it tries to install additional software.
It doesn't have many conversion tools.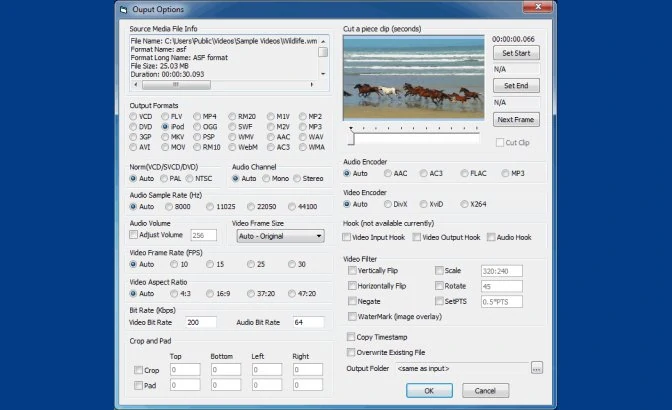 This is a free video converter for Windows that allows for the good quality conversion of your files and supports many different file formats like AVI, MP3, and MP4. It comes with many features like presets and allows you to extract music from video files. FFMPEG has a fast file conversion rate and offers many tools to help you customize your videos and also comes with a converter for subtitles that allows VOB to SRT text format.
Pros:
It supports and is compatible with many file formats.
It converts videos with a very fast speed.
Cons:
Beginners may find it hard to master its interface.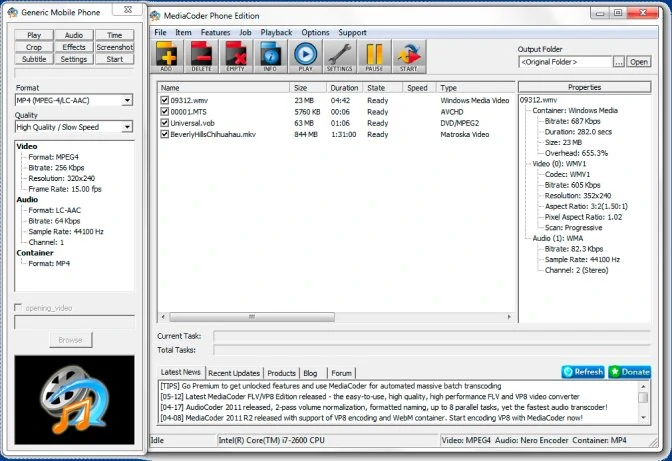 MediaCoder supports files in many different formats and from its features, you can improve your audio and video content by using different filters. As an added benefit, you can choose to adjust the rate of the bit and perimeter of other files.
Pros:
It allows for fast conversion of files while retaining their quality.
You can convert videos to quarter-pixel and greyscale.
Cons:
It is mostly tech inclined so beginners may find it hard to understand.
On their main page, there are a lot of buttons to download the software.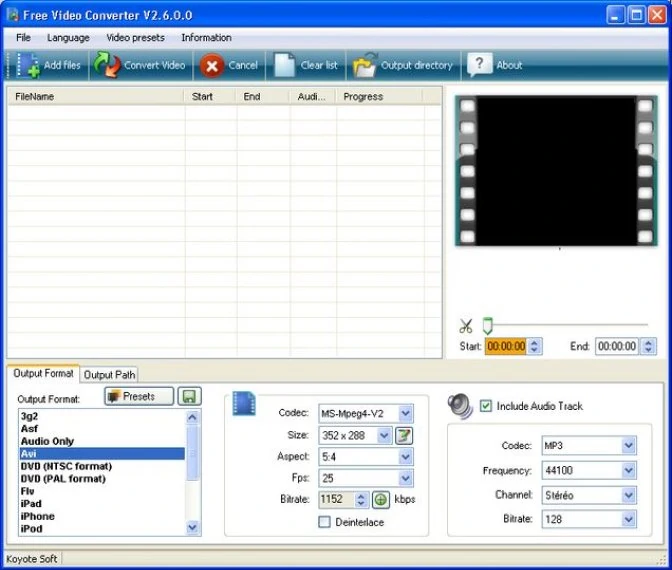 With a simple and easy to use interface, Koyote is one of the top free video converters for Windows. It is very compatible with many file formats and can support different types of devices including Windows. And as an added feature, you can also extract music from the media files that you'll be converting and save them to use whenever you want.
Pros:
It is not restricted to Windows as converted files can be exported to other devices.
You can process videos in batches and cut them with Koyote.
Cons:
Only a short preview of the file you want to be converted can be viewed.
It does not come with many tools for conversion.
Online Tools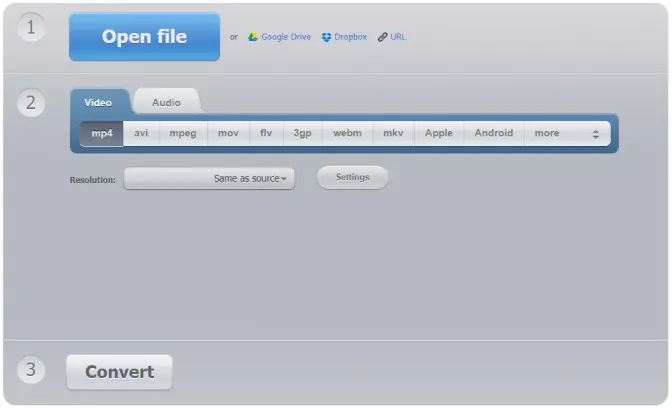 This online app doesn't have many features but that is what keeps it simple and easy-to-use. One of the advantages of the tool is that you don't have to sign-in or download anything to use the converter. The format choice is not so wide but it supports the most popular formats, including MP4, MOV, and AVI. There are also some ads on the webpage but they are not distracting, so it's not a big issue. The biggest downside is that you can't upload many videos at once, and the conversion process is not so fast, so if you have multiple clips to convert, it will take some time.
Pros:
An easy-to-use online tool
You don't need to register or download anything
It has most of the popular video formats
Cons:
There are ads on the website
The process of conversion for video files is slow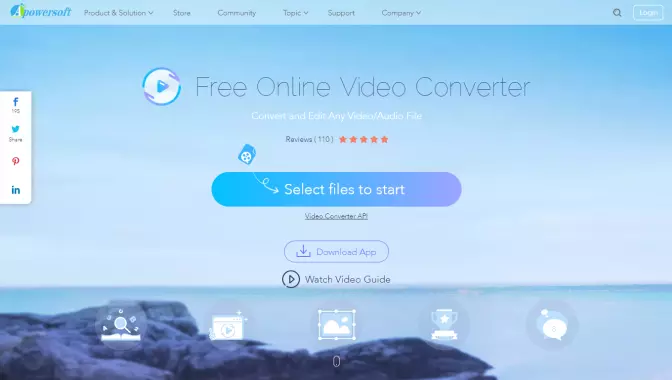 The main value of this online conversion tool is that it offers more output formats than many other online converters. Another good thing about it is that it can process many videos at the same time so you don't have to upload them one by one. It also has some additional features like watermarking, filters, trimming, and cropping.
Pros:
Lots of output formats
Batch conversion
Additional features
Social media links
Cons:
You have to download a launcher plugin to use the app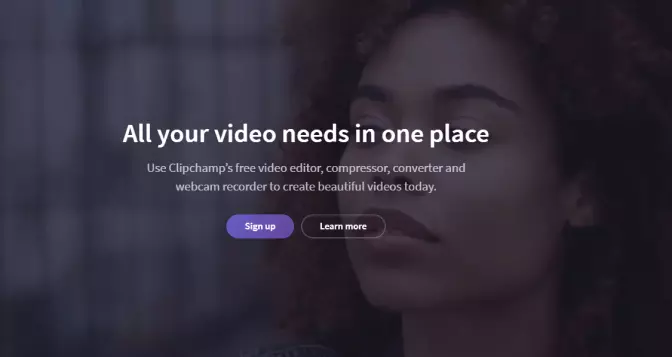 ClipChamp offers wide support of video formats and great output video quality. Also, it has additional features such as cropping and trimming so you can edit your video after conversion. But there are some downsides, too: the tool watermarks all the videos. You also have to sign up using your e-mail, Google or Facebook account.
Pros:
Great quality
Extra editing tools
Cons:
You have to sign-in
Watermarks on videos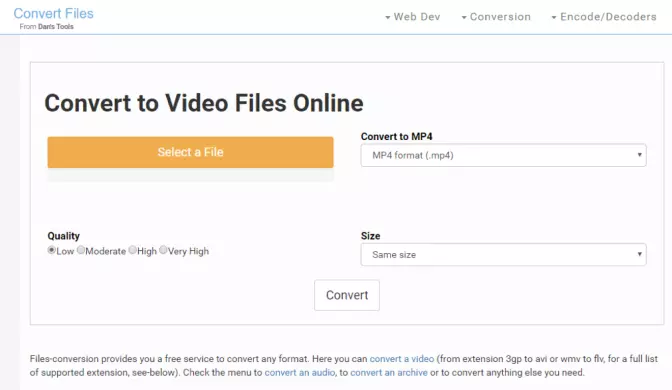 This tool might be great for someone with no online conversion experience. Convert to Video Files Online offers many popular conversion formats and great quality options. The design of the tool is simple but really clear, which is important if you are a new user. However, the app doesn't have any editing tools, so the only thing you can do in it is to convert files. The upload process is no very fast either.
Pros:
Simple design
Many formats
Easy-to-use tool
Cons:
No additional editing tools
Slow to upload videos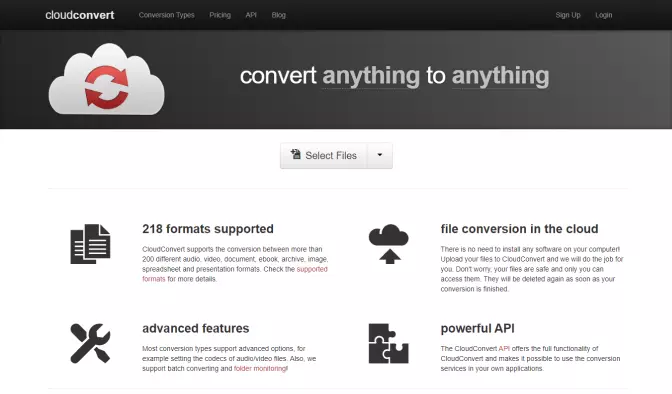 CloudConvert provides a wide array of video formats, including MP4, AVI, and WMV. Another good thing about this tool is that you can use it to convert anything to anything: images, documents, audio files, presentations, and much more. You can upload your files from your computer, URL, Dropbox, Google Drive, OneDrive, and Box. Most importantly, you can add multiple files at once. The restrictions are that the file size is limited to 1GB and you can convert only 25 minutes per day. That's enough features for a free tool, though.
Pros:
The tool converts all the media
Great format support
Additional editing tools
Cons:
Limites file size
Limited time of conversion
These are the top and very best video converters for Windows and notable among them is the Movavi Video Converter. It presents a friendly interface for its users and supports many video file formats. It is fast and easily converts your media file while maintaining its good quality. When looking for software for easy video conversion, be sure to include Movavi to get the best from your converted video.
Frequently Asked Questions
How Do I Convert Large Video Files?
To convert a video, you will need a desktop video converter, like Movavi Video Converter. Using this app, you can change the format of the video in just a few steps: upload the video, choose the target format, start the conversion process, and save the output video. Below you can find a guide on how to convert large MOV videos but this algorithm works for any format. Click the link below to read the guide.
How Do I Convert Videos on Windows 10?
To convert video on a PC, you need to download a program that works on Windows. We recommend you try Movavi Video Converter, which works on both Windows and Mac. Here's a short guide on how to convert videos with Movavi's app.
Download and install the app.
Add the videos to the program.
Choose the target format.
Start the conversion process.
Download the converted videos.
For more detailed instructions, follow the link below and read the full article.
Which Video Format Is the Best?
It depends on what your goal or OC is. If you are a Windows user, AVI will probably suit you the best. If you use a Mac computer, try the MOV format – it was developed by Apple and works on Apple devices just fine. You can also consider using MP4 as it's a universal format that is supported by most devices.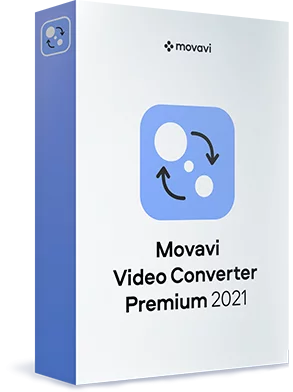 Movavi Video Converter
The ideal way to get your media in the format you need!
Convert video, audio, DVDs, and image files

Enjoy lightning-fast conversion without quality loss

Improve quality, adjust sound, trim and join files before converting

Save video and audio clips for easy mobile access
Read Other Useful Articles