How to Convert DVD to MP4
Want to watch your favorite movies on your mobile device, no matter where you are? This tutorial will teach you how to transfer DVD to MPEG-4 (MP4) quickly and easily.
If you're wondering what potential problems you can resolve by changing DVD to MP4, here are some examples.
Are your old DVDs taking up too much space?
Convert videos from DVDs to MP4 files, save them on your computer or another device, and you can forget about a pile of DVDs cluttering up your room and collecting dust.
Worried that your DVDs will deteriorate over time or get lost?
Discs are vulnerable to physical damage. Also, they are often hard to find at home. To prevent loss of information, convert your DVD videos to a more reliable format.
Want to watch a DVD on your computer with no disc drive?
The MP4 format is supported by most PCs and mobile devices. Converting a DVD to MP4 lets you watch movies on almost any computer or smartphone.
In this guide, you'll learn three ways of converting DVDs to MP4 and get answers to some common questions.
How to Сonvert DVD to MP4 with Movavi Video Converter
Using Movavi Video Converter, you can process your digital videos with just one click. You don't need to obtain any additional information about video formats or settings – just download the program, run it, upload your video, select a ready-made preset, and click Convert.
Choose the version of the DVD-to-MP4 converter for your OS and follow this easy step-by-step guide.
Download and Install the Movavi DVD Ripper
Download the installation file for the program. Once the download is complete, open the file and follow the installation instructions.
Launch the Program and Add a Video File
Open Movavi Video Converter and click the Add Media button, then choose Add DVD and click Open DVD to add your DVD files to the program. Locate the VIDEO_TS folder on your DVD and click Select Folder.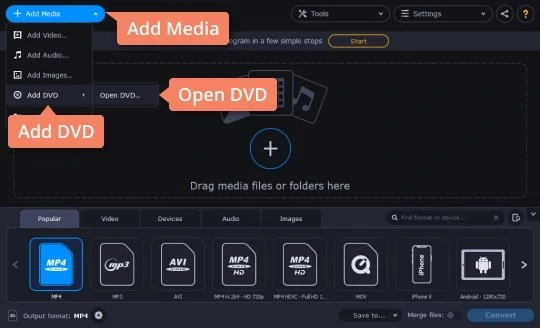 Choose a Ready-Made Preset
Go to the Video tab, find the MP4 group, and select the preset that best suits your needs.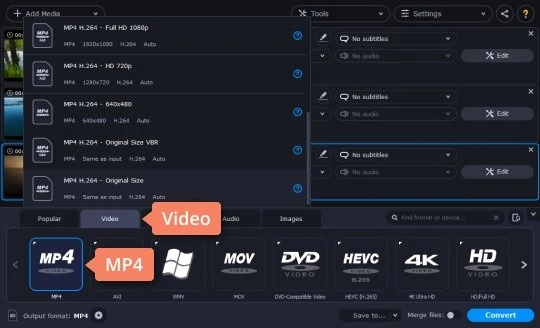 Start Converting DVD to MP4
Click the Save to button to specify where the program should save the converted files, then click Convert. The conversion process will now start. Converting from DVD to MP4 couldn't be simpler!
Transfer Your Video to a Device (Optional)
Turn on your device and connect it to the computer. Start the mobile device uploader application, which will transfer the converted files to your device. Or, depending on the device, just open a folder on it and save the converted files there. Please note: uploading may take some time, depending on the size of your video file.
And that's all there is to it! Convert DVD to MP4 in no time with our simple program!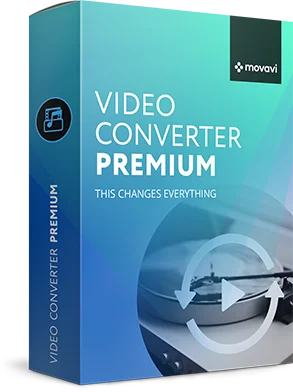 Movavi Video Converter
The ideal way to get your media in the format you need!
Convert video, audio, DVDs, and image files

Enjoy lightning-fast conversion without quality loss

Improve quality, adjust sound, trim and join files before converting

Save video and audio clips for easy mobile access
How to Convert DVD to MP4 Online
Another way to convert DVD to MP4 is by using a web app like the one described below. Although it can't directly rip a DVD to MP4 online, it is able to convert the VOB files contained on DVDs.
Go to the Online Video Converter website
To convert a video, you don't need to download anything. Just click Add Your Media to upload a VOB file from your computer. Then click Convert to change the format of the video.
Online services like this have a few drawbacks. They can't convert multiple files at once and they have a file size limit. While the online converter is useful for quick conversion of a small video, in other cases desktop software is a better choice.
How to Convert DVD to MP4 for Free
Try using a free DVD-to-MP4 converter. Among all the freeware available, we recommend VLC Media Player. In addition to playing videos, this software can also convert small video files.
After downloading the program, install and launch it. From the Media menu, select the Convert / Save option. In the dialogue box, click the Disc tab and choose the DVD option. Specify the DVD drive location by clicking the Browse button and hit Convert / Save. In the new window that opens, open the Profile list and select MP4 as the target format. Click the Browse button and choose the folder in which you want to save the output file, enter the file name, and click Save. When you're ready, click Start.
Frequently Asked Questions
How Can I Convert a DVD to MP4 on a Mac?
If you are a Mac user and need to rip a DVD, follow the short guide below:
Get the DVD-to-MP4 converter and start the installation process: double-click the file and follow the instructions on the screen. When the process is finished, run the software.

First, insert the DVD you need to rip into the drive. Click Add Media, choose Add DVD, then click Open DVD.
There's a line of tabs under your file list. To convert your DVD to MP4, open the Video tab and choose the MP4 group of presets. Specify the preset that best suits your needs.
To start processing the files, click Convert. If needed, click Save to to specify a new destination.
How Long Does Converting a DVD to MP4 Take?
It depends on the size of the original DVD video and the desired bitrate of the output file. To rip a DVD to MP4 takes about 16 minutes with Movavi Video Converter without SuperSpeed acceleration enabled.
Is Converting a DVD to MP4 Legal?
Ripping DVDs that contain copyrighted work is illegal in most cases. However, if you do it for personal use and don't try to distribute ripped DVDs, it's unlikely that the authorities will pay any attention. To be on the safe side, we recommend checking your local laws before converting a DVD to MP4.
See Other Useful How-to Guides