8 best professional video editing software for a PC for 2021
What's the best professional video editing software for PC or Mac? With so many options out there, it's hard to choose, but if you want to make high-quality videos, you need professional editing software. Let's take a look at the most-used applications in the film industry and how they stack up.
| Software | OS | Price |
| --- | --- | --- |
| Adobe® Premiere® Pro | macOS v10.15 Catalina or later, Windows 10 version 2004 or newer | $20.99/month |
| Cyberlink PowerDirector | Windows 10 (required for AI features), Windows 8/8.1, Windows 7 (64-bit only) | $69.99/year or $19.99/month |
| Final Cut Pro | macOS 10.15.6 or later | $299.99 |
Top 8 professional video editing software for Windows and Mac
Let's take a closer look at the top eight professional video editing software options for Windows and Mac users. We'll explore the basics of each platform with top pros and cons for each.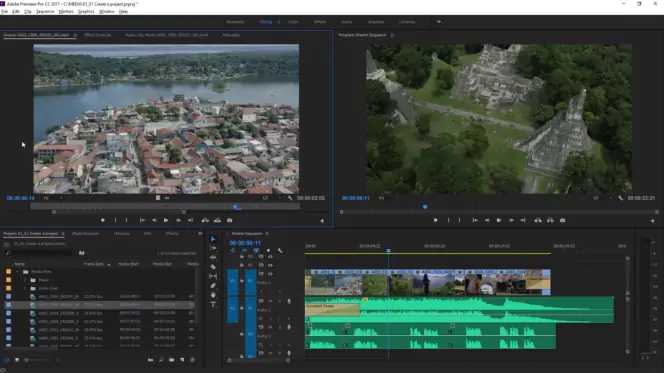 Adobe® Premiere® Pro is one of the industry's most popular professional video editing platforms. Pro editors and video makers use Adobe® Premiere® Pro for full-length films, YouTube videos, social posts, and TV shows. The application includes a wide range of features, including animations, filters, color correction, splitting and merging clips, and others. While it's very robust, though, Adobe® Premiere® Pro is not the easiest software to learn for beginners. However, once you get the hang of the interface, you can use it to create professional-level videos with titles, opening and closing credits, transitions, filters, color gradients, and all the features that make cool videos really stand out. This software has been a go-to for post-production pros in the film and video industry for years, but the cost and time to learn can present a significant financial and labor commitment.
Pros:
Supports multiple video formats
Preloaded effects and fonts
Numerous graphics templates
Cons:
Users report frequent system crashes
Difficult to learn
Confusing menus and feature options
To learn more about the app, read the review by TechRadar.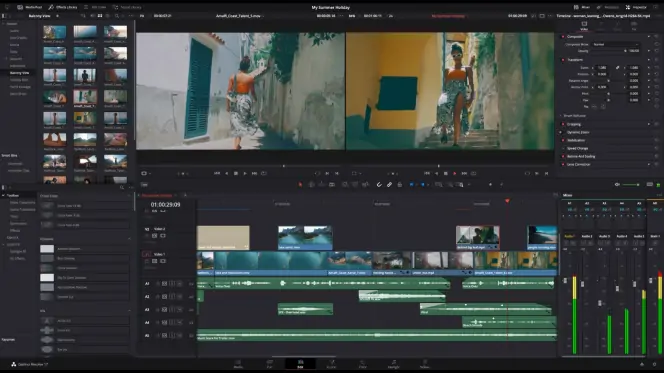 DaVinci Resolve by Blackmagic Design is one of the best free professional video editing software platforms that combines color correction, motion graphics, audio, effects, and editing processes into one application. Along with typical editing features and tools, it is known for excelling at video compositing – a technique of layering video clips on top of each other to splice two separate visuals into one. Editors use compositing for a range of special effects, from explosions in sci-fi and action films to layering a background behind actors doing a scene in front of a green screen. If you're looking for professional editing software for Windows 7, though, you'll need to look elsewhere. DaVinci Resolve is only compatible with macOS 10.15 Catalina and newer Apple devices and Windows 10 64-bit devices.
Pros:
Most premium tools and features included with free version
Support for multiple resolutions and file formats
Fast processing
Cons:
Slow loading times
Difficulty finding and identifying useful tools and features
Frequent crashes
To learn more, read the program review by G2.
Proceed to the G2 website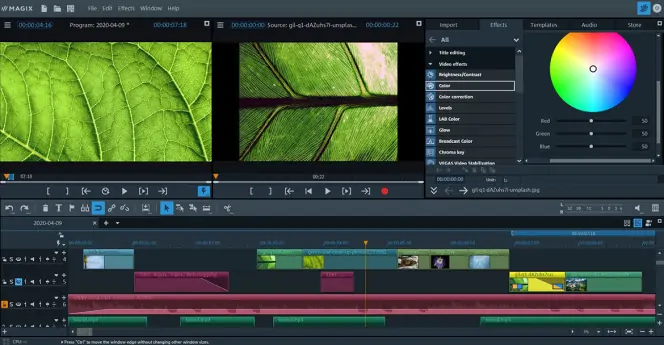 Magix Video Pro X is professional video editing software for Windows 8 and Windows 10. It's not compatible with macOS, so Apple users won't find a solution for their video editing needs here. That said, Magix Video Pro X does provide a robust editing solution for most PC users (though it won't work for Windows XP). Its features include advanced sound and video editing, visual effects, and professional project templates. Users have reported that the interface is not very intuitive at first, but that it's a powerful tool once you adjust to its controls and workflows. If you're looking for professional project templates, Magix Video Pro X may be a good option. If you want more preloaded animation templates, you might be disappointed with the small library included with this software.
Pros:
Several professional templates
Quality audio editing
Keyboard shortcuts for faster editing
Cons:
Slow rendering times
Unintuitive interface
Minimal pre-made animation templates
Follow the link below to read the program review by PCMag.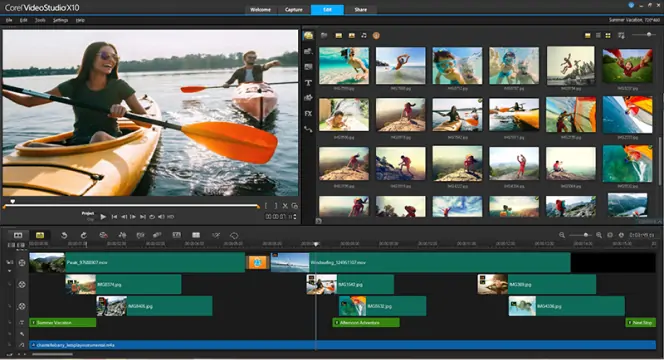 Corel's VideoStudio Pro is one of the more intuitive of the best professional video editing software options. It includes numerous visual effects features and tools, including multiple transition options, filters, and other features. Project templates make it easy to create specific types of videos, but there are no onboard tutorials or educational materials to help users get started. Seasoned editors may be able to jump right in, but beginners may need some outside help. Users have reported that support is minimal, and software updates can be inconsistent and infrequent. At $79.99, VideoStudio Pro is more affordable than some other video editing applications, making it attractive to experienced editors working on a tight budget.
Pros:
Intuitive interface
Quality transition options
Numerous filters and effects
Cons:
Inconsistent and infrequent updates
Lack of tutorials and educational tools
Cumbersome editing tools
If you want to learn more about VideoStudio Pro, read the program review by PCMag.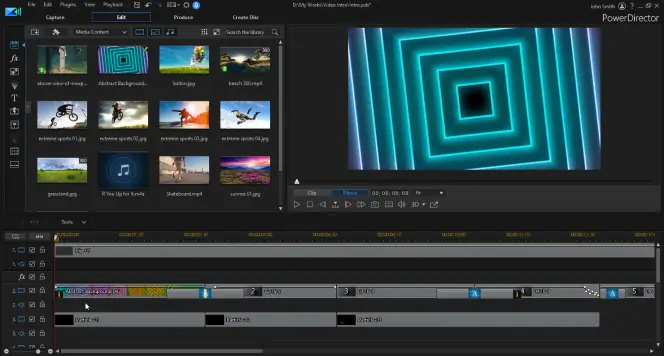 Cyberlink PowerDirector delivers a full suite of video editing tools and features for hobbyists and professional video editors. When creating video projects with PowerDirector, you can apply filters and transitions, motion tracking, color correction, cropping and cutting, and other tools and effects. This software also supports both 4K and 3D videos. For beginners and amateur editors who don't have a lot of time on their hands, PowerDirector also has a simplified editing module that includes the "magic movie wizard" feature. This feature automates the editing process to create videos in specific styles with preset background music and effects. Of course, pros won't usually use preset video projects like this, but it's good to know they're there when you need them.
Pros:
Fast, easy video editing
Multiple transition options
Supports many file types
Cons:
Lack of documentation on some plugins
Intrusive advertisements to upgrade
Unintuitive navigation for some tools and features
Follow the link below to read the program review by TechRadar.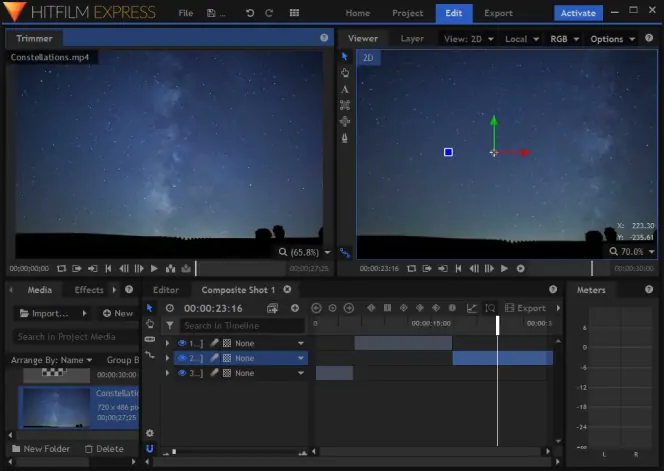 Hitfilm Pro is one of the most popular video editing software options because it combines editing, visual effects, and compositing tools in a single platform. Compatible with macOS 11 Big Sur, macOS 10.15 Catalina, and macOS 10.14 Mojave, Hitfilm Pro also works for Windows 10 and Windows 8 (64-bit). A comprehensive tool, Hitfilm Pro also supports a variety of file formats, and you can work with different frame rates and resolutions, as well. There's no free download or trial period, though, and at $349, the price is a commitment for many up-and-coming editors. Expert editors enjoy hundreds of preloaded visual effects and features, but some users have reported that it doesn't always save changes correctly when working on multiple elements at once.
Pros:
Library of 600+ visual effects
Easy compositing
Lots of tools for expert editors
Cons:
No free trial before purchase
May not save all edits correctly
Lack of export format options
If you want to learn more about Hitfilm Pro, read the program review by TechRadar.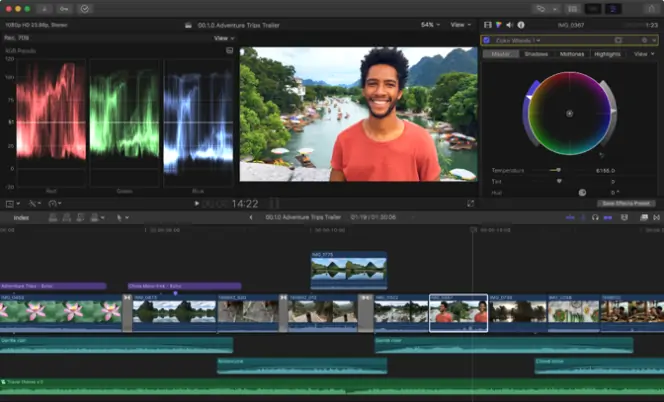 Final Cut Pro is often considered the standard for Mac users who want to create professional video projects and movies. It's known for having a full set of editing and effects tools, with multiple video and audio tracks that can be linked or separated to achieve the desired result. Users working with 4K and 8K projects can use Final Cut Pro for all of their high-resolution editing needs, and it's possible to export into multiple file formats and compress videos for portability, as well. It does not integrate with most other complementary software (such as Adobe Photoshop), and some users have found that the fonts and some presets feel dated and could use an update.
Pros:
Fast processing speeds
User-friendly interface
Extremely feature-rich
Cons:
Not compatible with Windows or Linux
Dated fonts and presets
Lack of integration with Adobe and other complementary software
To learn more, read the program review by TrustRadius.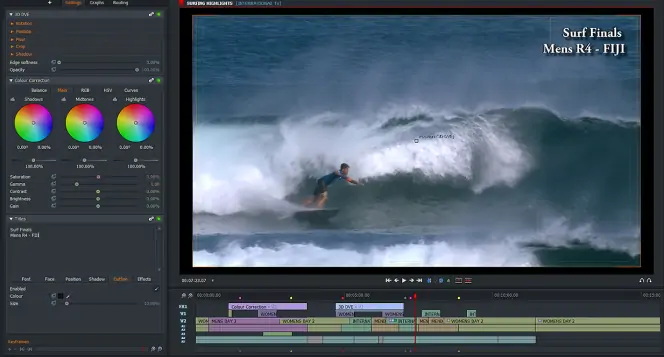 Lightworks was one of the first applications available for non-linear video editing on PCs and Macs. While it's been around for a long time and is used by many video editing pros, Lightworks has a very different interface in comparison with most other editing software. Beginners have found that the learning curve is very easy with Lightworks, and its interface is highly intuitive. However, professionals and other experienced editors sometimes run into more trouble because the interface is so different from the software that they're more accustomed to. However, even if users have trouble with learning how to use Lightworks, there's help. Users have had consistent success with support and education through online forums, and many video editors prefer Lightworks for short ads and video clips. However, if you're looking for professional video editing software with video stabilization features and the ability to split or merge videos, you'll have to look elsewhere. Lightworks does not include these features.
Pros:
Easy to learn for beginners
Lots of support in forums
Great for short ads and video clips
Cons:
Difficulty adapting for experienced video editors
No video stabilization feature
No split and merge features
To learn more about Lightworks, read the program review by TechRadar.
Summary: how to choose the best professional editing software in 2021
So, which of these video editing platforms is best for you and your next video project? Whether you're starting a YouTube channel, making cool videos for TikTok, or cutting together a feature-length film, the right editing software will go a long way toward making your job easier and helping you create the professional-level videos that you want.
While all of the applications we've discussed in this article are great for creating quality video projects, be sure to consider the following when choosing the one that's best for you:
What OS are you using? If you're a Windows user, you won't have much luck with Final Cut Pro, and Mac users will be disappointed if they try to download and use Magix Video Pro, as it's only compatible with Windows machines. So, start by narrowing down your list to the software that works best for you.
What's your budget? Some video editing software comes with a free download and trial, while other options come with monthly subscriptions or a one-time purchase price. Try out free options first to see if you like them, and if you don't have a big budget, consider a monthly subscription that you can cancel when you aren't using it.
Can you try before you buy? The information in this article hopefully gave you the details you need to make informed decisions about which software options are best for your projects. However, whenever possible, opt for a free trial before you commit.
Follow these guidelines and you should have everything you need to make your choice and start editing professional videos today.
Along with professional editors mentioned in this article, we encourage you to check out Movavi Video Editor Plus. Whether your device runs Mac OS X 10.7 or higher or Windows 7 or higher, you can use Movavi Video Editor Plus to create stunning video content. Some of the features within Movavi Video Editor Plus include all basic editing tools, the ability to add titles, special effects, and music, and easy exporting to YouTube, Google Drive, or other cloud services.
Good luck and happy editing!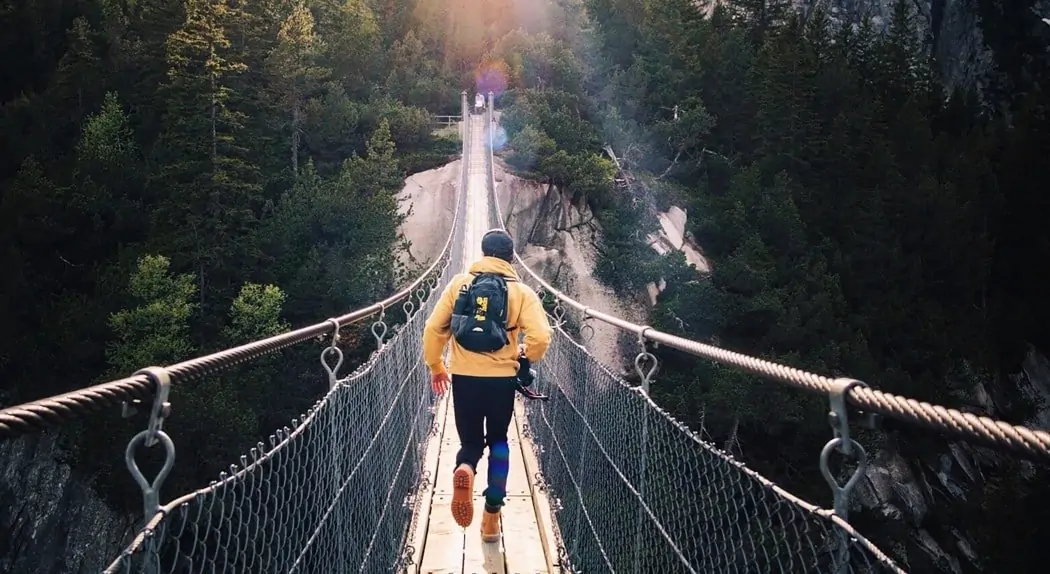 Movavi Video Editor Plus
Make videos. Create. Inspire.
Frequently asked questions
What is the main video editing software used by professionals?
The main video editing software used by professional video editors is probably Adobe® Premiere® Pro, as it integrates with other popular Adobe® applications, such as Photoshop®. However, professional video editors use a wide range of editing platforms and applications. Professionals who use Apple devices will often prefer Final Cut Pro, but any robust editing software that has all the features an editor needs to create a film or clip can be used. The top applications for professional video editing include:
Adobe® Premiere® Pro
Final Cut Pro
DaVinci Resolve
Magix Video Pro X
VideoStudio Pro
Cyberlink PowerDirector
Hitfilm Pro
Lightworks
What do most YouTubers use to edit their videos?
Movavi Video Editor Plus
Lightworks
Vegas Pro
iMovie
Check out the completed list by following the link below.
Sign up for news and special offers