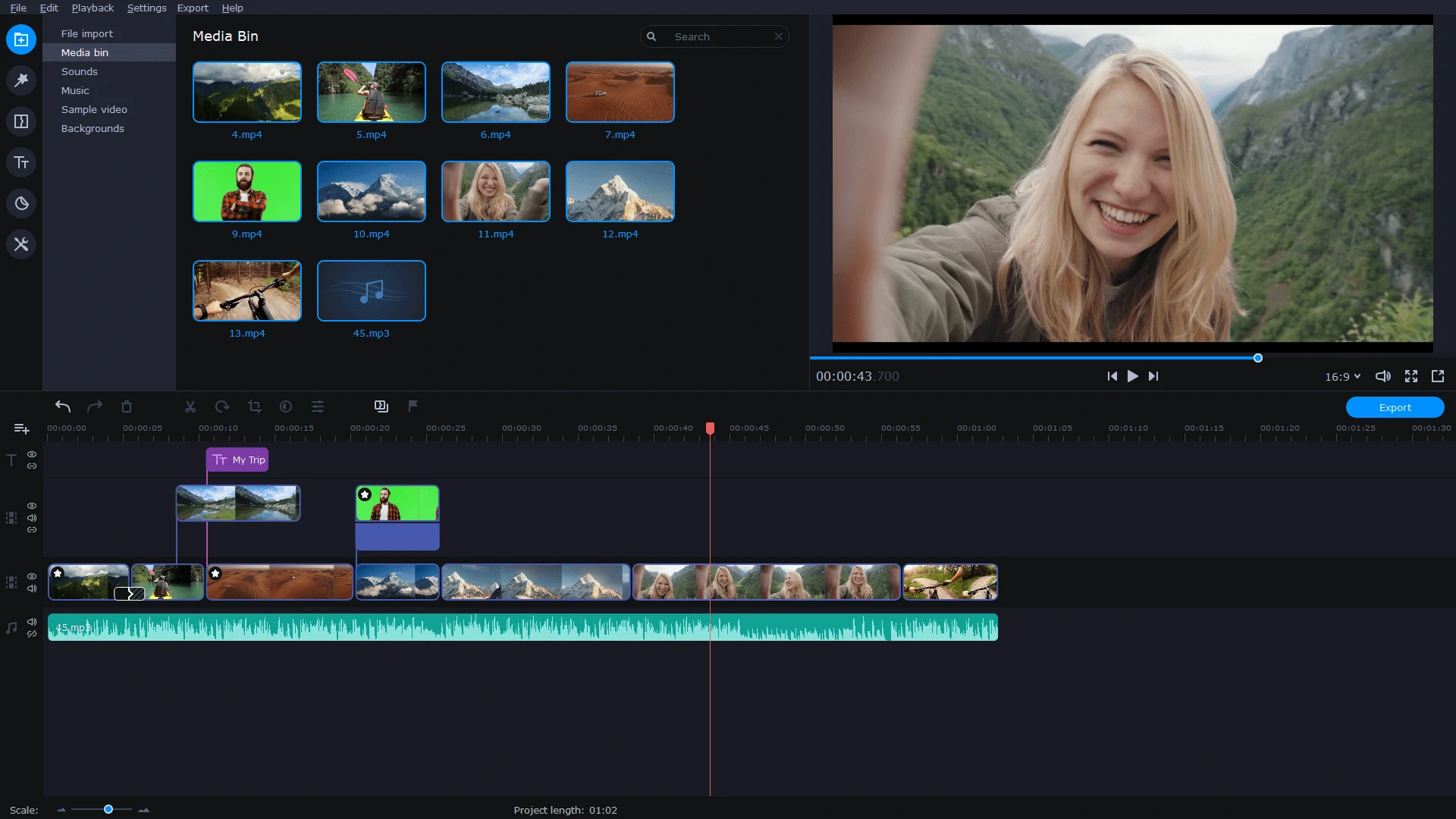 The Best Free Professional Video Editing Software
It has never been a better time to be a maker. From a wide range of content creation tools to groundbreaking distribution platforms like Facebook and YouTube, a single person in a bedroom can create compelling content that goes viral online.
The opportunities are there for the taking. Nevertheless, it can sometimes be difficult to get started – especially due to the overwhelming number of choices that a creator has. From freeware to paid software, it can be difficult to separate the wheat from the chaff.
This is especially true when editing video content. Whether you are a novice or experienced editor, video editing software can play a large part in creating high-quality content. If you would like to learn more about video editing, please follow the link below.
That said, you may be asking yourself: "What is the best professional video editing software out there nowadays?"
We are here to help. Below is the list of the best free professional video editing software. It is not ranked based on order or preference. Rather, by selecting any of the professional video editors on this list, you will undoubtedly be able to create a stunning video for your audience.
The Best Professional Video Editing Software: Our Picks
Adobe Premiere Pro CC is the self-described "leading video editing software for film, TV, and the web." It is used by Hollywood filmmakers, YouTube stars, and even hobbyist creators who want their videos to appear sleek and professional. The software contains integrated and efficient workflows that allow you to easily edit your videos, whether you are just starting out or are adding your finishing touches. You can even edit footage in 8K or in virtual reality.
One of the main benefits of is that it works seamlessly with Adobe's other products, like After Effects, Adobe Audition, and Adobe Stock. You can even take advantage of Adobe Premiere Rush, which is an all-in-one editing app that works on all your devices – including iOS, Mac, Android, and Windows devices. The sheer power and convenience of Adobe make it a terrific choice if you are looking to edit video content.
Pros
The powerful editing features
Editing of high-quality footage, including 8K
Cons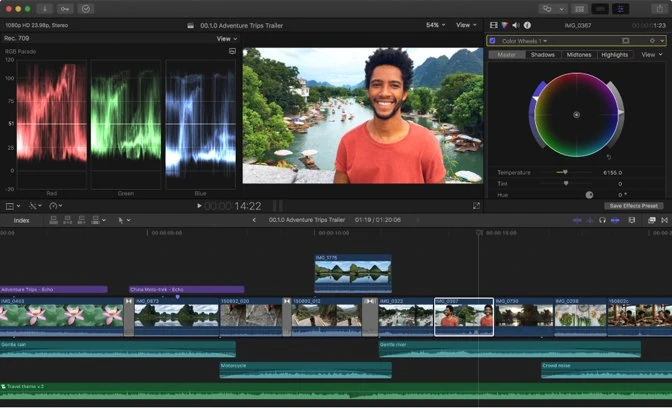 Final Cut Pro is one of the most popular pieces of video editing. There are many features included in Final Cut Pro, but one of its most prominent features is the software's modern Metal engine. Essentially, this allows you to edit complex projects with blazing speeds. In other words, if you have a project with large frame sizes or high frame rates, you will experience little (if any) lag when using Final Cut Pro.
Along with Final Cut Pro's modern Metal engine, Final Cut Pro contains some awesome editing features, like advanced multi-cam editing, video noise reduction, and the ability to create stunning effects and sweeping graphics. You can download and try Final Cut Pro for free. After the 30 day trial period, however, you will need to purchase a license for Final Cut Pro.
Pros
A fast processing speed
Advanced video-editing features
Cons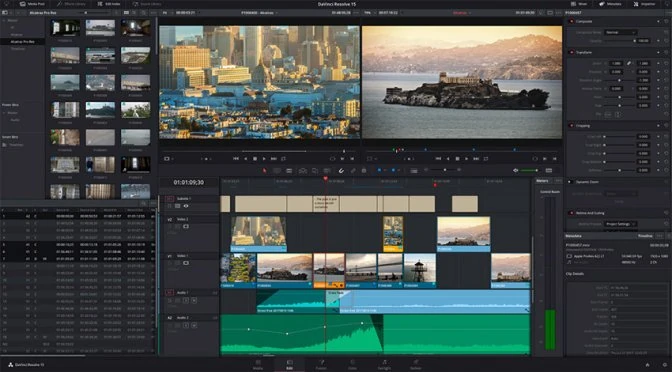 DaVinci Resolve 16 is another feature-rich video editor that can help you create high-quality videos. According to the company, DaVinci is "the only solution that combines professional 8K editing, color correction, visual effects, and audio post-production" in one tool. The software contains all of the editing tools that you need to create films, television shows, or even commercials.
Some of the features within DaVinci include custom timeline settings, facial recognition, image stabilization, adjustment clips, and tape-style audio scrubbing. DaVinci Resolve 16 also contains some helpful collaboration features – like a universal timeline, bin and clip locking, and built-in chat – that makes it easier to edit your videos with a team. You can access DaVinci Resolve 15 or the beta version of DaVinci Resolve 16 for free. That said, there are other paid licenses that you can purchase which contain more features.
Pros
Collaboration features for editing with a team
Professional tools for audio and video editing
Cons
May be too complex for beginners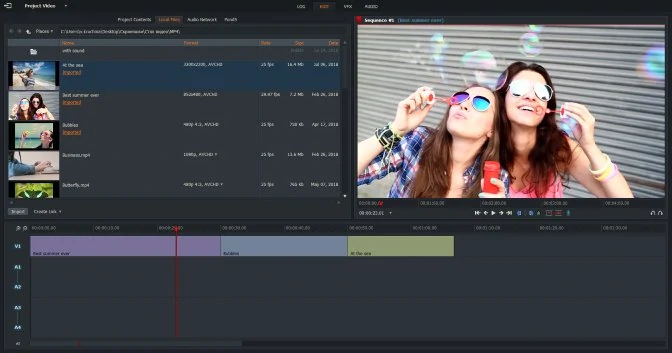 Lightworks is the self-described "complete video creation package." It has been used to edit some well-known films including The Wolf of Wall Street, LA Confidential, and Pulp Fiction. That said, Lightworks can be an excellent choice even if you aren't editing the newest Hollywood film.
Like the other selections on this list, Lightworks contains a wide range of features that you can leverage. Some of those features include easy timeline editing and trimming, a large library of royalty-free audio and video content, and the ability to easily export your video to video sharing platforms (like YouTube or Vimeo) in standard definition, high definition, or in 4K. Along with this, Lightworks contains a simple and intuitive user interface, meaning that this piece of software may be easier to use if you are a beginning video editor. By downloading Lightworks, you can access a free seven-day trial. The software works for PC, Mac, or Linux.
Pros
A large library of royalty-free content
A simple interface
Cons
Limitations in the free version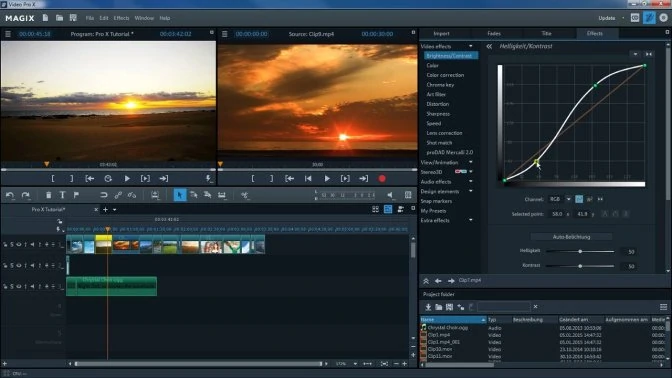 Finally, Magix Video Pro X is another excellent professional video editor. Like some of the other options on this list, it prides itself on its simplicity and ease of use. Along with this, Magix Video Pro X contains a bevy of features. It leverages its revolutionary INFUSION Engine to ensure that editing is fast and efficient. The software contains a multi-format timeline, flexible track handling, and even a real-time audio mixer and audio cleaning tool. Magix Video Pro X also contains HDR support and the ability to export videos in full HD.
Like the other pieces of software on this list, Magix Video Pro X offers a free trial for users. After the trial expires, however, you will need to purchase a full version of Magix Video Pro X.
Pros
A lot of templates and effects
8K Ultra HD support
Cons
A limited set of features in the free trial
Terrific Tools for Creators
By using any or all of the top professional video editors listed above, you will certainly be able to create professional, sleek videos. Whether you are a solo entrepreneur or part of a large, sprawling team, these editors can make your job much easier.
Along with these editors, we encourage you to check out Movavi Video Editor Plus. Whether your device runs Mac OS X 10.7 or higher or Windows 7 or higher, you can use Movavi Video Editor Plus to create stunning video content. Some of the features within Movavi Video Editor Plus include all basic editing tools, the ability to add titles, special effects, and music, and easy exporting to YouTube, Google Drive, or other cloud services. To learn more about Movavi Video Editor Plus, please click here.
Frequently Asked Questions
What Do Most YouTubers Use to Edit Their Videos?
Movavi Video Editor Plus
Lightworks
Vegas Pro
iMovie
Check out the completed list by following the link below.
What Is the Best Video Making Software with No Watermark?
ActivePresenter
Shotcut
OpenShot
DaVinci Resolve
Find more options in the article linked below:
Which Video Editing Software Is Best for Beginners?
If you're looking for a simple video editor suitable for beginners, check out our review linked below: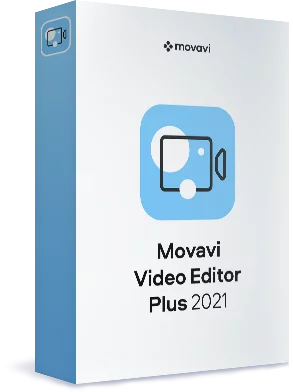 Movavi Video Editor Plus
Your next step in video-making
Edit video clips, images, and audio on a timeline

Add transitions, filters, titles, and stickers

Animate objects using keyframes, use more built-in media

Export videos in any popular format
* The free version of Movavi Video Editor Plus has the following restrictions: 7-day trial period, watermark on the output videos, and, if you're saving a project as an audio file, an ability to save only half the audio length. Learn more
See Other Useful How-to Guides