Is there anything more frustrating than media compatibility issues? With many options out there, it can be confusing to find a way to convert the files you need into more usable formats when you need them. One of the most common conversions for media lovers is AVI to MKV, and we've compiled a list of the seven best tools for anyone to convert files easily. Any of these options will have you converting AVI to MKV for free right away.
How to Convert AVI to MKV Using Movavi on Windows and Mac
Movavi Video Converter is a powerful resource for converting video files to over 180 different file formats. It has numerous high-level features for ease of use and quality of the final product. Batch conversion allows you to leverage the power of your PC or Mac to convert multiple files and web capture tools allow you to convert streaming movies or clips into your choice of file type. While it is a paid product, Movavi offers a free trial that will allow you to test drive all features and get to converting right away.
To convert AVI to MKV using Movavi:
Step 1. Download and Install Movavi Video Converter
First, download the Movavi software. After the installation file is downloaded, launch it and follow the on-screen instructions.
Step 2. Add Your AVI Files
Add MKV files to the program for encoding. Click Add Media, then Add Video, then select the files you want to convert from AVI to MKV.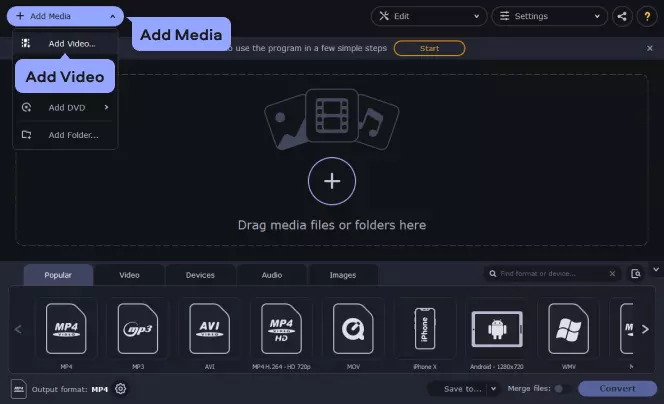 Step 3. Select MKV as the Output Format
Select the Video tab, and find and select the MKV option. Select a preset that fits your needs.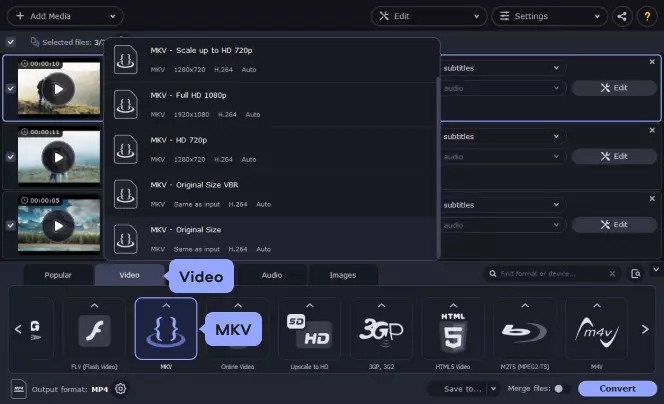 Step 4. Convert AVI to MKV
When you're ready to go, click the Save to button below the presets tabs to ensure that your file saves where you want it to. Once everything is the way you want it, click the Convert button in the bottom right.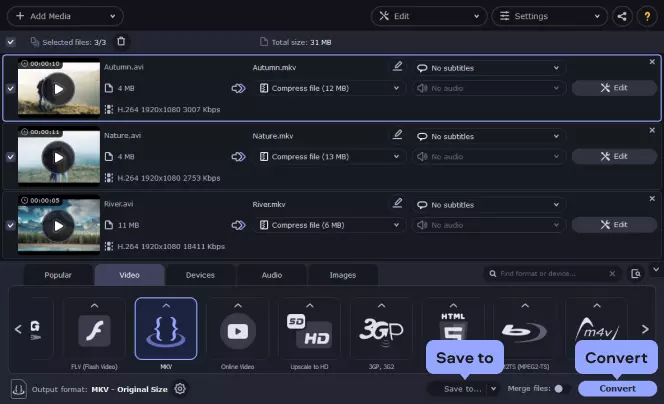 How to Use Free AVI-to-MKV Converters
There are also many tools available to convert AVI to MKV online. Though they may lack some features and the power of more professional-level video converters, there are certainly options to convert AVI to MKV for free. These programs are available for free and will have you converting in seconds, often still with High Definition results.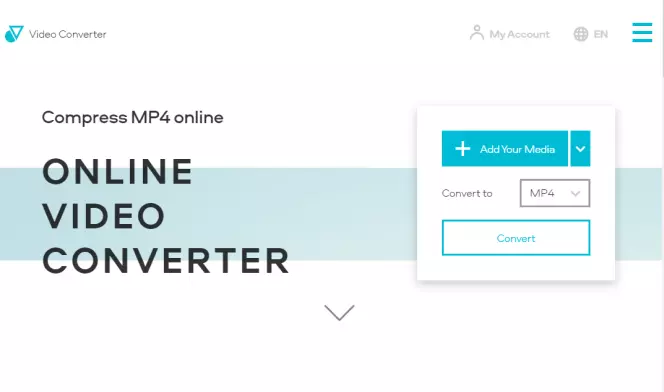 Online Video Converter is a convenient and reliable tool to convert AVI to MKV for free in one easy-to-use browser window. It offers high-speed conversion and reliably converts to high definition video, though as browser-based freeware, it does lack some options that higher-level programs can offer. Though file sizes are capped, for small personal video clips and shorter videos in your media library though, Online Video Converter is a useful tool for converting AVI to MKV.
As a browser app, Online Video Converter's greatest strength is its ease of use. Just go to the site and select Add Your Media, and choose the file you want to convert. Choose MKV as output type and click the Convert button.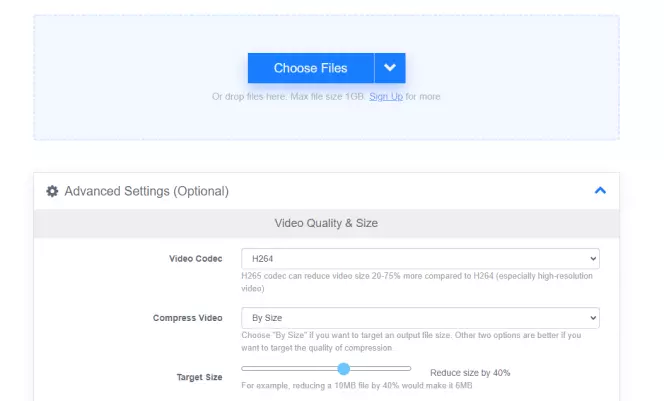 FreeConvert is another great online tool to convert AVI to MKV free online. Unlike most online converters, FreeConvert offers an option for batch conversion, which allows users to queue multiple files for sequential conversion. FreeConvert allows video to be uploaded from a URL or cloud services as well as an additional convenience.
Though it has many options and customizations, FreeConvert makes it easy to learn how to convert AVI to MKV. Simply go to the site, click the Choose Files button, and select files from your device, Dropbox, or Google Drive. Alternatively, you can simply drag files to the button. Once files are selected, choose any of the optional advanced settings you desire, then click Start.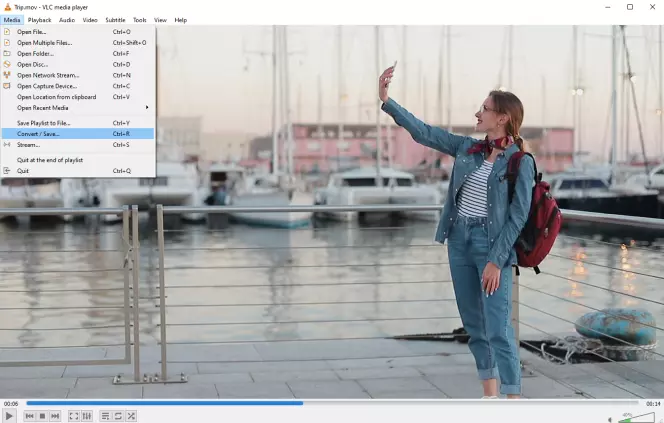 Supported OS: Windows, Mac, Linux, and Android
In addition to being one of the best media players for playing almost any file extension, VLC Media Player also offers a powerful conversion tool. Many video file extensions are supported for conversion to or from, and it is simple to convert AVI to MKV on VLC.
To convert AVI to MKV using VLC:
Step 1. Under the Media menu in the top left of the program, select Convert/Save.
Step 2. Select the Add button on the menu and select the AVI file you want to convert.
Step 3. Under output type, simply select MKV, then click Convert, and your AVI-to-MKV conversion will begin.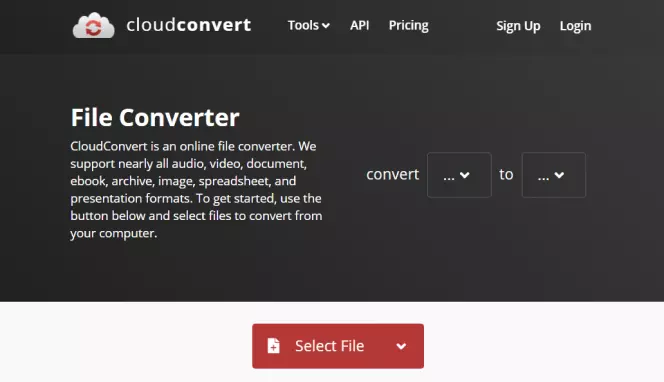 CloudConvert is a free-to-use, online tool for converting all types of video files. It can easily convert without the need for downloading AVI-to-MKV software. While it is capped at 25 conversions a day and requires subscription packages for conversion beyond that, it still offers plenty of use for a casual user who just wants to occasionally convert a video from AVI to MKV.
To use CloudConvert, simply go to the site and click the Select File button. Once you've chosen your file, select any additional options you may want for the conversion. Though there are many options, they are all set to the most common choice by default, so these advanced settings could be skipped for quick conversion. Once your settings are the way you want them, click the Convert button and your file will begin to change into the new MKV file.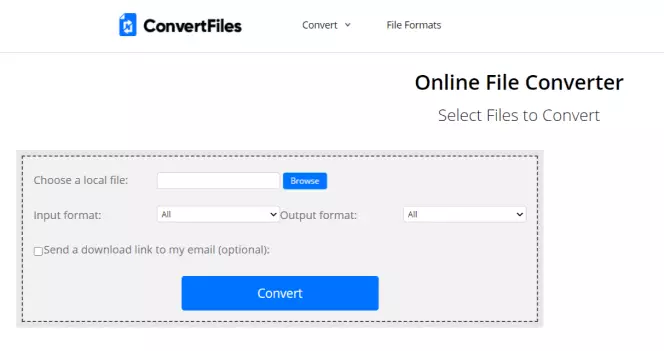 ConvertFiles is another great online tool for converting AVI to MKV. It is entirely free and supports dozens of video file types. For convenience, ConvertFiles provides a download link through email when your file is complete, eliminating the need to leave a browser open.
To use ConvertFiles to convert AVI to MKV, select Browse and choose an AVI file. Select MKV as the destination format and click Start, then retrieve your download link through your email quickly after.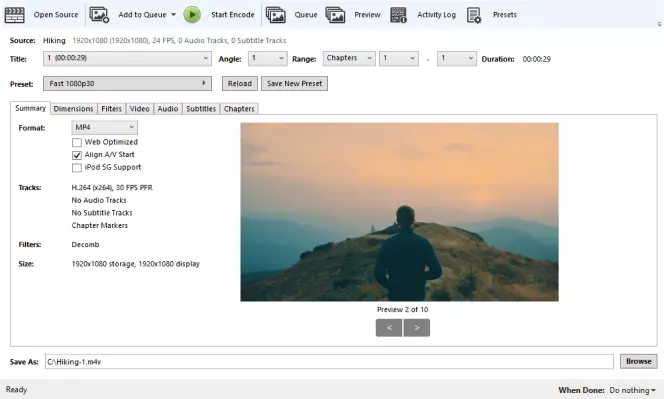 Supported OS: Windows, Mac, and Linux
HandBrake is surprisingly sophisticated for a free video converter. As open-source software, it's continually developed by the community, which has added numerous advanced options and technical advantages to it. While it is easy to convert AVI to MKV with HandBrake, more advanced users will get the most out of this software.
To convert AVI to MKV using HandBrake:
Step 1. Click on Source in the top left of the screen and choose Open File.
Step 2. Select the AVI file you wish to convert.
Step 3. Under the Destination heading, select Browse to choose where your file will save to.
Step 4. On the main window, simply click Start, and your conversion is underway.
With all these resources, you should have no problem converting AVI to MKV for free. There are many tools for troubleshooting compatibility issues for your media and converting file types, but these seven tools are the best ways to get converting your library right away into high-quality MKV videos. While there are advanced options available for more sophisticated users, these 7 methods will get anyone converting AVI files to MKV files with just a couple of minutes to get started.
AVI vs. MKV
AVI being a part of Windows technology is a well-known video format developed by Microsoft. AVI files feature a file container for both audio and video data, and this will allow the user to enjoy such features as synchronous audio-with-video playback. AVI files are rich in features because they support multiple streaming audio and video, but to be completely honest such features will most likely be seldom or even never used.
With MKV files you will have even a vaster variety of support offered for numerous video, audio and subtitle compression formats. In other words, MKV will give you the best and even more of AVI and MP4 combined together. Besides it should be mentioned that an MKV file is an open source container format meant for general-purpose use.
And to make a comparison complete we should say that the final choice is rather a matter of personal needs, but with MKV you will get much more than just with AVI.
| Comparison Parameter | AVI | MKV |
| --- | --- | --- |
| File extension | .avi | .mkv, .mk3d, .mka, .mks |
| Video-encoding formats | H.263, VC-1, MPEG-1, MPEG-2, MPEG-4, others | H.264, H.265, MPEG-4, MJPEG, Theora, VP9, DV, others |
| Audio-encoding formats | AAC, WMA, MP3, FLAC, AMR, others | AAC, AC3, MP3, ALAC, Vorbis |
| Device and OS compatibility | All Windows-based devices, Mac OS X (with extra software), Linux | Some TVs, media players, and mobile devices. Windows PC (with a special codec installed), no native support in macOS |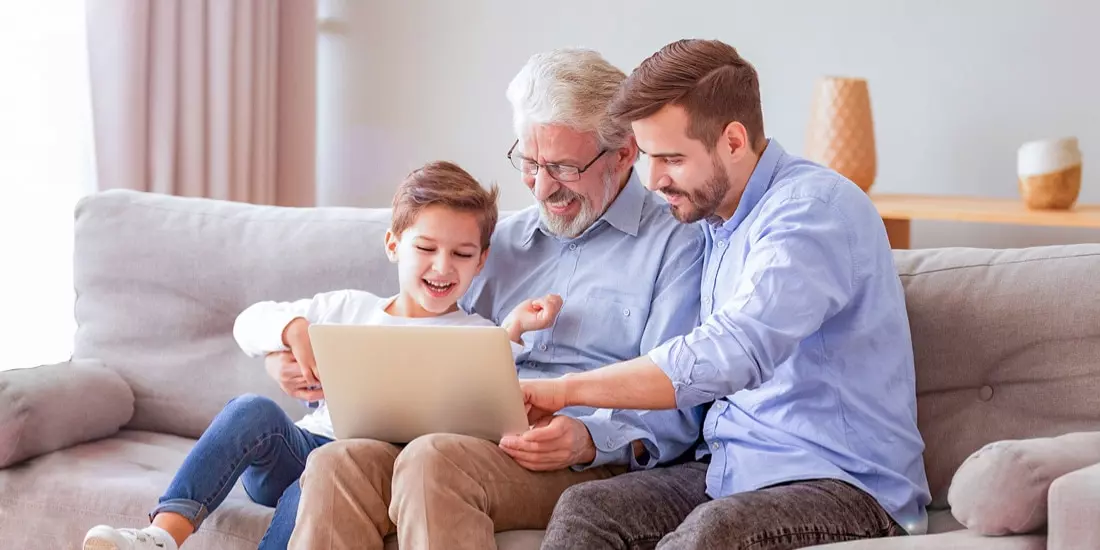 Movavi Video Converter
The ideal way to get your media in the format you need!
Frequently Asked Questions
How do I convert AVI to MKV on Mac?
For an AVI-to-MKV converter on Mac, Movavi is a great option.
Follow the link below.
Click Add Media then Add Video to select the AVI file you want to convert.
Choose MKV as output format, and press Convert.
What's the difference between AVI and MKV?
AVI is an Audio Video Interleave File and is the proprietary format of Microsoft. MKV is a Matroska Video File. While AVI is developed and used by Microsoft, MKV is a more widely used format.
Which is better, AVI or MKV?
While both formats offer advantages and disadvantages, AVI is often lauded for its compatibility with any of Microsoft's software and MMKV offers the convenience of compiling subtitles into the same compressed file as audio and video and ensures excellent media quality. While considering AVI vs MKV, AVI's compatibility with Microsoft was an unbeatable advantage in the past, MKV is the superior option as many media players and devices now support MKV format.
Can VLC convert AVI to MKV?
VLC has many options for format conversions. As a media player that can process almost any file format with the right codecs, it can also change AVI to MKV files. To use it as a free AVI-to-MKV converter, simply click Media in the top left, then Save As. This will bring up the video conversion menu. Select the AVI file you want to convert and choose MKV as output time, and click Convert.
Sign up for news and special offers