Just follow these simple steps:
Download

Download

and launch Movavi Video Converter
Import your files into the program
Define the output format
Start the conversion
By clicking the button, you're downloading the free version of Movavi Video Converter.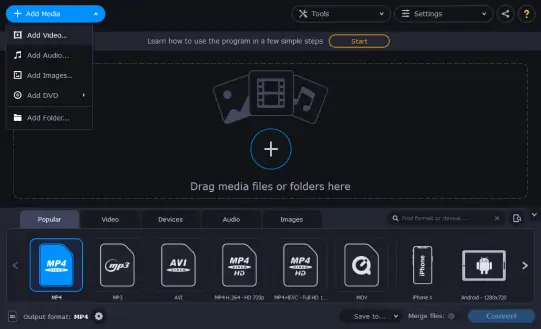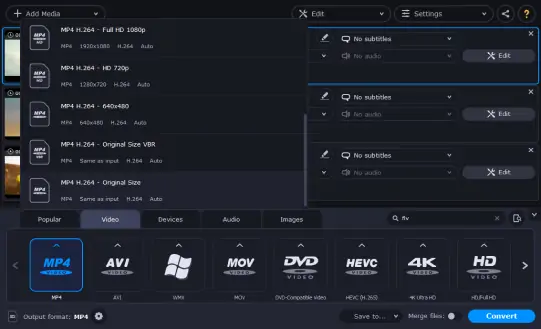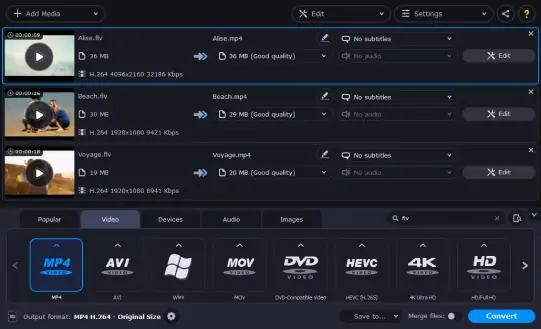 How to Change FLV to MP4
Even though HTML5 is gradually replacing FLV (Flash Video) as the standard for streaming media over the Internet, FLV is still used by over one billion people worldwide for embedded video and on social networks such as Facebook or YouTube. However, to be played on a PC or Mac, FLV requires that you install additional codecs, and many mobile devices don't support this format at all. So if you want to watch a video you've downloaded from the Web on your computer or mobile device, make sure to convert the video to a more universal format such as MP4 or MPEG-4. Movavi Video Converter will help you get this done in no time.
How to Convert FLV to MP4 with the Movavi Converter
With Movavi Video Converter, you can change the format of your video, audio, or image files in one click! No need for any special knowledge of media formats – just run the software, open a movie or video clip, select a ready-made preset, and start the conversion. Follow the simple steps below to learn how to convert FLV to MP4. With Movavi Video Converter, you can change the format of your video, audio, or image files in one click! No need for any special knowledge of media formats – just run the software, open a movie or video clip, select a ready-made preset, and start the conversion.
Follow the simple steps below to convert FLV to MP4.
1. Install the FLV-to-MP4 Converter on Your Computer

Download and run the installation file for Movavi Video Converter. Follow the instructions on the screen to install the program.

2. Add the Video Files You Want to Convert

To add video files for conversion, click the Add Media button in the upper left corner of the interface, then choose Add Video, and select the files you want to convert.

3. Edit the Uploaded Files (Optional)

Before conversion, you can make changes in the files you've added via the built-in editing tool. To access it, click the Edit button in the file description.

Among the tabs in the new window, choose Stabilization to reduce shakiness in your videos. Choose Audio to reduce background noise or otherwise alter the sound volume in the files. Open the tab Adjustments to change the parameters of brightness, saturation, contrast, and others. Choose from a library of creative filters in the Effects tab and apply them to your clips. In the tabs Subtitles and Watermark, you can insert upload subtitles or add a watermark, respectively. Choose either Trim, Crop, or Rotate to get rid of unwanted details, cut away the edges of your videos, or rotate the footage.

4. Compress the FLV Files (Optional)

You can reduce the size of particular large files by using the converter. Click the file size value in the description section. In the box that opens, select the desired quality, bitrate, and size values. Click the Convert sample button to convert a small fragment of your file and check out the quality.

5. Set MP4 as the Output Format

Click the Video tab. Choose the MP4 preset group, then the appropriate preset. If you want to transform FLV into MP4 for compatibility with your mobile device, click the Devices tab and then locate your device model.

6. Start Converting FLV Files to MP4

Converted files are saved to the Movavi Library folder by default. To change the output folder, click Save to. After you have specified all the required settings, click Convert and wait for the conversion to be completed.

7. Upload Video to Your Mobile Device

The folder with converted files will automatically open as soon as conversion is finished. Now you can transfer the converted files to your mobile device. Turn on the device and attach it to your computer. Launch the uploading software on your device and follow the instructions or, depending on the device, transfer files to the target folder.

Pros

Easy to use, even for beginners
Converts between 180+ formats
Includes editing and compression tools
Can merge files

Cons

Some functions are limited in the trial version
Movavi Video Converter
Convert video, audio, DVDs, and image files

Enjoy lightning-fast conversion without quality loss

Improve quality, adjust sound, trim and join files before converting

Save video and audio clips for easy mobile access
How to Convert FLV to MP4 Online
If you don't want to install any software, online conversion tools can be a useful alternative. Below, you'll find a list of websites that can help you to convert FLV to MP4 online. Use the links below to get to the websites.
Online Video Converter
This converter supports all popular video and audio formats, including FLV. You don't need to be a master of conversion – everything can be transformed in just a few clicks. This online app is also a safe one: it deletes your file from the app's server as soon as you download the converted version.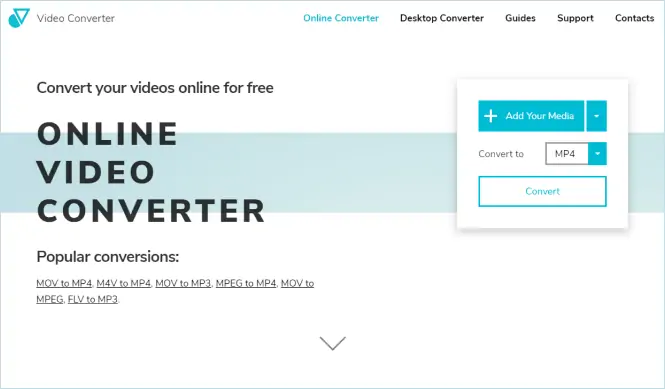 How to Convert a Video with Online Video Converter
Go to the website via the link below:

Hit the Add Your Media button to upload your video. MP4 is the default output format in this tool, so you don't need to change anything to do an MP4 conversion.

Click Convert. The transformed file will be downloaded automatically. If the download doesn't start, hit the Download button. And you're done!
Pros
Interface is easy-to-use even for beginners
Can compress videos
Converts full or partial videos
Cons
File size is limited
No support for batch file conversion
CloudConvert
This service acts as a multifunctional converter: you can change the format of your videos, audio files, documents, and much more. It also offers a wide range of customization tools.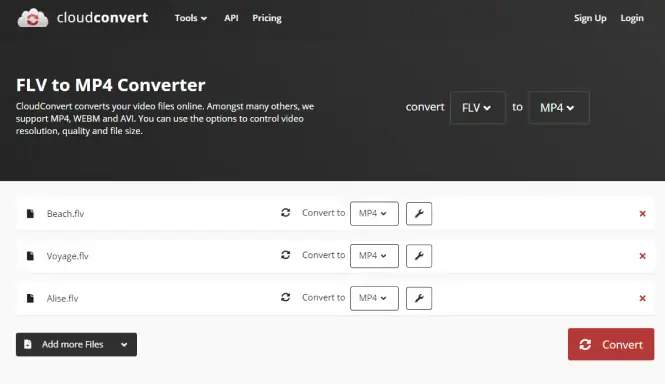 How to Convert a Video with CloudConvert
Go to the website using the link below:

Add your file using the Select File button. You can upload several videos at once.

In the drop-down menu to the right of each file name, choose the desired output format.

Click Convert. After the process is complete, hit Download.
Pros
A very customizable tool: you can choose the video or audio codec or trim the file
Can extract the soundtrack from your video or make a GIF from your footage
Supports multiple simultaneous file conversion
Cons
Conversion speeds are low if you don't have a subscription
Supports only the most popular formats
Zamzar
Zamzar is great when you need to convert several small files. This app lets you transform a batch of videos of up to 150 MB each very easily. But if you want to change the format of a movie, you'll need to buy a subscription plan.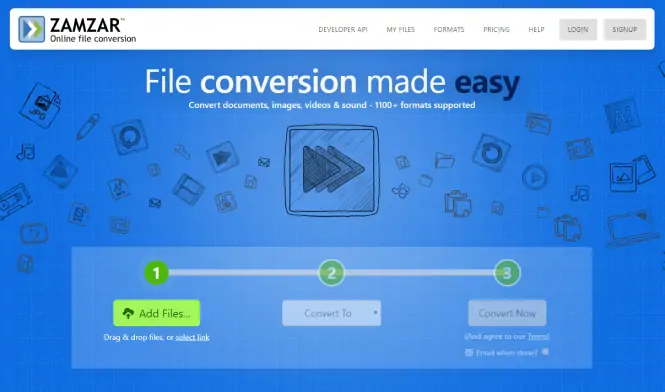 How to Convert a Video with Zamzar
Go to the website. Here's the link:

To upload your videos, click Add Files and find them on your computer. If you want to convert a video from the web, hit select link to activate the link field and copy-paste the link there.

In the Convert To menu, find the MP4 preset and click it.

Hit the Convert Now button and wait; the conversion may take a while. Click Download on the new page that appears when the conversion is complete.
Pros
Has many built-in conversion presets, including Apple TV and mobile devices
Can convert files in batches
Stores your files for 24 hours, so you can download them later
Cons
The free version runs pretty slowly
Can only convert the whole file, not part of it
Online-Convert.com
This tool can be used to not only convert FLV to MP4 online but also edit your video: basic editing tools are included. Also, you can customize the MP4 preset if you want: for instance, switch off the audio track or change the video codec. However, the free version can only process files that are relatively small: 100 MB in total for all videos being converted.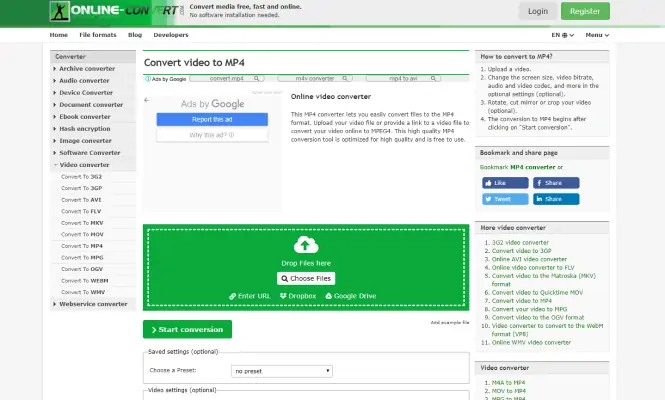 How to Convert a Video with Online-Convert.com
Follow the link below to get to the website

Open the Video Converter menu on the left and click Convert To MP4.

Use the Choose Files button to upload your FLV videos.

Click Start Conversion to launch the process.

If the automatic download doesn't start, hit the Download button.
Pros
Basic editing tools included
Many options for customizing your video: resize, set the output file size, and more
Can save your conversion settings if you log in
Cons
Ads may be annoying
Supported file size is limited
How to Convert FLV to MP4 for Free
If you don't convert files often and so are not sure that shareware will pay off, consider using a free FLV-to-MP4 converter. These kinds of apps may have fewer functions, but that may be enough for one-off conversions. The following links can help you to navigate through the apps that can convert FLV to MP4 for free.
VLC
This app is basically a player, but it also has some additional options that include video conversion and capture. So, it can convert FLV files to MP4.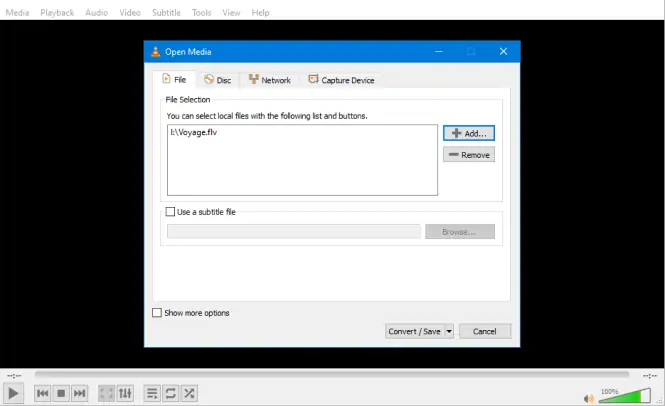 How to Convert a Video with VLC
Download the program via the link below. Install and run the app.

If you work in Windows, in the Media menu find the Convert / Save option and click it. In the new window, hit Add and locate your FLV file, then click Open. Hit Convert / Save at the bottom.

If you have a Mac, open the File menu, click Convert / Stream, then locate your video using the Open Media button. Once the file is open, hit Customize and check whether the MP4/MOV encapsulation is selected.

In the Browse field, define where to save the output video. Delete the file extension if you're a Windows user.

Click Start (or Save on Mac).
Pros
Provides some editing tools
Codecs are customizable
Completely free
Cons
The interface may seem complicated
Runs slowly
HandBrake
HandBrake can take any video file and rip or convert it to MP4, MKV, or WebM. The interface is simple with features anyone can master – though more experienced users will be able to use the software to its full capacity. Overall, you just need a file or disc, and with a couple of clicks, you can start converting. Larger files might take some time with this program, so be patient. But rest assured, it will get the job done.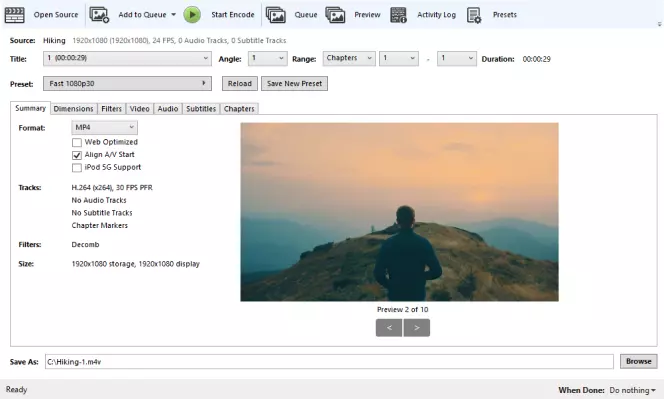 How to Convert a Video with HandBrake
Download the program via the link below.

Open the program and either drop and drag your FLV file into the interface or select the File option on the left side of the screen and select your file.

Next to Format the option for MP4 should be the default conversion option, but if it isn't, click the drop-down menu and select it.

Choose your file name and destination folder at the bottom of the screen.

Click the Start Encode button at the top of the screen.
Pros
The very simple conversion process
Totally free software
Multi-platform, open-source software – Mac, Windows, and Linux
Cons
The interface looks a little outdated
Conversions can be lengthy
Freemake
This converter app can easily transform files in many different formats. It works relatively quickly but, in the trial version, the resulting files have a branded watermark and intro. Other than that, this program is a good choice, even for beginners.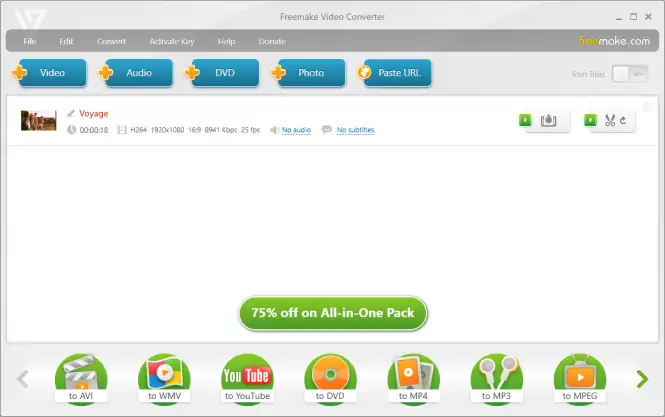 How to Convert a Video with Freemake
Download the program from the website. Install and launch it.

Click the Video button, find the video you want to convert, and hit Open.

At the bottom of the program window, click to MP4. Define the conversion parameters if you want.

Hit Convert. Then click the Continue with logo string (in the free version).
Pros
Easy-to-apply additional options
Lets you embed your converted video in your website
Can join multiple files
Cons
Adds a watermark and an intro to your videos
Requests registration (it is not necessary, but you do have to get rid of the additional window)
FLV vs. MP4 Comparison
FLV and MP4 are both video formats used for storing and streaming videos. The main difference between MP4 and FLV is that they are used for different purposes. FLV is a common format for video streaming and is used by websites like YouTube. On the other hand, MP4 is widely used by mobile devices like smartphones, media players, and the like. Additional MP4 vs. FLV comparisons are in the table below.
| Comparison Parameter | FLV | MP4 |
| --- | --- | --- |
| File extension | .flv, .f4v, .f4p, others | .mp4 |
| Video coding formats | Sorenson, VP6, Screen Video, H.264/MPEG-4 AVC | H.264, H.265, MPEG-4, others |
| Audio coding formats | MP3, Nellymoser, ADPCM, LPCM, AAC, Speex | MP3, AAC, AC-3, others |
| Device and OS compatibility | Requires additional codecs to be installed on PC and Mac, no native support for mobile devices | Compatible with almost all devices and operating systems |
Frequently Asked Questions
An FLV file is stored within the FLV container format. This format is used for streaming video content on the Internet when using the Adobe Flash Player.
Which Is Better: FLV or MP4?
FLV is appropriate for uploading and playing videos on the web. But FLV files can't be played on PCs without additional codecs and are not supported on some mobile devices. So if you want to watch a video on your device, MP4 is a good choice since it's a universal format supported by almost every player.
FLV is not natively supported on iPhone. But you can install special players that can run FLV files. Another option is to convert FLV files to MP4 or another format that's compatible with the iPhone.
FLV files are encoded with lossy codecs such as VP6 or H.264. For this reason, FLV files are relatively small in size and can be easily transmitted over the Internet. If you're looking for a more efficient coding format, try HEVC – in comparison with H.264, this codec provides better data compression at the same bit rate.
What Are the Advantages of FLV?
The main advantages of FLV files are that they can be played in web browsers and are usually quite small in size.
Share