How to Transform M4A to WAV and Back
Despite having been designed to be the equivalent of MP4 for audio only, M4A does not enjoy the same popularity as its video "cousin." For this reason, you will likely have problems playing back M4A files on your device. Converting these files into a more readily accessible format like WAV will make life easier. In this article, you'll learn how to convert audio files between formats, what's the difference between M4A and WAV, and also we'll answer some frequently asked questions. Use the links below to jump to the section needed.
How to Convert M4A to WAV and Vice Versa
Use the Movavi converter! It is one of the fastest and most efficient ways to change the format of your audio files not only from M4A to WAV but also from WAV to M4A. All you have to do is download the program and follow the four simple steps below.
Install the Movavi M4A-to-WAV Converter
Launch the downloaded file and install the app following the setup instructions.
Transfer the Audio Files to the Program
Click the Add Media button and then Add Audio. Find the sound files you want to convert and add them to program.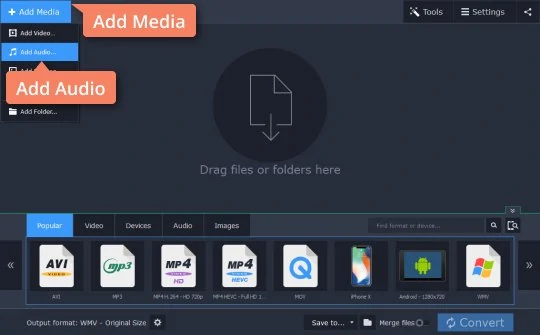 Choose the Output Preset
Open the Audio tab. Select the WAV or M4A group – depending on which conversion direction you want to take. Click the preset within the selected group.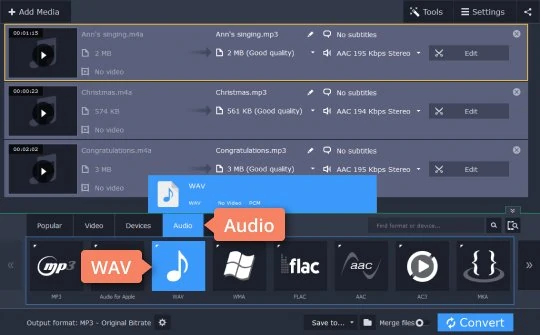 Launch the Conversion from M4A to WAV
If you want to save your output files in a folder other than the default Movavi Library, click the Folder icon and make your selection. Hit Convert, wait a few seconds – and there you go!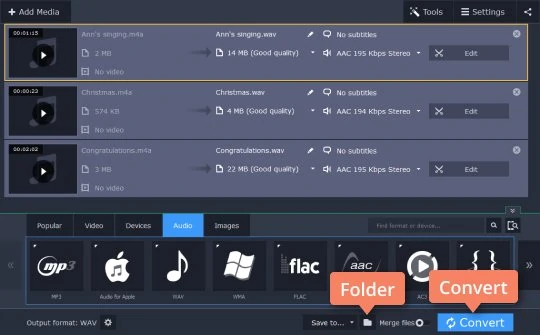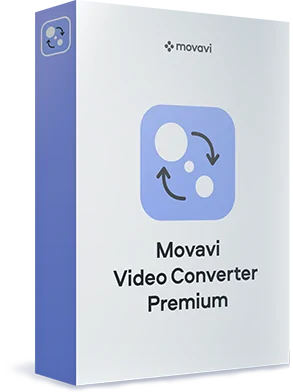 Movavi Video Converter
The ideal way to get your media in the format you need!
Convert video, audio, DVDs, and image files

Enjoy lightning-fast conversion without quality loss

Improve quality, adjust sound, trim and join files before converting

Save video and audio clips for easy mobile access
M4A vs. WAV: A Comparison
When comparing WAV vs. M4A, pay particular attention to audio quality, file size, and devices supported. For example, Apple users might find M4A more useful because it is Apple's native format. And professionals (singers or even lawyers) might prefer WAV because of its high quality and no data loss. Check the table below to learn about the main differences between the formats.
| Comparison parameter | WAV | M4A |
| --- | --- | --- |
| File extension | .wav | .m4a |
| Developer | Microsoft and IBM | Apple |
| Codecs | PCM, MP3, ADPCM, GSM, µ-Law, others | AAC, ALAC, others |
| File size | Relatively large | Depends on the codec (smaller with AAC, larger with ALAC) |
| Audio quality | Best quality (uncompressed audio) | Good |
| Supported by | Apple devices, iTunes | Windows, Apple devices |
Frequently Asked Questions
Which Format is Better: WAV or M4A?
This depends on what is more important to you: quality or file size. WAVs require more storage space, but the audio quality is great. M4As are smaller while maintaining acceptable quality. Also, when making your selection, take into account the type and model of your device, because M4A and WAV are not very widely supported.
What Are the Disadvantages of WAV?
The main disadvantage of the WAV format is the file size. WAVs take up a lot of space, so if you have limited storage, maybe it will be better to convert audio files to a format that's smaller in size. Also, some devices do not support WAV.
How Do I Convert M4A to WAV on Mac?
You can download the Mac version of the converter app or use an online tool.
Can Phones Play WAV Files?
It depends on the phone. Android phones don't support the WAV format, so you'll need to convert your WAV files before you can listen to them. iPhones can usually play WAV format files.
Yes, if you have the correct codec pack installed. For example, the K-Lite Codec Pack will work.
See other useful how-to guides